HAPPY BIRTHDAY TO SEGER ELLIS!!!
1904
Seger Ellis, leader, vocals
d. 9/29/1995 at 91.
Biography
~by Eugene Chadbourne
"You're All I Want for Christmas" is one of the standard songs associated with Seger Ellis, an artist whose striking career also included jazz piano playing, a film appearances alongside the fascinating Ida Lupino and leading an eccentric brass choir.
He began tinkling on the keyboard as a boy and was first engaged professionally as a radio performer in Texas in the mid '20s. This is where a roving talent scout from the Victor label heard him, resulting in Seger's first recordings.
He was inspired to try a move to New York City, making out quite well there with a new series of sides spotlighting his vocal talents. He toured England in 1928 as a soloist. Ellis revealed yet another talent following a meeting with the popular vocal group the Mills Brothers in Cincinatti. He became the manager of this group for a few years, continuing to perform as a soloist through the '30s. Highlights of this period in which Ellis was in great demand include guest shots with the Paul Whiteman orchestra and the aforementioned film appearance, the 1934 One Rainy Afternoon.
Beginning in 1936, Seger spent nearly a year creating music with a group he called the Brass Choir, then assembled something of a more normal instrumental big-band line-up for another group under his leadership. In the early '40s he was briefly in the Army, followed by a stint working in a defence plant. After moving back to Texas he began to be less active as a performer and more involved in the songwriting craft. His Christmas ditty was recorded by the likes of Al Martino, Frankie Laine and Bing Crosby. The Seger Ellis songwriting catalog also includes "No Baby, Nobody But You" and "You Be You but Let Me Be Me".
d. Dec. 18, 1996, New York, NY
Irving Caesar (born Isidor Keiser) was an American lyricist and theater composer who wrote lyrics for numerous song standards including "Swanee", "Sometimes I'm Happy", "Crazy Rhythm", and "Tea for Two", one of the most frequently recorded tunes ever written. In 1972 he was inducted into the Songwriters Hall of Fame.
Caesar, the son of Morris Keiser, a Romanian Jew, was born in New York City. His older brother Arthur Caesar was a successful Hollywood screenwriter. The Caesar brothers spent their childhood and teen years in Yorkville, the same Manhattan neighborhood where the Marx Brothers were raised. Caesar knew the Marx Brothers during his childhood. He was educated at Chappaqua Mountain Institute in Chappaqua, New York.
In his career Caesar collaborated with a wide variety of composers and songwriters, including Rudolf Friml, George Gershwin, Sigmund Romberg, Victor Herbert, Ted Koehler and Ray Henderson. Two of his best known numbers, I Want to Be Happy and Tea for Two, were written with Vincent Youmans for the 1925
musical No, No, Nanette.
Another of his biggest hits, Animal Crackers in My Soup, was popularized by Shirley Temple in her 1935
film "Curly Top." Just a Gigolo, his 1929 adaptation of an Austrian song, was a hit for Louis Prima in the 1950s and again for David Lee Roth in the 1980s.
In the late 1930s he and composer Gerald Marks wrote a famous series of children's songs focusing on safety. Caesar made hundreds of appearances in schools performing the "Sing a Song of Safety," "Sing a Song of Friendship" (a United Nations-inspired series focusing on world peace, racial tolerance and friendship) and "Songs of Health" collections.
Caesar served on the songwriters' performance-rights organization ASCAP board of directors from 1930 to 1946 and again from 1949 to 1966. He was a founder of the Songwriters Guild of America. He died aged 101, in New York on December 18th, 1996.
Stephen Collins Foster (July 4, 1826 – January 13, 1864), known as the "father of American music", was the pre-eminent songwriter in the United States of the 19th century. His songs – such as "Oh! Susanna", "Camptown Races", "Old Folks at Home" ("Swanee River"), "Hard Times Come Again No More", "My Old Kentucky Home", "Old Black Joe", and "Beautiful Dreamer" – remain popular over 150 years after their composition.
1898
Gertrude Lawrence
Gertrude Lawrence (July 4, 1898 – September 6, 1952) was an English actress, singer, dancer and musical comedy performer known for her stage appearances in London's West End and on New York's Broadway.
Early life
Lawrence was born Gertrude Alice Dagmar Klasen, of English and Danish extraction, in the Newington area of London Borough of Southwark.
Her father was a basso profundo who performed under the name Arthur Lawrence. His heavy drinking led her mother Alice to leave him soon after Gertrude's birth.
In 1904, her stepfather took the family to Bognor on the Sussex coast for the August bank holiday. While there, they attended a concert where audience members were invited to entertain. At her mother's urging, young Gertrude sang a song and was rewarded with a gold sovereign for her effort. It was her first public performance.
In 1908, in order to augment the family's meager income, Alice accepted a job in the chorus of the Christmas pantomime at Brixton Theatre.
A child who could sing and dance was needed to round out the troupe, and Alice volunteered her daughter. While working in the production Alice heard of Italia Conti, who taught dance, elocution and the rudiments of acting. Gertrude auditioned for Conti, who thought the child was talented enough to warrant free lessons. Lawrence joined Italia Conti's production of Where the Rainbow Ends. Her training led to appearances in Max Reinhardt's The Miracle in London and Fifinella, directed by Basil Dean, for the Liverpool Repertory Theatre. At some point during this period, the child decided to adopt her father's professional surname as her own. Dean then cast her in his next production, Gerhart Hauptmann's Hannele, where she first met Noël Coward. Their meeting was the start of a close and sometimes tempestuous friendship and the most important professional relationship in both their lives.
Early stage career
Following Hannele, Lawrence reconnected with her father, who was living with a chorus girl. They agreed to let her tour with them in two successive revues, after which Arthur announced he had signed a year-long contract with a variety show in South Africa, leaving the two young women to fend for themselves.
Lawrence, now aged sixteen, opted to live at the Theatrical Girls' Club in Soho rather than return to her mother and stepfather.
She worked steadily with various touring companies until 1916, when she was hired by famed impresario André Charlot to understudy Beatrice Lillie and appear in the chorus of his latest production in London's West End.
When it closed, she assumed Lillie's role on tour, then returned to London once again to understudy the star in another Charlot production, where she met dance director Francis Gordon-Howley.
Although he was twenty years her senior, the two wed and soon after had a daughter Pamela, Lawrence's only child. The marriage was not a success, and Lawrence took Pamela with her to her mother's home in Clapham. The couple remained separated but did not divorce until ten years later.
In 1918, Lawrence contracted lumbago and was given a fortnight to recuperate by Charlot, who then saw her at an opening night party at Ivor Novello's invitation two days before she was cleared to return to work by her doctor, and immediately sacked her.
When the apparent reason for her dismissal became common knowledge among other West End producers, she was unable to find work, and in early 1919 she accepted a job singing in the show at Murray's, a popular London nightclub, where she remained for the better part of the next two years.
While performing there she met Captain Philip Astley, a member of the Household Cavalry. He became her friend, escort, and ultimately lover, and taught her how to dress and behave in high society.
When Lawrence became involved with Wall Street banker Bert Taylor in 1927, Astley proposed marriage, an offer Lawrence refused because she knew Astley would expect her to leave the stage and settle in rural England. The two remained close until he married actress Madeleine Carroll in 1931. When Lawrence divorced Gordon-Howley, she and Taylor became engaged and remained so for two years, with each free to enjoy a social life separate from the other.
At the end of 1920, Lawrence left Murray's and began to ease her way back into legitimate theatre while touring in a music hall act as the partner of popular singer Walter Williams. In October 1921, Charlot asked her to replace an ailing Beatrice Lillie as star of his latest production, A to Z, opposite Jack Buchanan. In it the two introduced the song "Limehouse Blues," which went on to become one of Lawrence's signature tunes.
In 1923, Noël Coward developed his first musical revue, London Calling!, specifically for Lawrence. Charlot agreed to produce it, but brought in more experienced writers and composers to work on the book and score. One of Coward's surviving songs was "Parisian Pierrot", a tune that would be identified closely with Lawrence throughout her career.
The show's success led its producer to create André Charlot's London Revue of 1924, which he took to Broadway with Lawrence, Lillie, Buchanan and Constance Carpenter. It was so successful it moved to a larger theatre to accommodate the demand for tickets and extended its run. After it closed, the show toured the US and Canada, although Lawrence was forced to leave the cast when she contracted double pneumonia and pleurisy and was forced to spend fourteen weeks in a Toronto hospital recuperating.
Charlot's Revue of 1926, starring Lawrence, Lillie, and Buchanan, opened on Broadway in late 1925. In his review, Alexander Woollcott singled out Lawrence, calling her "the personification of style and sophistication" and "the ideal star." Like its predecessor, it toured following the Broadway run. It proved to be Lawrence's last project with Charlot. In November 1926, she became the first British performer to star in an American musical on Broadway when she opened in Oh, Kay!, with music by George Gershwin, lyrics by Ira Gershwin, and a book by Guy Bolton and P.G. Wodehouse. Following a run of 256 performances, the musical opened in the West End, where it ran for 213 performances.
Noël Coward & Gertrude Lawrence in Private Lives
In 1928, Lawrence returned to Broadway opposite Clifton Webb in Treasure Girl, a Gershwin work she was confident would be a huge hit. Anticipating a long run, she arrived in New York with her daughter Pamela, a personal maid and two cars, and settled into a flat on Park Avenue.
Her instincts about the musical were wrong; audiences had difficulty accepting her as an avaricious woman who double-crosses her lover, and it ran for only 68 performances. She starred opposite Leslie Howard in Candle Light, an Austrian play adapted by Wodehouse, in 1929, and in 1931 she and Noël Coward triumphed in his play Private Lives, first in the UK, and later on Broadway.
Later stage career
In 1936, Lawr
ence and Coward starred in Tonight at 8:30, a cycle of ten one-act plays he had written specifically for the two of them. In 1937, she appeared in the Rachel Crothers drama Susan and God, and in 1939 starred in Skylark, a comedy by Samson Raphaelson.Lawrence felt the play needed work prior to opening on Broadway, and a run at the Cape Playhouse in Dennis, Massachusetts was arranged. The theatre was run by Harvard University graduate Richard Aldrich, and he and the actress became involved in a romantic relationship. The two wed on her birthday in 1940 and remained married until her death in 1952. They had homes in Dennis and in Turtle Bay. Manhattan.
In 1941 Lawrence's daughter Pamela married a New York doctor named Bill Cahan. Lawrence was friendly with her son-in-law but lost contact with him after he and Pamela divorced. Lawrence did not have any grandchildren during her lifetime.
Lawrence returned to the musical stage in Lady in the Dark in 1941. It originally had been planned as a play with recurrent musical themes for Katharine Cornell by Moss Hart, Kurt Weill and Ira Gershwin, but by the time the first act was completed it was clear it was very much a musical that Cornell agreed was beyond her capability as a performer.
Soon after Hart met Lawrence at a rehearsal for a revue designed to raise funds for British War Relief, and he offered her the role of Liza Elliott, a magazine editor undergoing psychoanalysis to better understand why both her professional and personal lives are filled with indecision.
The show was very ambitious and stretched the star's talents for singing, dancing and acting. Her performance prompted Richard Watts of the New York Herald Tribune to call her "the greatest feminine performer in the American theatre," and Brooks Atkinson described her as "a goddess" in his review in the New York Times. She remained with the show throughout its Broadway run and its subsequent national tour over the next three years.
Decades later, Ira Gershwin told American songwriting historian Sheila Davis about a contribution Lawrence made to honing the lyrics of the song "My Ship" in Lady in the Dark. "During a Lady in the Dark rehearsal," Davis wrote, "Gertrude Lawrence suddenly stopped singing midline and called out to Gershwin, who was monitoring from the orchestra, 'Why does she say 'I could wait four years' – why not five or six?' Of course, the line was 'I could wait for years.' The painstaking lyricist immediately substituted the to clarify the aural ambiguity."
In 1945, Lawrence starred as Eliza Doolittle opposite Raymond Massey as Henry Higgins in a revival of Pygmalion by George Bernard Shaw, who initially resisted the idea of Lawrence playing the role. Following the Broadway run, she toured the United States (including a stint in Washington, D.C.) and Canada in the play until May 1947.
Gertrude Lawrence - Wikipedia
Gertrude Lawrence (1898 - 1952) - Find A Grave Memorial
Erik Tuxen (4 July 1902 - 28 August 1957) was a Danish big band leader, composer and arranger, who worked for most of his life in Denmark.
Tuxen was also a prolific film arranger, responsible for the musical direction for many Danish films in the 1930s and 1940s.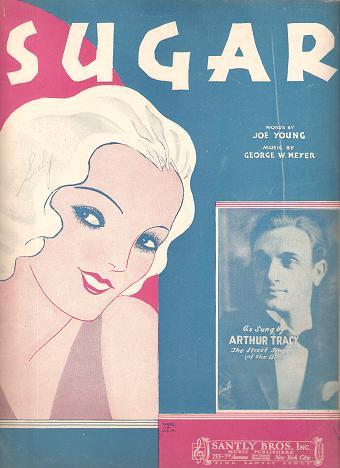 SUGAR with LYRICS by JOE YOUNG
Joe Young, Lyricist, Tin Pan Alley
d. April 21, 1939, New York, NY, USA.
Tin Pan Alley lyricist Joe Young wrote prolifically from early 1910 through the late '30s, usually with songwriting partner and lyricist Sam M. Lewis. Born in N.Y.C. in 1889, Young got his first job in the music business as a singer in a publishing house. His hits before teaming up with Lewis in 1916 include "Don't Blame It All on Broadway" (1913). Young and Lewis collaborated with a number of different composers -- including George Meyer, Fred Ahlert, Jean Schwartz, and Ray Henderson -- on many successful songs, some of which were used in stage musicals like Sinbad (1918) and Kid Boots (1924).
Words by Sam M. Lewis, and Joe Young
Lewis and Young had a prolific output and remained partners through 1930, when they worked with composer Harry Warren on the early "talkie" Spring Is Here, which featured several hits, including "Have a Little Faith in Me." Some of their best-known songs include "Rock-a-bye Your Baby With a Dixie Melody" (1918), "How Ya Gonna Keep 'Em Down on the Farm?" (1919), "Five Foot Two, Eyes of Blue," "I'm Sitting on Top of the World" (1925), "In a Little Spanish Town" (1926), and their last lyric, "Absence Makes the Heart Grow Fonder" (1930). After parting ways with Lewis, Young scored the 1931 Broadway show The Laugh Parade and wrote many hits, including "In a Shanty in Old Shanty Town" (1932), "Your Gonna Lose Your Gal" (1933), and "I'm Gonna Sit Right Down and Write Myself a Letter" (1936). Young is also a member of the Songwriters Hall of Fame.
Joe Young (lyricist)
For the first time since the 1930s,
The Rhythm Boys: Bing Crosby,
Al Rinker and Harry Barris were
reunited on NBC's Paul Whiteman
Jelly Roll Morton's Red Hot Peppers -
Billy Goat Stomp
Hyena Stomp
Chicago Footwarmers - Brown Bottom Bess
Duke Ellington and his Cotton Club Orchestra -
Shout 'Em, Aunt Tillie
Beautiful dreamer / Currier and Ives
Written by
Stephen Foster
"Beautiful Dreamer" is a popular American song,
the last known song written by Stephen Foster.
It was published posthumously in 1864,
Beautiful dreamer, wake unto me,
Starlight and dewdrops are waiting for thee;
Sounds of the rude world, heard in the day,
Lull'd by the moonlight have all pass'd away!
Beautiful dreamer, queen of my song,
List while I woo thee with soft melody;
Gone are the cares of life's busy throng,
Beautiful dreamer, awake unto me!
Beautiful dreamer, awake unto me!
Beautiful dreamer, out on the sea
Mermaids are chanting the wild lorelie;
Over the streamlet vapors are borne,
Waiting to fade at the bright coming morn.
Beautiful dreamer, beam on my heart,
E'en as the morn on the streamlet and sea;
Then will all clouds of sorrow depart,
Beautiful dreamer, awake unto me!
Beautiful dreamer, awake unto me!
brought to you by...
and all those who have provided content,
images and sound files for this site.