Irving Berlin, Composer
b. Temun, Russia
d. 1989, New York, NY, USA.
né: Israel Isidore Baline.
Irving Berlin (May 11, 1888 – September 22, 1989) was a Jewish American composer and lyricist, and one of the most prolific American songwriters in history. Berlin was one of the few Tin Pan Alley/Broadway songwriters who wrote both lyrics and music for his songs. Although he never learned to read music beyond a rudimentary level, with the help of various uncredited musical assistants or collaborators, he eventually composed nearly 1,000 songs. Among his many compositions were "God Bless America", "White Christmas", "Anything You Can Do", "There's No Business Like Show Business", and the 1911 song that made him a household name, "Alexander's Ragtime Band," all of which left an indelible mark on music and culture worldwide. He composed seventeen film scores and twenty-one Broadway scores.
In 1970, Life magazine chose him as one of its 100 most important
Americans of the twentieth centuryin a special edition. Songwriter
Jerome Kern once said of him,
"Irving Berlin has no place in American music. He is American music."
WIKI BIO
Leader/vocals/trumpet/actor
d. Nov. 28, 1983, Pecos TX.
Johnnie Davis, also billed as Johnny Davis and Johnnie "Scat" Davis, (

May 11

, 1910 –

November 28

, 1983) was an American actor and singer.
Born John Gustave Davis in Brazil, Indiana, into a family of musicians, Davis developed an interest in music during his childhood. He learned to play the trumpet and by the age of 13 was performing with his grandfather's band. After graduating from high school he worked as a musician for several orchestras, including theater orchestras in nearby Terre Haute, Indiana, and by 1933 was living in New York City. He formed his own trio and recorded several songs with them. From the mid 1930s he worked with Fred Waring as a musician and vocalist, and his success during this time led him to Hollywood.
He appeared in his first film in 1937, and the same year appeared in the film Hollywood Hotel, where he introduced the song "Hooray for Hollywood". His lively rendition became popular and became closely associated with the film industry. He appeared in fifteen films including Cowboy from Brooklyn (1938), Brother Rat (1938), A Child is Born (1939) and Sarong Girl (1943).
Davis continued to work in the music industry throughout the 1940s and 1950s, and spent several years inDetroit, Michigan where he was a popular television performer. He eventually settled in Texas, and died inPecos from a heart attack during a hunting trip.
Olivia "Lady Charlotte" Cook, piano
d.11/09/2004; New Iberia; age 91.
Jazz pianist and vocalist worked with Papa French, Wallace Davenport, Danny Barker, and many others. Also led her own band, performing regularly at the New Orleans Jazz & Heritage Festival.
J. C. Higginbotham, Trombone
b. Social Circle, GA, USA.
d. May 26, 1973, New York, NY, USA.
An extroverted trombonist with a sound of his own, J.C. Higginbotham was heard at his best during the late '20s and early '30s, when he was one of the stars with Luis Russell's orchestra. From that point on, he went gradually downhill due to being an alcoholic, but he had worthy moments along the way. He started his career playing in territory bands in the Midwest. Higginbotham was with Russell (1928-1931) for some classic recordings, including a few sessions backing Louis Armstrong, and two songs on which he fronted the orchestra under the title of "J.C. Higginbotham and His Six Hicks."
Higginbotham was a featured soloist with the orchestras of Fletcher Henderson, Chick Webb, and Benny Carter during the next six years, before re-joining Russell's band when it was playing a purely supportive role behind Armstrong (1937-1940); he had a few solos on Satch's better records of the period.
Having teamed up with Red Allen while with Luis Russell, Higginbotham happily joinedAllen's hot jump band for a long stint (1940-1947). Higginbotham spent a few years in obscurity, led his own groups in the mid-'50s, and re-joined Allen for a residency at the Metropole that lasted until 1963. He led sessions for Sonet (1962) and Jazzology (1966), but continued his decline until his death.
(May 11, 1905 – January 28, 1950)
was an American Delta blues
musician and songwriter.
Career
McCoy played music under a variety of stage names but is best known as
"Kansas Joe McCoy". Born in Raymond, Mississippi, he was the older
brother of the blues accompanist Papa Charlie McCoy. As a young man,
McCoy was drawn to the music scene in Memphis, Tennessee where he
played guitar and sang vocals during the 1920s. He teamed up with future
wife Lizzie Douglas, a guitarist better known as Memphis Minnie, and their
1929 recording of the song "Bumble Bee" on the Columbia Records label was
a hit. In 1930, the couple moved to Chicago where they were an important
part of the burgeoning blues scene. Following their divorce, McCoy teamed
up with his brother to form a band known as the Harlem Hamfats that
performed and recorded during the second half of the 1930s.
In 1936, the Harlem Hamfats released a record with the song
"The Weed Smoker's Dream" on it. McCoy later refined the tune, changed
the lyrics and titled the new song "Why Don't You Do Right?" for Lil Green,
who recorded it in 1941. It was covered a year later by both Benny Goodman
and Peggy Lee, becoming Lee's first hit single. "Why Don't You Do Right?"
remains a jazz standard and is McCoy's most enduring composition.
At the outbreak of World War II Charlie McCoy entered the military, but a
heart condition kept Joe McCoy from service. Out on his own, he created a
band known as 'Big Joe and his Rhythm' that performed together
throughout most of the 1940s. The band featured Robert Nighthawk on
h
armonica and Charlie on mandolin. In 1950, at the age of 44, McCoy died
of heart disease in Chicago, only a few months before Charlie. They are both
buried in Restvale Cemetery in Alsip, Illinois.
Led Zeppelin vocalist Robert Plant took his and Memphis Minnie's recording
of "When the Levee Breaks," which was in his personal collection, and
presented it to guitarist Jimmy Page. Page revamped the music, while Plant
kept most of the lyrics (Minnie was credited on the record) and recorded it
for Led Zeppelin's 1971 album, Led Zeppelin IV.
McCoy's songs have also been covered by Bob Dylan, John Mellencamp,
The Ink Spots, Ella Fitzgerald, Jo Ann Kelly, Cleo Laine and A Perfect Circle.
Pseudonyms
McCoy also performed and recorded under the names Bill Wither,
Georgia Pine Boy, Hallelujah Joe, Big Joe McCoy and His Washboard Band,
and The Mississippi Mudder. He also used the names Hamfoot Ham,
Hillbilly Plowboy, and Mud Dauber Joe.
Posthumous recognition
Like many blues musicians of his era, Joe McCoy's grave site was
originally
unmarked. A tribute concert took place in October 2010 to celebrate the
music of Joe and Charlie and to buy gravestones for each of them; they
were installed on May 31, 2011.
1895
William Grant Still
William Grant Still (May 11, 1895 – December 3, 1978) was an African-American classical composer who wrote more than 150 compositions. He was the first African-American to conduct a major American symphony orchestra, the first to have a symphony (his first symphony) performed by a leading orchestra, the first to have an opera performed by a major opera company, and the first to have an opera performed on national television. He is often referred to as "the Dean" of African-American composers.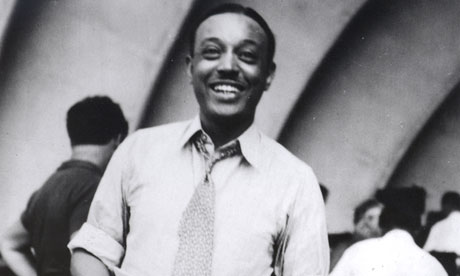 Life
William Grant Still was born in Woodville, Mississippi. He was the son of two teachers, Carrie Lena Fambro Still (1872–1927) and William Grant Still (1871–1895). His father was a partner in a grocery store and performed as a local bandleader. His father William Grant Still Sr. died when his infant son was 3 months old.
Still's mother moved with him to Little Rock, Arkansas with his mother, where she taught high school English for 33 years. She met and married Charles B. Shepperson, who nurtured his stepson William's musical interests by taking him to operettas and buying Red Seal recordings of classical music, which the boy greatly enjoyed. The two attended a number of performances by musicians on tour.
Still grew up in Little Rock, and started violin lessons at age 15. He taught himself to play the clarinet, saxophone, oboe, double bass, cello and viola, and showed a great interest in music. His maternal grandmother sang African-American spirituals to him. At age 16 he graduated from M. W. Gibbs High School in Little Rock.
His mother wanted him to go to medical school, so Still pursued a Bachelor of Science degree program at Wilberforce University, a historically black college in Ohio. Still became a member of Kappa Alpha Psi fraternity. He conducted the university band, learned to play various instruments, and started to compose and to do orchestrations.
Still was awarded scholarships to study at the Oberlin Conservatory of Music with Friedrick Lehmann and with George Whitefield Chadwick. He also studied with the modern composer Edgard Varèse.
Career
In 1918, Still joined the United States Navy to serve in World War I. Between 1919 and 1921, Still worked as an arranger for W.C. Handy's band and later played in the pit orchestra for Noble Sissle and Eubie Blake's musical, Shuffle Along. Later in the twenties, he served as the arranger of Yamekraw, a "Negro Rhapsody" composed by the noted Harlem Stride pianist, James P. Johnson.
In the 1930s Still worked as an arranger of popular music, writing for Willard Robison's Deep River Hour, and Paul Whiteman's Old Gold Show, both popular NBC Radio broadcasts. In 1936, Still conducted the Los Angeles Philharmonic Orchestra as the first African American to conduct a major American orchestra.
In 1934, Still received his first Guggenheim Fellowship; he started work on the first of his eight operas, Blue Steel. In 1949 his opera Troubled Island, originally completed in 1939, about Jean Jacques Dessalines and Haiti, was performed by the New York City Opera. It was the first opera by an African American to be performed by a major company.
Still moved to Los Angeles, California in the 1930s, where he arranged music for films. These included Pennies from Heaven (the 1936 film starring Bing Crosby and Madge Evans) and Lost Horizon (the 1937 film starring Ronald Colman, Jane Wyatt and Sam Jaffe). For Lost Horizon, he arranged the music of Dimitri Tiomkin. Still was also hired to arrange the music for the film Stormy Weather, but left the assignment after a few weeks due to artistic disagreements.
In 1955 he conducted the New Orleans Philharmonic Orchestra and became the first African American to conduct a major orchestra in the Deep South. Still's works were performed internationally by the Berlin Philharmonic Orchestra, the London Symphony Orchestra, the Tokyo Philharmonic Orchestra, and the BBC Orchestra.
He was the first African American to have an opera performed on national United States television when Bayou Legend, completed in 1941, premiered on PBS in . Additionally, he was the recording manager of the Black Swan Phonograph Company.
Legacy and honors
William Grant Still received two Guggenheim Fellowships.
He was awarded honorary doctorates from Oberlin College, Wilberforce University, Howard University, Bates College, the University of Arkansas, Pepperdine University, the New England Conservatory of Music, the Peabody Conservatory in Baltimore, and the University of Southern California.
He was posthumously awarded the 1982 Mississippi Institute of Arts and Letters award for music composition for his opera A Bayou Legend.
William Grant Still
William Grant Still (1895–1978) - Encyclopedia of Arkansas
Marion Harris - Who'll Take My Place?


Bailey's Lucky Seven -
Bebe
March Of The Mannikins

Yes! We Have No Bananas

Irving Kaufman sings Chorus

1924
Herb Wiedoeft's Cinderella Roof Orchestra
The California Ramblers - Cheatin' On Me
Victoria Spivey -
Black Snake Blues
Louis Armstrong and his Hot Seven -
Weary Blues
Fletcher Henderson Orchestra -
Whiteman Stomp
Vincent Lopez and His Casa Lopez Orchestra -
Alexander's Ragtime Band
Tom Gerun and his Orchestra
Let Me Hum A Hymn To Her Tonight

When The Shepherd Leads The Sheep Back Home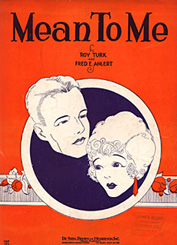 ~Roy Turk / Fred E. Ahlert
Why must you be mean to me?
Gee, honey, it seems to me
You love to see me cryin'
I don't know why
I stay home each night
When you say you phone
You don't and I'm left alone.
Singin' the blues and sighin'
You treat me coldly each day in the year
You always scold me
Whenever somebody is near, dear
I must be great fun to be mean to me
You shouldn't, for can't you see
What you mean to me
Oh, ma hon-ey, oh, ma hon-ey, bet-ter hur-ry and let's me-an-der
Ain't you go-in'? Ain't you go-in'? To the lea-der-man, rag-ged me-ter man?
Oh, ma hon-ey, oh, ma hon-ey, Let me take you to Al-ex-an-der's
Grand stand brass band, ain't you com-in' a-long?
Come on and hear! Come on and hear! Al-ex-an-der's rag-time band!
Come on and hear! Come on and hear! It's the best band in the land!
They can play a bu-gle call like you nev-er heard be-fore
So nat-u-ral that you want to go to war
That's just the best-est band what am, ma hon-ey lamb
Come on a-long, come on a-long, let me take you by the hand
Up to the man, up to the man, who's the lead-er of the band
And if you care to hear the Swa-nee Riv-er played in rag-time
Come on and hear, come on and hear,
Al-ex-an-der's Rag-Time Band.
Come and listen to the wonderful sound, hear the music that is sweapin the town, You'll soon be tappin your feet to a new kind of beat that keeps u happy all day long i love to her that banjo strimmin eith to that bar, ragtime music is the greatest by far, so come and see, you'll soon agree they are best in the land. Come on lets give em a hand
Come on and hear! Come on and hear! Al-ex-an-der's rag-time band!
Come on and hear! Come on and hear! It's the best band in the land!
They can play a bu-gle call like you nev-er heard be-fore
So nat-u-ral that you want to go to war
That's just the best-est band what am, oh, ma hon-ey lamb
Come on a-long, come on a-long, let me take you by the hand
Up to the man, up to the man, who's the lead-er of the band
And if you care to hear the Swa-nee Riv-er played in rag-time
Come on and hear, come on and hear,
Al-ex-an-der's Rag-Time Band
brought to you by...
~confetta