Happy Birthday Blandine Ebinger (1899 - 1993)
BIRTHDAYS
"Memphis Willie B." Borum
b. (Shelby County) TN, USA.
Adept at both harmonica and guitar, "Memphis Willie B" early on became a mainstay of the Memphis Blues and Jug Band circuit. His father, medicine show star Jim Jackson, had taught his child to play guitar. By his early teens, Borum was playing for tips on the Memphis streets with Jack Kelly's Jug Busters, before finally becoming a member of the Memphis Jug Band (one of only two such "Jug Bands" then performing professionally). During the 1930s, Noah Lewis, "the best harp blower in Memphis" (and mainstay of Gus Cannon's Jug Stompers - the "other" Jug Band) taught "Willie B." to play the Harmonica. Subsequently, "Willie B." toured (on and off) with such Delta Bluesmen as Garfield Akers, Robert Johnson, Rice Miller, and Willie Brown.
In 1934, he finally recorded under his own name for the Vocalion label. With no great success, he drifted back to playing juke joints and gambling houses with Son Joe, Joe Hill Louis and Will Shade. In 1943, during WWII, he became a member of the U.S. Army. After being de-mobilized, he found the world to be quite different, and had to abandon his musical career. Fortunately, 1961 was a Folk and Blues revival time, and Borum was tracked down and recorded a session (at the Sun studios) for Prestige's Bluesville label. "Memphis Willie B," together with his old Memphis buddies Gus Cannon and 'Furry' Lewis, began working the festival and coffeehouse circuit, before suddenly, and completely, dropping out of the music scene. Nobody has ever verified his reported death in the early 1970s.
Ebinger and Friedrich Hollaender
1899
Blandine Ebinger
Blandine Ebinger (born Blandine Loeser) (4 November 1899, in Berlin – 25 December 1993, in Berlin) was a German actress and chansonniere, the daughter of the pianist Gustav Loeser and the actress Margarete Wezel. Ebinger became acquainted with Friedrich Hollaender in 1919, and with him she became heavily invested as a performer, writer, and composer in the Berlin cabaret scene in the 1920s, beginning in the cabaret Schall und Rauch and the Café Größenwahn.
She married Friedrich Hollaender, and she recorded many of his cabaret songs, including the set of songs entitled Lieder eines armen Mädchens. Although Ebinger and Hollaender ended their marriage before Hollaender emigrated to the United States because of the increasingly hostile environment for Jewish citizens in the early 1930s, Ebinger nevertheless faced discrimination as a result of the marriage, much of which was directed at their half-Jewish daughter, Philine, who was briefly married to Georg Kreisler. Ebinger emigrated to the United States in 1937, returning to Berlin in 1947. She moved to Munich, where she met her second husband, the publisher Helwig Hassepflug, in 1961. They eventually settled back in Berlin, where she continued her career in the theater and as an actress on television productions.
Ebinger died on 25 December 1993 in Berlin and is buried on the Waldfriedhof Dahlem. She was 94 years old.
Blandine Ebinger
Her career began when, at just age sixteen, she appeared on an amateur show filling in for an absent pianist. She then spent a few years in the vaudeville and nightclub circuit, as a piano accompanist for singers. She began singing on her own when a nightclub owner fired the singer in Faye's act.
By 1934, her schedule kept her working 11 months a year, often on the road. Faye was still headlining in New York, Los Angeles, Las Vegas, Chicago, Miami, as well as England and Australia, well into the 1970s. She appeared in at least two movies, -40 years apart. In 1937, she debuted in the Bing Crosby-Martha Raye film Double or Nothing . In 1977, she played a wise-cracking madam in Louis Malle's Pretty Baby, a film that (according to Faye herself) "opens with me in bed smoking an opium pipe with a wig half off my head." in 1936, Bing Crosby had introduced Faye to the Decca Records management, and she made her first recordings.
In 1939, Faye, with Don Raye, composed the song "Well All Right", which became a big hit that year for the Andrews Sisters. (Faye also performed the song a few years later, in a 1942 "soundie".) She continued composing throughout her career, and recorded a number of her own songs, including "Purple Wine", "You're Heavenly", "Frances and Her Friends", and "A Good Idea". Her act was peppered with double entendre and saucy lyric modifications. Much of her jokes and patter pertained to her looks and to her sexuality. Faye was a favorite among 'Gay' audiences. She was quite adept at switching gender pronouns on the songs she performed, often making comments such as "Gay, gay, gay, Frances Faye, is there another way?"
At the end of the 1950s, health problems limited her appearances. In 1957, she suffered a broken hip, and was unable to walk, even after three ensuing operations. For most of the 1960s, she was carried onto the stage for her performance. During the 1970s, she was again walking, and traveling the club circuit. In 1978, she suffered a heart attack, and had a pacemaker installed. Despite a series of strokes that followed, she continued touring the clubs until 1981, and lived another decade before her demise on November 8, 1991. She will always be recalled as a fine Lounge performer whose work included Ballads, novelties, rock and roll, and folk songs.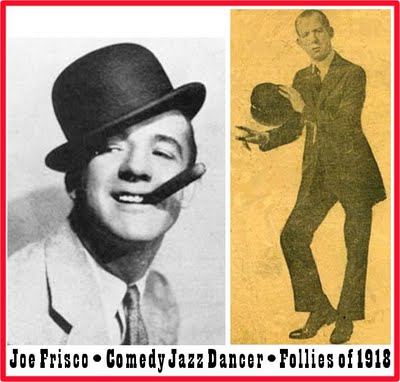 1889
Joe Frisco
Joe Frisco was an American vaudeville performer who first made his name on stage as a jazz dancer, but later incorporated his stuttering voice to his act and became a popular comedian.
Born Louis Wilson Joseph (Milan, Illinois, November 4, 1889). In the mid and late 1910s he performed with some of the first jazz bands in Chicago and New York City, including Tom Brown's Band from Dixieland, the Original Dixieland Jass Band, and the Louisiana Five. He made his Broadway debut in the Florenz Ziegfeld Follies in 1918. Frisco was a mainstay on the vaudeville circuit in the 1920s and 1930s.
His popular jazz dance act (called by some the "Jewish Charleston") was a choreographed series of shuffles, camel walks and turns. It was usually performed to Darktown Strutters' Ball. It, or at least a minute or so of it, can be seen in the film Atlantic City (1944). He typically wore a derby hat, and had a king-sized cigar in his mouth as he danced. He often performed in front of a backing danceline of beautiful women wearing leotards, short jackets and bowler hats—and "puffing" on big prop cigars.
Frisco was a compulsive gambler and spent many afternoons while in New York City at the track with actor Jay C. Flippen, playwright Jerry Devine, actor Martin Gabel (husband of Arlene Francis) and Danny Lavezzo (owner of P. J. Clarke's), and when he began to incorporate stand-up comedy into his act, his humor revolved on tales about his bad luck gambling, speakeasies, and his constant state of debt.
Frisco stuttered, but could recite scripted dialogue without impairment. His 1930 comedy short The Happy Hottentots shows Frisco as a snappy vaudevillian, without any speech impediment at all. He soon became known for his witty off-stage remarks, made in a stammering voice: "After they made that guy, th-th-they threw away the sh-sh-shovel!"
Many vaudevillians traveled with animals that were included in their routines. While in New York, Frisco called down to the front desk of a hotel and said, "The smell in my room is t-e-r-r-i-b-l-e, my g-g-goat can't s-s-sleep." The concierge replied, "Try opening the window." Frisco answered, "What? And let my p-p-pigeons out?"
Perhaps his most famous line was uttered while in a New York hotel. The room clerk called and said, "Mr. Frisco, we understand you have a young lady in your room." Frisco replied, "T-t-t-then send up another G-g-gideon B-b-bible, please."
In the 1940s, he moved to Hollywood, made appearances in several low-budget and otherwise forgettable movies. According to the American Vaudeville Museum, later in Frisco's career, bookies and IRS agents lined up outside the paymaster's door at theaters where Frisco was performing in order to collect on their debts.
Joe Frisco died of cancer, virtually penniless, on February 12, 1958, in Woodland Hills, Los Angeles, California.
Joe Frisco at Find a Grave
Dixie Lee, Vocals/Actress
d. Nov. 1, 1952, Holmby Hills, CA, USA.
née: Wilma Wyatt. Dixie married Bing Crosby in 1930, and remained married till her demise, though it is said that it was a very troubled marriage. She bore him 4 sons; Gary (1934 to 1995); Twins Phillip and Dennis in 1935 - Dennis died 1991), and Lindsay (1938 to 1989). The boys never spoke well about their farther. In some screen roles, Dixie was credited as Dixie Lee Crosby.
Willie Love,
Blues pianist
d. Aug 19, 1953, Jackson, MS, USA.
Harpist Rice Miller, known to his legion of fans across the Delta as Sonny Boy Williamson, first encountered pianist Willie Love in Greenville, MS, in 1942. The talented pair played regularly on Nelson Street, the main drag of the Black section of Greenville, musically intertwining with remarkable empathy. And it was Williamson who brought Love into the fold at Trumpet Records (the label responsible for Love's entire recorded legacy as a leader).
Love was deeply influenced by Leroy Carr and equally conversant on boogies and down-in-the-alley blues.
He played piano on several of Sonny Boy Williamson's Trumpet sessions, but Love didn't utilize his pal on any of his own 1951-1953 dates for the Jackson, MS, firm. Love's debut, "Take It Easy, Baby," was a rollicking boogie outing, and he followed it up with the equally sturdy "Everybody's Fishing," "Vanity Dresser Boogie," and "Nelson Street Blues." Love's last session in April of 1953 found him backed by a White bassist and drummer -- certainly a rarity for the era. Four months later, Love, who had long suffered from alcoholism, was dead.
1899
Member: "Sam and Kirk McGee and The Dixieliners"
The McGee Brothers were an American old-time performing duo of brothers Sam McGee and Kirk McGee. Sam typically played guitar and Kirk usually played banjo or fiddle, although they were both proficient in multiple string instruments.
McGee Brothers - Wikipedia
Sam & Kirk McGee | AllMusic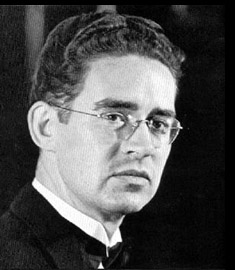 d. Oct. 13, 1971, San Francisco, CA, USA.
né: Dennis Patrick Terence Joseph O'Sullivan.
During 1922 and 1923, Sullivan, (one of 9 children in the O'Sullivan family -all taught to play the piano) attended the Chicago Conservatory of Music, and began to associate with other Chicago Jazzmen such as members of the Austin High School Gang, Muggsy Spanier, drummers George Wettling and Gene Krupa, banjoist Eddie Condon and cornetist Bix Beiderbecke.
At age 17, he got his 'union card' and played in the orchestras of Louis Panico, Sig Meyers and Enoch Light. He was deeply influenced by the New Orleans Rhythm Kings, and other Chicago musicians including pianist Lil Hardin Armstrong, Jelly Roll Morton, Joe "King" Oliver, Jimmie Noone, Freddy Keppard, with his particular favorites being Earl Hines and Thomas "Fats" Waller He often 'jammed' with members of the Paul Whiteman Orchestra in the basement of the "Three Deuces" club on State Street. In 1927, he first recorded (Okeh) with "McKenzie and Condon's Chicagoans".
Amont the musicians with whom he associated during these years were pianists Willie "The Lion" Smith, James P. Johnson, and Fats Waller. He frequently 'jammed' with trombonists Miff Mole, Jack Teagarden, Tommy Dorsey, and with Jimmy McPartland, Frank Teschemacher, Bud Freeman, Jim Lanigan and Gene Krupa. Among the songs he wrote were "Little Rock Getaway", "Just Strollin'", "Minor Mood" and "Gin Mill Blues", to name a few.
Joe Sullivan & Pee Wee Russell
In 1933, he became Bing Crosby'as accompanist, and worked with Bing in Films, on recordings and on radio. In 1936, he was hired by Bing's younger brother, bandleader Bob Crosby, but by now, Sullivan was suffering from marital difficulties. In addition, excessive drinking caused him to become increasingly unreliable and unable to hold a steady job, Only a few months after joining Bob Crosby, Sullivan contracted tuberculosis, and spent the next two years out of the music business recovering. In 1938, he rejoined Bing, and in 1939, briefly rejoined Bob Croshy.
After this, he relocated to New York where he found work in the 52nd Street clubs. In 1943, he was working in Los Angeles, CA. In May, 1945 he returned to New York city. where he found work in Eddie Condon's club. By 1949, he had formed a formidable temper, and was still plagued with alcoholism. Three of his marriages had failed, and he was suffering with deep depressison over the deaths of many of his long time musical friends. Irritable and withdrawn, thereafter he performed only sporadically until his death.
d. Dec. 30, 2001, Evergreen, CO USA.
Discovered by Jack Teagarden at
Kirksville State Teachers' College prom.
when he joined JT's band for 3 years.
Ralph Sutton was the greatest stride pianist to emerge since World War II, with his only close competitors being the late
Dick Wellstood
and the very versatile
Dick Hyman
. Nearly alone in his generation, Sutton kept alive the piano styles of
Fats Waller
and
James P. Johnson
, not as mere museum pieces but as devices for exciting improvisations. Although sticking within the boundaries of his predecessors, Sutton infused the music with his own personality; few could match his powerful left hand.
Ralph Sutton played with
Jack Teagarden
's big band briefly in 1942 before serving in the Army. After World War II he appeared regularly on
Rudi Blesh
's This Is Jazz radio show and spent eight years as the intermission pianist at
Eddie Condon
's club, recording frequently. He spent time playing in San Francisco, worked for
Bob Scobey
, moved to Aspen in the mid-'60s, and became an original member of the World's Greatest Jazz Band with
Yank Lawson
,
Bob Haggart
, and
Bud Freeman
.
In the 1970s, he recorded many exciting albums for the
Chaz
label and then cut albums for quite a few labels. Despite suffering a stroke in the early '90s, Sutton kept a busy schedule through the mid-'90s, playing at jazz parties and festivals. He died suddenly on December 29, 2001, in his car outside a restaurant in Evergreen, CO. Although he would have received much greater fame if he had been born 20 years earlier and come to maturity during the 1930s rather than the 1950s, at the time of his death it was obvious that Ralph Sutton had earned his place among the top classic jazz pianists of all time.
b. North Chelmsford, MA, USA.
d. 1970, Phoenix, Arizona, USA.
Composer and lyricist Harry MacGregor Woods was born in North Chelmsford, Massachusetts on November 4, 1896. His mother, a concert singer, encouraged him to play the piano, regardless of the deformed left hand he had been born with. His musical training would help when he attended Harvard University and supported himself there by singing in church choirs and giving piano recitals. After graduation, Woods settled on Cape Cod and began life as a farmer. He began cultivating his talent for songwriting while in the Army during World War II. After his discharge, Woods settled in New York and began his successful career as a songwriter.
His first songwriting success came in 1923 with the song "I'm Going South", written with Abner Silver, and a #2 hit song in 1924 for Al Jolson. In the same year, "Paddlin' Madeleine Home" was published with words & music by Woods (a recording by Cliff Edwards in 1925 would reach #3 on Billboard).
By 1926, Woods had become an established songwriter on Tin Pan Alley and he would become legendary with his new song "When the Red, Red, Robin Comes Bob, Bob, Bobbin' Along". One of the great standards ever written, the song was an instant hit for singers like Paul Whiteman, "Whispering" Jack Smith, Cliff Edwards and the Ipana Troubadors. Al Jolson, however, had the most success with his recording, which reached #1 on the billboard charts. The song was recreated in 1953 by Doris Day and again reached considerable success on the charts.
In 1929, Woods began contributing songs to Hollywood musicals such as The Vagabond Lover, A Lady's Morals, Artistic Temper, Aunt Sally, Twentieth Century, Road House, Limelight, It's Love Again, Merry Go Round of 1938 and She's For Me. In 1934, he moved to London where he lived for three years and worked for the British film studio Gaumont-British Films, contributing to the films Jack Ahoy and Evergreen.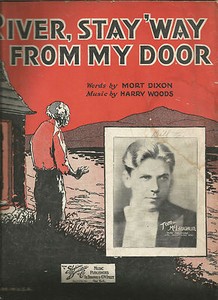 While Woods primarily created both the words & music for his songs, he also collaborated with Mort Dixon, Howard Johnson, Arthur Freed, Rube Bloom and Gus Kahn.
Alone, and with his collaborators, he wrote "I'm Looking Over a Four Leaf Clover", "I'm Goin' South", "Just a Butterfly that's Caught in the Rain", "Side by Side", "My Old Man", "A Little Kiss Each Morning", "Heigh-Ho, Everybody, Heigh-Ho", "Man From the South", "River Stay "Way from My Door", "When the Moon Comes Over the Mountain", "We Just Couldn't Say Goodbye", "Just and Echo in the Valley", "A Little Street Where Old Friends Meet", "You Ought to See Sally on Sunday", "Hustlin' and Bustlin' for Baby", "What a Little Moonlight Can Do", "Try a Little Tenderness", "I'll Never Say "Never Again" Again", "Over My Shoulder", "Tinkle Tinkle Tinkle", "When You've Got a Little Springtime in Your Heart" and "I Nearly Let Love Go Slipping Through My Fingers".
'Brooklyn Academy of Music'
opens in New York City.


died in Jackson, LA, USA.
Amede(e) Ardoin, (Zydeco) accordion
died in Alexandria, LA, USA.
Age: 45.
Amédé Ardoin was an American Louisiana Creole musician, known for his high singing voice and virtuosity on the Cajun accordion. He is credited by Louisiana music scholars with laying the groundwork for Creole music in the early 20th century, and wrote several songs now regarded as zydeco standards. Wikipedia
Born: March 11, 1898, Basile, LA
Died: November 3, 1942, Alexandria, LA
Amédé Ardoin
1969.
Deek Watson, vocals
died in Washington, DC, USA.
Co-lead with 'Ink Spots' vocal group.
Songs Recorded/Released
On This Date Include:
Paul Whiteman and his Orchestra -
Ka-lu-a - Blue
Danube Blues
1923
Benson Orchestra of Chicag
o
1925
Bennie Washington's Six Aces -
Compton Ave. Blues
Lonnie Johnson -

Falling Rain Blues
1926
Jack Hylton's Kit-Cat Band

Fletcher Henderson Orchestra
Lee Morse and her Bluegrass Boys

-

My Fate Is In Your Hands
Lee Morse and her Bluegrass Boys

-

To Be Forgotten
Tiny Parham and his Musicians
Back To The Jungle

Blue Moon Blues

Doin' The Jug-Jug

Down Yonder

Memphis Mamie

Squeeze Me
McKinney's Cotton Pickers -

Laughing At Life
1931


Louis Armstrong and his Orchestra
-
Stardust
Louis Armstrong and his Orchestra
-
Wrap Your Troubles In Dreams
Waring's Pennsylvanians
-
Young And Healthy
1938
Bing Crosby - "You're A Sweet Little Headache"


Bing Crosby
"Oh! What A Beautiful Mornin'"
Wrap Your Troubles In Dreams -
Bing Crosby
When skies are cloudy and grey
They're only grey for a day
So wrap your troubles in dreams
And dream your troubles away
Until that sunshine peeps through
There's only one thing to do
Just wrap your troubles in dreams
And dream all your troubles away
Your castles may tumble (that's fate after all)
Life's really funny that way
No use to grumble, smile as they fall
Weren't you king for a day?
Just remember that sunshine
Always follows the rain
So wrap your troubles in dreams
And dream your troubles away
Your castles may tumble (that's fate after all)
Life's really funny that way
But no need to grumble, smile as they fall
Weren't you king for a day?
Just remember that sunshine
Always follows the rain
So wrap your troubles in dreams
And dream... dreeaaam your troubles away
YOU'RE A SWEET LITTLE HEADACHE
From the film "Paris Honeymoon" (1939)
(Ralph Rainger / Leo Robin)
Bing Crosby (Film Soundtrack) - 1939
You're a sweet little headache
I've a good mind to spank you
Then thank you for all you've done
You're a sweet little headache
Full of quaint little schemes
But when I should forget you
I let you disturb my dreams
I thought I could hold my own with you
But you've got me all perplexed
For here am I alone with you
What are you going to do next?
You're a sweet little headache
But a sweet little heartache
You'll turn out to be some day
and all those who have provided content,
images and sound files for this site.