HAPPY BIRTHDAY W. C. HANDY!
BIRTHDAYS
The revered Father of the Blues was born on November 16, 1873 in Florence, Alabama.
William Christopher "W.C." Handy Sr.
Composer/Cornet/leader
b. Florence, AL, USA.
d. March 28, 1958, New York, NY, USA.
William Christopher Handy (November 16, 1873 – March 28, 1958) was a blues composer and musician. He was widely known as the "Father of the Blues".
Handy remains among the most influential of American songwriters. Though he was one of many musicians who played the distinctively American form of music known as the blues, he is credited with giving it its contemporary form. While Handy was not the first to publish music in the blues form, he took the blues from a regional music style with a limited audience to one of the dominant national forces in American music.
Handy was an educated musician who used folk material in his compositions. He was scrupulous in documenting the sources of his works, which frequently combined stylistic influences from several performers. He loved this folk musical form and brought his own transforming touch to it.
http://en.wikipedia.org/wiki/W._C._Handy
Albert Edwin "Eddie" Condon
A major propagandist for freewheeling Chicago jazz, an underrated rhythm guitarist, and a talented wisecracker, Eddie Condon's main importance to jazz was not so much through his own playing as in his ability to gather together large groups of all-stars and produce exciting, spontaneous, and very coherent music.
Although Condon had to an extent laid low since the beginning of the Depression, in 1938, with the opportunity to lead some sessions for the new Commodore label, he became a major name. Playing nightly at Nick's (1937-1944), Condon utilized top musicians in racially mixed groups.
He started a long series of exciting recordings (which really continued on several labels up until his death), and his Town Hall concerts of 1944-1945 (which were broadcast weekly on the radio) were consistently brilliant and gave him an opportunity to show his verbal acid wit; the Jazzology label reissued them complete and in chronological order. Condon opened his own club in 1945, recorded for Columbia in the 1950s (all of those records have been made available by Mosaic on a limited-edition box set), and wrote three colorful books, including his 1948 memoirs We Called It Music.
A partial list of the classic musicians who performed and recorded often with Condon include trumpeters/ cornetists Wild Bill Davison, Max Kaminsky, Billy Butterfield, Bobby Hackett, Rex Stewart, and Hot Lips Page; trombonists Jack Teagarden, Lou McGarity, Cutty Cutshall, George Brunies, and Vic Dickenson; clarinetists Pee Wee Russell, Edmond Hall, Joe Marsala, Peanuts Hucko, and Bob Wilbur; Bud Freeman on tenor; baritonist Ernie Caceres; pianists Gene Schroeder, Joe Sullivan, Jess Stacy, and Ralph Sutton; drummers George Wettling, Dave Tough, and Gene Krupa; a string of bassists; and singer Lee Wiley. Many Eddie Condon records are currently available, and no jazz collection is complete without at least a healthy sampling.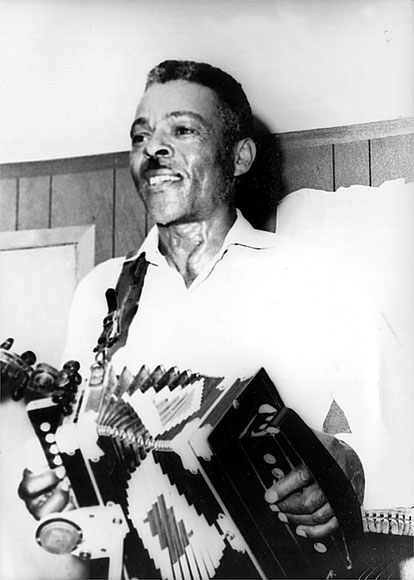 1916
Alphonse "Bois Sec" Ardoin

(zydeco) accordion
b. Duralde, LA. USA.
Biography
~by Jason Ankeny
Singer and accordionist Alphonse "Bois Sec" Ardoin was a crucial link to the musique Creole traditions of a bygone era -- his music kept alive the Cajun "la la" music which developed in the African-American communities of his native southwestern Louisiana, and which was a clear antecedent of the contemporary zydeco sound.
Born in rural Duralde in either 1914 or 1916, Ardoin was tagged with his nickname -- translating as "Dry Wood" -- because as a child he was always the first one in the fields to seek shelter during a rainstorm; born and raised as a sharecropper, farming remained the primary focus of his life even as an adult, often at the expense of his musical pursuits.
He taught himself the accordion at the age of 12, inspired by the exploits of his older cousin, the famed Creole virtuoso Amedée Ardoin, who in the years to follow he regularly backed at house parties and club dates. However, unlike his cousin, Bois Sec never became a professional player -- his mother was dead set against a career in music. In 1948, Ardoin teamed with fiddler Canray Fontenot, his principal collaborator in the years to follow; as the Duralde Ramblers, they became a fixture at local house parties and dances, and earned such tremendous regional success that they even played the Newport Folk Festival in 1966, the same year they cut their classic album Les Blues de Bayou for the Melodeon label.

By the early '70s, Ardoin was fronting the Ardoin Brothers Band, which featured his sons Morris, Gustave and Lawrence (later the frontman of the French Zydeco Band), as well as Fontenot; after Gustave was killed in a 1974 auto accident, Ardoin appeared to lose much of his passion for music, and the following year retired from playing dances, although he continued making the infrequent live appearance for years to come.
1919
Earl Bolick

C&W vocals/guitar
d. April 19, 1998.
Member 'The Blue Sky Boys'
The Blue Sky Boys (Hickory, N.C.) became popular
during the era of mandolin/guitar brother duets in
the 1930s and 40s. Earl (b. November 16, 1919) and
Bill Bolick (b. October 28, 1917)were just sixteen and
eighteen respectively when they first recorded for
RCA Victor in 1936. The two quiet, dignified young
men had begun their career only a year earlier, playing
with fiddler Homer Sherill as first the Good Coffee Boys, a
nd later as the Crazy Hickory Nuts.
When the Bolick Brothers
ventured out on their own, RCA Victor Producer Eli Oberstein
suggested that the two take on a more distinctive name to
distinguish them from the many brother groups of the time.
The Blue Sky Boys became instant favorites with listeners,
including those of the "Farm and Fun Time" show on WCYB
radio in Bristol, Virginia, in 1949.
The Blue Sky Boys - Wikipedia
Elmer Lewis "Sonny" Dunham
b. Brockton, MA, USA. Feat.
1930s Soloist with Glen Gray; '40s
led own band; '51 with T.Dorsey
Elmer "Sonny" Dunham (November 16, 1911 – July 9, 1990) was an American trumpet player and bandleader.
Born in Brockton, Massachusetts, the son of Elmer and Ethel (née Lewis) Dunham, he attended local schools and took lessons on the valve trombone at the age of 7. He changed to the slide trombone at age 11, and was playing in local bands by the age of 13. Dunham began his musical career as a trombone player in the Boston area.
In the late 1920s he moved to New York where he played with Ben Bernie for six months before moving onto Paul Tremaine's Orchestra in 1929 where he remained for 2 years. It was while he was working with Tremaine's group, where he also sang and arranged, that he switched to the trumpet.
In 1931, he left Tremaine and for a few months led his own group, calling it Sonny Dunham and his New York Yankees. He then joined the Casa Loma Orchestra in 1932 where he became a popular soloist, scoring a big hit with his trumpet work on "Memories of You". He stayed until March, 1936 when he formed another more unusual group, Sonny Lee and The New Yorkers Band, which featured 14 pieces, with ten of his musicians doubling on trumpet.
After the band failed to secure adequate bookings, he moved to Europe for three months and in 1937 returned to the Casa Loma Orchestra, where he remained until 1940 when he tried again to form his own group, this time, with more success.
His new band debuted in July 1940 at the Glendale Auditorium in Los Angeles. Sonny's band toured the United States, playing at the top spots and holding talent searches along the way. After returning to New York in early 1941, they were on nightly radio broadcasts at the Roseland Ballroom, and at the Meadbrook at Cedar Grove, New Jersey, in June. The band then left New York in the late summer for Hollywood, but returned to New York in January 1942, only to return to the road again by March of that year. They played at the Hollywood Palladium in April, and were also featured in the Universal Picture "Behind the Eight Ball" with the Ritz Brothers.
He served as musical director for this film. The band also appeared in another Universal film short "Jivin' Jam Session." The band then left to play in Chicago, and returned to New York for an appearance at the Paramount Theatre in November, 1942. From January to April, 1943, his band was on the bandstand of the Hotel New Yorker. They later toured the mid west and returned to New York late that year where they recorded for Langworth Transcriptions. In February of 1944, the band returned to the Hotel New Yorker, and in April, performed at the Cafe Rouge Room at the Hotel Pennsylvania. The band headed back to Los Angeles and performed at the Hollywood Palladium in July and August. While there, the band appeared in the Universal film short "Jive Busters" and then went over to Warner Bros. where they were featured in the film Sonny Dunham and His Orchestra. In September, they headed back to the East Coast. After another tour of the mid west in 1945, and again in 1946, the band returned to New York in late 1946.
The band had few appearances between 1947 and 1950. Sonny dissolved the band in 1951 and worked with Bernie Mann and Tommy Dorsey for a while before forming another group. He moved to Florida in the 1960s where he formed a smaller band and played mainly in the area. He took the band on cruise ships when he could find bookings, and also booked bands for the cruise ships.
Little was heard from Sonny in the 1970s and 1980s. He was living in a trailer in Miami, Florida, still involved in booking bands for cruises and playing occasionally when he could find work. He died from cancer on July 9, 1990, aged 78.
Sonny Dunham - Wikipedia
Jesse Stone

piano/composer/producer
b. Atchison, KS, USA
d. April 1, 1999, Altamonte Springs, FL, USA.
Age: 97. aka: Charles or Chuck Calhoun.
Jesse will always be recalled as the man who wrote "Shake, Rattle and Roll", and helped develop many of the Atlantic Records label's biggest rock-and-roll hits. But, he wrote many more tunes than just that one. One of his earlier hits was the Swing tune "Idaho", a big hit for Guy Lombardo, selling three million copies in the mid-1940's. Benny Goodman and Jimmy Dorsey also had hit recordings of the tune. Jesse was the grandson of Tennessee slaves.
At just age 5, he was already performing, touring with his family's minstrel show. In the 1920's he led a jazz group that included the future saxophone legend Coleman Hawkins.
He enjoyed a facscinating career that encompassed minstrel music, folk songs, dance tunes,
rhythm-and-blues, rock-and-roll and Jazz. One of his accomplishments was helping to build Atlantic Records into a top rhythm-and-blues label in the late 1940's and early '50's, signing stars like Ruth Brown, Ray Charles, Big Joe Turner, the Drifters and the Clovers. When he died, he was survived by his wife, the singer Evelyn McGee. In 1974, the head of Atlantic Records, Ahmet Ertegun, said, "Jesse Stone did more to develop the basic rock-and-roll sound than anybody else."

Jesse Stone - Wikipedia
1916
Virginia Verrill, vocals

b. Santa Monica, CA, USA.
d. Jan. 18, 1999, Raleigh, NC. USA (Alzheimer's).
Verrill voice was dubbed into many films during the 1930s. Her voice was heard singing the song "Did I Remember" to words mouthed by Jean Harlow singing (in a North African Cafe to French Foreign Legionaire Cary Grant) in the 1935 film "Suzy". She also dubbed for Harlow the previous year in Harlow's film 'Reckless'. Verrill was last heared in the 1938 film 'The Goldwyn Follies' where her singing was dubbed for Andrea Leeds.
MORE
Notable Events Occurring
On This Date Include:


America's most famous Vaudeville theatre, The Palace',
in New York City, closed its doors. It was the most famous
vaudeville theatre in America. It metamorphosed into a
movie house with a stage show preceding the film.
Palace Theatre (Broadway)
1937.
Bob Crosby orchestra recorded
"South Rampart Street Parade"
f
or the Decca label.
1953.
Sol Hoopii, guitar
died in Seattle, WA, USA.
Age: 51.
(né: Solomon Kaaiai Hoopii)
1980.
Frank Luther
Pop vocalist, died.
Age: 91.

1984.
Vic Dickenson
Jazz trombonist
died in New York, NY, USA.
Age: 78.
Vic Dickenson
Rose "Chee Chee" Murphy, vocals
died in New York (Queens), NY, USA.
Rose Murphy, 76, Dies; Jazz Pianist and Singer - New York Times
Songs Recorded/Released
On This Date Include:
1924
Coon Sanders Nighthawks Orchestra
- (Ted Lewis / Frank Ross / Benny Davis )
Harry Reser and his Orchestra -
"Paddlin' Madelin' Home"
Louis Armstrong and his Hot Five -
"Big Butter and Egg Man"
-
Vocal By May Alix (Percy Venable / Louis Armstrong )
Louis Armstrong and his Hot Five -
"Jazz Lips"
-
(Lil Hardin /Louis Armstrong / S. Robbin)
Louis Armstrong and his Hot Five -
"Skid-Dat-De-Dat"
(Lil Hardin ) - Scat Chorus by Louis Armstrong
Louis Armstrong and his Hot Five -
"Sunset Cafe Stomp"
- Vocal Chorus By May Alix - (Percy Venable / Louis Armstrong )
Lawrence Welk's Novelty Orchestra -
"Spiked Beer"
Texas Alexander -
"Penitentiary Moan Blues"
- (Texas Alexander)
Jessie Stafford and his Orchestra -
"Doin' The Racoon"
-
(J. Fred Coots / Raymond Klages)
Lonnie Johnson
Lonnie Johnson -
"Careless Love"
- (W.C. Handy)
Lonnie Johnson -
"When You Fall For Some One That's Not Your Own"
1934
Don't Fence Me In
~Bing Crosby
Oh, give me land, lots of land under starry skies above,
Let me ride through the wide open country that I love,
Let me be by myself in the evenin' breeze,
And listen to the murmur of the cottonwood trees,
Send me off forever but I ask you please,
Just turn me loose, let me straddle my old saddle
Underneath the western skies.
On my Cayuse, let me wander over yonder
Till I see the mountains rise.
I want to ride to the ridge where the west commences
And gaze at the moon till I lose my senses
And I can't look at hovels and I can't stand fences
Oh, give me land, lots of land under starry skies,
Let me ride through the wide open country that I love,
Let me be by myself in the evenin' breeze
And listen to the murmur of the cottonwood trees
Send me off forever but I ask you please,
Just turn me loose, let me straddle my old saddle
Underneath the western skies
On my Cayuse, let me wander over yonder
Till I see the mountains rise.
I want to ride to the ridge where the west commences
And gaze at the moon till I lose my senses
And I can't look at hobbles and I can't stand fences
Poppa, don't you fence me in

brought to you by...

~confetta