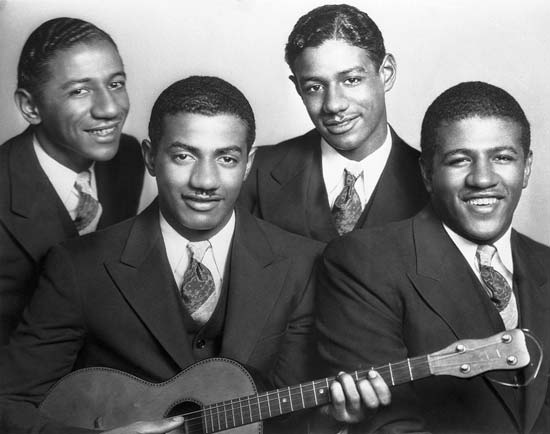 The Mills Brothers
BIRTHDAYS
1908
Robert Shaw
American pianist
Robert Shaw was an American blues and boogie-woogie pianist, best known for his 1963 album, The Ma Grinder. Wikipedia
Born: August 9, 1908, Stafford, TX
Died: May 18, 1985, Austin, TX
Nat Jaffe, piano
b. New York, NY
d. August 5, 1945, New York, NY, USA.
Between 1921-'32, his family lived in Berlin, Germany, and then returned to the U.S.A. In 1938, Nat was with the Charlie Barnet band; '39-'40 with Jack Teagarden; Led his own combos (including such men as Don Byas and Charlie Shavers) played the clubs on New York's famed 52nd Street.
www.answers.com/topic/nat-jaffe
The Mills Brothers (clockwise, from top right):
John and sons Donald, Harry, and Herbert
Harry Mills, vocals
An astonishing vocal group that grew into one of the longest-lasting oldies acts in American popular music, the Mills Brothers quickly moved from novelty wonders to pop successes and continued amazing audiences for decades. Originally billed as "Four Boys and a Guitar," the group's early records came complete with a note assuring listeners that the only musical instrument they were hearing was a guitar. The caution was understandable, since the Mills Brothers were so proficient at recreating trumpets, trombones, and saxophones with only their voices that early singles like "
Tiger Rag
" and "St. Louis Blues" sounded closer to a hot Dixieland combo than a vocal group. And even after the novelty wore off, the group's intricate harmonies continued charming audiences for decades.
The four brothers were all born in Piqua, Ohio -- John, Jr. in 1910, Herbert in 1912, Harry in 1913, and Donald in 1915. Their father owned a barber shop and founded a barbershop quartet as well, called the Four Kings of Harmony. His sons obviously learned their close harmonies first-hand, and began performing around the area. At one show, Harry Mills forgot his kazoo -- the group's usual accompaniment -- and ended up trying to emulate the instrument by cupping his hand over his mouth. The brothers were surprised to hear the sound of a trumpet proceeding from Harry's mouth, so they began to work the novelty into their act, with John taking tuba, Donald trombone, and Herbert a second trumpet. The act was perfect for vaudeville, and the Mills Brothers also began broadcasting over a Cincinnati radio station during the late '20s.
After moving to New York, the group became a sensation and hit it big during 1931 and early 1932 with the singles "Tiger Rag" and "Dinah" (the latter a duet with Bing Crosby). Dumb-founded listeners hardly believed the notice accompanying the records: "No musical instruments or mechanical devices used on this recording other than one guitar." Though the primitive audio of the era lent them a bit of latitude, the Mills Brothers indeed sounded exactly like they'd been backed by a small studio band. (It was, in essence, the flip side of early material by Duke Ellington's Orchestra, on which the plunger mutes of Bubber Miley and Tricky Sam Nanton resulted in horns sounding exactly like voices.)
The exposure continued during 1932, with appearances in the film The Big Broadcast and more hits including "St. Louis Blues" and "Bugle Call Rag." John, Jr.'s sudden death in 1936 was a huge blow to the group, but father John, Sr. took over as bass singer and Bernard Addison became the group's guitarist. Still, the novelty appeared to wear off by the late '30s; despite duets with Ella Fitzgerald ("Dedicated to You") and Louis Armstrong ("Darling Nelly Gray"), the Mills Brothers' records weren't performing as well as they had earlier in the decade. All that changed in 1943 with the release of "Paper Doll," a sweet, intimate ballad that became one of the biggest hits of the decade -- twelve weeks on the top of the charts, and six million records sold (plus sheet music). The group made appearances in several movies during the early '40s, and hit number one again in 1944 with "You'll Always Hurt the One You Love."
The influence of middle-of-the-road pop slowly crept into their material from the 1940s; by the end of the decade the Mills Brothers began recording with traditional orchestras (usually conducted by Sy Oliver, Hal McIntyre or Sonny Burke). In 1952, "The Glow Worm" became their last number one hit. The group soldiered on during the '50s, though John, Sr. semi-permanently retired from the group in 1956. A move from Decca to Dot brought a moderate 1958 hit, a cover of the Silhouettes' "Get a Job" that made explicit the considerable influence on doo-wop exerted by early Mills Brothers records. As a trio, Herbert, Harry and Donald continued performing on the oldies circuit until Harry's death in 1982, and Herbert's in 1988. The last surviving sibling, Donald, began performing with the third generation of the family -- his son, John II -- until his own death in 1999.
b. Mebane (Orange County), NC, USA.
~Bio: One of the last links to the prewar African-American string band tradition, banjo player Odell Thompson was born on August 9, 1911, the son of John Arch Thompson, who was also a pretty fair banjo player. Thompson was raised in the northeastern part of Orange County in North Carolina, and when he began playing banjo, he absorbed his father's traditional repertoire, and was soon playing in string bands for square dances and frolics with his cousin, fiddler Joe Thompson. Odell took up guitar (he also played a little fiddle) and began playing the blues in the 1920s, but continued to play banjo in the old style in string bands with Joe until the 1940s, when pressure from bluegrass and other newer musical forms made their approach all but obsolete. In the early '70s, folklorist Kip Lornell discovered the duo and convinced them to start playing the old music again, which led to a new career of festivals and concerts for Thompson and his cousin.
Odell played banjo in the old clawhammer style (a down-stroking technique that is known by several names, including frailing, thumping, and drop-thumb) on a fretless resonator banjo, and his sound had a wonderfully wild and archaic feel. Odell's banjo, coupled with Joe's ragged, swerving fiddle style, effectively re-created the feel of black string bands from the 1800s, and the duo's performances were literally living history lessons. Joe and Odell had just completed a set at Merlefest on April 28, 1994, when Odell Thompson was struck and killed by a car while crossing a road outside the festival grounds. He was 83. His passing broke the last link to the black string band tradition as a living, breathing art form.
~ Steve Leggett
On This Date Include:
1910.
A.J. Fisher, of Chicago, IL, USA, received a patent for the electric washing machine, a device which replaced the old washboard, that previously had also found some use as a musical instrument.
backed by the Victor Young orchestra,
recorded "Bill", a tune first heard in
Jerome Kern's Broadway musical "Showboat"
William (Bill) Russell
violin/writer/producer/educator
died in New Orleans, LA, USA.
Bill was one of the most important writers and historians involved in the New Orleans Revival of the 1940s. Besides his writing, Russell was a violinist with extensive study in both performance and composition, From 1934-'40, he played with 'The Red Gate Shadow Players' becoming enamored with New Orleans Jazz. Through the Hot Record Exchange, a shop that he started in 1935, he bought and sold records. In the mid 1930s, as a journalist, he contributed three chapters to the 1939 book Jazzmen, and was writing articles for Jazz Hot.
In 1942, Russell helped discover, and recorded, the forgotten cornetist Bunk Johnson. From 1944-'57, using his American Music label. Russell documented a variety of famous and obscure New Orleans musicians. (The GHB label has since released many of those sessions.) Living in New Orleans during 1958-65, Russell worked as the curator of the Tulane University Jazz archive, and by his interviews helped document the early history of Jazz. Beginning in 1967, Bill Russell played violin with the New Orleans Ragtime Orchestra. His love of Dixieland Jazz never wavered, and throughout his life, he worked hard to save the details of Jazz's early history for posterity.
Bill Russell (composer)
1916
I Ain't Got Nobody - Marion Harris
Paul Whiteman and his Orchestra
Michigan Water Blues - Piano Accompaniment by Fletcher Henderson
Lena Wilson accompanied by
Fletcher Henderson's Orchestra
Savoy Bearcats
How Could I Be Blue
Stampede
Emmett Miller accompanied
by his Georgia Crackers
Clara Smith -
Ain't Got Nobody To Grind My Coffee
~(Roger Graham / Dave Peyton / Spencer Williams)
There's been a sayin' goin' round
And I begin to think it's true
It's awful hard to love someone
When they don't care about you
The sweetest little thing in town
But now she's gone and left me
Now I ain't got nobody, and nobody cares for me!
That's why I'm sad and lonely,
Won't somebody come and take a chance with me?
I'll sing you love songs, honey, all the time,
If you'll only say you'll be sweet gal of mine,
Oh, I ain't got nobody, nobody cares for me!
I'll sing you love songs, honey, all the time,
If you'll only say you'll be sweet gal of mine,
Oh, I ain't got nobody, nobody cares for me!
Once I had a loving daddy,
Just as good as he could be,
But I haven't got a daddy,
He's done gone away from me,
And since he left me behind,
Here's what's on my mind, I find:
Ain't got nobody to grind my coffee in the morning,
Ain't got nobody to serve my breakfast in bed,
Who could do my grinding like my sweet man could?
Ain't got nobody to light my brand-new percolator,
Ain't got nobody to heat my oven for me.
When my daddy was around me, he was oh, so good,
He would haul my ashes, even chop my kindling wood.
Ain't got nobody who would love me like my daddy could,
And grind the coffee for me, I say,
Oh, my daddy used to love me pretty, I'll confess,
And believe me, he was really different from the rest,
Ain't got no other who could really put me to a test,
And grind the coffee for me, I say,
and all those who have provided content,
images and sound files for this site.