Members of the Ted Lewis Band and their wives, c.1926.
L-R: Dave Klein, Walter Kahn, George Brunies, Madeleine Brunies, Harry Raderman (on running board), Adah Lewis, Julius Kahn (brother of Walter), unknown, unknown, Eddie Chester. Mark Berresford Collection
d. Dec. 28, 1946, Hollywood, CA, USA
Artist: Carrie Jacobs Bond
American composer and song writer.
Her most famous song was "I Love You Truly".
Others included "A Perfect Day"
and "Just a-Wearyin' For You".
~ Keith Johnson
1887
Sam "Crying" Collins,
Blues vocals/guitar
One of the earliest generation of blues performers, Collins developed his style in South Mississippi (as opposed to the Delta). His recording debut single ("The Jail House Blues," 1927) predated those of legendary Mississippians such as Charley Patton and Tommy Johnson and was advertised as "Crying Sam Collins and his Git-Fiddle." Collins did not become a major name in blues -- in fact his later records appeared under several different pseudonyms, most notably the name Jim Foster -- but his rural bottleneck guitar pieces were among the first to be compiled on LP when the country-blues reissue era was just beginning.
Sam Charters wrote in The Bluesmen: "Although Collins was not one of the stylistic innovators within the Mississippi blues idiom, he was enough part of it that, in blues like 'Signifying Blues' and 'Slow Mama Slow,' he had some of the intensity of the Mississippi music at its most creative level."
~ Jim O'Neal
Sam Collins (musician)
Crying Sam Collins And His Git-Fiddle - Discogs
Rattle and Hum, 1927: the 78s of Cryin' Sam Collins
1908

Tau Moe
(Hawaiian) Steel Guitar
b. Samoa, Trust Territory of New Zealand
d. June 24, 2004, Honolulu, HI, USA.
Moe's father, a Mormon missionary who went around setting up churches and teaching music, moved the family to Hawai'i when Tau was 11, and it was there that Moe was introduced to the musical styles he would grow to love. It was M.K. Moke who taught him to play the Steel Guitar. Later, Moe would meet Rose, another steel guitar player, who would become his wife. They joined a travelling show (circus troupe), and began touring. The couple had their first child, Lani, in Japan (1929), and their daughter too would later join the family act. With the birth of son, Dorian - born in India during the Muslim-Hindu riots, the act became known as the "Aloha Four".
During the 1920s-'30s, Hawaiian music was sweeping the world. and the Tau Moe family played for numerous world leaders in Germany, in Paris, in Brussels and in Japan, mesmerizing foreign audiences. Moe met with such world leaders as Churchill, Gandhi (1932), Hitler and Goebbels (1938), whom he claimed to have defied by sneaking 150 Jews out of Germany by making them stagehands and 'groupies'. At one point, during WWII, Moe taught the steel guitar to the Maharajah of Calcutta. The family were in Lebanon briefly before escaping to Iraq via India, where they sat out the duration of WWII, with Moe leading his own big band made up of refugees from such diverse countries as China, and Russia, among others.
After WWII, the family often worked with French musical star Maurice Chevalier, and toured with the Josephine Baker show to Venice, Italy. They even played steel guitar music to an eager audience in Egypt. By the 1980s, Moe was fully retired, but did work with a newer generation guitarist, Bob Brozman, with whom Moe teamed in 1989 to record "Ho'omana'o I Na Mele O Ka Wa U'i" -- "Remembering The Songs Of Our Youth" (Rounder Records).
The record recreated the harmonies and the sounds that Moe first played in the 1920s.
At the time of his demise, Moe (pronounced 'Mo - ay') was the oldest living recording artist on the Sony and Decca labels. Curiously, although Moe cut records in Greece, Yugoslavia, Germany, Denmark and Japan, he never recorded in the U.S.A. until the 1980s, when he was "discovered" by guitarist/musicologist Bob Brozman. During more than 50 years of continuous touring, he became famous all over the world, - learning to speak 10 different languages along the way. (Moe said he circled the world at least 7 times.)
Moe was a lifetime member of the American Federation of Musicians.
Tau Moe
1908
Russell Procope, alto sax
b. New York, NY, USA.
d. 1981
An excellent altoist, Russell Procope became much better-known as a New Orleans-style clarinetist during his Duke Ellington years.
He studied violin for eight years before switching to clarinet and alto.
Procope recorded with Jelly Roll Morton in 1928 and had important stints with the big bands of Benny Carter (1929), Chick Webb (1929-1931), Fletcher Henderson (1931-1934), Tiny Bradshaw (1934-1935), Teddy Hill (1935-37), and Willie Bryant. However, it was as a member of the John Kirby sextet (1938-1943) during which he exclusively played alto that Russell Procope did his finest work, playing brilliant solos with a distinctive tone that perfectly fit the music.
After a period in the Army and a reunion with Kirby (1945), Procope became a member of the Duke Ellington Orchestra in 1946, staying (except for a short period in 1961 with Wilbur DeParis) until Ellington's death 28 years later in 1974. Because of Johnny Hodges' presence, Procope had very few alto solos, serving instead as a section player and occasional clarinet soloist whose warm tone contrasted with that of the cooler Jimmy Hamilton; Procope was under-utilized but secure and happy during his Ellington years. Later in the 1970s, he played with Brooks Kerr's group.
~ Scott
Yanow, All Music Guide
BIO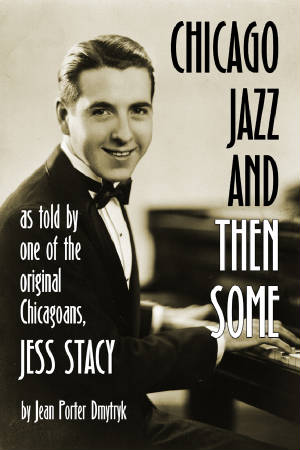 1904
Jess Alexandria Stacy, Piano
b. Bird's Point (Cape
Girardeau), MO, USA.
d. Jan. 5, 1995, Los Angeles, CA, USA.
One of the great swing pianists, Jess Stacy is known for his solo on "Sing, Sing, Sing," a solo that was cut from the studio recording, but was finally captured on recording at Benny Goodman's historic 1938 Carnegie Hall Concert and released for the first time in 1950. A mostly self-taught player who performed on riverboats during the early '20s, Stacy was part of the fertile Chicago jazz scene of the 1920s with his style being influenced by both Earl Hines and Bix Beiderbecke.
Still obscure when he joined Goodman's big band in 1935, the pianist soon became well-known as one of BG's top sidemen, working with him through 1939 and on-and-off during the next five years. Stacy also spent time with the bands of Bob Crosby, Horace Heidt, and Tommy Dorsey, recorded with Eddie Condon, did some solo recordings of his own (starting in 1935), had a short-lived marriage to singer Lee Wiley, and tried twice to lead big bands of his own. He became fairly obscure after moving to California in 1947 (mostly playing in piano bars) and, in 1963, Stacy retired from music altogether, only to return briefly on a few special occasions (and for two Chiaroscuro recordings) over the next 20 years.
Jess Stacy - Wikipedia
OBITUARIES : Jess Stacy
1962.
Israel Crosby

, bass, died in Chicago, IL, USA.

Age: 43.
1966.
Peg Leg Howell
,
guitar, died in, Atlanta, GA, USA.
Age: 78.

1989.
Sonny Thompson

, R&B piano/bandleader, died in Chicago, IL, USA. Age: 72
Sonny Thompson - Wikipedia
1989.
Peter Long

, producer, died in Los Angeles, CA, USA. Age: 66 Worked with singer Billie Holiday.
Songs Recorded/Released
Leona Williams and her Dixie Band - Sugar Blues
Ted Lewis and his Band - There'll Be Some Changes Made
Eccentric

Sweet Little You
Waring's Pennsylvanians
Texas Alexander - Long Lonesome Day Blues

Lonnie Johnson -
Fickle Mama Blues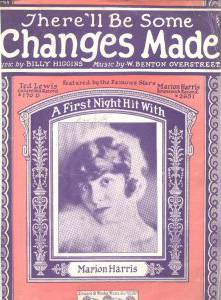 THERE'LL BE SOME CHANGES MADE
(Billy Higgins / W. Benton Overstreet)
They say don't change the old for the new
But I've found out this will never do
When you grow old you don't last long
You're here today and then tomorrow you're gone
I loved a man(gal) for many years gone by
I tho't his(her) love for me would never die
He(She) made some changes that would never do
>From now on I'm goin' to make some changs too
For there's a change in the weather
There's a change in the sea
So from now on there'll be a change in me
My walk will be diff'rent, my talk and my name
Nothin' about me is goin' to be the same
I'm goin' to change my way of livin' if that ain't enough
Then I'll change the way that I strut my stuff
'Cause nobody wants you when you're old and gray
There'll be some changes made
They say the old time things are the best
That may be very good for all the rest
But I'm goin' to let the old things be
'Cause they are certainly not suited for me
There was a time when I thought that way
That's why I'm all alone here today
Since ev'ry one of these days seeks something new
>From now on I'm goin' to seek some new things too
For there's a change in the weather
There's a change in the sea
So from now on there'll be a change in me
Why, my walk will be be different, and my talk and my name
Nothing about me gonna be the same
I'm gonna change my way of livin', and that ain't no shock
Why, I'm thinking of changin' the way I gotta set my clock
Because nobody wants you when you're old and gray
There's gonna be some changes made today
There'll be some changes made
and all those who have provided content,
images and sound files for this site.