BIRTHDAYS
1906
Anton Karas, zither player
b. Vienna, Austria
d. Jan. 9, 1985, Vienna, Austria. British film Director Carol Reed found him playing in a bar in post WW2 Vienna. He hired Anton to play background music for the Wells film 'The Third Man'.
Karas played his own composition, that was subsequently named for the film. It became a world-wide hit. Anton used his salary to open his own cafe and for the remainder of his life, he was a cafe owner who would on occassion entertain his customers by playing his song "The Third Man Theme" on his Zither.
b. Newport News, VA, USA
d. 1989.
Lloyd "Tiny" Grimes (
July 7
, 1916
-
March 4
, 1989
) was an American jazz and R&B guitarist. He was a member of the Art Tatum Trio from 1943 to 1944, was a backing musician on recording sessions by Charlie Parker and others, and later led his own bands. He is notable for playing thetenor guitar, a four-stringed electric instrument.
Grimes was born in Newport News, Virginia and began his musical career playing drums and one-fingered piano. In 1938 he took up the electric 4-string tenor guitar. In 1940 he joined the Cats And A Fiddle as guitarist and singer. In 1943 he joined the Art Tatum Trio as guitarist and made a number of recordings with Tatum. The early Tatum Trio recordings some of the more interesting early examples of Tiny Grimes' guitar work.
After leaving Tatum, Grimes recorded with his own groups in New York and he recorded with a long list of leading musicians, including vocalistBillie Holiday. He made four recordings with Charlie Parker that are considered excellent examples of early bebop jazz: "Tiny's Tempo", "Red Cross", "Romance Without Finance", and "I'll Always Love You". He was one of the 52d street regulars.
In the late 1940s, he had a hit on a jazzed up version of "Loch Lomond". His band was billed as
Tiny "Mac" Grimes and the Rocking Highlanders
and appeared in kilts. This groups included top tenor saxman Red Prysock and big-voiced baritone singer Screaming Jay Hawkins. Grimes continued to lead his own groups into the later 1970's and he recorded on Prestige Records in a series of strong blues-based performances with Coleman Hawkins, Illinois Jacquet, Pepper Adams, Roy Eldridge and other noted players.
In 1953 he may have played on The Crows one-hit wonder, "Gee", that has been called the first original rock and roll record by an R&B group.
Tiny Grimes
Notable Events Occurring
Christopher Stone
played records at the BBC's Studio 3,
thus becoming the very first British 'disc jockey'.
Johnny Hamp's Kentucky Serenaders - That's Why I Love You
Harry Reser and his Orchestra - Gonna Get A Girl
Bix Beiderbecke and his Gang
Lee Morse and her Bluegrass Boys
Ben Selvin and his Orchestra - Do the New York



This memorable tune from the Charleston era was inspired by a pig! The composers, Donaldson & Kahn, were visiting their friend, entertainer Eddie Cantor, when Cantor's daughter Marjorie brought out one of her favorite toys, a walking mechanical pig. She wound it up and it started walking in rhythm while two notes kept coming from the little creature. Kahn was inspired and started working lyrics to these notes in rhythm with the pig, producing the title and opening line of the chorus in short order. The pair immediately turned it into a song, and Cantor made it a lasting hit.
Yes, Sir, That's my Baby!
~Music by Walter Donaldson
Who's that comin' down the street?
Who's that lookin' so petite?
Who's that comin' down to meet me here?
Who's that you know who I mean,
Sweetest coo you've ever seen?
I could tell her miles away from here!
Yes sir, that's my baby,
No sir, don't mean maybe,
Yes sir, that's my baby now!
Yes, ma'm, we've decided,
No ma'am, we won't hide it
Yes, ma'am, you're invited now
By the way,
By the way,
When we reach the preacher I'll say, with feeling,
"Yes sir, that's my baby,
No sir, I don't mean maybe,
Yes sir, that's my baby now!".
By the way, by the way
When we run into the preacher I'll say
I'll say yes sir, that's my baby
No sir, I don't mean maybe
Yes sir, that's my baby now
Yes sir, that's my baby,
No sir, don't mean maybe,
Yes sir, that's my baby now!
Well well, look at that baby,
You tell, don't say maybe,
Nell's Bells! Won't she cause some row!
Pretty soon,
Pretty soon,
We will hear that Lohengrin tune.
Who for should she be, sir?
No-one else but me, sir!
Yes sir, that's my baby now!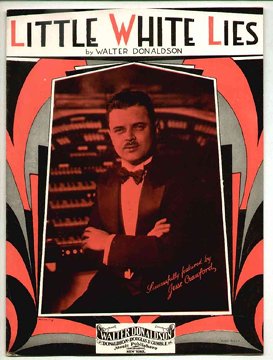 But heaven was in your eyes
The night that you told me
The stars all seemed to know
You didn't mean all those sighs
The night that you told me
I try, but there's no forgetting
I sigh but there's no regretting
Who wouldn't believe those lips
Who wouldn't believe those eyes
The night that you told me
I try, but there's no forgetting
I sigh but there's no regretting
The Devil was in your heart
But Heaven was in your eyes
The night that you told me
Teeny-weeny little white lies
and all those who have provided content,
images and sound files for this site
Save
Save