HAPPY BIRTHDAY
COLE PORTER!!

BIRTHDAYS


1891
Cole Porter
composer/pianist
b. Peru, IN, USA
d. Oct. 15, 1964, Santa Monica, CA, USA.
né: Cole Albert Porter.
An avowed homosexual, his songs first appeared in a 1915 Broadway show. During WW1, Porter lived the high life in Paris, France, and wrote home telling everybody that he was serving in the French Foreign Legion. (he thus avoided serving in the U. S. Armed Forces during WW1). During the 1920s, he was "hanging out" and living lavishly in Europe, as the husband of a wealthy American woman. In 1928, he returned to the 'States' permanently. In 1937, his legs were damaged due to a horse riding accident, and many operations were to no avail.
Though he endured numerous operations for the rest of his life (he never could walk again), he finally lost his right leg in 1958, just four years after his wife died. Remarkably, living with all the pain did not prevent him from composing one hit song after another. Among his legacy are such tunes as "Let's Do It", "I'm in Love Again", "You Do Something to Me", "What Is This Thing Called Love", "Love for Sale", "Anything Goes", "You're the Top", "Begin the Beguine", and "Count Your Blessings". Cole was age 72 when he died.
Cole Porter
Biography
~ by Ron Wynn
Many arguments could be generated over whether Cole Porter or Irving Berlin should be considered America's greatest tunesmith. Both wrote music and lyrics; it's clearly a pick 'em situation. Porter had violin and piano lessons as a child, pursued undergraduate studies at Yale (where he penned fight songs that endure to this day such as "Bulldog"), and studied law and music at Harvard, all courtesy of a rich grandfather. His grandfather was appalled Porter would consider music as a career and never forgave him.
Porter was in the French army during World War I, and spent the '20s in Paris as the husband of a wealthy woman. He began scoring hits in that decade, though "I'm in Love Again," didn't click until 1929, though Porter wrote it in 1924. The list of Porter shows and films is immense; his lyrics were literate, sophisticated, yet could be charming, suggestive, even naughty. His first show was Paris in 1928; it included "Let's Do It." That was followed by Frenchmen in 1929 containing "You Do Something to Me." Porter returned to New York in 1930, but was a lifelong Parisian in his heart. Wake Up and Dream, The New Yorkers, The Gay Divorcee, Jubilee, Leave It to Me, and Kiss Me Kate are only a few of his marvelous shows.
The song list is just as impressive; "What Is This Thing Called Love," "Love for Sale," "Anything Goes," "You're the Top," "Begin the Beguine," and "Count Your Blessings," for starters. There were also such films as Silk Stockings, Born to Dance, Broadway Melody of 1940, High Society, and Night and Day.
Porter's legs were crushed by a horse in 1937, he endured numerous operations the rest of his life, as well as being a semi-invalid.
He finally lost his right leg in 1958, only four years after his wife died. But his songs live on; numerous anthologies and songbooks devoted to his music have been issued and are available on CD, including the Smithsonian four-disc set issued in 1993.
Cole Wide Web - the Cole Porter Resource Site
Cole Porter - Wikipedia
The Cole Porter Reference Guide
Gay Greats - Cole Porter
Cole Porter - About the Musician and Composer | American Masters | PBS
The Painful Life of Cole Porter
1912
Buddy Feyne, songwriter
b. New York, NY, USA.
Worked with: Louis Jordan.
Buddy Feyne (1912 - 1998) was a composer and lyricist of the swing era.
He penned the lyrics for "Tuxedo Junction" and "The Jersey Bounce" - both of which were top of the Hit Parade and both are standards. These songs and many others have been recorded by artists as diverse as Glenn Miller, Joe Williams, The Manhattan Transfer, Ella Fitzgerald, Gene Autry, Nat King Cole, Louis Armstrong, The Andrews Sisters, Frankie Avalon, Joe Jackson, George Benson and Boz Scaggs.
He was born Bernard Feinstein in New York City, the youngest son of immigrants Solomon and Sarah Feinstein. His older brother, Irving, befriended Milton Berle, who advised Bernard that a Jewish name would prevent him from succeeding in the music business, and summarily changed his name to Buddy Feyne.
Feyne worked out of the Brill Building in New York City, writing songs for Lewis Music Publishers, one of the few companies which published "Race music", the term for songs created by black artists. In 1939, Erskine Hawkins and his band introduced "Tuxedo Junction" at the Savoy Ballroom, in New York, which was an immediate hit.
When it was decided to add words to the music, the publisher asked several different lyricists to propose words for the tune. Feyne met Hawkins and asked what the name referred to. It was named for a whistle stop spot on the "Chitlin' circuit" in Alabama. When he learned the meaning of the song, the lyrics came easily, and his were selected. The song was recorded by Glenn Miller, the Andrews Sisters, Jan Savitt and other orchestras. Later it became the theme song of The Manhattan Transfer, who met Buddy in 1978. Buddy played the original piano solo for them from the Miller Band and they changed their arrangement to match the original. They maintained a close friendship for the last twenty years of Feyne's life.
Feyne continued to write lyrics for black composers such as Erskine Hawkins, Bill Johnson, Dud Bascomb, Bobby Plater, Tiny Bradshaw and Edward Johnson. "Dolimite" by the Hawkins band on the Bluebird label was recorded by Jimmy Dorsey for Decca (1940). Feyne became a member of the American Society of Composers and Publishers (ASCAP) in 1940. He used the nom de plume "Robert B. Wright" when he penned the lyrics for "After Hours", a haunting blues piece composed by Avery Parrish. "Jersey Bounce" followed soon after. He wrote the lyrics to the Glenn Miller hit "I Dreamt I Dwelt in Harlem" in 1941, with music by Jerry Gray. He wrote with many other composers, sang on the radio, and was a writer-producer of the series "Rhythm School of the Air".
When he was drafted in World War II, he served in the Pacific in the 77th Infantry Division and was awarded the Bronze Star. As his regiment was too far for the USO to reach he also wrote, conducted and performed in Army shows in the Philippines. After the war, he collaborated on several musicals with Harry Revel, Bill Harrington and Bill Baker; wrote and produced for television; and composed "Time for Fun", an album of children's songs. In 1954, Feyne collaborated with Maurice Shapiro on "Why", recorded by Nat "King" Cole and Karen Chandler.
Feyne continued writing through the 80's. In the 60's he teamed with Denny McReynolds, writing a series of swing ballads. He also wrote with Joe Williams, who recorded their song "Everybody Wants to be Loved" and performed it on the Joey Bishop Show. Next he teamed with Bill Baker, writing numerous songs, albums, scoring films, "Diary of a Stewardess" and "Dead End Dolls" and they also show "Up Your Alley". In addition to songs, he also wrote special material for The Ed Sullivan Tribute at the Lambs Club. Producer Harry Delmar worked with Buddy on producing "Up Your Alley".
Over his life, Feyne wrote more than 400 songs. Co-writers included Milton Berle, Harry Revel, Bill Harrington, Raymond Scott, Stan Worth, Al Sherman, Ken Carson, Bill Baker, Joe Williams, Al Sherman and Peter Tinturin. His songs are recorded by myriad artists and also appear in films.
Artists who recorded Feyne's songs include: Cab Calloway, Lester Young, Erskine Hawkins, Gene Autry, Henry Mancini, Red Norvo, Bob Crosby,Benny Goodman, Glenn Miller, BBC Dance Band, Kay Kyser, Ozzie Nelson, Teddy Powell, Alvino Rey, Joe Williams, The King Sisters, Gene Krupa, Frankie Avalon, Tuxedo Junction, Ella Fitzgerald, Joe Jackson, LA Jazz Choir, The Manhattan Transfer and Nat King Cole.
Buddy Feyne
Buddy Feyne - Big Band Lyricist
Obituary: Buddy Feyne - Arts & Entertainment - The Independent
1911
Sanford Gold, Piano
b. Cleveland, OH, USA
What the music industry means by a "gold record" is obviously not an obscure jazz piano platter briefly available on the indie Prestige label in the '50s. To the punster, whose motivation is stupidity rather than commercial success, such a description is perfect for the lone solo project released by
Sanford Gold
, a pianist who began performing in the '30s but nonetheless basically kept up with progressive developments in improvised music through the '50s.
Gold
was found in New York City by the mid-'30s after mining the hometown music scene in Cleveland for several years, attaining status as a bandleader. His partners in the Big Apple were an interesting blend, including tenor saxophonist
Babe Russin
and the brilliant composer and inventor
Raymond Scott
. The pianist's skill at accompaniment seemed in favor with instrumentalists of the former ilk, and as the years went on
Gold
would back tenor players as formidable as
Don Byas
and
Stan Getz
.
The pianist parked his bench in Uncle Sam's Army during the Second World War; prior to that assignment he had been employed by the CBS network. He would dig back into that kind of work, this time at rival NBC, from the late '40s through the mid-'50s.
Gold
's Prestige outing was entitled
Piano D'Or
--
c'est droll, n'est pas?
-- and sparkled with versions of standards such as "I'll Remember April" and "In a Sentimental Mood." In his later years he has concentrated on teaching, establishing a reputation that can certainly be said to be "good as
Gold
."
Biography
~ Eugene Chadbourne
1902
Skip James
Nehemiah Curtis "Skip" James (June 9, 1902 – October 3, 1969) was an American Delta blues singer, guitarist, pianist and songwriter. Born in Bentonia, Mississippi, United States, he died in Philadelphia, Pennsylvania.
He first learned to play guitar from another bluesman from the area, Henry Stuckey. His guitar playing is noted for its dark, minor sound, played in an open D-minor tuning with an intricate fingerpicking technique. James first recorded for Paramount Records in 1931, but these recordings sold poorly due to the Great Depression, and he drifted into obscurity. After a long absence from the public eye, James was "rediscovered" in 1964 by three blues enthusiasts, helping further the blues and folk music revival of the 1950s and early 1960s. During this period, James appeared at several folk and blues festivals and gave live concerts around the country, also recording several albums for various record labels.
His songs have influenced several generations of musicians, being adapted or covered by Kansas Joe McCoy, Robert Johnson, Alan Wilson, Cream, Deep Purple, Chris Thomas King, Alvin Youngblood Hart, The Derek Trucks Band, Beck, Big Sugar, Eric Clapton, John Martyn, Lucinda Williams and Rory Block. He is hailed as "one of the seminal figures of the blues."
Early years
James was born near Bentonia, Mississippi. His father was a converted bootlegger turned preacher. As a youth, James heard local musicians such as Henry Stuckey and brothers Charlie and Jesse Sims and began playing the organ in his teens. He worked on road construction and levee-building crews in his native Mississippi in the early 1920s, and wrote what is perhaps his earliest song, "Illinois Blues", about his experiences as a laborer.
He began playing guitar in open D-minor tuning.
1920s and 1930s
In early 1931, James auditioned for Jackson, Mississippi, record shop owner and talent scout H. C. Speir, who placed blues performers with a variety of record labels including Paramount Records. On the strength of this audition, James traveled to Grafton, Wisconsin to record for Paramount. James's 1931 work is considered idiosyncratic among pre-war blues recordings, and formed the basis of his reputation as a musician.
As is typical of his era, James recorded a variety of material – blues and spirituals, cover versions and original compositions – frequently blurring the lines between genres and sources. For example, "I'm So Glad" was derived from a 1927 song by Art Sizemore and George A. Little entitled "So Tired", which had been recorded in 1928 by both Gene Austin and Lonnie Johnson (the latter under the title "I'm So Tired of Livin' All Alone"). Biographer Stephen Calt, echoing the opinion of several critics, considered the finished product totally original, "one of the most extraordinary examples of fingerpicking found in guitar music".
Several of the Grafton recordings, such as "Hard Time Killing Floor Blues", "Devil Got My Woman", "Jesus Is A Mighty Good Leader", and "22-20 Blues" (the basis for Robert Johnson's better-known "32-20 Blues", and the band name for the English group 22-20s), have proven similarly influential. Very few original copies of James's Paramount 78 RPMs have survived.
The Great Depression struck just as James' recordings were hitting the market. Sales were poor as a result, and James gave up performing the blues to become the choir director in his father's church. James himself was later ordained as a minister in both the Baptist and Methodist denominations, but the extent of his involvement in religious activities is unknown.
Disappearance, rediscovery, and legacy
For the next thirty years, James recorded nothing and drifted in and out of music. He was virtually unknown to listeners until about 1960. In 1964 blues enthusiasts John Fahey, Bill Barth, and Henry Vestine found him in a hospital in Tunica, Mississippi. According to Calt, the "rediscovery" of both James and of Son House at virtually the same moment was the start of the "blues revival" in the US. In July 1964 James, along with other rediscovered performers, appeared at the Newport Folk Festival. Several photographs by Dick Waterman captured this first performance in over 30 years. Throughout the remainder of the decade, he recorded for the Takoma, Melodeon, and Vanguard labels and played various engagements until his death in Philadelphia from cancer in 1969.
Although James was not initially covered as frequently as other rediscovered musicians, British rock band Cream recorded "I'm So Glad" (a studio version and a live version), providing James with the only windfall of his career. Deep Purple also covered "I'm So Glad," on Shades of Deep Purple. John Martyn covered "Devil Got My Woman", titled as "I'd Rather be the Devil" on his album Solid Air and played it live throughout his career. English blues rock band 22-20s named themselves after "22-20 Blues."
Since his death, James's music has become more available and prevalent than during his lifetime – his 1931 recordings, along with several rediscovery recordings and concerts, have found their way onto numerous compact discs, drifting in and out of print. His influence is still felt among contemporary bluesmen. Gregg Allman recorded 'Devil Got My Woman' on his 2011 "Low Country Blues". James also left a mark on Hollywood, as well, with Chris Thomas King's cover of "Hard Time Killing Floor Blues" on O Brother, Where Art Thou?, and the 1931 "Devil Got My Woman" featured in the plot and soundtrack of Ghost World. In recent times, British post-rock band Hope of the States released a song partially focused on the life of Skip James entitled "Nehemiah", which charted at number 30 in the UK Singles Chart. "He's a Mighty Good Leader" was also covered by Beck on his 1994 album One Foot in the Grave.
In 2004, Wim Wenders directed the film The Soul of a Man (the second part of The Blues, a series produced by Martin Scorsese), focusing on the music of Blind Willie Johnson, J.B. Lenoir and Skip James.[10] Skip James was not filmed before the 1960s. Keith B. Brown took the part of young Skip James in the scenes about his youth in the documentary. Wenders used many songs from James, some performed by Nick Cave and the Bad Seeds, Beck, Jon Spencer Blues Explosion, James 'Blood' Ulmer, T-Bone Burnett, Eagle Eye Cherry, Shemekia Copeland, Garland Jeffreys, Alvin Youngblood Hart, Los Lobos, Bonnie Raitt, Lou Reed, Marc Ribot, Lucinda Williams, and Cassandra Wilson.
1900
Fred Waring
Musician, bandleader, radio and TV personality
Fredrick Malcolm Waring Sr. (June 9, 1900 – July 29, 1984) was a musician, bandleader, and radio and television personality, sometimes referred to as "America's Singing Master" and "The Man Who Taught America How to Sing". He was also a promoter, financial backer and eponym of the Waring Blendor, the first modern electric blender on the market.
Biography
Fredrick Malcolm Waring was born in Tyrone, Pennsylvania, on June 9, 1900, to Jesse Calderwood and Frank Waring. During his teen years, Waring, his brother Tom, and their friend Poley McClintock founded the Waring-McClintock Snap Orchestra, which evolved into Fred Waring's Banjo Orchestra. The band often played at fraternity parties, proms, and dances, and achieved local success.
Waring attended Penn State University, where he studied architectural engineering. He aspired to be in the Penn State Glee Club, but he was rejected with every audition. His Banjo Orchestra became so successful that he decided to abandon his education to tour with the band, which eventually became known as Fred Waring and His Pennsylvanians.
He married Dorothy McAteer, his college sweetheart, in 1923 but divorced her in 1929. He remarried in 1933 to Evelyn Nair and had three children, but in 1954 they divorced. Their children were Dixie, Fred Waring Jr., William "Bill", Paul, and Malcolm. Fred Waring Jr. was a conductor and jazz trombonist. Grandson Jordan Waring is an orchestral composer.
Waring died of a stroke at his summer home on July 29, 1984, in State College, Pennsylvania after videotaping a concert with his ensemble and completing his annual summer choral workshop. He conducted many such workshops at Penn State in his later years, and in 1984, designated Penn State to house his collection of archives and memorabilia. He also served his alma mater as a trustee and was named a distinguished alumnus of the university.
Records and radio
From 1923 until late 1932, "Waring's Pennsylvanians" were among Victor Records' best-selling bands. In late 1932, Waring abruptly quit recording, although his band continued to perform on radio. In 1933, "You Gotta Be a Football Hero" was performed on radio to great acclaim. His 1930 recording of "Love for Sale" by Cole Porter is one of the only period versions of this popular song.
The Fred Waring Show was heard on radio in various forms from 1933 to 1957.
Adding a men's singing group to his ensemble, he recruited Robert Shaw, recently out of the Pomona College glee club, to train his singers. Shaw later founded the Robert Shaw Chorale and directed the Atlanta Symphony Orchestra and Chorus. Pembroke Davenport (1911–85) was Waring's pianist and arranger.
During World War II, Waring and his ensemble appeared at war bond rallies and entertained the troops at training camps. He composed and performed dozens of patriotic songs, his most famous being "My America". In 1943, he acquired the Buckwood Inn in Shawnee on Delaware, Pennsylvania, and renamed the resort the Shawnee Inn. To promote the inn, he centered his musical activities at the inn itself. He created, rehearsed, and broadcast his radio programs from the stage of Shawnee's Worthington Hall throughout the 1950s.
During the 1940s and early 1950s, Waring and His Pennsylvanians produced a string of hits, selling millions of records. A few of his many choral hits include "Sleep", "Battle Hymn of the Republic", "Smoke Gets in Your Eyes", "Button Up Your Overcoat", "White Christmas", "Give Me Your Tired, Your Poor", and "Dancing in the Dark".
The song, "Breezin' Along with the Breeze" was used as a signature tune by Fred Waring.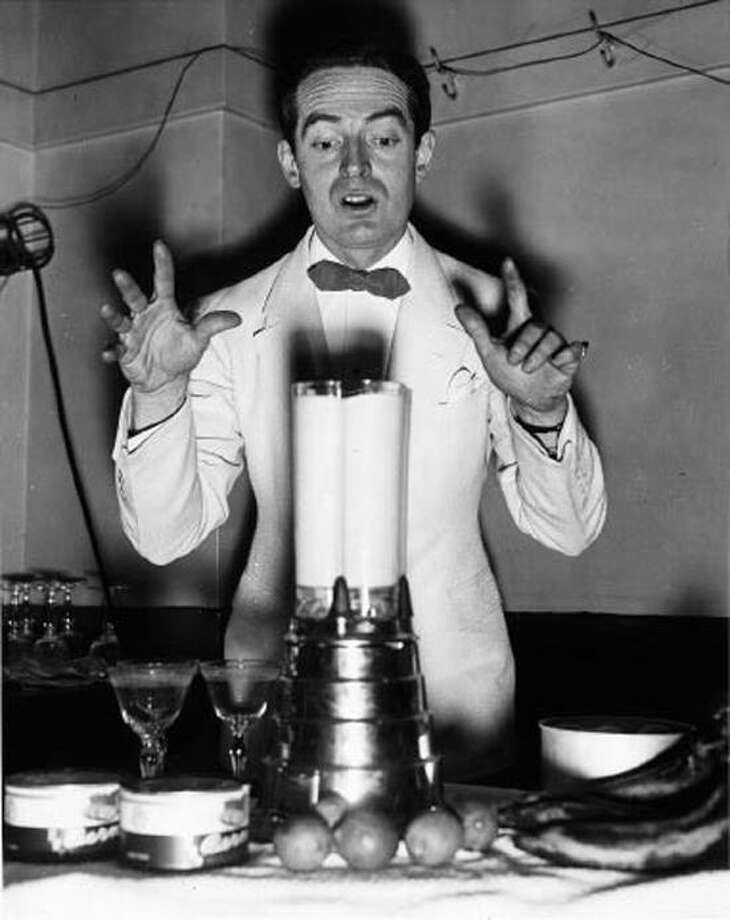 Waring blender
In the 1930s, inventor Frederick Jacob Osius went to Waring for financial backing for an electric blender he had patented. The Osius patent (#2,109,501) was filed March 13, 1937, and awarded March 1, 1938.
Some $25,000 later, the Waring-owned Miracle Mixer was introduced to the public at the National Restaurant Show in Chicago retailing for $29.75. In 1938, Fred Waring renamed his Miracle Mixer Corporation as the Waring Corporation, and the mixer's name was changed to the Waring Blendor (the "o" in blendor giving it a slight distinction from "blender").
The Waring Blendor became an important tool in hospitals for the implementation of specific diets, as well as a vital scientific research device. Jonas Salk used it while developing his polio vaccine. In 1954, the millionth Waring Blendor was sold.
Fred Waring
Palm Springs History - Fred Waring and the Pennsylvanians
FRED WARING, CONDUCTOR, DIES AT 84 - The New York Times
Notable Events Occurring
Joe Burke
composer died in Upper Darby, PA, USA.
(b. March 18, 1884, . Philadelphia, PA, USA).
died in New York, NY, USA.
Songs Recorded/Released
On This Date Include:
1921
All Star Trio and their Orchestra
1922
Edith Wilson and Johnny Dunn's Jazz Hounds
1924
Jelly Roll Morton
Jelly Roll Morton -
Tom Cat Blues
Ted Weems and his Orchestra
Paul Whiteman and his Orchestra -
San
1925
Margaret Johnson -
Death House Blues
1925
The California Ramblers -
I'm Gonna Charleston Back To Charleston
Harry Reser and his Orchestra
1927
Memphis Jug Band -
Sometimes I Think I Love You
University Six -
Ain't That A Grand And Glorious Feeling?
Eddie Peabody
1928
Martha Copeland -
Desert Blues
Edwards "Ukulele Ike" -
Reaching For Someone
(And Not Finding Anyone There)
1930
Bessie Smith
Paul Whiteman and his Orchestra
1931
Dave's Harlem Highlights -
Loveless Love
1937
Fats Waller and his Rhythm
LYRICS:
You're The Top!
~Cole Porter
At words poetic, I'm so pathetic
That I always have found it best,
Instead of getting 'em off my chest,
To let 'em rest unexpressed,
I hate parading my serenading
As I'll probably miss a bar,
But if this ditty is not so pretty
You're the Louver Museum.
You're a melody from a symphony by Strauss
You're the Tower of Pisa,
You're the smile on the Mona Lisa
I'm a worthless check, a total wreck, a flop,
But if, baby, I'm the bottom you're the top!
Your words poetic are not pathetic.
On the other hand, babe, you shine,
And I can feel after every line
Now gifted humans like Vincent Youmans
Might think that your song is bad,
And this is what I'm going to add;
Of a summer night in Spain,
You're the National Gallery
You're the time, the time of a Derby winner
I'm a toy balloon that's fated soon to pop
But if, baby, I'm the bottom,
You're a Coolidge dollar,
Of the feet of Fred Astaire,
As the French would say, "de trop".
But if, baby, I'm the bottom,
Simply too, too, too diveen,
You're the dam at Boulder,
Over Mae West's shoulder,
I'm the nominee of the G.O.P.
But if, baby, I'm the bottom,
You're the boats that glide
On the sleepy Zuider Zee,
You're an old Dutch master,
You're the steppes of Russia,
You're the pants, on a Roxy usher,
I'm a broken doll, a fol-de-rol, a blop,
But if, baby, I'm the bottom,
brought to you by...
~confetta
Save
Save