HAPPY BIRTHDAY BILL RANK!!!
1901
Lou Black, Banjo


b. Rock Island, IL, USA
d. 1965, USA.
This banjoist was born and died in a Midwest town called Rock Island, but as a musician he strictly inhabited jazz territory. He began flailing on the banjo as a child, and at 16 was playing professionally with Rock Island's most swinging combos. Pianist Carlisle Evans fronted a riverboat band, which represented the young banjoist's first road trip in 1919, although it was a river and not a highway that carried the S.S. Capitol along. Early in the '20s, Black joined up with the New Orleans Rhythm Kings group at the Friars' Inn venue in Chicago.
He stayed with this outfit for several years, joining the Original Memphis Melody Boys in 1923 for a wee stint before returning to the employment of earlier bandleader Evans.
Beginning in the mid-'20s and continuing into the early '30s, Black picked up a position as a staff musician on radio WHO in Des Moines, IA. It might have been the built-in obscurity of this station that got to him, but he wound up quitting music entirely for a time period roughly equal to the number of years he had already been alive. That took him all the way up until 1961, and in the process he missed having to make the same decision that almost every other jazz banjoist did (i.e., switching to guitar). Theoretically having achieved some kind of balance between playing music and not playing, he began a short but final period of activity on the banjo.
In 1963 he surprised Dixeland jazz fans by sitting in with various groups around New York City. Later that year, the banjoist began playing gigs around the area of Moline, IL. In late 1965 he was injured in a car crash, then died from a heart attack while still recuperating in the hospital.
The Black discography consists mostly of archive recordings done during the early days of the New Orleans Rhythm Kings, and he does not seem to have recorded during his '60s period of music-making.
~ Eugene Chadbourne
Lou Black - Wikipedia
Adolph Hofner, vocals/leader


b. Moulton, TX, USA, d. June 2, 2000.
Taglines include: "The King of South Texas Swing", the "Bing Crosby of Country", "The Dean of Country Bandleaders", "The Sultan of Swing", and "The Prince of Polka".
Hofner's mixture of Bohemian dance music, 1930s style Swing, Polka tunes, and Country 'hoedown' rhythms, with a touch of Hawaiian influence, provided the basis for a succesful 50 year career playing 'Western Swing'.
Adolph Hofner
The Beale Street Jug Band
1906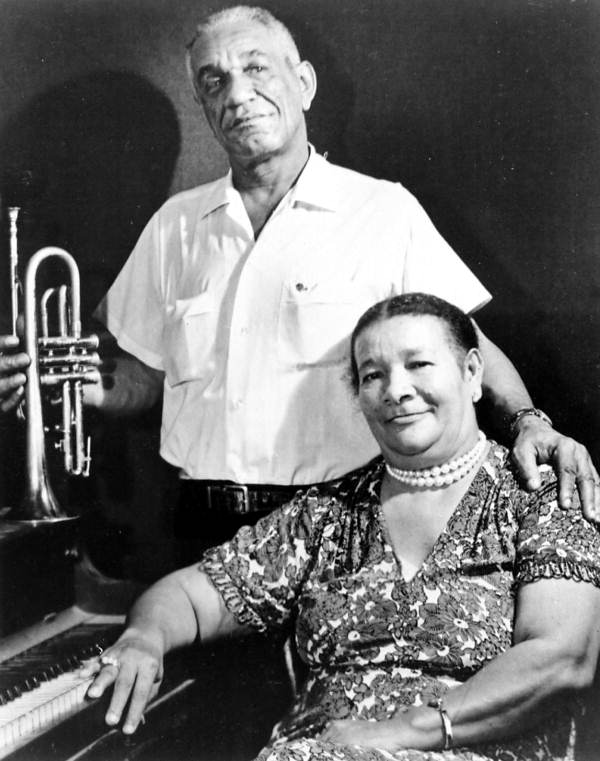 Portrait of De De and Billie Pierce
Billie Pierce, Piano/Vocal


b. Marianna, FL, USA. d.
Through the '60s and '70s, this pianist and vocalist's far-flung touring activities in the Preservation Hall Jazz Band alongside her husband, trumpeter De De Pierce, made her one of the most widely heard performers in the history of New Orleans jazz. An examination of her family background also indicates that perhaps she was one of the most stubborn: despite the fact that both her parents as well as a total of seven sisters also played piano, the performer who came to be known as Billie Pierce insisted on teaching the keyboard to herself. She was born Wilhelmina Goodson, the surname something of a rallying cry for classic blues piano in the heyday of the Gulf Coast's Roaring Twenties music scene.
As Billie Goodson, this performer tickled the piano keys for classic blues empress Bessie Smith at a theater in Pensacola in the early part of that decade, and also worked in the bands of Alphonse Picou, Emile Barnes, and George Lewis. There was also Ida Goodson, who spent most of her life playing piano in the Pensacola area, and Sadie Goodson, who like her sister Billie moved on to the livelier action of New Orleans. The sisters often played in so-called honky tonks, of which Preservation Hall became most famous, inspiring a combo that has remained a supreme ambassador of the historic New Orleans small combo sound. It was a venue called the Blue Jay Club that was of most importance to Goodson and Pierce alike, however. This was where trumpeter and vocalist De De Pierce met Billie Goodson in the mid '30s -- they fell in love and started a group together, which became the house band at Luthjen's Dance Hall, the site of some excellent live recording activity in the '50s. This artist should not be confused with the reed player Billy Pierce, who began recording in the '70s.
~ Eugene Chadbourne
Billie Pierce with Raymond Burke
Bill Rank, Trombone

b. Lafayette, IN, USA.
Born in Lafayette, Indiana, he was best-known for his work in the Jean Goldkette orchestra of the late 1920s alongside Bix Beiderbecke in small groups and with Paul Whiteman until 1938.
Bill Rank is most famous for having participated on some classic recordings with Bix Beiderbecke and Frankie Trumbauer in the 1920's.
He was a member of the WLW radio staff orchestra in Cincinnati from 1942 to 1947 and led a local Dixieland group called the Over The Hill Gang. Rank also recorded and performed with Dick Sudhalter.
He began his professional career in 1921, playing with Collins' Jazz Band in Florida and then in Indianapolis as part of Tade Dolan's Singing Orchestra. Rank joined Jean Goldkette's Orchestra in 1923 and was with Goldkette through the summer of 1927 including the Beiderbecke era. He was with Adrian Rollini's legendary (if short-lived) orchestra, recorded with Sam Lanin, Roger Wolfe Kahn and Nat Shilkret and then was with Paul Whiteman's Orchestra from Dec. 1927 up until 1938, appearing on many recordings.
A
fter four years playing in the Hollywood studios, Rank moved to Cincinnati where he led his own bands by night while working in the insurance industry by day.
In the late 1960's he became more active in music, visiting Europe a few times and appearing at numerous classic jazz festivals in the 70's where he was treated as a legend. Bill Rank led his lone record date in 1973, a tribute to Bix Beiderbecke for Fat Cat's Jazz.
Bix's Gang Lives (Fat Cat's Jazz)
At the Jazz Band Ball (Okeh Records)
Goose Pimples (Okeh Records)
Jazz Me Blues (Okeh Records)
Ol' Man River (Okeh Records)
Rhythm King (Okeh Records)
Royal Garden Blues (Okeh Records)
Since My Best Gal Turned Me Down (Okeh Records)
Somebody Stole My Gal (Okeh Records)
Thou Swell (Okeh Records)
Wa-Da-Da (Everybody's Doin' It Now) (Okeh Records)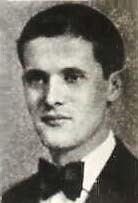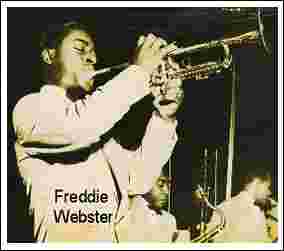 1916/7
Freddie Webster, trumpet


b. Cleveland, OH, USA
d. April 1, 1947.
As a teenager, he was already playing with Earl Hines and Erskine Tate. In 1938, he moved to New York where he would play with the Benny Carter, Eddie Durham, Lucky Millinder, Jimmy Lunceford, Cab Calloway and John Kirby orchestras. Though frequently recorded with many prominent groups of his era, sadly very little of his solo work was ever recorded. Dizzy Gillespie once said of him: "Freddie Webster probably had the best sound on a trumpet since it was invented."
Freddie Webster - Wikipedia
Frank "Sweet" Williams, piano


b. New Orleans, LA, USA.
(Atlantic Records star)

Notable Events
Occurring
On
This Date Include:
1969.
Vocalist Lillyn Brown, [Lillian Thomas]
died in New York, NY, USA.
Songs Recorded/Released

1922



Marion Harris - Haunting Blues
Jack Hylton's Kit-Cat Band
From Now On

Maybe You Will And Maybe You Won't
Everything Is Hotsy Totsy Now
Charlie Skeete and his Orchestra

-
Deep Henderson
Fess Williams and his Royal Flush Orchestra
- 1929
Left to Right: David "Jelly" James, Ken Roane, George Temple, Oliver Blackwell,
Emmanuel Casamore, Lockwood Lewis, Ralph Bedell, Andy Pendelton, Felix Gregory,
Perry Smith, Hank Duncan seated Fess Williams.
Paul Ash and his Orchestra


Harry Reser and his Orchestra

Martha Copeland

-
Somethin' Goin' On Wrong


1933



Dorsey Brothers Orchestra
Fats Waller and his Rhythm

1938


Fats Waller and his Rhythm
You Don't Like It - Not Much
Words and Music: Miller, Kahn & Cohn
Say, when I hug you and when I squeeze you and when I please you and such,
Say, you don't like it, no, you don't like it, not much!
And when I kiss you, and when I tell you your lips are thrilling to touch,
Say, you don't like it, no, you don't like it, not much!
When I hold you close in my arms awhile, you love it,
You sigh, and then you smile, contented.
When I press you and when I caress you and say I love you and such,
Say, you don't like it, no, you don't like it, not much!
Save
Save
Save
Save