Nina Mae McKinney
(June 13, 1912 – May 3, 1967) was an American actress who worked internationally during the 1930s and in the postwar period in theatre, film and television, after getting her start on Broadway and in Hollywood. Dubbed "The Black Garbo" in Europe because of her striking beauty, McKinney was one of the first African-American film stars in the United States, as well as one of the first African Americans to appear on British television.
Early life and education
Nina Mae McKinney was born in 1912 in the small town of Lancaster, South Carolina, to Georgia and Hal McKinney. Her parents moved to New York for work during the Great Migration of African Americans out of the rural South in the early 20th century, and left their young daughter with her Aunt Carrie. McKinney ran errands for her aunt and learned to ride a bike. She soon was performing stunts on bikes, where her passion for acting was obvious. She acted in school plays in Lancaster and taught herself to dance.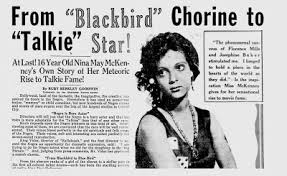 Career
McKinney left school at the age of 15 and moved to New York to pursue acting, where she was reunited with her parents. Her debut on Broadway was dancing in a chorus line of the hit musical Blackbirds of 1928. This show starred Bill "Bojangles" Robinson and Adelaide Hall. The musical opened at the Liberty Theater on May 9, 1928 and became one of the longest-running and most successful shows of its genre on Broadway.
Her performance landed McKinney a leading role in a film. Looking for a star in his upcoming movie, Hallelujah!, the Hollywood film director King Vidor spotted McKinney in the chorus line of Blackbirds. He said, "Nina Mae McKinney was third from the right in the chorus. She was beautiful and talented and glowing with personality." And that's what rocketed her into the world of acting and Hollywood.
In Hallelujah (1929), McKinney was the first African-American actress to hold a principal role in a mainstream film; it had an African-American cast. Vidor was nominated for an Oscar for his directing of Hallelujah and McKinney was praised for her role. When asked about her performance, Vidor told audiences "Nina was full of life, full of expression, and just a joy to work with. Someone like her inspires a director."
After Hallelujah!, McKinney signed a five-year contract with MGM; she was the first African-American actor to sign a long-term contract with a major studio. The studio seemed reluctant to star her in feature films. Her most notable roles during this period were in films for other studios, including a leading role in Sanders of the River (1935), made in the UK, where she appeared with Paul Robeson. After MGM cut almost all her scenes in Reckless (1935), she left Hollywood for Europe. She acted and danced, appearing mostly in stage roles and cabaret.
Work was hard to come by in Hollywood because not many movies were interracial, and it was difficult for African-American actors, actresses, directors, writers, and producers to find enough work. Especially for African-American women, breaking out into a major role was hard because there were not many choices for roles a woman of color could play. Although McKinney was strikingly beautiful, Hollywood was afraid to make her into a glamorized icon like white actresses of the time; the film production codes prohibited suggestions of miscegenation, so interracial romances were not filmed.
Two years after Hallelujah, McKinney returned to the silver screen as a supporting actress in Safe in Hell, directed by William A. Wellman. In this movie, McKinney played the role of a waitress who befriends an escaped New Orleans hooker.
Because of the prevalence of racism in the entertainment industry and throughout the United States, many African-American actors and actresses went to work in England, France and other European countries. They had more opportunities there.
Europe
In Europe McKinney was nicknamed the "Black Garbo," because of her striking beauty. In December 1932, she went to Paris, where she performed as a cabaret entertainer in nighttime hot spots or restaurants, including Chez Florence. In February 1933, she starred in a show called Chocolate and Cream in the Leicester Square Theatre in London. She also worked in Athens, Greece, and returned there after World War II.
After touring, she returned to London in 1934 to appear in a British film titled Kentucky Minstrels (released in the United States as Life is Real.) The film was one of the first British works to feature African-American actors. Film Weekly said of McKinney, "Nina Mae McKinney, as the star of the final spectacular revue, is the best thing in the picture—and she, of course, has nothing to do with the 'plot'." McKinney remained in England and worked in a variety of roles. She also sang the popular song "Dinah" during Music Hall, a radio broadcast show.
She got a break and received a starring role in her first film in six years. In 1935, she appeared in Sanders of the River directed by Alexander Korda, a Hungarian Jewish director who had moved to London. McKinney and Paul Robeson, her co-star, were told that the film, which was set in part in Africa, would portray the indigenous people positively, which Robeson had made a condition of his participation in the project. After it was re-edited without the knowledge of McKinney and Robeson, or the other African-American actors in the film, they felt that it downgraded their roles and emphasized the supremacy of the British Empire around the world.
Despite constraints, McKinney found more good work in London and had performances in TV productions. In 1936 she was given her own television special on BBC, which showcased her singing. In 1937, she had a role in Ebony (revue), alongside the African-American dancer Johnny Nit. Following that performance, she appeared in Dark Laughter with the Jamaican trumpet player Leslie Thompson. McKinney was given rave reviews for her singing "Poppa Tree Top Tall" in a 1937 documentary. This is the only surviving record of her performances in British television pre-World War II. With war tensions rising, she returned to the United States after Germany's invasion of Poland.
Return to America and race films
In Hollywood McKinney starred in some "race films" intended for African-American audiences. These include Gang Smashers/Gun Moll (1938) and The Devil's Daughter (1939), which was filmed in Jamaica. Her singing in the film is included in an excerpt of The Devil's Daughter soundtrack that is part of the album Jamaica Folk Trance Possession 1939-1961.
After taking a break, she tried to make a comeback in Hollywood. She took roles in some smaller films, having to accept stereotypical roles of maids and whores. For example, in 1944 she appeared alongside Merle Oberon, playing a servant girl in the film Dark Waters. In 1951, McKinney made her last stage appearance, playing Sadie Thompson in a summer stock production of Rain.
After World War II, McKinney returned to Europe, living in Athens, Greece until 1960. That year she returned to New York.
Personal life
In 1935, McKinney married jazz musician James "Jimmy" Monroe. They divorced in 1938.
Death
After 1960, McKinney lived in New York City. On May 3, 1967, she died of a heart attack at the age of 54.
Legacy and awards
In 1978, McKinney received a posthumous award from the Black Filmmakers Hall of Fame for her lifetime achievement.
In 1992, the Walter Reade Theater at Lincoln Center in New York City replayed a clip of McKinney singing in "Pie, Pie Blackbird" (1932) in a combination of clips called Vocal Projections: Jazz Divas in Film.
The film historian Donald Bogle discusses McKinney in his book Toms, Coons, Mulattoes, Mammies And Bucks—An Interpretive History Of Blacks In American Films (1992). He recognizes her for inspiring other actresses and passing on her techniques to them. He wrote that "her final contribution to the movies now lay in those she influenced."
A portrait of McKinney is displayed in her hometown of Lancaster, South Carolina, at the courthouse's "Wall of Fame."