Six Brown Brothers Tom Brown seated in front; left to right standing are Fred Brown, Billy Markwith?, Alec Brown, Harry Fink, Vern Brown.
BIRTHDAYS
Born on May 9, 1911, d. Aug. 17, 1987
cecil golly
1909
b. Tweedside, N.B. Canada. d. 1973
"Don Messer and His Islanders" was one of Canada's most popular radio and TV programs.
Donald Charld Frederick Messer was born on May 9, 1909 in Tweedside, New Brunswick - the youngest of eleven children. Don Messer's musical talent became evident when he was little more than a toddler, so it was no surprise to his family when he made his debut at age seven, playing the fiddle at a barn dance. This proved to be the beginning of a lifelong career of making toe-tapping music. His first group, was called the Backwoods Trio, which later became the New Brunswick Lumberjacks. In 1939 Don Messer and His Islanders got their first big break on radio. But it was the incredible overnight success of "Don Messer's Jubilee" in 1959 that made his name a household word across Canada. On March 21, 1969 marked Don Messer's 35th anniversary in broadcasting. He passed away in 1972, after 38 years of combined broadcasting in radio and television.
MESSER, DON - The Museum of Broadcast Communications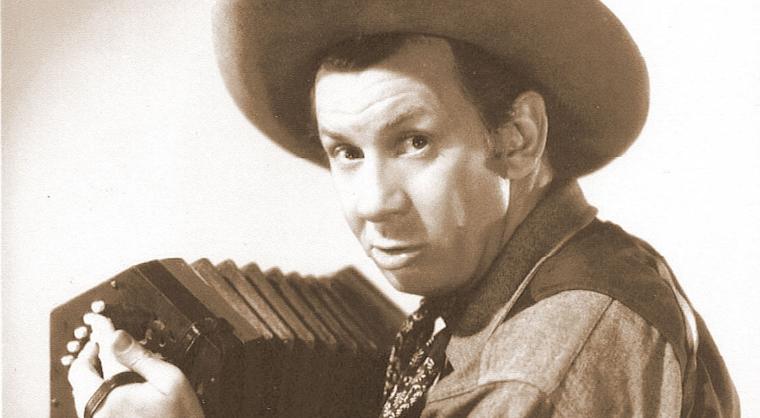 1901
"Fuzzy" Knight
Born: May 9, 1901, Fairmont, WV
Died: February 23, 1976, Woodland Hills, Los Angeles, CA
Fuzzy" Knight appeared in more than 180 films between 1929 and 1967, usually as a cowboy hero's comic sidekick.
Knight was born in Fairmont, West Virginia the third child and son of James A. and Olive Knight, and attended nearby West Virginia University where he was a cheerleader and law student. He wrote a pep song, "Fight Mountaineers," which is still frequently used by the Mountaineer Marching Band 90 years later. He also wrote the melody for a WVU song entitled "To Thee Our Alma Mater," with words by fellow graduate David A. Christopher. He formed his own band in college and played drums, eventually leaving school to perform in vaudeville and in big bands such as Irving Aaronson's and George Olsen's.
Eventually his musical and comedy skills took him to New York, where he appeared in Earl Carroll's Vanities of 1927 and on Broadway in Here's Howe and Ned Wayburn's Gambols. He was billed under his nickname, Fuzzy (given him because of his peculiarly soft voice).
While touring with bands, Knight came to Hollywood and appeared in several musical short films for MGM and Paramount between 1929 and 1932. Mae West gave him his first notable film role in She Done Him Wrong, and he went on to play in hundreds of films over the next 30 years. By the 1940s, he was primarily playing in Western movies and was voted one of the Top Ten Money-Making Stars in Westerns in 1940.
Knight became famous to a new generation when he co-starred as Buster Crabbe's sidekick on the 1955 television series Captain Gallant of the Foreign Legion. In semi-retirement thereafter, Knight continued to make occasional appearances in films and TV shows through 1967.
He died in his sleep at the Motion Picture Country House and Hospital in Woodland Hills, California, and was survived by his wife, actress Patricia Ryan (née Thelma de Long).He was buried in Valhalla Memorial Park Cemetery in Burbank, California. His grave is next to that of the grave of Slapsie Maxie Rosenbloom, Knight's two-time co-star, who died less than two weeks after Knight.
"Fuzzy" Knight
Ed Pollock, reeds


b. New Orlean, LA
d. June 1995, Chicago, IL
Chicago Reeds; Backed Ma Rainey, Al Jolson.
Had own band 1940s
Biography
~by Eugene Chadbourne
Scholars seem in a dilemma over whether this artist's surname culminates in a "lack" or a "lock," but Eddie Pollack, Edward Pollock, or any variation thereof was heard loud and strong in Windy City speakeasies and nightclubs in the Roaring Twenties. This reed player backed both Ma Rainey and Al Jolson, but also performed as a singer himself. It was the illustrious Erskine Tate who taught him saxophone, which according to historical accounts he played for the first time professionally at an illegal booze joint in Robins, IL, circa the summer of 1925.
Ma Rainey and her Georgia Jazz Band - 1924-1925.
Left to Right: "Gabriel", Albert Wynn, Dave Nelson, Ma Rainey, Ed Pollack, Thomas A. Dorsey.
Later that year Pollack began gigging in Detroit Shannon's band; in the ensuing decade he blew his horns in a wide range of Chicago jazz outfits, some of which, such as Jimmie Noone's group, left behind recorded documentation. A national feat of barnstorming with bandleader Carl White is indeed one of the few instances when Pollack didn't have Lake Michigan over his shoulder. By the '40s he seemed less interested in sideman action, leading his own groups for which he accepted stretched-out house band status. Then his music career ended, the Chicago jazz heavyweight becoming the sort of individual spoken of in one of Colonel Bruce Hampton's song prophesies: "If I had it to do over, I'd go into real estate."
C&W Vocals/guitar


b. Liverpool-NS, Canada, d. Dec. 20, 1999
Nashville, TN, USA. (Coronary Arrest).
Clarence Eugene "Hank" Snow (May 9, 1914 – December 20, 1999) was a Canadian-American country music artist. He charted more than 70 singles on the Billboard country charts from 1950 until 1980. This total includes the number 1 hits "I'm Moving On," "The Golden Rocket", "I Don't Hurt Anymore," "Let Me Go, Lover!," "I've Been Everywhere," and "Hello Love" as well as other top ten hits. He is a member of both the Canadian Country Music Hall of Fame and the Music Hall of Fame.
Notable Events
Occurring
1919.
James Reese Europe
James Reese Europe was an American ragtime and early jazz bandleader, arranger, and composer.
1972.
A. C. Forehand, (gospel) guitar
died in Memphis, TN, USA.
1984.
Nudie Cohn, clothing designer for many C&W stars, died in North Hollywood, CA, USA.
NUDIE COHN | RHINESTONE COWBOY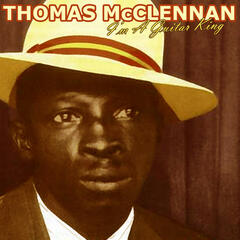 Born: January 4, 1905, Durant, MS
Died: May 9, 1961, Chicago, IL
McClennan was born on a farm near Yazoo City, Mississippi and grew up in the town. He played and sang blues in a rough, energetic style.
He made a series of recordings for Bluebird Records from 1939 through 1942 and regularly played with his friend Robert Petway. He can be heard shouting in the background on Petway's 1942 recording "Boogie Woogie Woman".
McClennan made an immediate impact in 1940 with his recordings of "Shake 'Em On Down", "Bottle It Up and Go", "Whiskey Head Woman" and "New Highway No.51". He left a powerful legacy that included "Bottle It Up and Go," "Cross Cut Saw Blues" (covered by Albert King), "Deep Blue Sea Blues" (aka "Catfish Blues"), and others whose lasting power has been evidenced through the repertoires and re-recordings of other artists.
Although nothing is known of what happened to Petway, McClennan was occasionally seen in Chicago with Elmore James and Little Walter, two other artists who came from the Delta. McClennan is reported to have died from alcoholism in poverty in Chicago, Illinois, in 1962.
1995.
Marshall Royal, alto sax
died in Los Angeles, CA, USA.
American jazz clarinet player and saxophonist. Older brother of Ernie Royal.
In Groups: Count Basie Orchestra, Louis Armstrong And His Orchestra, Slim Gaillard And His Orchestra.
1917


1921


Lillyn Brown and her Jazzbo Syncopaters - 1921.
Left to right: Lutice Perkins, Gavin Bushnell, Ed Cox, Lillyn Brown, ?, Willie Gant, Johnny Mullins.
Lillyn Brown and her Jazz-Bo Syncopaters -
Bad-Land Blues
Lillyn Brown and her Jazz-Bo Syncopaters -
The Jazz Me Blues
1922


Ray Miller's Orchestra
I Love Her - She Loves Me (I'm Her He - She's My She)
1924

Paul Ash and his Granada Orchestra
Driftwood

Wa Wa Waddle Walk



Paul Whiteman and his Orchestra -

Paradise Alley
1927



Lucille Bogan





Louis Armstrong and his Stompers - Chicago Breakdown


Frankie Trumbauer and his Orchestra

Paul Whiteman and his Orchestra - I'm In Love Again

Jack Pettis and his Pets - Bugle Call Blues


Mary Johnson - Black Men Blues
Annette Hanshaw -
I've Got A Feeling I'm Falling
Annette Hanshaw -
The One In The World

1930


The Clicquot Club Eskimos
'Leven-Thirty Saturday Night
Ro-Ro-Rollin' Along
Annette Hanshaw -
Ho Hum!
Annette Hanshaw -
There Ought To Be Moonlight Savings Time

1935
Red Mckenzie and his Mound City Blue Blowers
She's Latin From Manhattan
What's The Reason (I'm Not Pleasing You)
You've Been Taking Lessons (From Somebody New)
I've Got A Feeling I'm Falling
Lyrics by Billy Rose Music by Thomas Waller and Harry Link 1929.
I'm Flying high but I've got a feeling I'm falling
falling for nobody else but you
and I've got a feeling I'm falling
show me the ring and I'll jump right through
I used to travel single, oh
Now I'm all a tingle over you
Hey mister parson stand by
for I've got a feeling I'm falling
falling for nobody else but you
Oh, honey, oh honey, I never felt this way
romantically I'm up in the air
Its funny, so funny me taking it this way
I'm Flying high but I've got a feeling I'm falling
falling for nobody else but you
and I've got a feeling I'm falling
show me the ring and boy I'll take it from you
I used to travel single,oh
Now I'm all a tingle over you
Hey mister parson stand by
for I've got a feeling I'm falling
falling for nobody else but you
The One In The World
I knew the moment that I met you
It seems that fate arranged our meeting
And though my actions seem unruly
To all the world I am repeating
I knew you were the one in the world
that love and I are one in the world
You got the moon, the sun and the world
You made me feel what's real in the world
built my castles in Spain
My heart won't behave dear
For I am your weary slave dear
Why there is what's done in the world
whatever else there is to be
I know your the one in the world
Save
Save