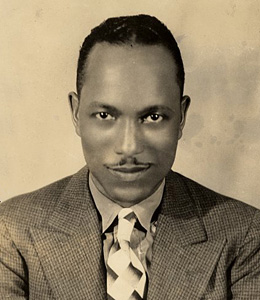 HAPPY BIRTHDAY ANDY KIRK!!
BIRTHDAYS
Andy Kirk, Leader/Saxophone
b. May, 28, 1898, Newport, KY, d. 1992.
One of the great Kansas City Bands -'Andy Kirk and His Twelve Clouds of Joy Orchestra'. Pha Terrell was the vocalist.
In 1928 Andy Kirk took over the Terrence Holder Orchestra renaming it Andy Kirk and his Dark Clouds Of Joy and then Andy Kirk and his Twelve Clouds Of Joy.
The band went on to become one of the most popular of all the territory bands and maintained a successful career that lasted for over twenty years.
Mary Lou Williams rose to prominence in the band. She first recorded with them in 1929 when the regular piano player missed the recording session and her husband John Williams who played saxophone in the band suggested that she take his place.
In 1931 she joined the band fulltime and continued to play with them until 1942. In 1936 the band had a big hit record with the song "Until The Real Thing Comes Along" and another one in 1942 with "Hey Lawdy Mama".
1912
Save
Save
Save
Save