HAPPY BIRTHDAY BILLY MURRAY !
Billy Murray (singer)
William Thomas "Billy" Murray (May 25, 1877 – August 17, 1954) was one of the most popular singers in the United States in the early decades of the 20th century. While he received star billings in Vaudeville, he was best known for his prolific work in the recording studio, making records for almost every record label of the era.
Biography
Billy Murray was born in Philadelphia, Pennsylvania, to Patrick and Julia (Kelleher) Murray, immigrants from County Kerry, Ireland. His parents moved to Denver, Colorado, in 1882, where he grew up. He became fascinated with the theater and joined a traveling vaudeville troupe in 1893. He also performed in minstrel shows early in his career. In 1897 Murray made his first recordings for Peter Bacigalupi, the owner of a phonograph company in San Francisco. As of 2010 none of Murray's Bacigalupi cylinder records are known to have survived. In 1903 he started recording regularly in the New York City and New Jersey area, when the nation's major record companies as well as the Tin Pan Alley music industry were concentrated there.
Nicknamed the Denver Nightingale, Murray had a strong tenor voice with excellent enunciation and a more conversational delivery than common with bel canto singers of the era. On comic songs he often deliberately sang slightly flat, which he felt helped the comic effect.
A Murray record issued by OkeH in 1919
Although he often performed romantic numbers and ballads which sold well, his comedy and novelty song recordings continue to be popular with later generations of record collectors.
Billy Murray newspaper ad from 1919
Murray was a devoted baseball fan, and he is said to have played with the New York Highlanders (Yankees) in exhibition games. He also supposedly sometimes called in sick to recording sessions in order to go to the ballpark. Murray recorded "Tessie, You Are the Only, Only, Only", which became the unofficial theme of the 1903 World Series, when the words were changed from "Tessie, you know I love you madly," to "Honus, why do you hit so badly?"
Murray's popularity faded as public taste changed and recording technology advanced; the rise of the electric microphone in the mid-1920s coincided with the era of the crooners. His "hammering" style, as he called it, essentially yelling the song into an acoustic recording horn, did not work in the electronic era, and he had to learn to soften his voice.
Though his singing style was less in demand, he continued to find recording work. By the late 1920s and early 1930s, the music from his early days was considered nostalgic (the modern term would be "oldies") and Murray was in demand again. He did voices for animated cartoons, especially the popular "follow the bouncing ball" sing-along cartoons and the character Bimbo. He also did radio work.
Murray made his last recordings for Beacon Records on February 11, 1943 with Jewish dialect comedian Monroe Silver. He retired the next year to Freeport, Long Island, New York, because of heart problems. He died at nearby Jones Beach of a heart attack in 1954 at the age of 77. Murray had married three times, the first two ending in divorce. He was survived by his third wife, Madeleine, and is buried in the Cemetery of the Holy Rood in Westbury, New York.
External links
Teddy Brown
Photo courtesy of Josh Duffee
1900
Teddy Brown, Drummer/Xylophonist
Teddy Brown (1900–1946) was an American entertainer who spent the latter part of his life performing in Britain. He was born Abraham Himmelbrand in 1900, and first played in the New York Philharmonic Orchestra, but moved to the field of popular music in the 1920s.
He was noted for his rotund appearance, approaching 400 pounds in weight, and was often compared to (or considered the British answer to) another rotund band leader of the same era, Paul Whiteman.
Brown played several instruments, the saxophone, the drums, percussion, the xylophone, and he also whistled melodies while he played any of the percussion instruments.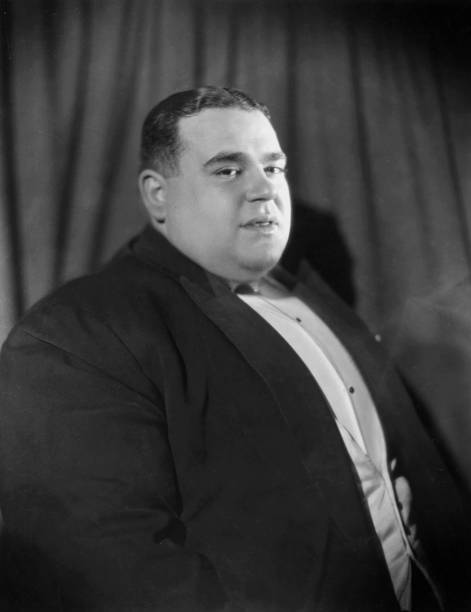 He arrived in London in 1926. The next year he formed his own orchestra, playing at the Café de Paris. He went on to play in other nightclubs both in London and Paris including the Kit Kat Club. The custom-made Besson xylophone he played had a five-octave range, one more than the usual xylophone. In 1927, the UK division of Lee de Forest's Phonofilm made a short film of Brown playing the xylophone.
As Brown's considerable percussive skills and fame in the UK spread, he appeared in an early sound feature-length movie in 1930, co-directed by a young Alfred Hitchcock, titled Elstree Calling, a musical variety review that answered Paul Whiteman's music review feature film of the same year, King of Jazz, with both films featuring early color sequences. Elstree was the movie and radio studio complex where many famous films and radio shows were produced in the early days of British media entertainment. A variety of impressive older musical and comedic vaudeville acts and new talent were featured each of the two films.
Brown's appearances in Elstree Calling won favorable audiences reviews at the time. His third appearance in the film was the most impressive, as he plays the xylophone with amazingly fast precision, using only one hand at a time, and sometimes behind his back.
Brown's rapid-fire style was an early influence on percussionist, band-leader Spike Jones, who would launch his own high-energy career a decade later.
From 1931 on Brown played on the radio, in films and the variety stage playing the xylophone. His appearance was dapper but quite stout but he was nimble and often danced around the xylophone while playing. He became very popular with audiences and appeared in the Royal Variety Performance in 1931. He was associated with The Crazy Gang, and was often the subject of their jokes. He died in 1946 after appearing in a concert at The Wolverhampton Hippodrome. Teddy died from a heart attack, he was just 46.
Bill "Bojangles" Robinson
d. 1949
Early years
Robinson was born in Richmond, Virginia to Maxwell, a machine-shop worker, and Maria Robinson, a choir singer. He was raised by his grandmother after both parents died when he was an infant—his father from chronic heart disease, and his mother from natural causes. Details of Robinson's early life are known only through legend, much of it perpetuated by Bill Robinson himself. He claims he was christened "Luther"—a name he did not like. He suggested to his younger brother Bill that they should exchange names. When Bill objected, Luther applied his fists, and the exchange was made. Some of his favorite foods were corn bread and chicken.
At the age of six, Robinson began dancing for a living appearing as a "hoofer" or song-and-dance man in local beer gardens. At six, Bill dropped out of school to pursue dancing. He invented a type of dancing called stair dancing in 1884. Two years later in Washington, DC, he toured with Mayme Remington's troupe. In 1891, at the age of 12, he joined a traveling company in
The South Before the War
, and in 1905 worked with George Cooper as a vaudeville team. He gained great success as a nightclub and musical comedy performer, and during the next 25 years became one of the toasts of Broadway. Not until he was 50 did he dance for white audiences, having devoted his early career exclusively to appearances on the black theater circuit.
In 1908 in Chicago, he met Marty Forkins, who became his lifelong manager. Under Forkins' tutelage, Robinson matured and began working as a solo act in nightclubs, increasing his earnings to an estimated $3500 per week.
The publicity that gradually came to surround him included the creation of his famous "stair dance" (which he claimed to have invented on the spur of the moment when he was receiving some honor—he could never remember exactly what—from the King of England. The King was standing at the top of a flight of stairs, and Bojangles' feet just danced up to be honored), his successful gambling exploits, his bow ties of multiple colors, his prodigious charity, his ability to run backward (he set a world's record of 8.2 seconds for the 75-yard backward dash) and to consume ice-cream by the quart, his argot—most notably the neologism copacetic, and such stunts as dancing down Broadway in 1939 from Columbus Circle to 44th St. in celebration of his 61st birthday.
Because his public image became preeminent, little is known of his first marriage to Fannie S. Clay in Chicago shortly after World War I, his divorce in 1943, or his marriage to Elaine Plaines on January 27, 1944, in Columbus, Ohio.
Robinson served as a rifleman in World War I with New York's 15th Infantry Regiment, National Guard. The Regiment was renamed the 369th Infantrywhile serving under France's Fourth Army and earned the nickname the "Harlem Hellfighters".
Along with serving in the trenches in WWI, Robinson was also the 369th "Hellfighters Band" drum major and led the regimental band up Fifth Avenue on the 369th's return from overseas. (added 30 July 2008, by the Director of the National Guard Educational Foundation).
Toward the end of the vaudeville era, a white impresario, Lew Leslie, produced
Blackbirds of 1928
, a black revue for white audiences featuring Robinson and other black stars. From then on, his public role was that of a dapper, smiling, plaid-suited ambassador to the white world, maintaining a tenuous connection with the black show-business circles through his continuing patronage of the Hoofers Club, an entertainer's haven in Harlem. Consequently, blacks and whites developed differing opinions of him. To whites, for example, his nickname "Bojangles" meant happy-go-lucky, while the black variety artist Tom Flatcher claimed it was slang for "squabbler."
Political figures and celebrities appointed him an honorary mayor of Harlem, a lifetime member of policemen's associations and fraternal orders, and a mascot of the New York Giants major league baseball team. Robinson reciprocated with open handed generosity and frequently credited the white dancer James Barton for his contribution to Robinson's dancing style.
After 1930, black revues waned in popularity, but Robinson remained in vogue with white audiences for more than a decade in some fourteen motion pictures produced by such companies as RKO, 20th Century Fox, and Paramount Pictures. Most of them had musical settings, in which he played old-fashioned roles in nostalgic romances. His most frequent role was that of an antebellum butler opposite Shirley Temple in such films as
The Little Colonel
,
The Littlest Rebel
,
Rebecca of Sunnybrook Farm
and
Just Around the Corner
, or Will Rogers in
In Old Kentucky
.
Rarely did he depart from the stereotype imposed by Hollywood writers. In a small vignette in
Hooray for Love
he played a mayor of Harlem modeled after his own ceremonial honor; in
One Mile from Heaven
, he played a romantic lead opposite African American actress Fredi Washington after Hollywood had relaxed its taboo against such roles for blacks. Audiences enjoyed his style, which eschewed the frenetic manner of the jitterbug. In contrast, Robinson always remained cool and reserved, rarely using his upper body and depending on his busy, inventive feet and his expressive face. He appeared in one film for black audiences,
Harlem is Heaven
, a financial failure that turned him away from independent production.
In 1939, he returned to the stage in
The Hot Mikado
, a jazz version of the Gilbert and Sullivan operetta produced at the 1939 New York World's Fair, and was one of the greatest hits of the fair. His next performance, in
All in Fun
(1940), failed to attract audiences. His last theatrical project was to have been
Two Gentlemen from the South
, with James Barton, in which the black and white roles reverse and eventually come together as equals, but the show did not open.
Thereafter, he confined himself to occasional performances, but he could still dance in his late sixties almost as well as he ever could, to the continual astonishment of his admirers. He explained this extraordinary versatility—he once danced for more than an hour before a dancing class without repeating a step—by insisting that his feet responded directly to the music, his head having nothing to do with it.
Despite earning more than $2 million during his lifetime, Robinson died penniless in New York City in 1949 at the age of 71 from heart failure. His funeral, which was arranged by longtime friend and television host Ed Sullivan, was held at the 369th Infantry Regiment Armory near Harlem and attended by 32,000 people. Adam Clayton Powell, Sr.gave the eulogy which was broadcast over the radio.
Robinson is buried in the Cemetery of the Evergreens in Brooklyn, New York.
~Wikipedia
Dr. Humphrey Howell Bate, Jr. and Wife, Ethel (Hesson) Bate
Save
Save
Save
Save
Save
Save