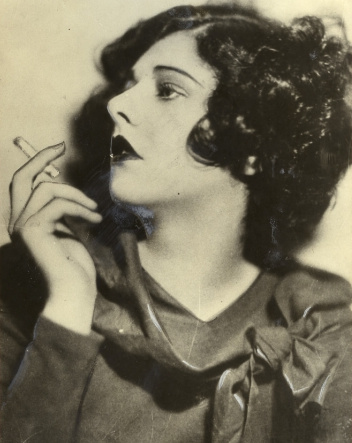 HAPPY BIRTHDAY
LIBBY HOLMAN!
d. June 18, 1971, Stamford, CT, USA.
(suicide - carbon monoxide poisoning).
née: Elizabeth Lloyd Holzman.
Libby Holman was an American torch singer
and stage actress who also achieved notoriety
for her complex and unconventional personal life.
Holman was born Elizabeth Lloyd Holzman to a Jewish lawyer and stockbroker, Alfred Holzman (August 20, 1867 - June 14, 1947), and his wife, Rachel Florence Workum Holzman (October 17, 1873 - April 22, 1966), in Cincinnati, Ohio. Their other children were daughter Marion H. Holzman (January 25, 1901 - December 13, 1963) and son Alfred Paul Holzman (March 9, 1909 - April 19, 1992). In 1904, the wealthy family grew destitute after Holman's uncle Ross Holzman embezzled nearly $1 million of their stock brokerage business. At some point, Alfred changed the family name from Holzman to Holman.
She graduated from Hughes High School on June 11, 1920, at the age of 16, then entered the University of Cincinnati, graduating on June 16, 1923, with a Bachelor of Arts degree. Libby Holman would later subtract two years from her age, insisting she was born in 1906, and providing that year of birth to the Social Security Administration as per the Social Security Death Index; SS# 073-14-3155, under the name Elizabeth Schanker.
In the summer of 1924, Holman left for New York City, where she initially took up residence at the Studio Club. Her first theater job in New York was in the road company of The Fool. Channing Pollock, the writer of The Fool, recognized Holman's talents immediately and advised her to pursue a theatrical career. She followed Pollock's advice and soon became a star. An early stage colleague who became a longtime close friend was future film star Clifton Webb, then a dancer. He bestowed upon her the nickname, "The Statue of Libby."
Her Broadway theatre debut was in the play The Sapphire Ring in 1925 at the Selwyn Theatre, she was billed as Elizabeth Holman, it closed after thirteen performances. Her big break came while she was appearing with Clifton Webb and Fred Allen in the 1929 Broadway revue, The Little Show, in which she first sang the blues number, "Moanin' Low" (written by Ralph Rainger), which earned her a dozen curtain calls on opening night, drew raves from the critics and became her signature song.
The following year, Holman introduced the Howard Dietz and Arthur Schwartz standard "Something to Remember You By" in the show Three's a Crowd (which also starred Allen and Webb).
Other Broadway appearances included The Garrick Gaieties (1925), Merry-Go-Round (1927), Rainbow (1928), Ned Wayburn's Gambols (1929), Revenge with Music (1934), You Never Know (1938, score by Cole Porter), and the self-produced one-woman revue Blues, Ballads and Sin-Songs (1954).
Holman enjoyed a variety of intimate relationships with both men and women throughout her lifetime. Her famous lesbian lovers included the DuPont heiress Louisa d'Andelot Carpenter, actress Jeanne Eagels and Jane Bowles. Carpenter was to play a significant part throughout Holman's lifetime. They raised their children and lived together and were openly accepted by their theater companions. She scandalized some by dating much younger men, such as fellow American actor Montgomery Clift, whom she mentored.
Holman took an interest in one particular fan, Zachary Smith Reynolds, the heir to R. J. Reynolds's tobacco company. He was smitten from the start, despite their seven-year age difference. They met in Baltimore, Maryland in April 1930 after Reynolds watched Holman's performance in a road company staging of the play The Little Show. Reynolds begged friend Dwight Deere Wiman, who was the show's producer, for an introduction to Holman. Reynolds pursued her all around the world in his plane. With the persuasion of her former lover, Louisa d'Andelot Carpenter, Holman and Reynolds, who went by his middle name, married on Sunday, November 29, 1931 in the parlor of Monroe, Michigan Justice of the Peace Fred M. Schoepfer.
Their marital bliss did not last long. Reynolds wanted Holman to abandon her acting career, she consented by taking a one-year leave of absence. During this time, however, his conservative family was unable to bear Holman and her group of theater friends, who at her invitation often visited Reynolda, the family estate near Winston-Salem, North Carolina. Accusations and arguments among them were common.
In 1932, during a 21st birthday party Reynolds gave at Reynolda for his friend and flying buddy Charles Gideon Hill, Jr., a first cousin to Reynolds's first wife Anne Ludlow Cannon Reynolds, Holman revealed to her husband that she was pregnant. A tense argument ensued. Moments later, a shot was heard; friends soon discovered Reynolds bleeding and unconscious with a gunshot wound to the head.
The authorities initially ruled the shooting a suicide, but a coroner's inquiry led them to rule it a murder. Holman and Albert Bailey "Ab" Walker, a friend of Reynolds's and a supposed lover of Holman's, were indicted for murder. Louisa Carpenter paid Holman's $25,000 bail in Wentworth, North Carolina, appearing in such mannish clothes bystanders and reporters thought she was a man.
The Reynolds family contacted the local authorities and had the charges dropped for fear of scandal. Holman gave birth to the couple's child, Christopher Smith "Topper" Reynolds, on January 10, 1933.
The following year, Broadway producer Vinton Freedley offered Holman the starring role in the Cole Porter musical Anything Goes, but she declined. Ethel Merman got the part of Reno Sweeney.
Holman married her second husband, film and stage actor Ralph (pronounced "Rafe") Holmes, in March 1939; he was twelve years her junior. She had previously dated his older brother, Phillips Holmes. In 1940, both brothers (who were half-Canadian) joined the Royal Canadian Air Force. Phillips was killed in a collision of two military planes in August 1942. When Ralph returned home shortly after V-J Day in August 1945, the marriage quickly soured and they soon separated. On November 15, 1945, Ralph Holmes was found in his Manhattan apartment, dead of a barbiturate overdose at age 29.
Holman adopted a son, Timmy (born October 18, 1945); and later adopted a second son, Tony (born May 19, 1947). Her natural son Christopher ("Topper") died on August 7, 1950 after falling while mountain climbing. Holman had given him permission to go mountain climbing with a friend on California's highest peak, Mount Whitney, not knowing that the boys were ill-prepared for the adventure. Both perished. Those close to Holman claim she never forgave herself. In 1952 she created the Christopher Reynolds Foundation in his memory.
In the 1950's, Holman worked with her accompanist, Gerold Cook, on researching and rearranging what they called earth music. It was primarily blues and spirituals that were linked to the African American community. Holman had always been involved in what later became known as the Civil rights movement. During WWII, she tried to book shows for the servicemen with her friend, Josh White, but they were turned down on the grounds that "we don't book mixed company."
In 1959, through the Christopher Reynolds Foundation, she underwrote a trip to India by Martin Luther King, Jr. and his wife, Coretta Scott King, both of whom became close friends with Holman and her husband, Louis Schanker. Holman also contributed to the defense of Dr. Benjamin Spock, the pediatrician and writer arrested for taking part in antiwar demonstrations.
Her third and last husband was well known artist/sculptor Louis Schanker, they married on December 27, 1960. Although Holman didn't have to work after her marriage to Reynolds, she never completely gave up her career, making records and giving recitals. One of her last performances was at the United Nations in New York in 1966. She sang her trademark song, "Moanin' Low."
On June 18, 1971, Holman was found nearly dead by her household staff, in the front seat of her Rolls Royce. She was taken to the hospital where she died hours later.
Holman's death was officially
ruled a suicide due to acute
carbon monoxide poisoning.
According to the Holman biography
Dreams That Money Can Buy
by Jon Bradshaw, few of Holman's friends believed the coroner's report that she had committed suicide. Some of the circumstances didn't add up, in particular the question of how the slight, aging Holman could even open and close the heavy, manually-operated garage door. The book was described by the New York Times reviewer as a "flat, unsympathetic narration of Miss Holman's life there are few insights to be had".
Abie "Boogaloo" Ames, Blues pianist.
b. Cruger, MS, USA, d. 2001. (Age 83).
Ames was born in on the 'Big Egypt Plantation'. At just age 5, he began playing piano. While still a teen-ager, he moved to Detroit and formed his own band, In 1936, he toured Europe with Louis Armstrong. Sometime in the 1940s, the nickname "Boogaloo" became associated with him. Later, he was a well known figure in the "Motown Studios" (Detroit, MI), and was friendly with such other well known musicians as singer Nat "King" Cole, and pianist Erroll Garner.
In 1980, Ames relocated to Greenville, MS, and became a regular performer at the local clubs and festivals. In 2000, along with Eden Brent, his protege and 1990s musical partner, Ames performed at the Kennedy Center for Performing Arts in Washington, D.C. In 2001, He won the Artist's Achievement Award of the Governor's Awards for Excellence in the Arts in the state of Mississippi. In October 2001, Ames made his last public performance at the E.E. Bass Cultural Center in Greenville, MS, along with another of his former students, Mulgrew Miller. During his career, he also composed many tunes, one of which, "Darkness in the Delta", was composed for Cassandra Wilson's Blue Note CD tentatively titled "Belly of the Sun".
Beatrice "Wee Bea" Booze, vocals
b. Baltimore. MD, USA.
Bea Booze (May 23, 1920 – 1975), often credited as Wee Bea Booze, was an American R&B and jazz singer most popular in the 1940s.
She was born Muriel Nicholls in Baltimore, and made her name as a singer in Harlem. She was signed by Decca Records to cover the songs and emulate the style of Lil Green,[1] and, under the guidance of Sammy Price, first recorded in 1942. Her version of "See See Rider Blues", first recorded by Ma Rainey, reached # 1 on the R&B chart, after which she was billed as 'The See See Rider Blues Girl'. As well as singing, she played guitar in performance and on many of her recordings.
Later in the 1940s, Booze recorded as a jazz vocalist with the Andy Kirk band,[1] which featured trumpeter Fats Navarro, and also with a jazz quartet that included saxophonist George Kelly and organist Larry Johnson. She retired from the music business in the early 1950s to settle first in Baltimore and later in Scottsville, New York, although she recorded with Sammy Price in 1962.
Johnny Bothwell, Alto Sax
b. Gary, IN, USA, d. August 2, 1995.
Johnny Bothwell (born
May 23

, 1919
in Gary, Indiana – died
September 12

, 1995
in Lakeland, Florida) was an American jazz alto saxophonistand bandleader.
Bothwell played in Chicago in 1940 and then moved to New York City, playing with Woody Herman (1943) and Sonny Dunham (1944–46). He was a key member and featured soloist of Boyd Raeburn's groups in 1944–45, and played with Gene Krupa in 1945. He formed his own groups between 1945 and 1949, and held a residency at the Tin Pan Alley Club in Chicago as well as in New York and Boston.
Bothwell essentially gave up music after 1949, moving to Miami, Florida. He owned a number of bands but did not return to playing for the rest of his life.
~Wikipedia
Hep Records:
Johnny Bothwell
1887
Jose Collins
Jose Collins (sometimes styled José Collins, 23 May 1887 – 6 December 1958) was an English actress and singer celebrated for her performances in musical comedies and early motion pictures.
Life and career
Charlotte Josephine Collins was born in London in 1887 to her mother, music hall performer and comedian Lottie Collins, who popularized the song "Ta-ra-ra Boom-de-ay!", and her mother's music coach, Stephen Patrick Cooney,. They later married and Lottie took the name Charlotte Josephine Cooney.
Collins got her start as a child performer, and by the age of 17 she had appeared in both pantomime and music hall as a singer and actress. She made her West End debut in a principal role in The Antelope (1908). On Broadway, she appeared in Vera Violetta (1911), The Merry Countess (1912), and (sharing a duet with Al Jolson) The Whirl of Society (1912), among others. Her revue appearances included the Ziegfeld Follies (1913), and The Passing Show (1914). She also starred in The Happy Day in London and Alone at Last on Broadway in 1916.
Collins played the title role of Teresa, the gypsy bandit maid, in the hit musical The Maid of the Mountains (1917) to great acclaim, and as a result became known by the nickname of "Maid of the Mountains". In that show, she introduced the songs "Love Will Find a Way" and "A Paradise For Two." Collins played throughout the long run of this show and in many revivals over the years.
Collins later appeared in Our Peg (1919), A Southern Maid (1920), Sybil (1921), The Last Waltz (1922), Catherine (1923), Our Nell (1924) and Frasquita (1925). She spent the remainder of her career in revues, variety and non-musical roles, as well as in films. In her film career, she starred as Bessie, the vengeful model, in The Light That Failed, (1916, based on Rudyard Kipling's poem), and she appeared in The Imposter (1915), A Woman's Honor (1916), and The Sword of Damocles (1920), among others. Her only musical film was Facing the Music (1933).
Jose Collins was married three times: firstly, in 1911, to Leslie Chatfield; secondly in 1920 Lord Robert Edward Innes-Ker (brother of Henry John Innes-Ker, 8th Duke of Roxburghe); and thirdly to Dr Gerald Kirkland. Collins had no children by any of her marriages; her second marriage ended in divorce in 1935.
Jose Collins' blue plaque, High Road, Loughton
She is commemorated by a blue plaque at Loughton. When erected, the plaque was on the actual house in which she lived towards the end of her life. This was demolished, and replaced by a block of flats called Collins Court.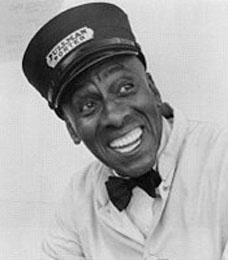 The "Scatman" had an extensive Jazz and later R&B background, performing in many clubs and on radio shows in the 1920s,'30s, and '40s.
In 1948, he began a new career as a television actor, remaining an actor for the rest of his life. He had roles in such series as 'The Governor and J.J.', 'Kojak', 'Toma', and 'One of the Boys'. He was also a voice for such cartoon series as 'Hong Kong Phooey', and for 'The Harlem Globetrotters'.
b. Burkesville, GA , d. 1971
Fred Guy spent most of his playing career with the Duke Ellington Orchestra. He grew up in New York City. Guy worked with Joseph C. Smith's Orchestra and then led his own group. However after joining Duke Ellington's Washingtonians in the spring of 1925 (replacing the group's former leader Elmer Snowden who left after a money dispute), Guy was with Ellington for the next 24 years.
He played banjo up until the early 1930's and his rhythmic and percussive style was an asset to the early band. However after switching to guitar, Guy tended to be inaudible and (since he never soloed) an increasingly minor force in the music. When he departed fromEllington in 1949, there was no need to replace him. Fred Guy (who never led his own record date) was never again a fulltime musician, working as a manager of a ballroom in Chicago. He was long forgotten (except by jazz historians) by the time he passed away in 1971.
Andy Kirk and his Clouds of Joy