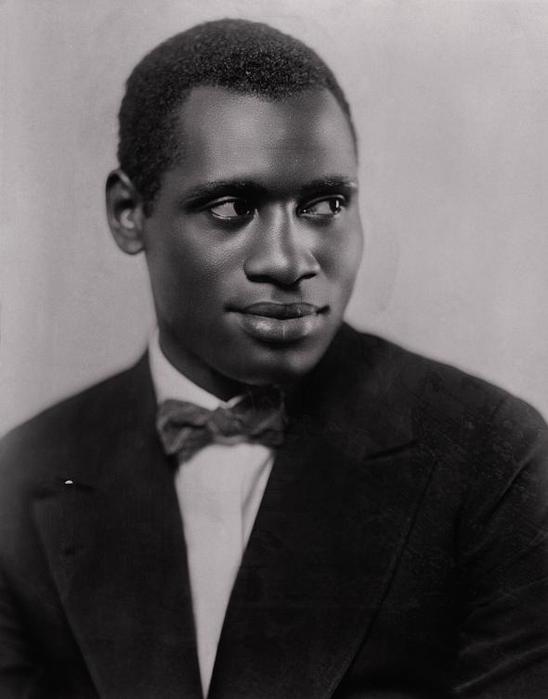 HAPPY BIRTHDAY PAUL ROBESON!
BIRTHDAYS
b. Philadelphia, PA, USA.
His best known vocal: "Old Man River" from Kern Musical "Show Boat".
Also remembered today as a Singer, Athlete, Actor, and Civil Rights Leader. The full story of Robeson's career would take more pages than we can give here. As an undergrad, Robeson earned an academic scholarship to Rutgers College in 1915. As a post-grad, he studied at Columbia Law School where he paid his fees by playing with the National Football League for three years.
He briefly worked in a law firm and then turned to theater. He went on to act in films and on stage, and sang in concerts, winning international acclaim.
Robeson, - outspoken in his criticism of racism - was blacklisted in the 1940s and 1950s because of his Communist Party affiliation. He spent many years in Communist Russia, but finally returned to the USA. His beautiful bass singing voice has never been forgotten.
Paul Robeson - About the Actor | American Masters | PBS

1904
Joseph "Sharkey" Bonano
Trumpet/leader
b. April 9, 1904, New Orleans (Milenburg neighborhood by the shores of Lake Pontchartrain), LA, USA
d. March 27, 1972, New Orleans, LA, USA.
né: Joseph Gustaf Bonano.
In the early '20s, New Orleans native Sharkey Bonano played locally with the bands of Chink Martin and Freddie Newman, among others. Later, he moved to New York where he unsuccessfully auditioned for a spot with the Wolverines. In 1924, he landed a spot with pianist Jimmy Durante. The next year, he returned home to lead his own band. In 1927, he joined the famous Jean Goldkette Orchestra, which then featured Bix Beiderbecke and Frankie Trumbauer. From 1928-1930, Bonano led his own group, the Melody Masters, with Leon Prima.
After playing in California with Original Dixieland Jazz Band clarinetist Larry Shields, Bonano once again returned to New Orleans, where he stayed from 1930-1936. In 1936, Bonano worked with Ben Pollack before forming his own New York-based group, the Sharks of Rhythm, with which he recorded much of his finest work. Around that time, he also played sporadically with the ODJB. After a military stint in the '40s, Bonano played around and about New Orleans, where his outgoing musical personality gained him a large following. From 1949 on, he led his own groups; Bonano remained active around New Orleans, Chicago, and New York until the 1960s, when ill health forced him to retire.
WIKI BIO
Arthur Briggs, American Jazz Trumpeter and Orchestra Leader
Arthur Briggs (April 9, 1899 – July 15, 1991, Paris) was an American Jazz trumpeter and orchestra leader who performed in Europe.
Career
Briggs was born in Charleston, South Carolina, where he played trumpet as a child and eventually joined the 369th US Infantry Band, but was too young to travel to Europe during the first World War. Briggs finally traveled to Europe in June 1919 while playing with Will Marion Cook and his "Southern Syncopated Orchestra." Admired for his technical virtuosity and clear tone, he worked in the United States and Europe for 10 years before eventually settling in Europe in 1931. He set up a band with Freddy Johnson, and worked with artists all over Europe, including Coleman Hawkins and Django Reinhardt.
Imprisonment
Briggs was imprisoned during the Nazi occupation of France, he organized a band again when the war ended.
Later life
In the 1960s, Briggs settled in Chantilly, where he taught music.
Recordings
Actual recordings of Briggs are very rare, but he recorded with both Deutsche Grammophon and Clausophon, extensively throughout the mid-late 1920s.
Briggs was related to tubist Pete Briggs, who recorded with Louis Armstrong.
Arthur Briggs
Arthur Briggs' Savoy Syncopators Orchestra
Arthur Briggs (1899 - 1991) - Find A Grave Memorial
1894
Reeds/Bandleader/Composer
b. Charleston, South Carolina, USA
Edmund Jenkins (April 9, 1894 – 1926) was an African American composer during the Harlem Renaissance. Jenkins studied music at Morehouse College in Atlanta with Kemper Herrald, and played and directed the bands of his father's orphanage in Charleston, SC. He went to England with the band in 1914 and remained there studying at the venerable Royal Academy of Music 1914-1921. He spent the most of his life abroad.
A Holstein prize was awarded for his piece, African War Dance and also for his Sonata in A minor for violoncello, in 1925. In 1925 in Belgium, his work Carlestonia, a rhapsody for orchestra—noted for its "Negro" themes—was performed. In London, Charlestonia: Negro Symphony was performed in 1919. His career which included jazz/dance band recordings (London: 1921) and in Europe was ended by an early death in Paris where he had settled in 1924.
b. Navasota, Texas, USA
Mance Lipscomb (April 9, 1895 – January 30, 1976) was an influential blues singer, guitarist and songster. Born Beau De Glen Lipscomb near Navasota, Texas, he as a youth took the name of 'Mance' from a friend of his oldest brother Charlie (Mance short for emancipation). Lipscomb was the son of an ex-slave from Alabama and a half Choctaw Indian mother.
Like Leadbelly and Mississippi John Hurt, the designation as strictly a blues singer dwarfs the musical breadth of Mance Lipscomb. Born on April 9, 1895 in Navasota, TX, Lipscomb was a sharecropper/tenant farmer all his life who didn't record until 1960, "songster" fits what Lipscomb did best.
A proud, yet unboastful man, Lipscomb would point out that he was an educated musician, his ability to play everything from classic blues, ballads, pop songs to spirituals in a multitude of styles and keys being his particular mark of originality.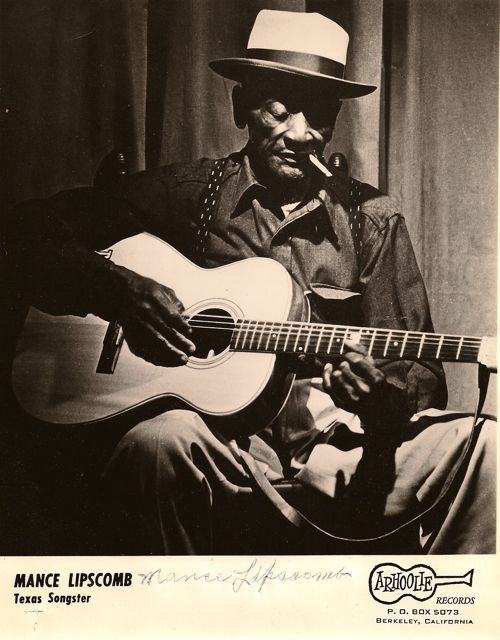 He appeared at numerous blues and folk festivals throughout the '60s, released several albums on Arhoolie and even one for a major label, Reprise, in 1970, Trouble in Mind. Four years later, Lipscomb retired from the festival circuit and passed away on January 30, 1976 in his hometown of Navasota, TX. He was 81. With a wide-ranging repertoire of over 90 songs, Lipscomb may have gotten a belated start in recording, but left a remarkable legacy to be enjoyed.
1905
Teddy Roy
Theodore Gerald "Teddy" Roy (April 9, 1905, Du Quoin, Illinois - August 31, 1966, New York) was an American jazz pianist.
Roy played cornet before switching to piano. He played in the Coon-Sanders Original Nighthawk Orchestra and with Jean Goldkette and Frankie Trumbauer early in his career. While in Boston in 1933, he played with Bobby Hackett and Pee Wee Russell, then led his own band in Massachusetts in 1934. Following this he worked in various dance bands in New York City in the late 1930s and early 1940s. He served in the Army from 1943 to 1945, then played with Max Kaminsky and the new version of the Original Dixieland Jazz Band with Eddie Edwards and Wild Bill Davison. From 1946 to 1959 he played mostly freelance in New York City and on Long Island; among those he played with were Russell, Kaminsky, Miff Mole, and Wingy Manone. He also did solo work in the 1950s.
Teddy Roy
1887
Konrad Tom
Background information
Native name:
Konrad Runowiecki
Born:
9 April 1887, Warsaw
Died:
9 August 1957 (aged 70), Los Angeles
Occupation(s):
Actor, singer-songwriter
Konrad Tom
(9 April 1887 – 9 August 1957), born Konrad Runowiecki, a Polish Jewish actor, writer, singer and director, born in Warsaw. Wrote song lyrics in Polish and in Yiddish for stage, film and cabaret, including szmonces. His wife was actress Zula Pogorzelska.
"Yiddish talkies were not only comparable to those of the Polish mainstream but were produced by the same people. The most successful Yiddish talkies were directed by established industry figures including Waszyński, Ford, Henryk Szaro, Jan Nowina-Przybylski, Leon Trystan, and Konrad Tom."
Konrad Tom Wikipedia
Konrad Tom
Notable Events Occurring
Bumps Myers

(tenor saxophonist)
died in Los Angeles, CA, USA.
Mae Axton

(singer, songwriter)
died in Nashville, TN, USA.
Age: 82.
BIO
Songs Recorded/Released
Ted Lewis and his Band
1923


Ladd's Black Aces
Louisville Lou (The Vampin' Lady)
Sara Martin -
If Your Man Is Like My Man (I Sympathize With You)
Bessie Smith - Moonshine Blues
1925


Harry Reser and his Orchestra -
Sing-Loo
1926


Original Indiana Five
Florida Low Down
Hangin' Around
So Is Your Old Lady
Georgia Melodians -
Ev'rybody's Charleston Crazy
1927


Vincent Lopez and His Casa Lopez Orchestra -
A Lane In Spain
Vincent Lopez and His Casa Lopez Orchestra -
I'll Just Go Along
1929


McKinney's Cotton Pickers - Beedle-Um-Bum
1930


Mary Johnson
Frank Melrose
1934


Texas Alexander accompanied
by the Mississippi Sheiks -
Frost Texas Tornado Blues
Texas Alexander accompanied by his Sax Black Tams
Cliff Edwards "Ukulele Ike" -
My Dog Loves Your Dog
I Just Couldn't Take It, Baby
1936


Fletcher Henderson Orchestra - I'll Always Be In Love With You
1937


Fats Waller and his Rhythm
~Written by: Andy Razaf; Thomas 'Fats' Waller
Every honey bee fills with jealousy
When they see you out with me
You just have to touch my cup
And it's oh so sweet when you stir it up
Seems the honey fairly drips
You just have to touch my cup
And it's oh so sweet when you stir it up
Seems the honey fairly drips

brought to you by...