HAPPY BIRTHDAY JOHNNY ST. CYR!!!
BIRTHDAYS
Well the jury is still out on this one....
some sources list Johnny St. Cyr's birthday as April 7th and some as April 17th. He is an important figure in music history and deserves the spotlight whenever his birthday was or IS ; )
Johnny St. Cyr

was a pioneer in the world of jazz however, the question as to whether he was a banjo player is an open question since in reality he was a guitar player. He was a self-taught musician that started with a home made guitar. At the turn-of-the-century the banjo was used in ragtime, early blues and New Orleans jazz. Generally when a jazz band played outdoors it would use a banjo and when it played indoors the band might use guitar, banjo or piano for rhythm. Since other jazz bands were using banjos this may have been the reason for St. Cyr playing a guitar-banjo. St. Cyr's banjo was nothing more than a guitar neck and fingerboard fitted to a banjo head. From 1917 most of the work that was performed and recorded was on his self-constructed guitar banjo.
He was born on April 17, 1890 and by 1905 St. Cyr had his own group performing in New Orleans. He also played with A.J. Piron, the Superior Band, Olympia and the Tuxedo band. In 1917 St. Cyr along with Louis Armstrong, drummer Warren "Baby" Dodd, clarinetist Johnny Dodds and bassist George "Pops" Foster began performing on riverboats with band leader Fate Marable for the Streckfus Steamer Line.
Marable was known as a "taskmaster" and New Orleans musicians used to jokingly refer to a stint in his band as "going to the conservatory." This was do to his insistence on reading skills and flawless performances.
Dailey rehearsals of two hours were normal and it was with Marable that Louis Armstrong learned to read music. The captain of the SS Sidney, Captain was a musician and an influence on the band. He would use a stopwatch to test the band for tempo. If the band failed to keep the proper tempo (70 beats a minute for fox trot and 90 for two steps) then somebody got hell. It was reported that if it happened too often there would be new musicians in the band.
It was King Oliver that encouraged St. Cyr to go north to Chicago in 1923. King Oliver had previously been the cornetist with Johnny in Kid Ory's band. In Chicago, King Oliver was performing in Freddie Keppard's "The Original Creole Orchestra." Eventually Oliver assumed control of the band and it became King Oliver's "Creole Jazz Band." The band members included Lil Hardin-Armstrong, Louis Armstrong, Baby Dodds, Johnny Dodds, Honore Dutrey, Stump Evans, Bill Johnson and Johnny St. Cyr. It was in this band that Louis Armstrong met his second wife Lil Hardin and it was Lil that encouraged Louis to break out on his own.
On November 12th, 1925 Louis Armstrong made his first record as a bandleader. The songs on the Okeh 78 rpm were "My Heart," and "Yes, I'm in the Barrel." The band was what is called a "pick-up" band and it was made up mostly of musicians from King Oliver's "Creole Jazz Band." The first version of the band known as the "Hot Five" featured Johnny Dodds on clarinet, Kid Ory on trombone, Johnny St. Cyr on banjo and Louis' wife, Lil Hardin-Armstrong on piano.
On February 26th, 1926 the "Hot Five" returned to the studio to record six more sides. Two of the songs made jazz history - "Cornet Chop Suey" and a novelty tune called "Heebie Jeebies." The song "Heebie Jeebies' became Armstrong's first hit, selling more than forty thousand copies within a few months. The song started a craze with "scat" singing but the bass line played by Johnny St. Cyr on his guitar- banjo turned out to be very unique.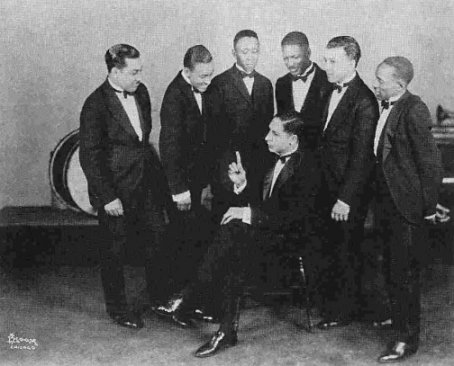 Jelly Roll Morton and his Red Hot Peppers
This was 1926 or '27 in Chicago. Behind Morton from left to right are Omer Simeon, clarinet; Andrew Hilaire, drums; John Lindsay, bass; Johnny St. Cyr, banjo; Kid Ory, trombone; and George Mitchell, trumpet.
In 1926 Jelly Roll Morton obtained a recording contract with Victor and made recordings with a hand picked group of musicians that he called the "Red Hot Peppers." Johnny St. Cyr was also part of this historic group. The recordings were free-spirited, relaxed and hard-swinging. they included "Block Bottom Stomp," "The Chant," "Sidewalk Blues," Dead Man Blues," " Grandpa's Spells," "Doctor Jazz," "Wild Man Blues" and several others. They have the sound of a collective improvisation however, they were meticulously arranged where everything was written down and repeatedly rehearsed except the breaks. These recording sessions were strictly business and the musicians were paid to practice which was unheard of in those days.
Johnny St. Cyr remembered that Morton was surprisingly willing to listen to his musicians. "Jelly was a very, very agreeable man . . . He was fussy on introductions and endings and he always wanted the ensemble his way, but he never interfered with the solo work . . . He'd tell us where he wanted the solo break but the rest was up to us." "The solos - they were ad lib. We played according to how we felt. Of course Jelly had his ideas and sometimes we'd listen to them and sometimes, together with our own, we'd make something better . . . reason his records are so full of tricks and changes is the liberty he gave his men. Sometimes . . . we get an idea . . . and ask him to play a certain break and he was always open for suggestions.
In addition to playing with Armstrong and Morton Johnny St. Cyr played nightly with Doc Cook's "Dreamland Orchestra." By 1930 St. Cyr returned to New Orleans. The country was in the middle of the depression and playing jobs were not as plentiful. He made his living outside of music as a plasterer but he still played with local groups that included Paul Barbarin and Alphonse Picou.
In 1955 Johnny St. Cyr moved to Los Angeles and now played full time as a musician. One of his later recording endeavors was one in which he was the band leader. The recording is primarily St. Cyr playing guitar but he is also joined with his long time musician friend Paul Barbarin on drums.


In 1961 he became the leader of a small group at Disneyland, CA called the "Young Men from New Orleans" that included vocalist Monette Moore, Joe Darensbourg - clarinet, Harvey Brooks - piano, Alton Redd - drums and Mike Delay - trumpet. He continued to work there until his death in 1966. Today his grandson, John St. Cyr Jr. continues the music tradition, in Chicago, with the "St. Cyr" record label.
at All About Jazz
Johnny St
.
Cyr
1893
Irene Castle
Date of Birth 17 April 1893, New Rochelle, New York, USA
Date of Death 25 January 1969, Eureka Springs, Arkansas, USA
Birth Name Irene Foote
Irene Castle and her husband Vernon Castle (born Vernon Blyth) were the best known ballroom dancers of the early 20th C. Beginning about 1914 they operated several clubs and studios in the NYC area, toured the country dancing, and were able to charge as much as a thousand dollars an hour for lessons. They appeared in an Irving Berlin musical ("Watch Your Step") and in the film "The Whirl Of Life" as themselves. Irene appeared in a number of films alone, notably the WWI drama "Patria". Vernon (as a military flying instructor) was killed in an airplane accident shortly before the war's end. Irene later married Robert Treman, an Ithaca NY businessman who stole her money and lost it on the stock market. In 1923 she married Frederic McLaughlin, a man sixteen years older than her. She married him for his money, divorcing him when he proved to be possessive and physically violent. Her fourth and final husband was George Enzinger an advertising executive from Chicago. She spent the later years of her life championing animal rights.
- IMDb Mini Biography By: E.S. Stott
Irene Castle
1913
"Chief Bey"
d. April 8, 2004, New York (Brooklyn), NY, USA.
né: James Hawthorne.
Born in Yamassee, South Carolina, he moved with his family to Brooklyn and then to Harlem, where he began playing drums and singing in church choirs. In the 1950s, he performed in an international tour of Porgy and Bess starring Leontyne Price and Cab Calloway. He also began a busy recording career performing on Herbie Mann's At the Village Gate (1961), Art Blakey's The African Beat (1962), as well as albums by Harry Belafonte, Miriam Makeba, Pharoah Sanders and others. He took his stage name after joining the Moorish Science Temple of America, a Muslim sect. He taught the shekere, a West African percussion instrument, at the Griot Institute at Intermediate School 246 in Brooklyn.
He died of stomach cancer at the age of 90.
His widow, Barbara Kenyatta Bey (born Barbara Ann Coleman in Harlem on June 9, 1944), a priestess of the Yemaja religion, collapsed at his funeral and died on April 17. April 17th would not only have been Bey's 91st birthday, but the couple's 31st wedding anniversary.
Russell Bowles, Trombone
The trombonist Russell Bowles was principally associated with the big band of Jimmie Lunceford, with whom he played for more than 16 years. Bowles developed his talents in Louisville, KY, playing in the Booker T. Washington Community Centre Band even before he entered high school, where he continued his musical studies. Beginning in 1926, he spent several years as a member of Ferman Tapp's Melody Lads, a somewhat legendary Kentucky territorial band who sometimes made it over the mountains into West Virginia and Ohio. Near the end of 1928, Bowles joined forces with Horace Henderson, but wound up taking a break from the touring life by taking a theater orchestra position in Buffalo.
The relationship with Lunceford began promptly in 1931; indeed, the trombonist actually joined up with the band on January 1 of that year, although whether the hiring also included the prior evening's New Year's Eve gig is unknown. As with many sidemen in this outfit, loyalty was for the most part based on the superb music, always full of surprises and exciting passages for the hornmen. Performers who would develop into great arrangers on their own, such as Sy Oliver and Gerald Wilson, stood side by side with Bowles in the Lunceford brass section. Not even the death of the leader in 1947 convinced Bowles that it was time to go, since he continued on for several years in a ghost Lunceford band under the direction of arranger Eddie Wilcox. In the '50s, the trombonist's main involvement seems to have been with the goofy Cab Calloway, yet he only gigged in this popular outfit sporadically, perhaps to replace someone else. Bowles dropped out of music somewhere in the middle of this decade and went to work as a clerk in a New York department store.
Gustave "Gus" "Gussie" Mueller, Jazz clarinetist
b. New Orleans, Louisiana, USA
d. Dec. 16 1965, Hollywood, CA, USA.
Gustave "Gussie" Mueller (New Orleans, Louisiana April 17, 1890 – Hollywood, California December 16, 1965) was an early jazz clarinetist.
Mueller was one of the top clarinetists with Papa Jack Laine's bands in New Orleans before going to Chicago, Illinois with Tom Brown's band in early 1915. After serving in the Army in World War I he moved to California and joined the early Paul Whiteman Orchestra, with which he moved to New York City. He helped give Whiteman an idea of the Dixieland jazz style.
One of the Whiteman Orchestra's early hit records, as well as one of the unfortunately few recordings where Mueller can be heard prominently, is The Wang Wang Blues which Mueller dominates in a style similar to Larry Shields while somewhat foreshadowing the early work of Sidney Bechet. While Mueller shares composer credit on "Wang Wang", some of his New Orleans contemporaries said the number was all his and he had featured it before joining Whiteman.
As Paul Whiteman started taking himself more seriously and began demanding arrangements with little room for improvisation, Mueller left the band in November 1920, saying "You call yourselves a jazz band, but you can't play the blues worth a damn".
Mueller returned to California to join his old friend (and fellow Tom Brown Band alumnus) Ray Lopez in the Abe Lyman Orchestra. Mueller stayed in the Los Angeles area, playing with dance bands, novelty and "Hillbilly" bands, and working on motion picture soundtracks before retiring after World War II.
On This Date Include:
Guitarist, Singer, Songwriter
Was killed on this day by a Luftwaffe parachute mine that detonated outside his flat in London, England, UK.
Age: 43.
Albert Allick "Al" Bowlly was a Mozambican-born South African/British singer, songwriter, composer and band leader, who became a popular jazz crooner during the British dance band era of the 1930s and later worked in the United States. Wikipedia
Born: January 7, 1898, Maputo, Mozambique
Died: April 17, 1941, London, United Kingdom
On 17 April 1941, Bowlly and Messene had just given a performance at the Rex Cinema in Oxford Street, High Wycombe, now demolished. Both were offered the opportunity of an overnight stay in the town, but Bowlly opted to take the last train home to his flat at 32 Duke Street, Duke's Court, St James, London. His decision proved to be fatal, as he was killed by a Luftwaffe parachute mine that detonated outside his flat later that evening. His body appeared unmarked: although the massive explosion had not disfigured him, it had blown his bedroom door off its hinges and the impact against his head proved fatal. He was buried with other bombing victims in a mass grave at what is today known as Hanwell Cemetery, Uxbridge Road, Hanwell, where his name is given as Albert Alex Bowlly.
Al Bowlly
Henry "Red" Allen, trumpet
died in New York, NY, USA.
Age: 59.
Henry James "Red" Allen was a jazz trumpeter and vocalist whose style has been claimed to be the first to fully incorporate the innovations of Louis Armstrong.
Songs Recorded/Released
1923


Ladd's Black Aces
Ted Lewis and his Band - Beale Street Mama
1924


Viola McCoy -
You Don't Know My Mind Blues
Clara Smith - The Clearing House Blues
Bix Beiderbecke and his Gang - Somebody Stole My Gal

Bix Beiderbecke and his Gang - Thou Swell


Waring's Pennsylvanians - Ah! Sweet Mystery Of Life
Fess Williams and his
Royal Flush Orchestra
1930


Annette Hanshaw -
I Love A Ukelele
(Fields / Hall)
Ted Lewis and his Band - Somebody Stole My Gal

1934
Paul Whiteman and his Orchestra
Annina
Carry Me Back to Green Pastures
G Blues - Featuring Frankie Trumbauer on the Saxophone
Tail Spin
1937
Andy Kirk and his Twelve Clouds Of Joy
Foolin' Myself
I'm Glad For Your Sake (I'm Sorry For Mine)
Worried Over You

- Vocal Chorus by Pha Terrell
1940
Frankie "Half Pint" Jaxon - Let Me Ride Your Train
1942


Louis Armstrong and his Orchestra - I Never Knew
Among My Souvenirs
Coquette
(Get Some) Cash For Your Trash
Mamie Neale, down in Beale,

Gave her papa the air,
Left him cold, got him told,
Like she didn't care;
Poor Joe, her beau,
Looked just like he would die;
If you would see her, you would hear her, sob this mournful cry:
Beale Street Papa, why don't you come back home?
It isn't proper to leave your mama all alone.
Sometimes I was cruel, that's true,
But your sweet mama never did two-time you;
Ah, ooh, I'm blue!
So how come you do me like you do?jazz


I'm cryin'!


Beale Street Papa, I mean, don't you mess around with me;
There's plenty petting I can get in Tennessee,
I get my lovin' constantly, but not the kind you served to me,
So please, sweet papa, come back home!
Beale Street Papa, I mean, don't you mess around with me;
There's plenty petting I can get in Tennessee,
I bought a razor, rifle, rope and knife,
But if the police comes for you, baby, gonna save my life,
So Beale Street Papa, come back home!