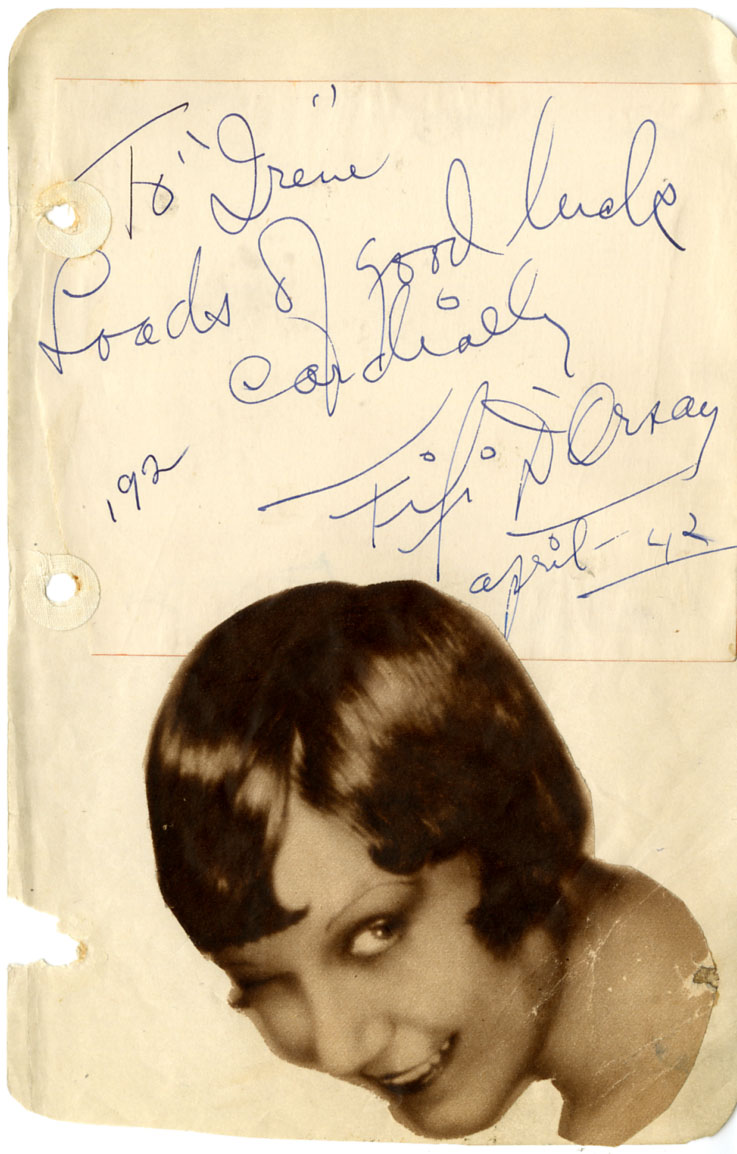 Happy Birthday Fifi D'Orsay!
b. Montréal, Québec, Canada
d. Dec. 2, 1983, Woodland Hills, CA, USA. (cancer).
Despite her claims of a Parisian birthplace and early stardom in the Folies Bèrgére, Hollywood's quintessential saucy Parisienne, Fifi D'Orsay, was actually Yvonne Lussier of Montreal.
A protégée of vaudeville entertainer Gus Edwards, D'Orsay had appeared in the Greenwich Village Follies (singing "Yes, We Have No Bananas") and toured with Ed Gallagher prior to crashing Hollywood in such enjoyable, if lightweight, fare as They Had to See Paris (1929) and Hot for Paris (1930). She was pronounced one of the burgeoning sound media's first new stars, but her popularity proved brief.
Today, D'Orsay is probably best remembered as the fading screen siren serenaded by Bing Crosby in Going Hollywood (1933) (the song was "Temptation") and for providing brief ooh-la-la moments in quite a few undeserving films of the late '30s and 1940s. She appeared on early television, but was decidedly a has-been when cast as the spirited Solange LaFitte in the hit Broadway musical Follies (1972).
Fifi D'Orsay died from cancer at the age of 79 in Woodland Hills, California and was interred in the Forest Lawn Memorial Park Cemetery in Glendale, California.
en.wikipedia.org/wiki/Fifi_D'Orsay
northernstars.ca/actorsdef/dorsay.html
Charlie Chaplin
Actor/composer
né: Charles Spencer Chaplin.
Very few people are aware of the fact that Charlie composed most all the music for his own films. In addition, much of the background music that one heard in theaters showing the old "Silents" (music for the 'Chase' scenes and such) was composed by Chaplin. Charlie was not a musician. He would think of the melody that he wanted for the film, and would call in one of the studio's musicians who would put in down on paper. (Often- "Skitch" Henderson.)
Alton Purnell will always be best-known as a member of George Lewis' Ragtime Band, providing memorable introductions, basic but swinging solos and solid work in the ensembles. Purnell worked as a singer before becoming a professional pianist in his native New Orleans in 1928 and during the next decade he played with Isaiah Morgan, Alphonse Picou, "Big Eye" Louis Nelson, Sidney Desvigne's big band and Cousin Joe among many others. Although obviously not able to be part of a brass band, Purnell played fairly steadily in New Orleans, gigging at local clubs and cabarets.
He became part of Bunk Johnson's group in 1945 where he met up with George Lewis. After Bunk broke up the band in 1946, Purnell returned to New Orleans but he soon was an important part of Lewis' group. In the 1950's he toured the world with Lewis and appeared on many recordings including the definitive version of "The Saints."
In 1957 Purnell moved to Los Angeles where he played with Teddy Buckner, the ironically titled Young Men From New Orleans, Joe Darensbourg, Kid Ory, Barney Bigard and Ben Pollack. In the 1960's Purnell often toured as a guest soloist and later in the decade he was a member of the Legends Of Jazz. His last 20 years were primarily spent with pickup bands where his likable and joyous style was always welcome. As a leader, Alton Purnell recorded for Warner Bros. (1958), 77, Dixie, the Danish CSA label, the French Pragmaphone label, Alligator Jazz and GHB.
d. Jan 30, 1959, USA
Boyce Brown was an eccentric, a rare alto saxophonist who preferred to play freewheeling Chicago jazz, an erratic individual with some outlandish opinions and, ultimately, one of the very few monks who doubled (at least briefly) as a jazz musician! He became a professional musician when he was 17, playing with drummer Don Carter's band in Chicago. Brown picked up experience working with Benny Meroff, Wingy Manone (1933), Paul Mares (1934-1935), and Johnny's Original Playboys. Brown also led his own bands and recorded with Mares, Jimmy McPartland (1939), and Wild Bill Davison (some obscure titles in 1940). Brown was based in Chicago throughout his playing career, mostly leading his own bands throughout the '40s and early '50s.
In the fall of 1953 he adopted the name "Brother Matthew" and entered a monastery, taking his vows in February 1956. His only date as a leader was cut in Apr. 1956 with Eddie Condon's band and, although he looks a bit strange in his somber outfit while holding a sax (one can only imagine what Wild Bill Davison thought!), Boyce Brown was in brilliant form for what would be his last recording. He died of a heart attack less than three years later.
Ray Ventura, Piano/Leader
b. Paris, France, d. 1979
Raymond Ventura (16 April 1908, Paris - 30 March 1979, Palma de Mallorca, Spain) was a French jazz bandleader. He played a significant role in popularizing jazz in France in the 1930s.
Ventura played piano in a group called The Collegiate Five from 1924, which recorded under the name The Collegians for Columbia Records beginning in 1928. He led the group from 1929 and recorded for Decca Records and other labels through the 1930s, becoming a popular dance ensemble in France in that decade. His sidemen included Philippe Brun, Alix Combelle, and Guy Paquinet. He led a big band in South America from 1942 to 1944 before returning to lead a group in France from 1945 to 1949.
During his tour in Brazil during the Second World War he was joined by the famous french singer Henri Salvador (1917-2008). Two years later in Argentina the french trumpet player Georges Henry joined the group after having left the Lecuona Cuban boys. Georges Henry later worked at the creation of TV Tuppi in Brazil.
Alger Texas Alexander, Blues vocalist
In 1927, he started to record, and was soon well known in the Brazos River bottomlands of Texas. Unable to play himself, he used a variety of accompanists including guitarists "Little Hat" Jones, Lonnie Johnson and Eddie Lang, and the string band blues of "The Mississipi Sheiks", and Joe "King" Oliver's New Orleans Jazz band. In 1940, he was sent to the state penitentiary at Paris, TX, for murdering his wife. After his released in 1945, he joined his cousin Lightnin' Hopkins, in Houston, for live shows and recording for the Freedom label with pianist Buster Pickens. By 1954, he was back in the bottomlands where he died a debilitated victim of the ravages of syphilis.
Original Dixieland Jass Band

1920
Marion Harris - St. Louis Blues
The Happy Six - Cherie (Introducing: "You'll Get Nothing From Me" from "The Right Girl")
Ted Lewis and his Band - Aunt Hager's Blues


Henderson's Club Alabam Orchestra - My Papa Doesn't Two-Time No More
Faye Barnes / Maggie Jones
Sol Hoopii's Novelty Trio - Hano Hano Hawaii
Fred Hall and his Sugar Babies - I Got A "Code" In My "Doze"


Clarence Williams and his Band - I'm Not Worrying
Sunny Clapp and his Band O' Sunshine - Learn To Croon - vocal refrain by Jeanne Geddes



Noble Sissle's Swingsters - Characteristic Blues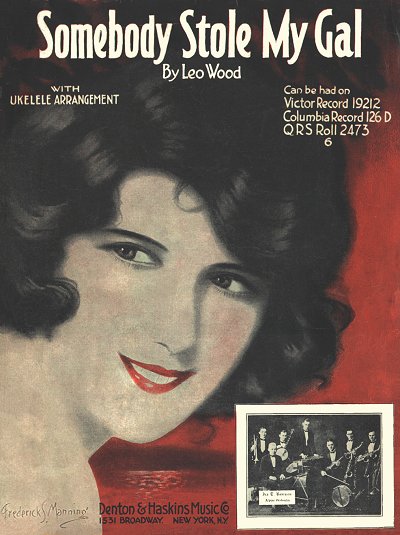 Somebody Stole My Gal
~As performed by: Henderson's Club Alabam Orchestra
Somebody stole my gal,
Somebody stole my pal,
Somebody came and took her away,
She didn't even say she was leavin',
Her kisses I love so,
He's gettin' now I know...
And gee, I know that she,
Would come to me
If she could see,
Her broken hearted lonesome pal,
Somebody stole my gal!