Tenor Sax, Chicago, IL, USA.
d. March 15, 1991, age: 84.
One of the great early Chicago style Jazzmen.
When Bud Freeman first matured, his was the only strong alternative approach on the tenor to the harder-toned style of Coleman Hawkins and he was an inspiration for Lester Young. Freeman, one of the top tenors of the 1930s, was also one of the few saxophonists (along with the slightly later Eddie Miller) to be accepted in the Dixieland world and his oddly angular but consistently swinging solos were an asset to a countless number of hot sessions.
Freeman, excited (as were the other members of the Austin High School Gang in Chicago) by the music of the New Orleans Rhythm Kings, took up the C-melody sax in 1923, switching to tenor two years later. It took him time to develop his playing, which was still pretty primitive in 1927 when he made his recording debut with the McKenzie-Condon Chicagoans. Freeman moved to New York later that year and worked with Red Nichols' Five Pennies, Roger Wolfe Kahn, Ben Pollack, Joe Venuti, Gene Kardos and others. He was starred on Eddie Condon's memorable 1933 recording "The Eel."
After stints with Joe Haymes and Ray Noble, Freeman was a star with Tommy Dorsey's Orchestra and Clambake Seven (1936-38) before having a short unhappy stint with Benny Goodman (1938). He led his short-lived but legendary Summe Cum Laude Orchestra (1939-40) which was actually an octet, spent two years in the military and then from 1945 on alternated between being a bandleader and working with Eddie Condon's freewheeling Chicago jazz groups. Freeman travelled the world, made scores of fine recordings and stuck to the same basic style that he had developed by the mid-'30s (untouched by a brief period spent studying with Lennie Tristano).
Bud Freeman was with the World's Greatest Jazz Band (1968-71), lived in London in the late '70s and ended up back where he started, in Chicago. He was active into his 80s and a strong sampling of his recordings are currently available on CD.

Wilmore "Slick" Jones, Drums
d. Nov. 2, 1969, New York, NY, USA.
A fine accompanist, Slick Jones is most famous for his period as a member of Fats Waller's Rhythm. Jones played with Fletcher Henderson briefly in 1934 and 1936 and then toured and recorded with Waller fairly regularly during 1936-41; he also recorded with Gene Sedric, Don Redman, Lionel Hampton and Una Mae Carlisle during the period. After leaving Fats, Jones worked with Stuff Smith, Eddie South, Redman, Claude Hopkins, Hazel Scott and Don Byas among others.
He played with Gene Sedric's combo off and on during 1946-54 and also worked a bit with Sidney Bechet, Wilbur DeParis (1954-55) and Doc Cheatham. Slick Jones (who never led his own record date) was active into the 1960's, playing with Eddie Durham and recording with Eddie Barefield as late as 1964.
singer/composer/bandleader
d. Los Angeles, CA, USA (Cancer).
Del Porter is one of the music world's forgotten men. In the 1930s, he was one-fourth of a unique vocal quartet (The Foursome) that wowed Broadway, packed nightclubs, sang in movies and radio, toured with Glenn Miller, and recorded with Bing Crosby and Dick Powell. In the '40s, his multiple and varied talents helped jump-start one of the hottest bands in the country. Yet Porter's undeserved obscurity is largely his own fault, as he was the first to admit.
Porter traveled the Northwest with a number of bands before he joined the newly reorganized quartet the Foursome in 1928. He achieved considerable success with the group, notably in a pair of Broadway shows with Ethel Merman -- George and Ira Gershwin's Girl Crazy and Cole Porter's Anything Goes.
While they recorded extensively for Decca, a long dry spell followed the quartet's appearance in the Eleanor Powell movie Born to Dance. Nothing much happened until Spike Jones -- an ambitious young drummer who backed the Foursome on many of their records -- suggested that Porter start a band. The result, the Feather Merchants, was a six-piece group patterned after the cockeyed musical humor of Frank & Milt Britton and Freddie Fisher's Schnickelfritz Band.
The band stayed afloat in tough times by playing market openings. But Jones, who was making ten bucks a week as manager of the band, had bigger things in mind. "Spike said,'Why don't we kind of go in together with this thing, and let's see what we can do,'" Porter recalled in an interview with Jones' archivist Ted Hering. "So I said,'Fine.' That's the way it started. We started rehearsing at my house, and it evolved from the Feather Merchants into the City Slickers."
Porter exerted substantial influence on Spike Jones and his City Slickers -- the zany band that revolutionized the field of comedy music during World War II -- from their earliest days, as clarinetist, composer, arranger ("Hotcha Cornia," "Der Fuehrer's Face") and lead vocalist. He wrote two songs ("Siam" and "Pass the Biscuits, Mirandy") which became staples of the band's repertoire. But he was all talent and no ambition, and soon took a back seat to Jones. "It was supposed to have been a partnership, but it didn't turn out that way," contended Porter's lifelong friend Raymond M. Johnson, who sang alongside him in the Foursome. "Spike just took it over and Del was left out in the cold."
Porter reflected toward the end of his life: "Spike was a slick guy. Of course, I didn't care; I didn't want all the trouble of looking for jobs and all that sort of thing. I was too busy creating. I was a lousy salesman, as far as that goes." Porter stayed with the group and remained a prime influence on their repertoire; after leaving the Slickers in 1945, he returned to lend his melodious voice on Spike Jones Plays the Charleston and their Bottoms Up album.
"My Pretty Girl," which Porter wrote with the Foursome's Ray Johnson, was recorded by Jones, Lawrence Welk and Cliffie Stone. In addition to his music publishing business (Tune Town Tunes) with fellow City Slicker and songwriting partner Carl Hoefle, Porter later wrote jingles for Paper Mate pens. He also recorded with his Sweet Potato Tooters (for Capitol transcriptions), as well as Mickey Katz and Spade Cooley ("Chew Tobacco Rag," alias Andy Climax). He continued to dabble in songwriting in his later years.
John Overton "Bearcat" Williams (April 13, 1905 – November 24, 1996) was an American jazz reedist.
Williams was born in Memphis, Tennessee, but moved to Kansas City in his youth and learned to play saxophone there as a teenager, playing in a local dance band and touring with the vaudeville revue, Hits 'n Bits, in the first half of the 1920s. While with this show he met pianist Mary Lou Burley, who became both a personal and professional companion; the pair married in 1926 and Burley played piano in Williams' Synco Jazzers band on their 1927 tour and recording session. He then played with Terrence Holder's band, which Andy Kirk took over soon after; Williams played with Kirk for nearly a decade alongside his wife.
In 1939 he left Kirk's group, and divorced Williams the following year. He went into the restaurant industry in the 1940s, but still played on the side with Cootie Williams and for several years with Earl Hines on baritone sax. His last performances were in the late 1940s, after which he worked in hospitality and in a factory. He died in Columbus, Ohio, aged 91.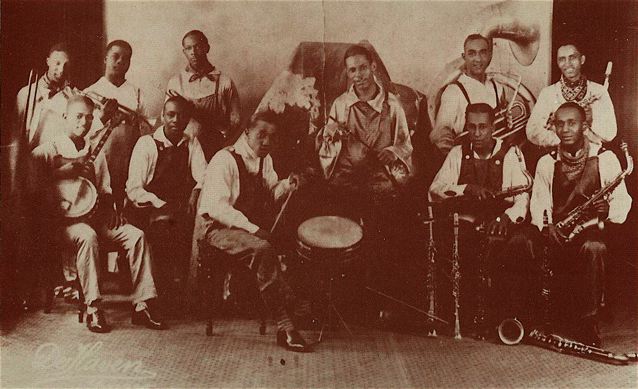 De Priest Wheeler (tb), Morris White (bj), Lammar Wright (tp),
Earres Prince (p), R.Q. Dickerson (tp), Leroy Maxey (dm), Andy Preer (vln, dir),
Jimmy Smith (bbs), Andrew Brown (ts) David Jones (as), Georges C. Scott (cl)
Lammar Wright Sr, trumpet
died in New York, NY, USA.
Lammar Wright (1905 or 1907, Texarkana, Texas – April 13, 1973, New York City) was an American jazz trumpeter.
Wright grew up in Kansas City, where he played with Bennie Moten's band in 1923. He relocated to New York City in 1927 to play with The Missourians, staying with the group after Cab Calloway became its leader. Wright remained Calloway's lead trumpeter until 1942 and continued playing with him sporadically through the rest of the 1940s. Wright also played with Don Redman (1943), Claude Hopkins (1944-46), Cootie Williams (1944), Lucky Millinder (1946-52), Sy Oliver (1947), and Louis Armstrong. He led his own groups from time to time.
In the 1950s and 1960s he taught music and worked as a studio musician, in addition to recording with Arnett Cobb (1951), Count Basie (1951), the Sauter-Finegan Orchestra (1957), and George Shearing (1959). He has a role in the 1968 film The Night They Raided Minsky's.
Both of Wright's sons, Lammar Wright, Jr. and Elmon Wright, became trumpeters as well.
Morrison's Jazz Orchestra
Joseph C. Smith's Orchestra
Alexandria

If You Could Care (Introducing: "Ninon Was A Naughty Girl")

Oriental Stars
California

Carolina Rolling Stone

Hortense
Original Tuxedo Jazz Orchestra - Give Me Some More
Halfway House Orchestra - It Belongs To You
S'posin'

- Vocal Chorus by Scrappy Lambert
Harry Reser and his Orchestra -
Chick, Chick, Chick, Chick, Chicken (Lay A Little Egg For Me)
- (Tom Stacks vocal)
Rah-Rah-Rah - (Tom Stacks vocal)
Clarence Williams' Washboard Five - Cushion Foot Stomp
Harry Reser and his Orchestra
Harry Reser and his Orchestra -
She's The Sweetheart Of Six Other Guys
- (Tom Stacks vocal)
Ted Lewis and his Band - Dip Your Brush In Sunshine
S'posin' I should fall in love with you
Do you think that you could love me too?
S'posin' I should hold you and caress you
Would it impress you or, perhaps, distress you?
S'posin' I should say "For you I yearn"
Would ya think I'm speaking out of turn?
And s'posin' I declare it,
would you take my love and share it?
I'm not s'posin', I'm in love with you
S'posin' I should say "For you I yearn"
Would ya think that I'm speakin' out of turn?
And s'posin' I declare it,
would you take my love and share it?
I'm not s'posin' 'cause I'm in love with you
and all those who have provided content,
images and sound files for this site.