HAPPY BIRTHDAY BARNEY BIGARD
Barney Bigard was one of the most distinctive clarinetists in jazz and a longtime asset to
Duke Ellington
's orchestra. Although he took clarinet lessons with
Lorenzo Tio
, Bigard's initial reputation was made as a tenor saxophonist; in fact, based on a few of his recordings (particularly those with
Luis Russell
), Bigard was number two behind
Coleman Hawkins
in the mid-'20s.
After working with several groups in New Orleans, Bigard moved to Chicago in 1924 where he played with
King Oliver
during 1925-1927.
He would also record with
Jelly Roll Morton
,
Johnny Dodds
, and future boss
Louis Armstrong
in the 1920s but, after short stints with Charles Elgar and
Luis Russell
, Bigard found his true home with
Duke Ellington
's orchestra, with whom he almost exclusively played clarinet.
Between 1927-1942, he was well featured on a countless number of recordings with Ellington, who understood Bigard's musical strengths and wrote to showcase him at his best. From "Mood Indigo" (which he co-composed) to "Harlem Air Shaft," Bigard was an important fixture of the Ellington orchestra.
When he quit the band in 1942 (due to tiring of the road), Bigard played with
Freddie Slack
's big band,
Kid Ory
's New Orleans group, and appeared in the 1946 film New Orleans. Bigard then joined the Louis Armstrong All-Stars, constantly traveling the world during 1947-1955 and 1960-1961; he spent 1958-1959 with
Cozy Cole
's band. Bigard became largely semi-retired after 1962, but still played now and then, recording with
Art Hodes
,
Earl Hines
, and as a leader. However, Barney Bigard, whose swing style was sometimes out-of-place with
Armstrong
, really sounded at his best during his
Duke Ellington
years.
~ Scott Yanow
Barney Bigard
Barney Bigard and his Jazzopators
Barney Bigard Sextet
Barney Bigard Quintet
Barney Bigard and his Orchestra
Barney Bigard - Wikipedia
1877
Henry Allen, Sr
.
, Cornet
b. New Orleans, LA, USA.
d. 1952.
As a brass band musician he played with: Excelsior, Kid Howard, Pickwick Brass Band
Father of Henry "Red" Allen jr.
b. Tifton, GA, USA.
John Alexander "Johnny" Barfield (3 March 1909 - 16 January 1974) was an American country and old-time music performer, best known for his 1939 recording of "Boogie Woogie", the first country boogie.
He was born in Tifton, Georgia, and in his youth played guitar on street corners with his brother Coot. They recorded for Columbia Records in Atlanta in 1927, but the recordings were not released. Soon afterwards, Johnny Barfield became acquainted with Clayton McMichen and Bert Layne of the Skillet Lickers, touring with the group and recording with some of its offshoots, including McMichen's group, the Georgia Wildcats. By 1932 he was performing both solo, and as a member of Layne's band. In 1939, he won a recording contract with Bluebird Records, and released his version of "Boogie Woogie", a song derived from "Pinetop's Boogie Woogie" recorded in 1928 by Pinetop Smith. Barfield's song is considered the first country boogie, and became popular on jukeboxes.[1][2]
Barfield recorded again in 1940 and 1941, but failed to repeat his earlier success. He continued to perform for several years. He died in 1974, aged 64.
b. Brussels, Belgium
Father of Francis Coppieters.
Fernand Coppieters (born 3 March 1905 in Brussels, 9 September 1981) was a Belgian jazz and entertaining musician ( piano, accordion, hammond organ .
Coppieters was a member of the New Royal Dance Band of the violinist and trumpeter René Compère in 1929. At the beginning of the 1930s, he was one of the 16 Baker Boys, led by Robert de Kers and then Oscar Alemán Josephine Baker on their European tour. In the 1950s he presented numerous recordings as an accordionist and as a Hammond organist in the field of entertainment music (including the albums La Belle Epoque Vol. 1 and 2, 1958).
The jazz pianist and arranger Francis Coppieters was his son.
1911
Jean Harlow
b. Kansas City, MO, USA.
d. June 7, 1937, Los Angeles, CA, USA.
(uremic poisoning due to Acute Nephritis - a Kidney disease for which there was no cure at that time).
née: Harlean Carpentier.
This 1930s' sex goddess DID sing in a couple of films. In 1935, she sang in the film 'Reckless', and in 1936 she sang "Did I Remember" to Cary Grant, who then sang it back to her. (Actually, he recited it back to her) and it wasn't Harlow singing in the first place, -in either film. It was Virginia Verrill's voice that was dubbed for Harlow. Incidentally, "Did I Remember" was (is) great song!).
Jazz drummer Chester Jones (right) stands next to Harlan Wood at a Jazz Roots concert on June 29, 1975.
1904
Horace Lappe
organist/Pianist
b: Uxbridge, ont. Canada.
Worked with Luigi Romanelli's Orch., in 1923, d: Jan. 1986, Toronto, Ont. Canada.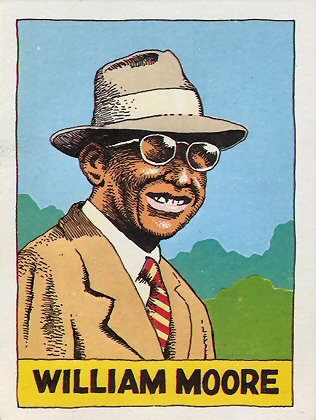 1893
William "Ragtime Millionaire" Moore
, vocals/guitar
b. Tappahannock, VA, USA
d. Nov 22, 1951.
READ MORE
Notable Events Occurring
On This Date Include:
1931
.
Cab Calloway orchestra recorded
"Minnie the Moocher" (Brunswick).
1931
.
"The Star-Spangled Banner"

, officially adopted
as the United States national anthem.
(IT was composed by Francis Scott Key).
1953
.
Ralph Weinberg, promoter
died in Columbia, SC, USA.
Age: 57.
1961
.
Bill Chitwood, C&W fiddler/vocals, died.
Age: 72, (b. June 30, 1888, Resaca, GA, USA.)
Bill was a member of "The Georgia Yellow Hammers", a group founded in 1927 by Bud Landress (singer/banjo), Bill Chitwood, and usually Phil Reeve (guitar/vocals), and Ernest Moody (guitar/ukulele/vocals).
1972
.
Clancy Hayes, banjo
died in San Francisco, CA, USA.
Age: 63.
1989
.
Al Clauser
songwriter/guitarist
died.
Age: 78.
Songs Recorded/Released
On This Date Include:
Yerkes' Jazarimba Orchestra
Two Sweet Lips Introducing: "April Showers Bring May FLowers"
Club Royal Orchestra - Can You Forget?
Bennie Krueger and his Orchestra - I Wonder Who's Dancing With You Tonight


Bob Fuller - Black Cat Blues
Art Hickman and his Orchestra
That Tumble Down Shack In Athlone
Bessie Smith and her Blue Boys -
**
Trombone Cholly
Red Nichols' Five Pennies
Andy Kirk and his
Twelve Clouds Of Joy -
All The Jive Is Gone
LYRICS:


**
TROMBONE CHOLLY
G Johnson & George Brooks
Bessie Smith & her Blue Boys
rec Mar 3rd 1927 New York
I know a fool that blows a horn,
He came from way down south,
I ain't heard such blowin' since I was born
When that trombone's in his mouth!
he moans just like a cow!
Nobody else can do his stuff,
For he won't teach them how!
Oh Cholly, blow that thing,
Make it talk, make it sing,
Lawdy, where did you get that tone?
If Gabriel knows how you could blow,
He'll let you lead his band, I know!
Oh Cholly, blow that thing,
Play that slide trombone.
And he would breaka leg, I know,
A-doin' the charleston while you blow!
Oh Cholly Green, play that thing,
I mean that slide trombone!
*Note -
written about Charlie Green,
a famous trombobe player in
the 1920's
brought to you by...
~confetta