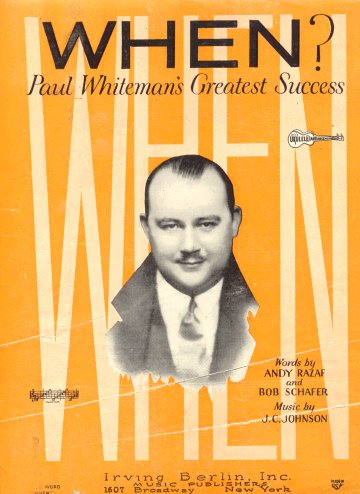 HAPPY BIRTHDAY PAUL WHITEMAN!!!
BIRTHDAYS
d. Dec. 29, 1967, Doylestown, PA, USA. (Cardiac Arrest).
Because press agents dubbed him "The King of Jazz" in the 1920s, Paul Whiteman has always been considered a controversial figure in jazz history. Actually, his orchestra was the most popular during the era and at times (despite its size) it did play very good jazz; perhaps "King of the Jazz Age" would have been a better title.
Originally a classically trained violinist, Paul Whiteman led a large Navy band during World War I and always had a strong interest in the popular music of the day. In 1918, he organized his first dance band in San Francisco and, after short periods in Los Angeles and Atlantic City, he settled in New York in 1920.
His initial recordings ("Japanese Sandman" and "Whispering") were such big sellers that Whiteman was soon a household name.
His superior dance band used some of the most technically skilled musicians of the era in a versatile show that included everything from pop tunes and waltzes to semi-classical works and jazz.
Trumpeter Henry Busse (featured on "Hot Lips" and "When Day Is Done") was Whiteman's main star during the 1921-1926 period.
Aeolian Hall in 1924 he introduced "Rhapsody in Blue" (with its composer George Gershwin on piano) in what was called "An Experiment in Modern Music." Red Nichols and Tommy Dorsey passed through the band but it was in 1927, with the addition of Bix Beiderbecke, Frankie Trumbauer, and Bing Crosby (the latter originally featured as part of a vocal trio called the Rhythm Boys), that Whiteman began to finally have an important jazz band. Joe Venuti and Eddie Lang soon joined up, and many of Whiteman's recordings of 1927-1930 (particularly the ones with Bill Challis arrangements) are among his finest.
After Beiderbecke left the band in 1929 and Whiteman filmed the erratic but fascinating movie The King of Jazz in 1930, the Depression forced the bandleader to cut back on his personnel (which at one time included two pianos, tuba, bass sax, string bass, banjo, and guitar in its rhythm section).
Although his orchestra in the 1930s at times featured Bunny Berigan, Trumbauer, and both Jack and Charlie Teagarden, Whiteman's music was considered old hat by the time of the swing era and he essentially retired (except for special appearances) by the early '40s. Many of his recordings (particularly those with Beiderbecke) have been reissued numerous times and are more rewarding than his detractors would lead one to believe. In the 1970s, Dick Sudhalter for a time organized and led "the New Paul Whiteman Orchestra" which recorded a couple of fine recreation records.

1907
Overshadowed throughout his life by his older brother, Edmond Hall, Herb Hall had a softer and smoother tone on the clarinet and was talented in his own right. The son of a clarinetist (Edward Hall) and one of five musical brothers, Herb started out playing banjo with the Niles Jazz Band during 1923-25 before switching to clarinet and alto. He played with Kid Augustin Victor's band in Baton Rouge in 1926 and in 1927 moved to New Orleans. After performing with Sidney Desvigne, Hall had a longterm association with Don Albert (1929-37 and 1938-40) including a relocation to San Antonio that lasted until 1945.
Hall freelanced in Philadelphia (with Herman Autrey) and New York, was with Doc Cheatham in 1955 and toured Europe with Sammy Price (1955-56). The clarinetist frequently played at Jimmy Ryan's and Eddie Condon's club in New York during the next decade. He toured with Wild Bill Davison's Jazz Giants (1968-69), worked often with Don Ewell and in the 1970's was frequently part of Bob Greene's World of Jelly Roll Morton show. Always a reliable player, Herb Hall led an album apiece for Sackville (1969), Storyville (1970) and GHB (an 1980 set shared with Louis Cottrell).
Cornet/trumpet/composer/arranger/leader
né: Thaddeus Joseph Jones Early on in the Count Basie Orch., later on co-leader Thad Jones/Mel Lewis Orch.
d. Oct. 17, 2001, Los Angeles CA, USA.
"Cripple" Clarence Lofton
d. Jan. 9, 1957, Chicago, IL, USA. (stroke).
Cripple Clarence Lofton is one of those colorful names that adorned many an album collection of early boogie-woogie piano 78s in the early days of the '60s folk-blues revival. An early practitioner of the form, along with his fellow contemporaries Cow Cow Davenport, Meade "Lux" Lewis, Pine Top Smith, and Jimmy Yancey, Lofton was one of the originators who spread the word in Chicago in the early '20s .
The physically challenged nicknamed he used -- seen by modern audiences as a tad exploitative, to say the least -- was a bit of a ringer. Although he suffered a birth defect in his leg that made him walk with a pronounced limp, it certainly didn't stop him from becoming an excellent tap dancer, his original ticket into show business. He quickly developed a stage act that consisted of pounding out the boogie-woogie on the piano while standing up, dancing, whistling, and vocalizing while -- as one old bluesman put it -- "carrying on a lotta racket."
Lofton's technique -- or lack of it -- stemmed more from a tent show background and those listening to his earliest and most energetic recordings will quickly attest that hitting every note or making every chord change precisely were not exactly high priorities with him. But this wild, high-energy act got the young showman noticed quickly and by the early '30s, he was so much a fixture of Chicago night life firmament that he had his own Windy City nightclub, the oddly named Big Apple. Lofton remained on the scene, cutting sides for the Gennett, Vocalion, Solo Art, Riverside, Session, and Pax labels into the '40s. When the boogie-woogie craze cooled off and eventually died down in the late '40s, Lofton went into early retirement, staying around Chicago until his death in 1957 from a blood clot in the brain.
Myfanwy Piper, librettist
Myfanwy Piper
1897
Gerardo Matos Rodríguez
Gerardo Hernán Matos Rodríguez (March 28, 1897 – April 25, 1948) Montevideo, Uruguay, also known as Becho, was a Uruguayan musician, composer and journalist.
Background and early career
Gerardo Hernán Matos Rodríguez was born in Montevideo, the son of the owner of the Moulin Rouge, a popular local cabaret. He studied architecture, but did not complete the course. He began composing as a young student in 1917, and his first known work, "La Cumparsita", which he wrote on the piano of the Federación de Estudiantes of Uruguay. It became one of the most recognizable tango pieces, though ironically, Matos was initially too shy to play the piece himself, and it became well-known through the performance of others.
He travelled widely throughout Europe and stayed in Paris for a time, as well as working as Uruguayan consul to Germany. In 1931, he collaborated on the flm score for Luces de Buenos Aires, shot in Joinville-le-Pont, France, and starring renowned tango vocalist Carlos Gardel.
Principal compositions
Breyer Hermanos, La Cumparsita, 1916
The most famous classic tango of all times, claimed by many, is La Cumparsita, written in 1916 by him with (later) lyrics by Pascual Contursi and Enrique Pedro Maroni. Roberto Firpo, director and pianist of the orchestra that premiered the song, added parts of his tangos "La Gaucha Manuela" and "Curda Completa" to Matos' carnival march, resulting La Cumparsita.
Rodríguez also composed pieces for theater plays premiered in Buenos Aires: Manuel Romero's El Gran Circo Rivolta, among them. He led his own tango orchestra in Montevideo for a short time afterwards.
Other tangos of his include: "Che papusa, oí", "Son grupos", "Yo tuve una novia", "Cuando bronca el temporal", "Hablame", "Pobre corazón", "Haceme caso a mí", "Canto por no llorar", "Rosa reseca", "Botija linda", "El pescador", "Te fuiste, ¡ja, ja!", "Adiós Argentina", "Mi provinciana", "La milonga azul", "Dale celos", "Raspail", "Mocosita", "La muchacha del circo", and "San Telmo".
Rodríguez collaborated with the lyricists Enrique Cadícamo, Victor Soliño, Juan B. A. Reyes, Manuel Romero and Fernán Silva Valdés. With the latter he wrote a fine and touching series of Canciones Montevideanas ("Songs of Montevideo"), to which "Margarita punzó" belongs.
He died in Montevideo after a long illness, in 1948.
d. mid-1960s
Maurice Winnick (28 March 1902 – 26 May 1962) was an English musician and dance band leader. Born in Manchester, Winnick studied violin at the Manchester College of Music, where he proved to be a "child prodigy". He took a job in a cinema orchestra, playing the accompaniment for silent films, and while still in his teens he became leader of a dance band on a transatlantic liner. Winnick formed his own small band in 1928, before moving to Nottingham to take over the city's Palais band from Jan Ralfini.
He based his style of music on that of fellow band leader Guy Lombardo, and by the 1930s Winnick was performing regularly in several prestigious London venues including the Hammersmith Palais de Danse, the Carlton Hotel, and the San Marco Restaurant, with singer Sam Costa. Winnick and Costa had a popular recording success with "A Little Bit Independent", and the band produced several recordings of dance band music with labels such as Regal, Panachord, and Edison Bell Winner. They also appeared in films of the '30s, including Gay Love in 1934; their theme tune during this period was "The Sweetest Music This Side Of Heaven".
In 1939 Winnick took over from Harry Roy at London's Dorchester Hotel, but he was obliged to reduce his band to only 11 members. Nevertheless, he employed some of the best musicians of the period, including trombone player and future bandleader Ted Heath, trumpeter Bill Shakespeare and saxophonist Don Barrigo. He also hired top-class singers for his radio broadcasts, such as Al Bowlly and Dorothy Carless. Winnick toured Europe and the Middle East with ENSA during the Second World War, but by the 1950s he realised that the popularity of big bands was in decline and turned his attention to promoting radio and television game shows for the rest of his life. Among his imports from America were the popular BBC shows Twenty Questions and What's My Line?
Maurice Winnick - Wikipedia
Notable Events
Occurring
On This Date Include:
1958.
The "Father of the Blues," W. C. Handy, Sr.
composer/cornet, died of pneumonia in
was killed in a traffic accident
Patsy Cline's memorial service.
Age: 46. Anglin thus became the fourth Grand Ole Opry cast member to die in the previous 48 hours.
Avery "Kid" Howard, trumpet
died in New Orleans, LA, USA.
(b. 1908, New Orleans, LA, USA )
died in New York , NY, USA.
Arthur "Big Boy" Crudup, guitar
died in Nassawadox, VA, USA.
Shortly after, The Crudup Brothers, Arthur's sons, retired the band.
died in Los Angeles, CA, USA.
died in Raleigh, NC, USA.
Songs Recorded/Released
On This Date Include:



Ted Lewis and his Band
The Moon Shines On The Moonshine

Paul Whiteman and his Orchestra - Some Sunny Day
Esther Bigeou - The Hesitating Blues
Jean Goldkette and his Orchestra
Fess Williams and his Royal Flush Orchestra - Variety Stomp
Harry Reser -
Heebie Jeebies
- (w/ Paul Rickenback at the piano)

Prince Albert Hunt's Texas Ramblers - Blues In The Bottle


Curtis Mosby's Blue Blowers - Blue Blowers Blues
Joe Venuti's Blue Four/Five/Six - Dinah

Joe Venuti's Blue Four/Five/Six - The Wild Dog
Waring's Pennsylvanians - Farewell Blues


Paul Whiteman and his Orchestra - All Points West

LYRICS:


And your mamma's good lookin'
You're going to rise up singing
Then you'll spread your wings
And you'll take to the sky
There's a'nothing can harm you
With your daddy and mammy standing by
And your mamma's good lookin'
brought to you by... ~confetta