HAPPY BIRTHDAY LEON ROPPOLO!
BIRTHDAYS
Leon Joseph Roppolo/Rappolo, Clarinet
d. Oct. 5, 1943, New Orleans, LA, USA.
In 1912, his family moved to New Orleans, where Roppolo was soon a part of the local musical scene playing clarinet with such future stars as the Brunies boys, Paul and Joe Mares, Louis and Leon Prima, Emmett Hardy, and the Loyacanos. In December 1920, Roppolo together with Emmett Hardy, Santo Pecora, and Johnny Frisco, joined Bee Palmer's vaudeville act "Oh Bee!" with whom they toured to Chicago.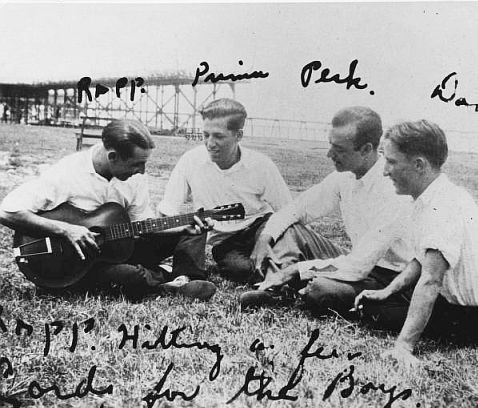 This 1924 Photograph of (left to right) Leon Roppolo (playing the quitar), Louis Prima, Peck Kelly, Don (unknown). The Inscription reads: "Ropp hitting a few cords for the boys." The image was likely shot at the New Orleans lakefront. From the photo collection of Dr. Edmond Souchon
Three months later, in March 1921, the act broke up. Roppolo and Hardy then joined Carlisle Evans' band in Davenport, Iowa for the summer season, after which Roppolo joined trombonist George Brunies and cornetist Paul Mares in Chicago and formed the "New Orleans Rhythm Kings" (NORK). For the next 18 months, the NORK played dance music at a basement cabaret called Friars Inn (Wabash and Van Buren Streets), and during 1922 and 1923, they recorded three sessions for the Gennett label. It should be noted that Chicagoans went wild over the music.
The New Orleans Rhythm Kings in 1922
Left to right: Leon Roppolo, Jack Pettis,
Elmer Schoebel, Arnold Loyacano, Paul Mares,
Frank Snyder, George Brunies.
The NORK were to Chicago what the Original Dixieland Jazz Band (ODJB) were to New York. It was a very exciting time for 'Dixieland' and 'Jazz'. It was also a time when these early Jazzmen were into drugs, - mainly marijuana During the NORK's stay at Friar's Inn, many observers noted that at the end of a set, Roppolo was often so high on marijuana that he couldn't get up out of his chair. He was also known to occasionally throw his clarinet against the wall when the drug affected his playing. With NORK's disbanding, Roppolo and Mares very briefly joined Al Siegel's band playing in New York's Greenwich Village section, and just a few weeks later, returned to Chicago and recorded with a slightly different lineup of the NORK. For a time, Roppolo played with Peck's Bad Boys in Texas, then rejoined Carlisle Evans for a job at the Marigold Ballroom in Minneapolis.
In 1925, he returned to New Orleans and the Halfway House Orchestra He recorded - for the Okeh label, with the Halfway House Orchestra and on the very next day, with a new version of the New Orleans Rhythm Kings that included Mares, trombonist Santo Pecora, and several members of the Halfway House Orchestra. Two months later, at a Victor recording session, Roppolo stormed out of the session after an argument with Santos Pecora, and was replaced by Charlie Cordilla of the Halfway House Orchestra.
(Some writers have noted that Leon's brother, Nick Roppolo, went into the recording studio and threatened Charlie Cordilla with bodily harm if he copied his brother's solo on "She's Crying For Me"). Not long after this, Roppolo's family had him committed to the Louisiana State Asylum for the Insane because they no longer handle his heavy marijuana use or his violent temper, Even at the Asylum, he played saxophone in the hospital band, and, when given a weekend pass, would sometimes play in New Orleans clubs. On October 14, 1943, at just age 41, Leon died.
Bennie Krueger and his Orchestra -
Don't Bring Lulu
- Vocal Chorus By Billy Jones
I Had Someone Else Before I Had You (And I'll Have Someone After You've Gone)

(I Like Pie, I Like Cake) I Like You Best Of All
Ray Miller's Orchestra - Red Hot Henry Brown
The Savoy Orpheans
It Ain't Gonna Rain No Mo'
Fantasie Parts 1 and 2
Too Tired
Oriental Moon
1926
Louise Vant, accompanied by Perry Bradford's Mean Four -
Daddy Don't You Try To Pull That Two Time Thing
The Man I Love Is Oh So Good To Me
Charlie Troutt's Melody Artists
Mountain City Blues

Running After You

Sweet Child - Vocal Chorus by Emil Casper
Lee Morse -
My Idea Of Heaven (Is To Be In Love With You)
Lee Morse -
Side By Side
My Pet

She's The Sweeatheart Of Six Other Guys

Speedy Boy

- Vocals by Jack Kaufman
Harry Reser and his Orchestra -
Mississippi Mud
- (Tom Stacks vocal)
Bertha "Chippie" Hill - I Ain't Gonna Do It No More
Sweet Ida Joy

- Vocal Chorus by Dick Robertson
The DeBroy Somers Band
Marie
Flower Of Love
Just Plain Folk
Lonnie Johnson -
Beautiful But Dumb
Ben Selvin and his Orchestra - I'm Crazy 'Bout My Baby (And My Baby's Crazy 'Bout Me)
Ted Lewis and his Band - Sweet Sue - Just You
Al Bowlly, accompanied by Ray Noble and his Orchestra - Three Wishes
Denny Dennis with Roy Fox and his Band - Keep Young And Beautiful


Andy Kirk and his
Twelve Clouds Of Joy
(I Guess) I'll Never Learn
Fat's Waller, his Rhythm and his Orchestra
LYRICS:


I Like Pie, I Like Cake
(But I Like You Best of All)
~George A. Little, Arthur Sizemore, Larry Shay
The way to handle women long ago.
Here's a tip from a pip of a lover.
A boy named Henry Brown from Memphis town
Has got a sweetie that he hangs around.
It's a yell when he tells of his love.
And I like crackers, too.
But of all those things, I like you best of all.
Like our old mule's hee-haw.
Like it down on the farm.
Like the wheat and the corn.
But of all those things, I like you best of all.
A man like Henry, who could love and pet.
What a hot, hot impossible lover.
Still one gal, Henry's pal
Has only got to call and say, "It's Sal"
Watch him run to his honey and say
I like kraut, milk and jam
Chocolate fudge, sugared ham
I like beans, and round steak
But of all those things, I like you best of all.
I like towns in the north
New Orleans and so forth.
I like dogs when they fight
I like mine, 'cause he'll bite
See that sun in the morning,
I'll bet you're sure it always has and sure it always will.
That's how I feel about someone,
How somebody feels about me.
We're sure we love each other
That's the way we'll always be.
Oh, we ain't got a barrel of money,
Maybe we're ragged and funny
Don't know what's comin' tomorrow
Maybe it's trouble and sorrow
But we'll travel the road
Through all kinds of weather
What if the sky should fall?
Just as long as we're together,
It doesn't matter at all.
When they've all had their quarrels and parted
We'll be the same as we started
We're all hunting for something
Something we don't know what
'Cause none of us are satisfied with things we know we've got.
We all forget about moonlight,
As soon as we've given our vow
But we'd all be so happy if we'd start and sing right now:
Oh, we ain't got a barrel of money,
Maybe we're ragged and funny
Don't know what's comin' tomorrow
Maybe it's trouble and sorrow
But we'll travel the road
brought to you by...
~confetta
Save
Save
Save
Save
Save
Save
Save
Save