"I WANNA BE BAD"
BIRTHDAYS
1900
Bernie Cummins
Birth name

Bernard Joseph Cummins
Died
September 22, 1986 (aged 86)
Bernard Joseph "Bernie" Cummins
(March 14, 1900 – September 22, 1986) was an American jazz drummer and bandleader.
Early years
Cummins was born in Akron, Ohio. In his youth, Cummins was a boxer, besides playing drums in local bands in Ohio.
Orchestras
In 1919 he created a small ensemble of his own, which debuted in Indiana and which grew gradually into a larger dance band after he moved to Cincinnati in 1923.
Singers in the band included Dorothy Crane, Jerry Lang, Betty Griffin, Bernie's brother Walter Cummins and Scottee Marsh, who sang later with Tommy Dorsey.
A female singing trio known as the Sophisticates was hired by Bernie in the mid-1930s out of Minneapolis Marshall High School about the time the Andrews Sisters from Minneapolis North High School became popular. Charlie Callas and Randy Brooks also played with the band, as did Tommy Dorsey for a time. Besides his activities as bandleader, Cummins was briefly also the manager of The Wolverines.
Label on Bernie Cummins' recording of "Dancin' Dan" on Gennett
Recordings
The Bernie Cummins Orchestra recorded frequently for such labels as Brunswick, Columbia, Victor, Decca, Gennett, Vocalion and Bluebird.
Personal appearances
The band had many appearances in the Mid-West and was well known for its live performances; its smooth style was much loved in larger hotels and ballrooms. They played many times at the Biltmore Hotel and the Hotel New Yorker in New York City, the Trianon, Aragon, Blackstone and the Edgewater Beach Hotel and Palmer House in Chicago, as well as further appearances in Dallas, Kansas City, New Orleans, Denver, San Francisco and Saint Paul. Cummins' band also played on radio shows including the Spotlight Dance Program sponsored by Coca-Cola, and the Fitch Bandwagon.
In the late 1950s it became increasingly difficult for the band to find gigs, but the group continued to play clubs in Las Vegas, at such places as The Flamingo, El Rancho and Last Frontier, before it dissolved it 1959.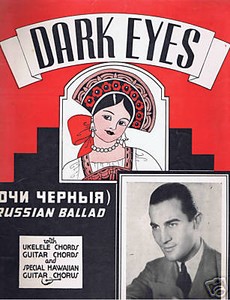 Theme
Cummins' orchestra's theme song was "Dark Eyes"
Later years
Cummins retired to Boca Raton, Florida.
Death
Cummins died September 22, 1986, in Palm Beach, Florida. He was 86.
Bernie Cummins on Wikipedia
Voltaire "Volly" De Faut, Clarinet
d. May 29, 1973, Chicago, IL, USA.
Jazz fans might not expect one of the grand old men of the Chicago scene to have such a French-sounding name, associating that background with New Orleans. The mention of the latter city is appropriate in the context of this multi-instrumentalist, who was already involved in syncopated music from the early '20s and was steadfast in his commitment to traditional approaches throughout his long career.
He was known as either Voltaire De Faut, bringing to mind a term for some kind of literary gaffe, or Volly De Faut, in which case he sounds more like a tennis strategy. For him being raised in the Windy City meant being supplied with wind instruments as a young teenager and a violin even earlier in his youth.
At 18 De Faut was performing on clarinet and sax with Sig Meyers and the following year his reputation was boosted considerably through membership in the New Orleans Rhythm Kings. It was a busy period for him, also involving playing in an orchestra and flowing in Art Kassel's musical moat. The De Faut recording debut took place in 1924 courtesy of trumpeter Muggsy Spanier and the discography continued growing in 1925 with Jelly Roll Morton sides. In the second half of the decade De Faut became associated with bandleader Meritt Brunies, a New Orleans musical dynasty kingpin who had brought his trademark brand of early jazz upstream. Detroit was also a De Faut center of activity during these years.
He played with Jean Goldkette for several years beginning in 1928, but also became more involved in working as a studio musician and in Chicago theatre bands.
Strangely this led to him beginning a dog breeding business, an enterprise that was interrupted by Uncle Sam holding a leash, yanking De Faut back to involvement in music thanks to the grand old institution of the military band.
The De Faut career was then quiet until the mid '40s when he began showing up on Chicago bandstands with more regularity. In 1945 he played with Bud Jacobson's Jungle Kings and was a happy face at many a local jam session. For some five years he was out of the city, mellowing out in Davenport, Iowa, but he returned to Chicago once again from 1965 until the end of his life. A professional association with pianist Art Hodes, begun in 1953, continued til De Faut had performed his finale, resulting in some marvelous late period recordings on the Delmark label.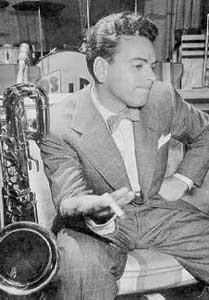 1912
d. Jan. 4, 2001
Born into a musical family. Later played in bands at New York Military Academy and Ithaca College. At Duke University, organized a dance band (with students), and in 1936, left campus touring as The Duke Blue Devils.
Disbanded when parents demanded the students return to school; While still in College, Brown supported himself writing arrangements for other bands.
RCA-Victor Records helped him get an engagement at New York's Edison Hotel. In September 1940, his band played the New York World's Fair, and added a young vocalist, -Doris Day. Two years later, he adopted the band's tagline of 'Les Brown and His Band of Renown'. Both of Brown's brothers, Warren and Clyde were in the band. Clyde, nick-named 'Stumpy', played trombone and sang (during a 50 year career).
When he was just 13, Les' son, Les Jr., (born 1940) made his debut in a clarinet duet with his father. (At 16 Les Jr., began touring as drummer and vocalist.) In 1942, while the band was playing at the famed 'Hollywood Palladium', the 'Band of Renown' appeared in their first movie, Seven Days Leave, starring Lucille Ball and Victor Mature. After the Big Bands era ended, Brown disbanded and made few appearances. In addition to his own musicality, Brown always hired innovative arrangers whose 'swinging' versions of classics such as "Bizet Has His Day," "March Slav" and "Mexican Hat Dance." greatly helped the band achieve wide popularity. Today (2003), his son Les Brown Jr., is a syndicated Radio Disc Jockey.
An enduring composer, arranger, musical director, and orchestrator who proved equally successful in numerous entertainment arenas, Emmy and Tony-nominated music man Luther Henderson's work encompassed everything from Broadway to film, with little in between left untouched.
The son of an actor, Henderson studied math at New York's City College before earning a B.S. in music at Juilliard and attending New York University's Graduate School of Music. A staff orchestrator for the U.S. Navy School of Music from 1944 to 1946, some of Henderson's other early work included the Broadway orchestration of Begger's Holiday in 1946, and other high-profile productions included Hallelujah Baby, Three Black Kings, and The Crystal Tree.
His score for Jelly's Last Jam (written with Jelly Roll Morton) earned Henderson a Tony nomination, and in television he garnered an Emmy nod for his work on Ain't Misbehavin'. Additionally, Henderson worked in such small-screen productions as The Helen Morgan Story and such films as Recess and The Slams. Henderson orchestrated over 100 songs for the Canadian Brass, and also recorded six albums with the outfit. Stricken with cancer in his later years, Henderson would ultimately succumb to its ravaging effects in late July of 2003. He was 84.
Edward Heyman, lyricist
Edward Heyman was an American musician and lyricist, best known for his compositions "Body and Soul", "When I Fall in Love", and "For Sentimental Reasons". He also contributed many songs for films. Among his hit songs are "Body and Soul" (his first hit), "Out of Nowhere", "I Cover the Waterfront", and many more.
Heyman studied at the University of Michigan where he had an early start on his career writing college musicals. After graduating from college Heyman moved back to New York City where he started working with a number of experienced musicians like Victor Young ("When I Fall in Love"), Dana Suesse ("You Ought to Be in Pictures") and Johnny Green ("Body and Soul", "Out of Nowhere", "I Cover the Waterfront", and "Easy Come, Easy Go").
From 1939 to 1954, Heyman contributed songs to film scores including That Girl From Paris, Curly Top, Kissing Bandit, Delightfully Dangerous and Northwest Outpost.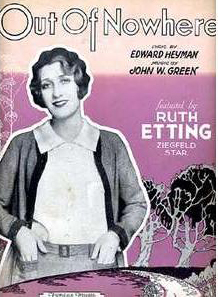 Arguably Heyman's biggest hit is his composition "Body and Soul", written in 1930, often recorded (in 1939 by Coleman Hawkins and since by many others), which frequently crops up in films, most recently in 2002's Catch Me If You Can. Heyman also wrote "Through the Years", "For Sentimental Reasons", "Blame It on My Youth" (with Oscar Levant), "Love Letters", "Blue Star" (theme of the television Series Medic), "The Wonder of You", "Boo-Hoo", "Bluebird of Happiness", and "You're Mine, You".
"Out of Nowhere" by Johnny Greene and Edward Heyman became a standard piece of gypsy swing, a musical style established by Django Reinhardt in the 1930's. Gypsy swing remains popular to this day, for additional information see Django Reinhardt and Rosenberg Trio.
Heyman's other collaborators include Morton Gould, Nacio Herb Brown, Rudolf Friml, Al Sherman, Abner Silver,Vincent Youmans, John Jacob Loeb and Carmen Lombardo, Sandor Harmati and Harry Parr Davies, Oscar Levant, Sigmund Romberg, Arthur Schwartz and Ray Henderson.
Heyman was an ASCAP writer inducted into the Songwriters Hall of Fame in 1975.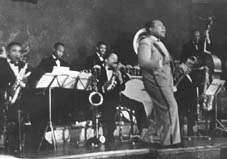 Bobby Martin's Orchestra, 1938 (?) r: Glyn Paque (as),
vermutlich Bobby McRae (g), Kaiser Marshall (d),
Ernest Purce (as, bs), Bobby Martin (tp, front),
Johnny Russell (ts), Ernest "Bass" Hill (b).
This artist's nickname technically allows him entry to two different claques: jazz artists who have been named after the instrument they play and musicians whose special moniker sounds identical to the desires of sport fishermen. The latter bit of amusement may irritate rhythm-section devotees who realize the "bass" in Ernest "Bass" Hill is not the type that flops around on a deck. To even suggest such a thing borders on offensive when the bassist in question kept distinctly non-flopping time in tandem with great swing drummers such as Chick Webb and Zutty Singleton. Hill's most frequent associate over the years was the great pianist Claude Hopkins. He provided the bassist with his first professional gigs in the summer of 1924 and Hill would rejoin Hopkins several times in that decade and in the '40s as well.
Hopkins also provided the bassist with his first European tour when they accompanied the marvelous vocalist Josephine Baker overseas in 1925. Hill's later adventures on the continent include the somewhat special notoriety of being one of the few American jazzmen who hid out in Switzerland as the Second World War commenced, at least for a time. This doesn't mean he abandoned playing bass for a job drilling holes in blocks of Emmenthal cheese; rather, he became a sidekick of Alpine tenor man Mac Strittmatter before finally fleeing home in 1940. Strittmatter can be considered one of Hill's most obscure playing partners in a career that included credits with some of the biggest names, including Louis Armstrong, Hot Lips Page, Benny Carter, and Bill Coleman.
Hill also earned his nickname through his tireless activities in many early bands of historic importance if not stellar fame. These groups include Leroy Smith & His Orchestra and Bill Brown & His Brownies in 1928, the Eugene Kennedy Orchestra the following year, and in the '30s a group led by Willie Bryant and Bobby Martin's Cotton Club Serenaders. In the early '30s the bassist worked with Carter and Webb as well as trumpeter Rex Stewart. After Hill's return from Europe in the early '40s he gigged in New York City with Maurice Hubbard, Hopkins, and Singleton, sliding into the Armstrong rhythm section in 1943. From here he went back to his old pal Hopkins and in the second half of the '40s was also active with Cliff Jackson, Herbie Cowens, and Minto Kato.
Yet another extended European sojourn began in 1949, Hill hanging out primarily in Switzerland, Italy, and Germany until the beginning of 1952. He joined up with Coleman for gigs in the first two of these countries and accompanied Big Boy Goudie on tours through the rubble of postwar Germany. Hill remained active on the New York scene in the '50s with Happy Caldwell, Henry Morrison, Wesley Fagan, and many other pilgrims of classic jazz. As the decade commenced Hill's primary role in music became administrative -- in 1954 he accepted a position as delegate in the offices of the Big Apple musicians' union.
1848
Theodore H. Metz (b. Hanover, Germany, 1848 - d. New York, 1936) was the bandleader for a popular minstrel group, the McIntyre and Heath Minstrels who first introduced the song (hence the coon song structure).
1911
d. May 12, 1975, Fort Lauderdale, FL, USA (stroke).
For a period of time, Joe Mooney was a well-known jazz accordionist -- which is definitely a small field -- but he had a lengthy and a rather episodic career. He went blind in the early '20s but by 1926 was playing duets with his brother Dan on radio. They recorded from 1929-31 as the Sunshine Boys (also as the Melotone Boys); Joe played piano and both brothers sang while joined by some notable jazz all-stars.
The siblings stayed together through 1936 (broadcasting on WLW Radio in Cincinnati). Dan slipped away from music, while in 1937 Joe became the pianist and arranger for Frank Dailey. He joined Buddy Rogers in 1938 and was soon contributing charts for Paul Whiteman, Vincent Lopez, Larry Clinton and Les Brown, plus vocal arrangements for the Modernaires.
In 1943 he formed his own quartet, playing accordion and taking vocals; his group also included clarinet, guitar and bass. The swing-oriented combo became very popular during 1946-49. After the band ran its course, Mooney worked as a vocalist with the Sauter-Finegan Orchestra, recorded with Johnny Smith in 1953, moved to Florida in 1954 and gradually switched to organ. Joe Mooney's Quartet recorded for Decca from 1946-47 and he also recorded for Carousel (two titles in 1951), Atlantic (1956) and Columbia (1963-65). Occasionally he would travel to New York for television work or to record, but he mostly worked in Florida, including at his club The Grate Joy. He died of a stroke in 1975 at the age of 64.
b. Zachary, LA, USA.
Robert Pete Williams was an American Louisiana blues musician, based in Louisiana. His music characteristically employs unconventional blues tunings and structures, and his songs are often about the time he served in prison. His song "I've Grown So Ugly" has been covered by Captain Beefheart, on his album Safe as Milk (1967), and by The Black Keys, on Rubber Factory (2004).
Notable Events Occurring
On This Date Include:
Xavier Cugat orchestra recorded
"Babalu", with Miguelito Valdes vocal.
Frank "Josh" Billings
drums & SUITCASE!
died in New York, NY, USA.
Frank "Josh" Billings grew up, in Chicago, with the Austin High School Gang. In addition to being an accomplished suitcase player, he played drums and piano.)
Barney Pritchard, (hillbilly) Guitar, died.
Member of the "Scottdale String Band"
Herb Jones, vocals
Member: 'The Jones Brothers'
Songs Recorded/Released
On This Date Include:
Jim Europe's 369th Infantry "Hellfighters" Band -
Jazzola
All Of No Man's Land Is Ours

Jazz Baby

Mirandy

On Patrol In No Man's Land

When The Bees Make Honey
Red Mckenzie and his
Mound City Blue Blowers
Troy Floyd and his Plaza Hotel Orchestra - Shadowland Blues (Part 1)
Shadowland Blues (Part 2)

Wabash Blues
Winegar's Pennsylvania Boys
Say So!

There's Something About a Rose
Roger Wolfe Kahn and his Orchestra - She's A Great, Great Girl
Dorsey Brothers Orchestra
Fletcher Henderson Orchestra - King Porter Stomp
Paul Whiteman and his Orchestra
Ma Belle

Metropolis (A Blue Fantasie)
Harry Reser and his Orchestra
Hey ! Hey ! Hazel

- (Tom Stacks vocal)

I Do Not Choose To Run

- (Tom Stacks vocal and chorus, no vocal on German issue)
Annette Hanshaw - Button Up Your Overcoat
Dorsey Brothers Orchestra
My Dog Loves Your Dog

Nasty Man

She Reminds Me Of You
Abe Lyman and his Californians
San Francisco

- Vocal refrain by the Century Quart
Louis Armstrong and his Orchestra
Harlem Stomp

Hep Cat's Ball

Lazy 'Sippi Steamer

Wolverine Blues

You Got Me Voodoo'd
LYRICS:


~B.G. DeSylva - L. Brown - R. Henderson
That is not the question!
I decided long ago to be!
With me, it's what to be,
Now, make me some suggestions,
Which is the best for me?
When you're after fun and laughter, this aggravates you,
Some reformers say a warmer climate awaits you!
If it's naughty to rouge your lips,
Shake your shoulders and shake your hips,
Let a lady confess, I want to be bad!
If it's naughty to vamp the men,
Sleep each morning till after ten,
Then the answer is yes, I want to be bad!
This thing of being a good little goodie is all very well,
What can you do when you're loaded with plenty of health
When you're learning what lips are for,
And it's naughty to ask for more,
Let a lady confess, I want to be bad!
Oh, if it's naughty to rouge your lips,
Shake your shoulders and shake your hips,
Then, let a lady confess, I want to be bad!
And, if it's naughty to vamp the men,
Sleep each morning till after ten,
Then the answer is yes, I want to be bad!
Nobody cares just how blue and how lonesome I am!
If I have troubles and laugh, why they don't give a dam-
If it's wrong to let someone take,
Just a little kiss by mistake,
Let a lady confess, I want to be ba-da-da-da-da-da
brought to you by...
~confetta
Save
Save
Save
Save