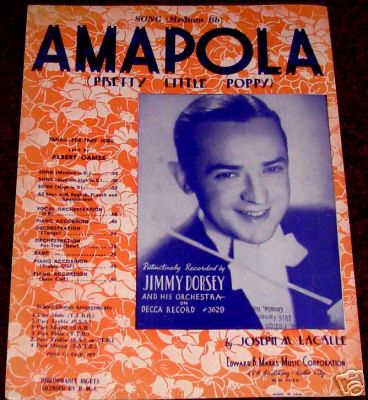 HAPPY BIRTHDAY JIMMY DORSEY !
BIRTHDAYS
d. June 12, 1957, New York, NY, USA.
Brother Tommy was almost 2 years
younger than brother Jimmy (reeds).
Brothers Tommy and Jimmy Dorsey
The older of the two Dorsey brothers was a child prodigy who began his musical career at the age seven playing the slide trumpet and cornet with his father's brass band at local parties. His father was a working class man who wanted a better life for his children and made them study music, diligently.
By the time he was 17, Jimmy was playing with the Jean Goldkette band with Bix Beiderbecke and Frankie Trumbauer.
During the 1920's the Goldkette Orchestra had broken up, and Jimmy, along with Bix and Trumbauer joined Paul Whiteman's group. Jimmy left Whiteman's group and freelanced around playing with Red Nichols. In 1933 Jimmy and younger brother Tommy formed their famous Dorsey Brothers Orchestra which included drummer Ray McKinley, trombonist Glenn Miller and singer Bob Crosby.
By 1935, continued feuding between the two brothers led to a break-up of the band. In 1938 Jimmy participated in some of the infamous Friday afternoon jam sessions at the Park Lane Hotel organized by Eddie Condon which included Pee Wee Russell, Sidney Bechet, Bobby Hackett, Willie "The Lion" Smith, Bud Freeman, Hot Lips Page, Bunny Berigan and Red Allen.
Jimmy began a new band which was a commercial success featuring popular singers Helen O'Connell and Bob Eberly. In 1953, a few years after the release of the motion picture "The Fabulous Dorseys", Jimmy and Tommy reunited and continued playing together until Tommy's death in 1956.
Jimmy continued leading the band until ill-health forced him to retire from music permanently.
He died in mid-1957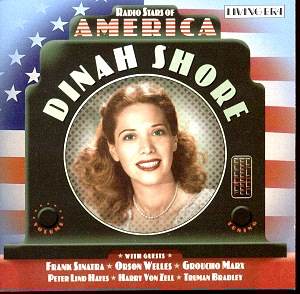 d. Feb. 24, 1994. Beverly Hills, CA, USA. (Cancer).
One of America's most popular entertainers long after her mid-'40s commercial peak, Dinah Shore was the first major vocalist to break away from the big-band format and begin a solo-billed career. During the '40s, she recorded several of the decade's biggest singles -- "Buttons and Bows," "The Gypsy," and "I'll Walk Alone" -- all of which spent more than a month at number one on the Hit Parade. After launching a television variety series in 1951, Shore appeared on one program or another, with few gaps, into the 1980s.
Born in rural Tennessee, Dinah Shore was performing on Nashville radio while still a teenager.
Her professional career later took her to New York, where she sang with Xavier Cugat. After failing auditions with Benny Goodman and Tommy Dorsey however, she decided to simply become a solo singer. Shore signed to Bluebird, and recorded several hits during 1940-41, including "Yes, My Darling Daughter," "I Hear a Rhapsody" and "Jim." Her first million-seller came in 1942 with the prototypical blues crossover nugget, "Blues in the Night."
Later that year, she moved to Victor and hit big with "You'd Be So Nice to Come Home To" and her first number one hit, 1944's "I'll Walk Alone." Shore also began appearing in films, including 1944's Up in Arms and 1946's Till the Clouds Roll By.
The late '40s proved to be her most popular era for recording. Between 1946 and 1949, she hit big with several songs, including "The Gypsy," "I Love You for Sentimental Reasons," "Anniversary Song," "I Wish I Didn't Love You So," "Buttons and Bows" and "Dear Hearts and Gentle People." Though her records didn't chart as high during the '50s, Dinah Shore enjoyed even more exposure with her top-rated variety show, The Dinah Shore Chevy Show. For many, Shore's opening and closing every show with "See the USA in your Chevrolet, America's the greatest land of all" practically defined the '50s.
Her Chevrolet sponsorship lasted until 1963, but she returned in the '70s with a new format, the daytime talk-show. During the 1980s, she began performing once again, but returned to television once more with a series that ran for two years. She died of cancer in 1994.
Notable Events
Occurring
On This Date Include:
Bing Crosby and the Mills Brothers teamed
up to record "Shine" for Brunswick Records.
George Vaughn Horton, C&W songwriter
died in New Port Richey, FL, USA.
Ina Beatrice Walker, vocals
died in Oakland, CA, USA.
Songs Recorded/Released
On This Date Include:
Bing Crosby, Harry Barris
& Al Rinker
Paul Whiteman's Original Rhythm Boys
Paul Whiteman and his Orchestra

LYRICS:

Coquette
Just a sweet coquette, so they say and yet
I know how true you can be
Just a butterfly, so they say but I
Know just how much you love me
The others you've met may call you Coquette
But I'll always call you "sweetheart"
They think of Coquette as something to pet
But I think of you as "sweetheart"
They say you're a devil with wonderful charms
But I held an angel that night in my arms
So try and forget the name of Coquette
And only remember "sweetheart"
Now that I love you, and you love me too
I'll keep you close to my heart
Now that I can see you belong to me
Nothing can keep us apart
brought to you by...
~confetta