All Star Trio
BIRTHDAYS

1900
d. Aug. 1960
Biography
~by Eugene Chadbourne

An intriguing break in the sometimes fenced-off pastures of jazz and blues is the career of percussionist Jimmy Bertrand. He was associated with the Chicago scene before the '20s started roaring, and as an instructor of drums and keyboard percussion helped to focus several pupils who became major figures in jazz, including both Lionel Hampton and Big Sid Catlett. Like many musicians on the historic Chicago scene, he gigged and recorded in both blues and jazz settings. Bertrand can be heard on discs with artists from Louis Armstrong to Blind Blake -- and that's just the first few steps on his discographical staircase.
There were many personally influential musicians in his family, although none of any great fame. The minor drummer Andrew Hilaire was a cousin, as was trombonist George Filhe. Uncle Alphonso Farzan was a bassist and worked for a period with the Original Creole Band. Bertrand left these family connections back in Mississippi when he relocated to Chicago in 1913. Bandleader and multi-instrumentalist Erskine Tate became an important figure, beginning with the music lessons Tate's father gave the greenhorn percussionist when he first blew into the Windy City. Tate himself put Bertrand in his band for a solid decade beginning in 1918; before this, the drummer picked up plenty of basics playing in the pit orchestra at the State Theatre.
He began his teaching career in the '20s as well as leading a recording band, Jimmy Bertrand's Washboard Wizards. Both Armstrong and clarinetist Johnny Dodds played in this group -- not too shabby a horn section at that. Late in the decade, Bertrand began gigging with Dave Payton, Tiny Parham, and the Harmon's Dreamland Band. Eddie South took the drummer on a West Coast tour in 1932, followed by gigs with leaders such as Reuben Reeves and Walter Barnes.
Bertrand also kept his own groups going, continuing these off-and-on activities in the early '40s as well. In 1944, jokers could say he left the world of chops for, well, another world of chops. He quit the professional jazz drumming business and went to work in a meat packing plant. His presence on drum stools or on washboards around the Chicago area diminished almost completely after 1945. In interviews, Hampton commonly referred to Bertrand as his "original idol."
Jimmy Bertrand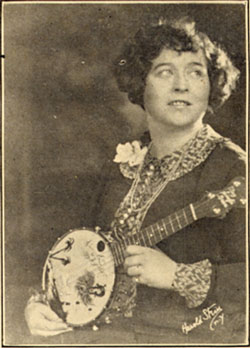 Also known as: Ukulele Lady
Jersey Shore Medical Center, Neptune, New Jersey
Genres: Jazz, blues, rock, Hawaiian
Associated acts: The Syncopators, Sweethearts of the Air
The original Ukulele Lady, May Singhi Breen was born in New York City as the daughter of a builder and a pianist in 1895. Her work in the music publishing business spanned several decades. Breen was the driving force in getting the ukulele accepted as a musical instrument by the American Federation of Musicians. In 2000 she became the first woman inducted into the Ukulele Hall of Fame.
Beginnings
Breen was given an inexpensive ukulele as a Christmas present. Being unable to exchange it, she took lessons and learned to play it. Before long she and some of her friends formed The Syncopators and played radio stations in the New York area. In 1923 Breen met Peter DeRose and left the Syncopators. Together the two were the "Sweethearts of the Air", a radio show that ran for 16 years from 1923-1939, on NBC affiliate WJZ in New York where Breen played ukulele and DeRose accompanying her on the piano.
Like so many of the performers during the era, Breen was a big fan of the instruments created by the C.F. Martin & Company and used a variety of their products, including a couple of custom inlaid models. Like all of the other performers who had tried, Breen was unsuccessful in obtaining an endorsement deal with Martin. Unlike the others, she didn't go looking for another endorsement deal, she liked her Martin instruments too much.
Publishing
Breen is credited with convincing publishers to include ukulele chords on their sheet music. The Tin Pan Alley publishers hired her to arrange the chords and her name can be found on hundreds of examples of music from the 1920s on. Her name appears as a music arranger on more pieces than any other individual. Her earliest known credit for a ukulele arrangement was in 1917 but her arrangements began to appear in large numbers in 1923.
Breen issued the first recorded ukulele lesson, a 78 rpm record entitled Ukulele Lesson
Breen issued the first recorded ukulele lesson, a 78 rpm record entitled Ukulele Lesson that came with the Peter Pan Uke Method book, that gave a 6 minute ukulele tutorial on the Victor Label. Building on the popularity of the instrument as promoted by Arthur Godfrey Breen published the New Ukulele Method in 1950.
In 2000 May Singhi Breen was inducted into the Ukulele Hall of Fame along with Cliff Edwards and the founder of Kamaka Ukulele, Sam Kamaka. Her citation reads in part: "She convinced music publishers of the commercial value of ukulele arrangements and pioneered the inclusion of arrangements on almost all printed copies of popular music. Her own arrangements appear on more pieces of sheet music than those of any other single person in history."
American Federation of Musicians
Breen worked hard to get the American Federation of Musicians to accept ukulele players into their union. In 1931 she approached the Manhattan Local for membership, but was refused, as they would not recognize the ukulele as a musical instrument. In the refusal the representative told her that the ukulele was considered a "fun toy which isn't allowed in orchestras, and anyone can make a noise on it in a matter of days ... it was simply a novelty contraption...". While the union relented and allowed that the ukulele was an instrument, they would not accept ability with it as qualification for membership. They refused for many years, but eventually, under her constant pressure with the support of such notable players as Cliff Edwards and Arthur Godfrey, the individual chapters relented.
Endorsements
The Progressive Musical Instrument Corporation (P'MiCo) was a distributor that included the May Singhi Breen autographed model banjo uke in their line in the 1940s.
May Singhi
with husband Peter DeRose
Personal life
Born May Singhi, she married an attorney named Breen. They divorced about 1922 and she and her daughter, Rita, were on their own. She married Peter DeRose, a man 12 years younger, in 1929 and the two of them worked together until his death. Breen died on December 19, 1970 and is buried next to her husband DeRose in Kensico Cemetery in Valhalla, New York.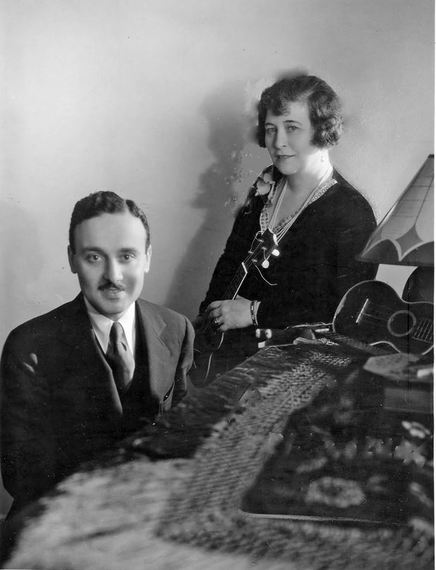 May Singhi Breen with her husband, Peter DeRose
Rita Breen Bunch, her daughter, continues to hold the copyright of many of her and DeRose's works.
Publications
May Singhi Breen's Ukulele Songs and Method, William J. Smith Co. (1924)
The Peter Pan Uke Method - Uke-Trades Publishing (1925)
Islander Uke Self-Teaching Method
Sparkles Plenty Ukette Book
The New Ukulele Method for Beginners and Advanced Students, Robbins Music Corp. (1950)
Collection of Ukulele Solos, Robbins Music Corp. (1955)
Chester Gaylord
Instruments

Voice (tenor)
Years active

1920s - 1930s
Chester Gaylord (February 24, 1899 – July 1, 1984) was a vocalist and among the most active of recording artists in the United States during the late 1920s through the early 1930s. He was known as The Whispering Serenader on radio and on his phonograph records.
He began his career as a singer and announcer for radio station WTAG in Worcester, Massachusetts in the early 1920s. Chester Gaylord's first recordings (in 1920) were saxophone solos for Thomas Edison, whom he had met. In 1923, he signed with Columbia records and made a number of vocal records for them. His popularity spread rapidly leading Brunswick Records (the second largest record company in the United States in the 1920s) to offer him an exclusive contract. He became one of the labels most prolific vocalists during the late 1920s. After the Warner Brothers bought out the Brunswick Record company in April 1930 a reorganization occurred and Chester Gaylord's contact was one of numerous artists whose contract was not renewed. Chester Gaylord continued to be popular on radio throughout the early 1930s until the introduction of swing music, in 1935, a type of music that was unsuitable to his style of singing. From 1929 to 1931, he was a featured vocalist on NBC radio on the Top Notchers Coca Cola Radio Program with Leonard Joy and his All String Orchestra.
Gaylord moved to WBZ in Boston in the late 40s, and completed his broadcasting career there. He retired sometime in the mid-1960s. During his retirement years he lived in Sterling, Massachusetts. He regularly played 1920s and 1930s songs on piano at The Old Timer, an Irish Pub in neighboring Clinton, Mass. According to Gaylord's obituary, he was still performing right up until a few weeks before his death.

1910
d. March 19, 1945
Biography
~by Scott Yanow

Clyde Hart's death just as the bop revolution was taking hold robbed him of the opportunity to be a major force in the music. Very active during his final year, Hart was an important transitional figure between swing and bop and would certainly have been on many significant sessions during the next five years had he lived.
Hart first worked with Gene Coy, Jap Allen (1930-31) and Blanche Calloway (1931-35). After a brief stint with the declining McKinney's Cotton Pickers, he settled in New York where he led his own quartet, arranged for Andy Kirk and made quite a few recordings (including with Billie Holiday and Red Allen) as a supportive pianist.
Hart had stints with Stuff Smith (1936-38), Roy Eldridge, Lester Young, Frankie Newton and the John Kirby Sextet (1942-43) plus often jammed at Minton's Playhouse. He also played with Wilbur DeParis, Walter "Foots" Thomas and Tiny Grimes (1944).
After working with Don Byas in early 1945 and recording with Charlie Parker and Dizzy Gillespie (including "Dizzy Atmosphere"), Hart contracted tuberculosis and died just as he was entering the prime of his career. Clyde Hart led three recording dates between Dec. 19, 1944 and Jan. 4, 1945 for Savoy and Continental with such notable sidemen as Parker, Gillespie, Byas, Trummy Young, Oscar Pettiford, Benny Harris and singer Rubberlegs Williams.
Clyde Hart - Wikipedia
Columbia Records producer
Notable Events
Occurring
On This Date Include:
Frances Langford recorded
"When You Wish Upon a Star" (Decca).
1983.
"Little Otis" Buford, guitar
died in St. Louis, MO, USA.
1985.
Playboy Venson
died in Chicago, IL, USA.
1988.
"Memphis Slim", piano
Age: 72.
Songs Recorded/Released
On This Date Include:




All Star Trio -
Rose Of Washington Square (Introducing, "Smile Dear")
You Ain't Heard Nothing Yet (Introducing, "I'm Always Falling In Love With The Other Fellow's Girl")
Joseph C. Smith's Orchestra - Whose Baby Are You ? (Introducing: "I Love The Lassies (I Love 'Em All)")


Johnny Dunn's Original Jazz Hounds -
Moanful Blues
All Star Trio and their Orchestra -
Teasin'
Muscle Shoals Blues

She Walked Right Up And Took My Man Away
Ted Lewis and his Band - Every Day Introducing: Oh Gee, Oh Gosh! from "For Goodness Sake"
Sippie Wallace - Devil Dance Blues
Bennie Krueger and his Orchestra - Florida


Hociel Thomas -
Deep Water Blues
G'wan I Told You

Listen To Ma

Lonesome Hours
Jelly Roll Morton's Incomparables - Mr. Jelly Lord
Memphis Jug Band - Newport News Blues
Memphis Jug Band - Stingy Woman Blues
Phil Napoleon and his Orchestra
Nesting Time

That's My Hap-Hap-Happiness
Noble Sissle and his Orchestra -
Got The Bench, Got The Park
- (But I Haven't Got You)
Waring's Pennsylvanians - Soft Lights And Sweet Music

LYRICS...



Rose of Washington Square
They call me Rose of Washington Square.
I'm withering there, in basement air I'm fading.
Pose in plain or fancy clothes?
They say my turned up nose
It seems to please artistic people.
Beaus, I've plenty of those.
With second-hand clothes, and nice long hair!
I've got those Broadway vampires last to the mast.
I've got no future, but oh! What a past.
I'm Rose of Washington Square.

brought to you by...
~confetta