HAPPY BIRTHDAY POLA NEGRI
BIRTHDAY
S
1916
Maxene Andrews
Born: 3 January 1916, Minneapolis, Minnesota, USA
Died: 21 October 1995, Hyannis, Massachusetts, USA (heart attack)
Birth Name: Maxene Angelyn Andrews
~Mini Biography
Ms. Andrews and her sisters, Patty and Laverne, were one of the most successful women's singing groups, with 19 gold records and sales of nearly 100 million copies. The sisters began performing in the early 1930's when the Depression wiped out their father's business. In 1937, the sisters scored their first big hit with 'Bei Mir Bist Du Schoen'.
In addition to 'Boogie Woogie Bugle Boy, ' their best-known songs included 'Don't Sit Under the Apple Tree' and 'Rum and Coca Cola'. The trio officially broke up after the death of Laverne in 1967. Ms. Andrews began a solo career in 1979 and her album was released in 1990, 'Maxene: An Andrews Sister'. Her last performance was on October 8, 1995, in the show 'Swing Time Canteen', at New York City's Blue Angel Theater.
Maxene Andrews (American singer)
Maxene Andrews - IMDb
The Andrews Sisters - Wikipedia
The Andrews Sisters: Information from Answers.com
1909
Victor Borge, pianist/comedian
b. Copenhagen, Denmark.
né: Borge Rosenbaum
Victor Borge ( /ˈbɔrɡə/ bor-gə; 3 January 1909 – 23 December 2000), born Børge Rosenbaum, was a Danish comedian, conductor and pianist, affectionately known as The Clown Prince of Denmark, The Unmelancholy Dane, and The Great Dane.
A website dedicated to Victor Borge.
Victor Borge
Internet Archive: Victor Borge Collection
The Chuck Wagon Gang
1924
Ruth Ellen Carter, C&W Vocals.
Best recalled as member of 'The Chuck Wagon Gang'
The Chuck Wagon Gang is a multi-award–winning Southern Gospel musical group that was formed in 1936 by founding member D.P. (Dad) Carter with his son Jim(Ernest) and daughters Rose(Lola) and Anna(Effie).The "Gang" signed with Columbia Records and remained with them for 39 years, At one point they were Columbia's number one selling group with excess of over 39 million in record sales.
By the late 1970s, the group was still touring but felt a lack of support from the label they had recorded for during the previous forty-one years. Columbia had stopped servicing their songs to radio; thus airplay had become non-existent. Roy and Ruth Ellen Carter talked about it. They asked each other the question: "What can we do to rebuild what Daddy started?" That became the aim: not to make money, but to truly dedicate themselves to rebuilding the group to the strongest position it had enjoyed in years past. It was at this point starting in 1979 that they began recording for Copperfield Records for several years.
The Chuck Wagon Gang has performed at Carnegie Hall, the Hollywood Bowl, and the Grand Ole Opry. The group has been elected to the Gospel Music Association's Hall of Fame and the Smithsonian Institution's classic American recordings.
The Chuck Wagon Gang
1897
Marion Davies
Marion Davies was an American film actress, producer, screenwriter, and philanthropist. Davies was already building a solid reputation as a film comedian when newspaper tycoon William Randolph Hearst, ... Wikipedia
Born: January 3, 1897, Brooklyn, New York City, NY
Died: September 22, 1961, Hollywood, Los Angeles, CA
1917
Leon McAuliffe, C&W Vocals
b: Houston, TX, USA.
d. Aug. 20, 1988, d. Sept. 20, 1988, Tulsa, OK, USA.
né: William Leon McAuliffe. Member of 'The Texas Playboys' - The great pioneer 'Western Swing' band. At age 14, McAuliffe began playing both Hawaiian and standard guitar. In 1931, he appeared on a local radio station as part of the 'Waikiki Strummers'. In 1933, he joined Lee O'Daniel's Light Crust Doughboys (recording with them on the ARC label). Houston's Bob Dunn, a member of Milton Brown's Brownies, showed McAuliffe how to electronically amplify his National resonator guitar. McAuliffe went on to become one of the world's best and perhaps most famous steel guitarists.
Leon McAuliffe - Wikipedia
Leon McAuliffe
MCAULIFFE, LEON (1917-1988)
1922
Harold "Geezil" Minerve, Alto Sax
b. Havana, Cuba
d. June 4, 1992, New York, NY, USA.
Biography
by Scott Yanow
A fine swing stylist, Harold "Geezil" Minerve's main claim to fame is that he was Johnny Hodges' replacement in Duke Ellington's Orchestra after Hodges' unexpected death. Minerve grew up in Florida and began playing music when he was 12. Early on he played with Ida Cox , freelanced in New Orleans, and worked with Clarence Love and Ernie Fields . After time in the Army (1943-46), he continued playing with Fields , had a long association with Buddy Johnson (1949-57), worked with Mercer Ellington (1960), toured with Ray Charles (1962-64) and was the musical director for Arthur Prysock . But Minerve's big moment in the spotlight was his period with Duke Ellington (1971-74), when he often had a fair amount of solo space. After Duke's death, Minerve (who never recorded as a leader) continued for a period with the Mercer Ellington Orchestra and then freelanced, fading away from the jazz major leagues long before his death in 1992.
Geezil Minerve
1919
Herbie Nichols
, piano/composer
One of jazz's most tragically overlooked geniuses, Herbie Nichols was a highly original piano stylist and a composer of tremendous imagination and eclecticism. He wasn't known widely enough to exert much influence in either department, but his music eventually attracted a rabid cult following, though not quite the wide exposure it deserved.
Nichols was born January 3, 1919, in New York and began playing piano at age nine, later studying at C.C.N.Y. After serving in World War II, Nichols played with a number of different groups and was in on the ground floor of the bebop scene. However, to pay the bills he later focused on Dixieland ensembles; his own music -- a blend of Dixieland, swing, West Indian folk, Monk -like angularity, European classical harmonies via Satie and Bartók , and unorthodox structures -- was simply too unclassifiable and complex to make much sense to jazz audiences of the time. Mary Lou Williams was the first to record a Nichols composition -- "Stennell," retitled "Opus Z," in 1951; yet aside from the song he wrote for Billie Holiday, "Lady Sings the Blues," none of Nichols' work got enough attention to really catch on.
He signed with Blue Note and recorded three brilliant piano trio albums from 1955-1956, adding another one for Bethlehem in late 1957. Nichols languished in obscurity after those sessions, though; sadly, just when he was beginning to find a following among several of the new thing's adventurous, up-and-coming stars, he was stricken with leukemia and died on April 12, 1963. In the years that followed, Nichols became a favorite composer in avant-garde circles, with tributes to his sorely neglected legacy coming from artists like Misha Mengelberg and Roswell Rudd . He also inspired a repertory group, called the Herbie Nichols Project , and most of his recordings were reissued on CD.
Herbie Nichols - Wikipedia
Herbie Nichols' Third World
1897
Pola Negri
Born: January 3, 1897, Lipno, Lipno County, Poland
Died: August 1, 1987, San Antonio, TX
Pola Negri was a Polish stage and film actress who achieved worldwide fame during the silent and golden eras of Hollywood and European film for her tragedienne and femme fatale roles.
Notable Events Occurring
On This Date Include:
died in New York, NY, USA.
Best recalled for his work with Count Basie.
Edward Emerson Cuffee (June 7, 1902, Norfolk, Virginia - January 3, 1959, New York City) was an American jazz trombonist.
Cuffee moved to New York in the 1920s, where he recorded with Clarence Williams (1927-29) and played with Bingie Madison. He played in McKinney's Cotton Pickers (1929-34) and in Fletcher Henderson's band (1935-38), then with Leon Abbey (1940 and subsequently), Count Basie (1941), Chris Columbus (1944), and Bunk Johnson (1947). Cuffee quit playing professionally after the late 1940s. Cuffee has sometimes been incorrectly referred to as Cuffee Davidson because of erroneous early sources.
1982.
Tommy Bryant, bass
died in Philadelphia, PA, USA.
Age: 51.
Member: 'The Ink Spots"
1985.
Dallas Jones, C&W rhythm guitarist and member of the "Leake County Revelers" died.
(The Revelers consisted of Jones, fiddler Will Gilmer, banjoist Jim Wolverton, and R.O. Moseley on the rare banjo-mandolin hybrid.)
1988.
"Doc" Hopkins, C&W Singer/Banjo/Guitar, and member of the "Cumberland Ridge Runners" died.
Age: 87. (b. Jan. 26, 1900, Wallins Creek (Harlan County), Kentucky, USA. (né: Doctor Howard Hopkins)
1993.
Rome Johnson C&W vocals, died.
(Perhaps best recalled for his work with 'The Sons of the Pioneers')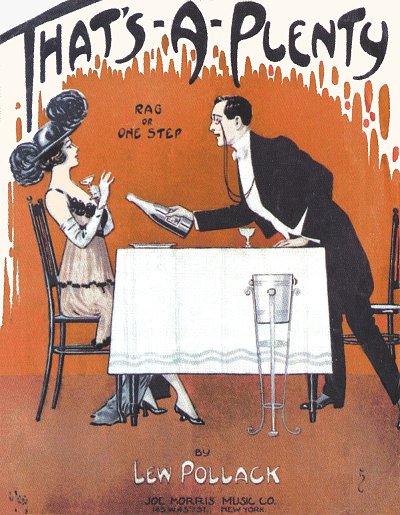 Earl Fuller's Rector Novelty Orchestra
Earl Fuller's Rector Novelty Orchestra -
Graveyard Blues
All Star Trio - Sensation Jazz - One Step
Paul Whiteman and his Orchestra -
Marie
On the 'Gin 'Gin 'Ginny Shore
Original Dixieland Jass Band -
Some Of These Days
Waring's Pennsylvanians - Don't Sing Aloha When I Go
Cover Me With Kisses

-

Vocal refrain by Tom Waring
Waring's Pennsylvanians -
Oh Baby! (Don't Say, "No", Say "Maybe")
Naylor's Seven Aces -
Susquehanna Home
The California Ramblers -
Where's My Sweetie Hiding?
Harry Reser and his Orchestra - Where Do You Work-a, John? (6/8 one-step)
Ray Miller's Orchestra
No One In The World But You
Red Mckenzie and his Mound City Blue Blowers - The Broken Record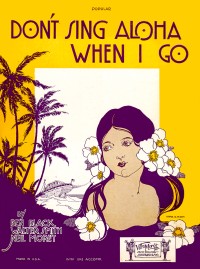 Don't sing Aloha when I go
Because I'm coming back you know
Don't sing Aloha though I cry
Our parting just not means goodbye
I'll dream of you in Waikiki
That's where I long as long to be
Just smile and say you'll miss me so
Don't sing Aloha when I go
Don't sing Aloha when I go...
I'll dream of you in Waikiki.
brought to you by...
~confetta