BIRTHDAYS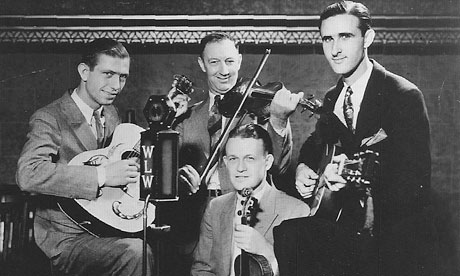 1908
Thomas Hoyt "Slim" Bryant
C&W singer-songwriter
b. Atlanta, GA, USA.
Thomas Hoyt Bryant (December 7, 1908 – May 28, 2010), known professionally as Slim Bryant, was an American country music singer-songwriter and guitarist born in Atlanta, Georgia.
After spending nearly nine years working with Georgia fiddler Clayton McMichen as part of his band, the Georgia Wildcats, Bryant and most of the band separated from McMichen and moved to Pittsburgh in 1940 where he and the Georgia Wildcats became regulars on KDKA's new early morning Farm Hour.
He had worked at the station previously in 1931 with McMichen and in 1937 with his own short-lived group. The Wildcats became a Pittsburgh institution during World War II; and in 1949, performed on the first television program to air in that city, a musical variety show broadcast live on WDTV from Syria Mosque in Pittsburgh's Oakland section. He was the last surviving musician to have recorded with the legendary country singer Jimmie Rodgers, who died in 1933.
In 1932, Rodgers recorded Bryant's song "Mother, the Queen of My Heart", with Bryant accompanying him on guitar. Rodgers not only gave him writing credit, but had them list Bryant's name first, which is something many big stars refuse to do. He also recorded nine other songs with Rodgers. With his back-up group, the Wildcats, he wrote and recorded such novelty songs during his career as "Eeny Meeny Dixie Deeny", the closest he ever came to having a hi" on the Billboard charts.
Bryant resided in the Pittsburgh suburb of Dormont, Pennsylvania. He was the subject of an extensive profile by Rich Kienzle in the January–February 2004 issue of No Depression.
BIO
"Blind" John Davis, piano
d. October 12, 1985, Chicago, IL, USA.
It is interesting to note that in the 1970's, John, a very good person. spent much of his time and money looking after another Bluesman 'Tampa Red', who was then living in the 'Sacred Heart Nursing Home', in Chicago, IL.
The piano work of John Davis was featured on blues records by the score during the '30s and '40s. His accompaniments to Tampa Red, Sonny Boy Williamson, Big Bill Broonzy, and others brought him fame as a blues musician, but like his piano compatriot Little Brother Montgomery, Davis did not care to be typecast as such and often expressed a preference for the sweet, sentimental favorites he played in countless piano lounges. But as with Montgomery, most of Davis's own recording opportunities came from blues companies, and he never failed to acquit himself well when it came to blues and boogie-woogie. He was the first pianist to do a European blues tour (with Broonzy in 1952), returning to the continent frequently as a solo act during the '70s and '80s. With blues-piano appreciation in Europe being what it is and has been, it's not surprising that most of the albums of Blind John Davis were recorded there and not in Chicago, his home from the age of two until his death.
Teddy Hill, Tenor Sax/Leader
b. Birmingham, AL, USA. d. 1978.
He is now best recalled as tbe operator of Harlem's (New York) Minton Playhouse (The Home of 'Bop'). 1929-31 with Luis Russell band. In 1934, his own band frequently played the Savoy Ballroom in Harlem (NY). Personel included Dickie Wells, Bill Coleman, Roy Eldridge and Chu Berry. Toured England and France in 1937.
~Biography
Though he led a successful big band throughout the 1930s, Teddy Hill is best-remembered for managing Minton's Playhouse in Harlem, a nightclub where experimental jam sessions eventually led to the birth of the lingua franca of jazz: bebop. Prior to that, his musical career began after moving to New York in 1927, where he joined George Howe's band (which become Luis Russell's within months), staying until 1931.
He started his own band in 1934, attracting such sidemen as Roy Eldridge, Chu Berry, Dicky Wells, Bill Coleman, and Dizzy Gillespie (who recorded his first solos while with Hill).
The band played at the Savoy Ballroom regularly and toured England and France in the summer of 1937, but by 1940, Hill had left the band business in order to manage Minton's. There, such players as Gillespie, Berry, Charlie Christian, Jimmy Blanton, Thelonious Monk, and Kenny Clarke jammed after their regular gigs until past the wee hours, working out advanced harmonic innovations. (Indeed, one of the jams recorded by fan Jerry Newman was given the title "Up on Teddy's Hill.") Minton's importance waned after World War II, though, and when it discontinued its music policy in 1969, Hill became manager of the Baron Lounge. ~ Richard S. Ginell
Cecil Irwin
Tenor Sax/clarinet/arranger
b. Evanston, IL, USA, d. May 3, 1935
Biography
A big band arranger and reed player who is mostly known for his membership in several of the great Earl Hines bands of the '20s and '30s, Cecil Irwin unfortunately got a spot in the section of the musical graveyard devoted to those who perished on the road. A traffic accident that occurred outside of Des Moines, IA, while he was on tour claimed his life, cutting short a career that was loaded with promise.
Following gigs with the bands of Carroll Dickerson, Erskine Tate, and Junie Cobb, Irwin joined Hines in 1928 as a tenor saxophonist and arranger. He has credits on more than a dozen different releases by the pianist and bandleader in which his work in both capacities is on display. He also did some freelancing out of the Hines band, showing up on sessions by New Orleans clarinetist Johnny Dodds and trumpeters Jabbo Smith and King Oliver. He can also be heard on a jazz violin anthology, featuring Stephane Grappelli and Joe Venuti, on the EPM label.
~ Eugene Chadbourne
George James, Tenor Sax
b. Beggs, OK, USA.
d. Jan. 30, 1995
Age 88
~Biography
Hailing from what sounds like an Oklahoma town full of panhandlers, this artist spent more than half a century on the jazz scene, playing on more than 60 records by the time he retired in the early '80s. George James was just as likely to play under the orchestra on bass saxophone as he was to soar out over the top on soprano saxophone, clarinet, or flute. He also played all the reeds in between, seeming to be almost constantly employed in a series of bands that began in the late '20s with Charlie Creath's Number Two Band and Johnny Neal's Syncopaters and eventually included collaborations with stars such as Louis Armstrong and Fats Waller.
James really didn't stay that long out West, attending high school in St. Louis and moving to Chicago in 1928. In the Windy City he worked with a variety of bandleaders, such as Jimmie Noone, Sammy Stewart, Ida Marples, and Bert Hall. He also began leading his own group. In the early '30s he was closely associated with Noone for several years until he began touring with Louis Armstrong near the close of 1931. When one of the tours ended in New York, James stayed on there and tried his luck in groups such as the Savoy Bearcats and Charlie Turner's Arcadians. Fortune smiled on the latter musical situation: Fats Waller took over, turned it into his own orchestra, and kept James busy through 1937.


The reed maestro flew with the Blackbirds Revue until the close of the '30s, then was associated with such masters of syncopation as James P. Johnson, Benny Carter, Teddy Wilson, and Lucky Millinder. James revived his own group in 1943, grabbing the house band gig at a pair of popular nightclubs. He was back with Johnson in 1944 but continued activities as a bandleader in several different locales, including Pittsburgh and Detroit. By the mid-'40s James had become a part of an orchestra led by the fine pianist Claude Hopkins, followed by several years with a similar ensemble helmed by Noble Sissle. For the last decades of his career, James continued the combination of his own group and sideman affiliations. In the '70s he undertook some of his most extensive international touring as a member of Clyde Bernhardt's band.
~ Eugene Chadbourne
1905
Mager Johnson, guitar
b. Crystal Springs, MS, USA.
Played with Clyde Bernhardt.
1910
Morry R. Kaplan
label owner (Danceland)
b. Chicago, IL, USA.
1917
Billy Moore, Arranger/Piano
b. Parkersburg, WV, USA.
d. ??1989.
Billy is recalled not so much for his piano playing but rather as one of the better Big Band arrangers. Moore began his career writing for the great Jimmy Lunceford orchestra where he replaced Sy Oliver, who had left Lunceford to write for Tommy Dorsey. He was soon also writing for other bands including the Charlie Barnet, and Jan Savitt orchestras. In the late 1940s, Moore became a music publisher. In the early 1950s, Moore relocated to Europe where he wrote music for various French groups. From 1953-60, he worked as musical director and pianist for both 'The Peters Sisters', and the 'Delta Rhythm Boys' vocal groups then touring Europe. Subsequently, Moore found work as a staff arranger for a Berlin radio station. In the 1970s, he was working in Copenhagen, Denmark as a freelance arranger.
~Biography
Although he often worked as a pianist, Billy Moore is best known for being a talented swing-based arranger. He started out his career near the top, replacing Sy Oliver (when Oliver joined Tommy Dorsey) as the chief writer with Jimmie Lunceford's Orchestra. Moore was not exclusive to Lunceford for long and he later wrote for Charlie Barnet, Jan Savitt and Tommy Dorsey. He became a music publisher in the late 1940s and soon was moving away from jazz. Moore relocated to Europe in the early 1950s where he wrote music for French groups. He was the musical director and pianist for a pop vocal group (the Peters Sisters) from 1953-60. Later on Moore was the staff arranger for a Berlin radio station and worked with the Delta Rhythm Boys in Europe. He settled in Copenhagen in the 1970s where he continued working as a freelance arranger. Oddly enough for a writer, Moore never led any record dates of his own.
~ Scott Yanow
1911
Louis Prima
Leader/Trumpet/Vocal
b. New Orleans, LA, USA.
d. Aug., 24, 1978, New Orleans, LA, USA.
Died after being in Coma for several years.
Louis Prima was an Italian-American entertainer, singer, actor, songwriter, and trumpeter. Prima rode the musical trends of his time, starting with his seven-piece New Orleans style jazz band in the 1920s, then successively leading a swing combo in the 1930s, a big band in the 1940s, a Vegas lounge act in the 1950s, and a pop-rock band in the 1960s. In each of his musical endeavors, he incorporated his exuberant personality into his act.
Irene Scruggs
vocals, b. MS, USA


**(SOME SOURCES SAY DECEMBER 31ST)


Biography
Blues singer Irene Scruggs was born somewhere in rural Mississippi, but blues anthropologists believe that she came up the river early on her life and was reportedly raised in St. Louis. That bustling town claims her as one of her own, and her career was certainly marked by the type of versatility and generous creativity that St. Louis is known for. Like Chuck Berry would decades later, Scruggs was part of a process wherein traditional rural musical roots blended into newly evolving urban styles. Like two cooks working out of the same spice cabinet, both artists wind up stirring country blues and swing jazz together.
The great jazz pianist Mary Lou Williams recalls that Scruggs was already an established force on the St. Louis blues scene the first time Williams went there as a young member of a vaudeville revue. Furthermore, that revue felt it had to hire Scruggs, whose success in vaudeville apparently overshadowed her recording and nightclub career at times. "In St. Louis, our show picked up a young blues singer named Irene Scruggs," Williams said in an interview. "Irene had not long settled in St. Louis, and was starting out to become one of St. Louis' finest singers." This apparently gave Scruggs the cache to get the treasured opportunity to collaborate with several of the bands King Oliver brought to St. Louis in the mid-'20s. Fans of classic jazz should enjoy all the nice playing of her voice off against superb instrumental talent such as clarinetist Albert Nicholas, trombonist Kid Ory, and of course Oliver himself on cornet. She was also well-suited for recording with the fascinating Blind Blake, whose impressive efforts as an accompanist to various singers are collected on the Wolf set The Accompanist: 1926-1931.
Women who don't approve of their boyfriends playing the blues will develop a fondness for Scruggs' song "Itching Heel," that much is certain. In live shows, it was the setting for lively theatrical business between the singer and Blake, the blind guitarist responding to criticisms of his personality with wild blues licks. "He don't do nothing but play on his old guitar," Scruggs sings, "While I'm busting suds out in the white folks' yard."
Scruggs' earliest recordings were with pianist and bandleader Clarence Williams for Okeh in 1924. She began working with Oliver two years later, and cut a series of sides with the fine bluesman Lonnie Johnson in 1927, again for Okeh. She continued using St. Louis as her base when she formed her own band in the late '20s, gigging regularly at blues and jazz clubs. She recorded with Blake under the name of Chocolate Brown, and also used the alternative blues name of Dixie Nolan for several contract-breaking ventures.
In the early '30s, she toured and recorded with Little Brother Montgomery, often stealing the shows with her guest spots. Raunchy, sexy blues became one of her specialties, and this was not a subject she needed time getting used to, since it was one of the major concerns of every female blues recording artist from the pre-war era. "Good Grindin'" and "Must Get Mine in Front" were just two example of the explicit sexual enthusiasm contained in her recordings, and it was no surprise that her material was included in The Nasty Blues, a collection of bawdy blues material and biographies published by Hal Leonard. By the '40s, Scruggs had joined the population of expatriate black performers living abroad, residing first in Paris with her daughter, the dancer Baby Leazar Scruggs. Later she moved to Germany, where she is thought to have died. In the '50s, she did several radio broadcasts for the British BBC.
~ Eugene Chadbourne
Jack Taylor, guitar
b. Summershade, KY, USA
d. August 4, 1962, USA.
Member: "The Prarie Ramblers" (originally called The Kentucky Ramblers, but changed their name when they began to back Western singer Patsy Montana). The group originally consisted of Charles "Chick" Hurt (Mandolin, Mandola, Tenor Banjo, b. May 11, 1901, d. October 9, 1967), Jack Taylor (guitar, b. December 7, 1901, d. August 4, 1962), Shelby David "Tex" Atchison (Fiddle, Vocals, b. February 5, 1912, d. August 4, 1892) and Floyd "Salty" Holmes (Guitar, Harmonica, Jug, b. March 6, 1909, d. January 1, 1970). Subsequently, other members were: Willie Thawl (Clarinet), Alan Crockett (Fiddle), Patsy Montana (Guitar, Vocals), Ken Houchens (Guitar), Bob Long (Guitar), Rusty Gill (Guitar), George Barnes (Guitar), Wade Ray (Fiddle), and Wally Moore (Fiddle).

1903
Roosevelt Thomas Williams
(barrelhouse) pianist
b. Bastrop, TX, USA.
(aka: "Grey Ghost")
Active from the 1920s on, but known to very few people outside of his home town of Austin, TX. Over his 75 year music career, Williams supported himself at various times by laboring in the cotton fields and cotton gins, bootlegging, gambling, working as a chauffeur, and driving an Austin school bus. However, when the Catfish label re-issued some of his 1965 field recordings, as an LP record labeled 'Grey Ghost', even the poor quality of the recording didn't deter folks from appreciating his talent, and his fame finally spread beyond Austin. He was heard on a "Bluestage" show for National Public Radio as late as 1994, when he was then age 91.
Roosevelt Williams - Wikipedia

Notable Events Occurring
On This Date Include:


1977.
Peter Goldmark
Electronic Enginner and father of the LP record
died in New York, NY, USA.
Age: 71.

1981.
"Little" Willie Brown, harmonica
died in East St. Louis, IL, USA.
Age: 59.
Worked with Charley Patton; Son House, and others.
"Lovin'" Sam Theard
died in Los Angeles, CA, USA.
Songs Recorded/Released
On This Date Include:
1920
Happy Hottentot - Incidental Singing by Frank Crumit

Rose
1922
Bailey's Lucky Seven - A Smile Will Go A Long Long Way
I'm Going South

You'r In Kentucky (Sure As Your' Born)

Nick Lucas - Whose Who Are You?
Harry Reser and his Orchestra
"Je t'aime" (means "I Love You") - (Tom Stacks vocal)
Lee Morse and her Bluegrass Boys
Lee Morse and her Bluegrass Boys -
Lets Do It (Lets Fall In Love)
Lee Morse and her Bluegrass Boys
-
Susianna
Ted Weems and his Orc

hestra -
Me And The Man In The Moon
- Voc. Arthur Jarrett
Ted Weems and his Orc

hestra -
My Troubles Are Over - Vocal refrain by Parker Gibbs
I Can't Make Her Happy - Vocal -Clare Hanlon
Ted Weems and his Orc

hestra -
Talk Of The Town
Chained To A Dream

Light Up
Buster Bailey and his Rhythm Busters -
Man With A Horn Goes Beserk


Fats Waller and his Rhythm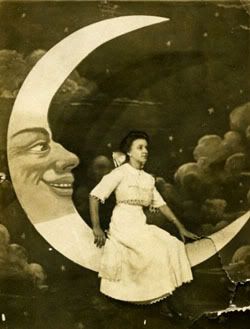 Why did my sweetie leave me?
Why did we have to part?
You know, no other sweetie can relieve me
Of this aching heart
Why can't I have the sunshine?
The sunshine instead of gloom?
Why must I have these little shadows
Creeping in my room?
When the night is dark and peaceful
Loving hearts are all in tune
There's two lonesome people in the whole wide world
It's me and the man and the moon
When the little birds are nesting
And I listen to them croon
There are two lonesome people in the whole wide world
It's me and the man and the moon
While I lie there counting sheep
Through my window he comes to peep
And with each other we're sympathizing!
Oh, I'm looking at those happy people
While they sit around and spoon
There's two lonesome people in the whole wide world
It's me and the man and the moon
brought to you by...
~confetta