Happy Birthday
Herman Autrey
BIRTHDAYS
Fats Waller and his Rhythm - 1938 left to right: Slick Jones, Herman Autrey,
Fats Waller, Charlie Turner, Albert Casey, Eugene Sedric.
1904
Herman Autrey, Trumpet/Vocal
b. Evergreen, AL, d. June 14, 1980
Perhaps best recalled for his work with 'Fats Waller and his Rhythm'.
Biography
Trumpeter Herman Autrey is most closely associated with the delightful pianist, vocalist, and bandleader Fats Waller and was a key member of a small inner circle of musicians who worked frequently in his bands. When Waller's manager, Phil Ponce, decided in 1934 to launch his talented client as a bandleader on the heels of a new recording contract with Victor, Autrey was one of the main players pitched to be part of the new Waller combo, along with drummer Harry Dial, guitarist Al Casey, and the fine reed man Gene Sedric. Prior to this big move, Waller was mostly busy as an accompanist and song plugger for publishers and record label managers such as Joe Davis, his talents as an entertainer bubbling up like lava in an active volcano no matter what the song or setting. Autrey appears on dozens and dozens of Waller recordings and the trumpeter never failed to come up with interesting twists in his solos, always playing with superb tone.
Autrey came from a musical family in which both his father and two of his brothers were professional musicians. He began with the alto horn before switching to the much more popular trumpet, gigging as a teenager with a variety of bands in the Pittsburgh area before settling in Florida. He accomplished much of what was possible for a player of his talents in that state's somewhat limited jazz scene, then began working his way north again, putting in time on bandstands in Washington, D.C., then Philadelphia, and finally New York in 1933. His first professional engagement of any repute in the Big Apple was in the group of Charlie Johnson and he went on to become a regular associate of Waller shortly thereafter. Despite the extensive recordings and other commitments of Waller, the trumpeter also had the chance to regularly record with many other leading bands from the period, including Fletcher Henderson and Claude Hopkins.
He continued working as a freelance sidemen through the early and mid-'40s, building a reputation for driving, rambunctious solos played with an enormous tone. Violinist Stuff Smith liked working with him, as did pianist Sammy Price and bluesy bandleader Una Mae Carlisle. Several influential players worked in Autrey's own combos, most noticeably the brilliant pianist and composer Herbie Nichols. In the early '50s, Autrey was involved in a car accident that, although extremely serious, led only to a playing hiatus of a bit more than a year. He toured with Saints & Sinners, a popular swing revival band in the '60s, including European jaunts in both 1968 and 1969. The dreaded losing of the chops, a syndrome that hits trumpeters particularly hard, began to happen toAutrey in the '70s, but he borrowed a page from the Waller book and finished out his career with more of an emphasis on vocals.
~ Eugene Chadbourne
MORE
Herman Autrey - Wikipedia
Herman Autrey | AllMusic
Alabama Music Hall of Fame | HERMAN AUTREY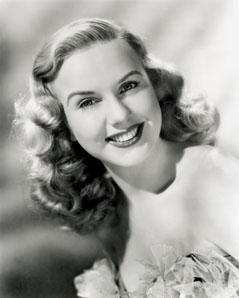 1921
Deanna Durbin
b. Winnipeg, Manitoba, Canada.
In Canada, she is known as "Winnipeg's Sweetheart". By age 14 Deanna had already completed a number of films, including 'Three Smart Girls', 'Mad about Music' and 'That certain Age', and in the process had become the most highly paid female star in the world. By age 18, her income was $250,000/year.
Though a true "Star", - honored with Dolls and other toys named for her; her first screen kiss described in every fan magazine, and such, the most unique aspect of Deanna's life was that she abhored the glamour and glitz of 'La La Land' and eventually turned her back on Hollywood and all the it stood for in her mind.
Her first two marriages were failures. When she wed film director Charles Henri David (her 3rd), she exacted a promise (in a written contract) that she would not appear in any films and could lead the "life of a nobody". Currently (1999), Deanna resides in the small village of Neauphle-le-Chateau, France, where for over 35 years, she has stubbornly resisted all film offers that have come her way. Deanna permitted her last interview in 1948.
Deanna Durbin - Wikipedia
The Deanna Durbin Showcase
The Deanna Durbin Page
Photographs of Deanna Durbin
1915
Eddie Heywood (Jr.)
pianist/leader/composer
b. Atlanta, GA, USA.
d. Jan. 2, 1989, USA.
Best recalled today for leading his own Sextet, and for composing the hit song "Canadian Sunset". Eddie's father - Eddie Haywood Sr, a good pianist who was most active in the early 1920s and often accompanied the 'Butterbeans and Susie' vaudeville team, taught his son to play the piano. Eddie Jr, was active professionally by age 14. In 1932, he was working with the Wayman Carver band, in '34-'37 with Clarence Love; in '39 - '40 with Benny Carter in New York; Formed his own group in 1941 and backed Billie Holiday on some records; in 1943 he formed his Sextet (with Doc Cheatham and Vic Dickenson) and also had some solos on a Coleman Hawkins led recording date; His sextet's recording of Cole Porter's "Begin the Beguine" was a big hit.(The "Beguine" rhythm had it's start on the Carribean island of Martinique I believe. ca 1940s.)
In 1945, he won the Esquire New Star Award. Beginning in 1947 Hayward suffered from a paralysis of his hands that precluded his playing the piano, but by 1950, he was able to play again (with his trio) and performed into the 1980s.
Eddie Heywood - Wikipedia
Eddie Heywood Jr. - Featured Articles From The Los Angeles Times
The Jacquet Brothers: Illinois and Russell Jacquet.
1952 Sweden.
Russell Robert Jacquet, Trumpet/Vocal
b. St. Martinville, LA, USA.
d. Feb. 28,1990, Los Angeles, CA, USA.
Russell is the older brother of tenor-saxophonist Illinois Jacquet. During 1934-'37, Russell played in the Midwest with the 'California Playboy Band', a group that also included another brother, -Linton Jacquet, on drums. During 1939-'40, Russell worked with the Floyd Ray band, and then spent the next two years studying at Wiley College (1940-'42), and at Texas Southern University (1942-44), and also led a big band at TSU. Meanwhile, big brother Illinois had become famous.
After forming his own unsuccessful group, Russell played, on and off, with brother Illinois' band during 1946-'54, even recording with them. During 1965 and 1969, he primarily worked as a schoolteacher, but did occasionally led his own bands. Russell often worked with his brother through the years but never achieved much fame.
Russell Jacquet - Wikipedia
Russell Jacquet on Allmusic
Russell Jacquet
1910
Alex North, songwriter
b. Chester, PA, USA.
Perhaps his biggest hit was "Unchained Melody".
Alex North Music: Home
Notable Events Occurring
On This Date Include:
1927.
Duke Ellington's big band opened at New York city's famed
Cotton Club
in Harlem.
This was the first appearance of Dukes new large group (which continued at that venue until 1932).
1934.
Songbird Ethel Merman, backed by the Johnny Green Orchestra, recorded (for Brunswick label) "I Get a Kick Out of You", from Cole Porters musical, "Anything Goes". She was the show's star.
READ MORE
1952.
Rabon Delmore,
Singer-Songwriter/Tenor Guitar/Fiddler,
died. Age: 36.
Member:
The Delmore Brothers, consisting of Rabon (b. Dec. 3, 1916, Elkmont, Alabama, and his brother Will Alton Delmore (Singer-Songwriter/Guitar/Tenor Guitar/Fiddler, b. Dec. 25, 1908, Elkmont, Alabama).
Country, Bluegrass Musician. Brother of Country musician Alton Delmore. In 1926, he formed with his brother, the group 'The Delmore Brothers' and were together until Rabon's death in 1952. They recorded for the labels, King, Old Homestead, and Country. He also worked with several other artists including Clyde Moody, Arthur Smith Trio, Joel Forrester, Uncle Dave Macon, Tommy Magness, and Bill Westbrook. The brother's hits include "Jimmie's Texas Blues," "Brown's Ferry Blues," "The Frozen Girl," "Till The Roses Bloom Again," "Back To Birmingham," "The Weary Lonesome Blues," "See That Coon In A Hickory Tree," "Gonna Lay Down My Old Guitar," "Rainin' On The Mountain," and "Don't You See That Train?"
The Delmore Brothers - Wikipedia
Rabon Delmore (1916 - 1952) - Find A Grave Memorial
Songs Recorded/Released
On This Date Include:
1920
Original Dixieland Jass Band -
"Palestreena"
, (Con Conrad / J. Russel Robinson)
1923
Bessie Smith
"Chicago Bound Blues"

, (Lovie Austin )
Bessie Smith -
"Mistreatin' Daddy", (Porter Grainger / Bob Ricketts)
1924
Original Memphis Five -
"How Come You Do Me Like You Do"
, (Gene Austin / Roy Bergere).
Original Memphis Five -
"Mobile Blues", (Fred Rose / Albert Short)
1928
Louis Armstrong and his Hot Five -
"Basin Street Blues"
, (Spencer Williams)
1929
Annette Hanshaw -
"If I Had A Talking Picture Of You"
, (from "Sunny Side Up") (Buddy De Sylva / Lew Brown / Ray Henderson)
Fats Waller
"My Fate Is In Your Hands"

, (Andy Razaf / Fats Waller)
1935
Fats Waller and his Orchestra
"I Got Rhythm"

, (Ira Gershwin / George Gershwin)
LYRICS:
Chicago Bound Blues
~by Lovie Austin
Late last night, I sold away and cried
Late last night, I sold away and cried
Had the blues for Chicago, I just can't be satisfied
Blues on my brain, my tongue refused to talk
Blues on my brain, my tongue refused to talk
I was followin' my daddy but my feet refuses to walk
Mean old fireman, cruel old engineer
Lord mean old fireman, cruel old engineer
You took my man and left his mama standing here
Big red headline, tomorrow Defender

1

news
Big red headline, tomorrow Defender news
"Woman dead down home, these old Chicago blues"
I said blues
__________
Note 1:

Chicago area newspaper with mainly black readers, still in existence today.
Mistreatin' Daddy
~Bessie Smith
Daddy, mama's got the blues
The kind of blues that's hard to lose
'Cause you mistreated me
And drove me from your door
Daddy, you ain't heard the news
There's another papa in your shoes
You ain't even got a chance with me no more
So be on your p's and q's1
Mistreating daddy, mistreating mama all the time
Just because she wouldn't let you
Mistreating daddy, mama's drawed the danger line
Yes, you'll cross it, I'll get you
If you see me setting on another daddy's knee
Don't bother me, I'm as mean as can be
I'm like the butcher right down the street
I can cut you all apieces like I would a piece of meat
Mistreating daddy, you used to knock your mama down
When you knew I fell for you
Had me so nervous, I would start dogging 'round
Yes, every time I saw you
But now I've got you off of my mind
And found another daddy who's just my kind
Mistreating daddy, I've got another papa now
I've got a tip for people talking about
I will grab my daddy and turn him wrong side out
Mistreating daddy, I've got a good papa now
brought to you by...
~confetta