T'ain't No Sin, Lyrics by Edgar Leslie
BIRTHDAYS
My Inspiration Is You, Lyrics by Edgar Leslie
1885
Tin Pan Alley lyricist Edgar Leslie enjoyed a long and successful career co-authoring songs for stage and screen, with "Moon Over Miami" ranking as perhaps his best-remembered work. Leslie was born December 31, 1885, in Stamford, CT, and raised in New York, where he began penning songs for vaudeville acts; he got his start as a professional songwriter in 1909 with the publication of "Lonesome."
He soon began working frequently with the young Irving Berlin, setting lyrics to "I Didn't Go Home at All," "Sadie Salome (Go Home!)," and "Someone's Waiting for Me (We'll Wait, Wait, Wait)" the same year; his other collaborations with Berlin included "Don't Put Out the Light" (1911), "There's a Girl in Arizona" (1913), and "Let's All Be Americans Now" (1917). In addition to the latter, Leslie wrote a number of other American-themed songs early in his career, including "America, I Love You" (1915), "Rose of the Rio Grande," "When Kentucky Bids the World Good Morning," "In the Gold Fields of Nevada," and others.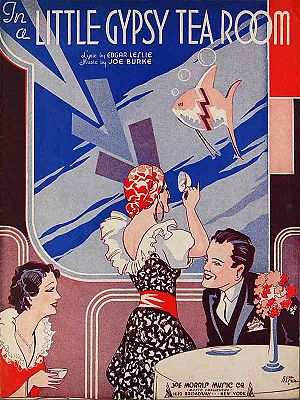 He found his greatest early success writing for Al Jolson, penning the hit "He'd Have to Get Under - Get Out and Get Under (To Fix Up His Automobile)" with Grant Clarke and composer Maurice Abrahams in 1913, as well as 1923's "Dirty Hands, Dirty Face" with Clarke and composer Jimmy Monaco; this latter song was featured in Jolson's seminal talkie film The Jazz Singer. Additionally, in 1917, he wrote "For Me and My Gal" with lyricist Ray Goetz and composer George Meyer, which was also recorded by Jolson but remains most associated with Judy Garland, since it was used as the title song for her 1942 film with Gene Kelly.
Leslie took a trip to England in 1927, where he teamed up with composer Horatio Nicholls (actually the pen name of music publisher Lawrence Wright) on several songs, most notably "Among My Souvenirs," a popular tune that became a hit all over again for Connie Francis in 1959. In 1931, Leslie co-founded the Songwriters Protective Association, which evolved into the present-day Songwriters Guild of America union. He continued on as a successful hitmaker through the '30s, having a hand in such songs as "Midnight Blue" (1936), "Were You Foolin'?," "In a Little Gypsy Tearoom" (a hit for singer Arthur Tracy), "The Moon Was Yellow," "'Tain't No Sin," and many more.
His most enduring success of the era was probably 1935's "Moon Over Miami," written with composer Joe Burke and taken to the top of the charts by bandleader Eddy Duchin. 1945's "Romance," written with Walter Donaldson, was one of Leslie's last efforts; he subsequently retired from songwriting and made a living off of publishing. He passed away in 1976.
Songwriters Hall of Fame - Edgar Leslie Biography
Jonah Jones, trumpet/leader
d. April 30, 2000, New York, NY. USA.
A talented and flashy trumpeter, Jonah Jones hit upon a formula in 1955 that made him a major attraction for a decade; playing concise versions of melodic swing standards and show tunes muted with a quartet. But although the non-jazz audience discovered Jones during the late '50s, he had already been a very vital trumpeter for two decades. Jones started out playing on a Mississippi riverboat in the 1920s. He freelanced in the Midwest (including with Horace Henderson), was briefly with Jimmie Lunceford (1931), had an early stint with Stuff Smith (1932-1934), and then spent time with Lil Armstrong's short-lived orchestra and the declining McKinney's Cotton Pickers.
Cab Calloway and Jonah Jones
Jones became famous for his playing with Stuff Smith's Onyx club band (1936-1940), recording many exciting solos. He gigged with Benny Carter and Fletcher Henderson and became a star soloist with Cab Calloway (1941-1952), staying with the singer even after his big band became a combo. Jones played Dixieland with Earl Hines (1952-1953), toured Europe in 1954 (including a brilliant recording session with Sidney Bechet), and then led his quartet at the Embers (1955), hitting upon his very successful formula. His shuffle version of "On the Street Where You Live" was the first of many hits and he recorded a long series of popular albums for Capitol during 1957-1963, switching to Decca for a few more quartet albums in 1965-1967. Jonah Jones recorded a fine date with Earl Hines for Chiaroscuro (1972) and still played on an occasional basis in the 1980s and early '90s; he died April 30, 2000, at the age of 91.
~ Scott Yanow
Jonah Jones - Wikipedia
d. June 14, 1952 John Kirby led a most unusual group during the height of the big-band era, a sextet comprised of trumpeter Charlie Shavers, clarinetist Buster Bailey, altoist Russell Procope, pianist Billy Kyle, drummer O'Neil Spencer, and his own bass. Although Shavers and Bailey could be quite extroverted, the tightly arranged ensembles tended to be very cool-toned and introverted yet virtuosic. Kirby, originally a tuba player, switched to bass in 1930 when he joined Fletcher Henderson's Orchestra. He was one of the better bassists of the '30s, playing with Henderson (1930-1933 and 1935-1936) and Chick Webb's big band (1933-1935).
By 1937, Kirby had his own group at the Onyx Club; Frankie Newton and Pete Brown passed through the band before the personnel was set. With Maxine Sullivan (Kirby's wife at the time) offering occasional vocals, the John Kirby Sextet was quite popular during 1938-1942. Shavers' "Undecided" became a hit and the band's abilities to "swing the classics" caught on. The sextet gradually declined in the '40s. Spencer became ill and was replaced by Specs Powell and later Bill Beason, Kyle was drafted and Procope was replaced by George Johnson. By 1945, after with Shavers' departure to join Tommy Dorsey, the only original members still in the group were Bailey and Kirby himself.
The following year the band disbanded and despite some attempts by the bassist to form another similar sextet (including a poorly attended Carnegie Hall reunion in 1950), John Kirby was never able to duplicate his earlier successes. Classics has reissued all of Kirby's prime recordings.
Composer Jule Styne,lyricist Sammy Cahn,typewriter,1951.
Most composers worked on Broadway shows before being called to Hollywood. Jule reversed that. He spent ten years writing for films before his successful Broadway career. Among the songs he composed are: "I Don't Want to Walk Without You", "I've Heard That Song Before", "I'll Walk Alone", "It's Been a Long, Long Time", "Poor Little Rhode Island", "Let It Snow, Let It Snow", "The Things We Did Last Summer", "Saturday Night Is the Loneliest Night in the Week", "(Kiss Me Once and Kiss Me Twice) It's Been A Long, Long Time", "There Goes That Song Again", "Five Minutes More", "Three Coins in the Fountain" - an Academy Award Winning tune, "Papa, Won't You Dance With Me", and "I Still Get Jealous". For 1949 Broadway show 'Gentlemen Prefer Blondes', Jule Styne (lyrics by Leo Robin) wrote, and Carol Channing became a star singing, "Diamond's Are a Girl's Best Friend", "I'm Just a Little Girl From Little Rock", "The Party's Over", and "Just in Time".
Jule Styne Biography
Songwriters Hall of Fame - Jule Styne Exhibit Home
1929.
Guy Lombardo and his Royal Canadians'
first annual New Year's Eve broadcast
from the Roosevelt Grill in New York City
heard over the CBS network.
Due to a dispute, the American radio industry was banned from playing any ASCAP-licensed music. The ban lasted ten months, and helped give rise to ASCAP's rival 'Broadcast Music Incorporated'. ( ASCAP- "American Society of Composers and Publishers").
George Lewis, alto sax/clarinet
died in New Orleans, LA, USA.
Roland Hayes, vocals
Chili-Bom-Bom

- Vocal Refrain by Billy Murray and Ed Smalle

Hurdy-Gurdy Blues
University Six -
Under The Clover Moon
When You Are With Somebody Else
Ray Miller's Orchestra -
Who Wouldn't Be Jealous Of You?
- Vocal Chorus by Bob Nolan
LYRICS:
Masculine Women, Feminine Men
~Lyrics by Edgar Leslie
Masculine women, feminine men,
Which is the rooster, which is the hen?
It's hard to tell 'em apart today! And, say!
Sister is busy learning to shave,
Brother just got a permanent wave,
It's hard to tell 'em apart today! Hey, hey!
Girls were girls and boys were boys when I was a tot,
Now we don't know who's who, even what's what!
Knickers and trousers, baggy and wide,
Nobody knows who's walking inside,
Those masculine women and feminine men!
brought to you by...
~confetta