BIRTHDAYS
Dick Ball, Bass/Sousaphone
b. Southwark, London, England, UK.
George "Butch" Ballard, Drums
"Bashfull Brother Oswald", (C&W) Dobro
b. Sevier County, TN, USA.
né: Beecher Ray "Pete" Kirby.
For over thirty years, the 'Bashful Brother' served as one of the most important members of Roy Acuff's 'Smoky Mountain Boys'.
1915
Una Mae Carlisle, Piano/vocals/composer
d. Nov.7, 1956, New York, NY, USA.
Una Mae Carlisle began her professional career working in the Cincinnati radio studios where "Fats" Waller found her. His piano style profoundly affected her. She not only emulated his playing, but, in 1938 while visiting England, even used a Waller-like combo on some recordings. In 1939, back in the USA, she sang on the "Fats" Waller recording of "I Can't Give You Anything But Love".
During 1940-'41, she recorded with her own 'All Star' combo that included Benny Carter, Lester Young and John Kirby, for Bluebird (RCA) records. During 1940, she composed her biggest hit "Walking By The River", and in 1941, wrote "I See A Million People". All during the 1940s she toured with her own group, and even had her own Radio and TV series (late '40s and '51-3). In 1950, she recorded (with Bob Chester and Don Redman) for Columbia records. In 1954, Una retired to Ohio, remaining there until her demise.
UNA MAE CARLISLE
Charles Pathé and
Ruth Roland
at the signing of her contract in 1919
1863
Charles Pathé
Charles Pathé (French: [pate]; 26 December 1863 – 25 December 1957) was a major French pioneer of the film and recording industries.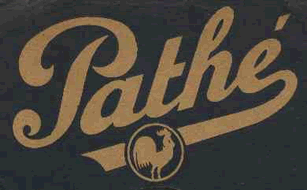 Biography
The son of a butcher shop owner, Charles Pathé was born at Chevry-Cossigny, in the Seine-et-Marne département of France. In 1894, together with his brother Émile, he formed Pathé Records. Two years later they created the Société Pathé Frères to enter the motion picture production and distribution business. Both companies would become a dominant international force in their respective industries.
In 1929, Charles Pathé sold out his interest in the businesses and retired to Monaco where he died in 1957.
Charles Pathé
Pathé
British Pathé
1908
Quinn Wilson, Bass/Tuba/sousaphone/arranger
d. June 14, 1978, Evanston, IL, USA.
This talented bassist is one of the rare examples of a player on this instrument who functioned well in both the traditional jazz and blues idioms. For example, how many bass players could say they had worked with both Jelly Roll Morton and John Lee Hooker? Of course, he played tuba in Jelly Roll's band, but that was what bass players did back then. One could say they don't make them like they used to, and they made few like Quinn Wilson.
He started with violin as a child, going on to study both composition and arranging. He began working professionally around the mid-'20s, and was in demand among leaders such as Tiny Parham, Walter Barnes, and Erskine Tate, with whom he worked regularly for three years beginning in 1928. His assignment with Jelly Roll Morton was more of a temporary thing, including recordings done in 1927. He also recorded with the interesting pianist and bandleader Richard M. Jones in 1929. In the '30s he played with the exciting bands of Earl Hines serving busily as both a bassist and arranger from 1931 through 1939.
During this time he also cut sides on bass with Jimmie Noone, the low end brass instruments seemingly now collecting dust in the closet. Big changes loomed ahead for him musically in the next few decades. He was innovative in picking up the electric bass, which increased the amount of freelance work he could get. He gigged for more than a decade with the rhythm & blues group of Lefty Bates and recorded with many blues singers including the great John Lee Hooker. At least a half-dozen fine Hooker albums feature Wilson on bass, and he does a better job following this elusive master of non-chord changes than most bassists.
The Fantasy "two-fer" double-album reissue entitled Boogie Chillun is a good example of what happens when Wilson boogies with the hook. He also kept up his jazz chops, playing with the clarinetist Bill Reinhardt in the '60s trumpeter Joe Kelly in the following decade.
~ Eugene Chadbourne


Eva Gauthier, with a Javanese Headdress.
1958.
Eva Gauthier,
Canadian mezzo-soprano (Ottawa)

died in New York City.
Paul Whiteman was in the audience of Gauthier's historic 1923 recital in New York, during which she sang the music of Irving Berlin, Jerome Kern, and George Gershwin (with Gershwin at the piano). Whiteman was so impressed with Gershwin's talent that he commissioned him to write a work for piano and orchestra, which resulted in a piece Gershwin named "Rhapsody in Blue".
Al Norris, guitar died.
Played with Jimmy Lunceford band.
Leslie Thompson, trumpet died in London, UK.
Songs
Recorded/Released
1923
Bailey's Lucky Seven
"Eileen"

"I Wonder Who's Dancing With You Tonight

", (Henderson)"
1925
Paul Whiteman and his Orchestra - "I'll See You in My Dreams" - (Isham Jones)


1928



The California Ramblers - "Glad Rag Doll"
Bill Brown and his Brownies -
"What Kind Of Rhythm Is That?"
- (Easton)
"Zonky"

- (Andy Razaf / Fats Waller )


1941




Glenn Miller Orch. - White Cliffs Of Dover
Charlie Spivak Orch.
1945
Glad Rag Doll
Composed by Milton Ager with lyrics by Jack Yellen and Dan Dougherty
1928.
All dolled up in your glad rags,
But tomorrow may turn to sad rags,
And they call you Glad Rag Doll!
I know that you're admired,
I know that you're desired
But only by the fellows who soon grow tired,
My poor little Glad Rag Doll!
You're just a pretty little toy the boys like to play with,
You're not the kind that they choose to grow old and grey with!
Now don't you make this, this the end dear,
It's never too late to make amends dear,
My poor little Glad Rag Doll!
You're just a pretty little toy the boys like to play with,
You're just a toy for them today,
So listen to the things I say!
Now don't you make this, this the end dear,
It's never too late to make amends dear,
My poor little Glad Rag Doll!


brought to you by...
And all those who have provided content, images and sound files for this site.