Happy Birthday Harry Warren !!
BIRTHDAYS
1893
Carl Brisson, Danish film actor and singer
Carl Brisson (24 December 1893 – 25 September 1958), born Carl Frederik Ejnar Pedersen, was a Danish film actor and singer. He appeared in twelve films between 1918 and 1935, including two silent films directed by Alfred Hitchcock. In the 1934 film Murder at the Vanities, he introduced the popular song "Cocktails for Two".
He was married to Cleo Willard Brisson from 1915 to his death, and was the father of producer Frederick Brisson and father-in-law of Frederick's wife, actress Rosalind Russell.
Career
Prior to his acting and singing career he was a prizefighter for a few short spells between 1912 and 1915. He attracted attention when he appeared as Prince Danilo in the 1923 London production of The Merry Widow at Daly's. He appeared in the same role when it was revived at the Lyceum Theatre the following year, and frequently reprised.
In August 1924, he toured the provinces as Karl in Katja the Dancer, eventually returning to London to appeared in The Apache at the London Palladium and later made his screen debut in Hitchcock's The Ring.
He died of jaundice in Copenhagen.
IMBD
d. Feb. 14, 1959, early on -in New Orleans - played with Louis Armstrong, King Oliver and Papa Celestin.
Baby Dodds was one of first great drummers of Jazz and the brother of Johnny Dodds. Baby got his start playing in parades in New Orleans, occasionally with Frankie Dusen's Eagle Band. He played briefly with his brother in Kid Ory's Band, but was embarrassed when all the musicians walked off stage because of his poor playing. This incident spurred him on to become a better musician. He played in several other bands in New Orleans before joining Fate Marable's riverboat band in 1918. While working on the riverboat he played with Louis Armstrong, Johnny St. Cyr, Pops Foster, among others. He stayed in Marable's band until King Oliver asked him to join his band in San Francisco in 1921. Dodds followed Oliver to Chicago and was the drummer in King Oliver's Creole Jazz Band. After the breakup of that band Dodds worked with Honore Dutrey at the Dreamland in Chicago and with several other bands in the city.
From 1927 to 1929 Baby Dodds played in his brother's band at Kelly's Stables along with Freddie Keppard. He was the drummer on many of the classic Chicago Jazz recordings of Jelly Roll Morton's Red Hot Peppers and Louis Armstrong's Hot Seven. Throughout the Depression, Baby played in many of the small groups led by his brother Johnny Dodds and helped run a taxi cab company in Chicago. When his brother died in 1940, he went on to play with Jimmie Noone and with Bunk Johnson. After 1949 Dodds had a series of strokes that left him partially paralyzed, but still managed to play from time to time up until his death in 1959.
Drummerworld: Warren Baby Dodds
1900
Roy E. Blackwood, Baritone vocals
Member: 'The Blackwood Brothers', a "Gospel" vocal group formed in 1934.
Henry Coker, Trombone
Studied piano and harp in Wiley College (Washington, TX).
1917
Carolyn DeZurick
, vocals
b. Royalton, MN, USA.
Member group: "DeZurik Sisters" (aka: the "Cackle Sisters") consisted of Carolyn DeZurick (Singer/Guitar, b. Dec. 24, 1919 Royalton, Minnesota), Mary Jane DeZurick (Singer, b. Feb. 1, 1917 Royalton, Minnesota), Eva DeZurick (Singer, b. Royalton, Minnesota) and Lorraine DeZurick (Singer, b. Royalton, Minnesota). The DeZurik Sisters were the first women to become stars on both the National Barn Dance and the Grand Ole Opry, largely a result of their original yodeling style.
Born and raised on a farm in Royalton, Minnesota, Mary Jane (1917-1981) and Carolyn Dezurik (b. 1918) were part of a family of seven. Their father Joe played fiddle, their sisters sang, and their brother Jerry played accordion and guitar. Inspired by their family and the sounds of the animals and birds around them, they developed an astonishing repertoire of high, haunting yodels and yips that soon had them winning talent contests all over central Minnesota. In 1936, they signed a contract to appear regularly on Chicago radio station WLS (AM)'s National Barn Dance, and were hired in 1937 to perform on Purina Mills' Checkerboard Time radio show, where they sang as The Cackle Sisters.
In 1938, the sisters recorded six songs for Vocalion Records: "I Left Her Standing There" (Vocalion 4616-A), "Arizona Yodeler" (Vocalion 4616-B), "Sweet Hawaiian Chimes" (Vocalion 4704-A), "Guitar Blues" (Vocalion 4704-B), "Go To Sleep My Darling Baby" (Vocalion 4781-A) and "Birmingham Jail" (Vocalion 4781-B). Those six songs were the only tracks the duo would ever commit to vinyl, although some recordings exist of their appearances on Checkerboard Time.
Both sisters married musicians they had met at WLS—Carolyn accepting a proposal from Ralph "Rusty" Gill, a singer and guitar player, on September 1, 1940, and Mary Jane saying yes to Augie Klein, an accordionist, before the month was out. In 1943, Rusty and Augie were drafted into World War II and Mary Jane had taken what proved to be a short-lived retirement to look after her new family. Carolyn joined Sonja Henie's Ice Review for a year or so, afterwards returning to Minnesota for a series of appearances on radio station KSTP (AM). Mary Jane rejoined her sister in 1944, doing road dates with Purina and regular shows at Nashville's Grand Ole Opry.
Rusty was discharged from Army in 1946 and returned to WLS with his old band, The Prairie Ramblers. Mary Jane retired for good the next year so Carolyn recruited their sister Lorraine, and the new DeZurik Sisters returned to WLS in Chicago as well. By 1951, after a stint at Cincinnati's WLW, Lorraine had retired and Carolyn had joined the Ramblers as their new female vocalist, filling a decade-long vacancy created by the absence of legendary trick yodeller Patsy Montana. Carolyn and Rusty moved back to Chicago, where they began appearing with the Ramblers on the daily variety show Chicago Parade, airing on WBKB-TV (now WBBM-TV and WLS-TV).
Lorraine lives in Washington state with her husband. Carolyn and Rusty still live in the Chicago area. Years after the height of their fame, Carolyn recalled that the DeZurik Sisters achieved their sound simply because she and Mary Jane "listened to the birds and tried to sing with the birds."
Sid Feller, Leader/trumpet
d. Feb.16, Beachwood, Ohio, USA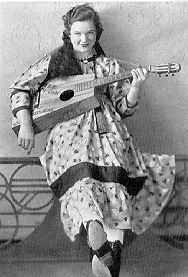 1913
"Lulu Belle"

C&W vocals/guitar
b. Boon, NC, USA.
née: Myrtle Eleanor Cooper.
Member group: "Lulu Belle and Scotty".
For a generation from 1934, Lulu Belle and Scotty were America's leading Country husband-wife team. For 20 years, they starred on the 'National Barn Dance' show heard over Chicago's radio station WLS, and then spent a shorter period on the "Boone County Jamboree" show over WLW Cincinnati. They were also seen in several motion pictures. After retiring, Scotty earned a Master's degree at Northwestern University, then taught school, farmed, and served as a bank director. His wife Lulu Belle participated in community activities, and in the mid-1970's, served two terms in the North Carolina legislature representing Avery, Burke, and Mitchell counties (as a Democrat in a normally GOP district).
1914
Ralph Marterie,

Leader/trumpet
b. Naples, Italy
d. 1978.
Raised in Chicago, IL, USA, and a Pro by age 14.
Bio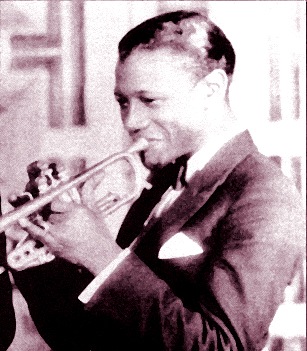 1908
"Jabbo" Smith
Trumpet/Vocal
b. Pembroke, GA, USA.
d. Jan. 16, 1991.
né: Cladys Smith.
Jabbo Smith had one of the oddest careers in jazz history. A brilliant trumpeter, Smith had accomplished virtually all of his most significant work by the time he turned 21, yet lived to be 82.
He learned to play trumpet at the legendary Jenkins Orphanage in Charleston, and by the time he was 16, Smith showed great promise. During 1925-1928 he was with Charlie Johnson's Paradise Ten, a top New York jazz group that made some classic recordings.
Smith was on a recording session with Duke Ellington in 1927 (resulting in a memorable version of "Black and Tan Fantasy") and played in the show Keep Shufflin' with James P. Johnson and Fats Waller. The high points of Smith's career were his 1929 recordings with his Rhythm Aces. These superb performances feature Smith playing with daring, creativity, and a bit of recklessness, displaying an exciting style that hints at Roy Eldridge (who would not burst upon the scene for another six years). But, although Jabbo Smith at the time was considered a close competitor of Louis Armstrong, he had hit his peak. His unreliability, excessive drinking, and unprofessional attitude resulted in lost jobs, missed opportunities, and a steep decline.
After playing with one of Claude Hopkins' lesser orchestras during 1936-1938, Smith settled in Milwaukee and became a part-time player. Decades passed, and when he was rediscovered in the 1970s (when he was picked to perform in the musical show One Mo' Time), he was a weak player, a mere shadow of what he could have been.
~ Scott Yanow
Jabbo Smith - Wikipedia
BIO AND SOUND FILES
d. Sept. 22, 1981, Los Angeles, CA.
Some of his hit songs are: "Rose of the Rio Grande", "Nagasaki", "You're My Everything", "I Found a Million Dollar Baby in a Five-and-Ten Cent Store", "Shuffle Off to Buffalo", "Forty-second Street", "Lullaby of Broadway" (his first Academy Award), "She's a Latin From Manhattan", "Jeepers Creepers," "You Must Have Been a Beautiful Baby", "Chattanooga Choo Choo", "There Will Never Be Another You", "I've Got a Gal in Kalamazoo," "On the Atchison, Topeka and Santa Fe", lyric Johnny Mercer, "Serenade in Blue", "I Had the Craziest Dream", "Highland Fling", lyric by Ira Gershwin. and "That's Amore" (a Dean Martin hit vocal). Warren was the first major American song composer to write primarily for film.
MORE
www.pbs.org/
Harry Warren Music
1904
Daniel K. Womack, guitar/piano/harmonica
b. Keeling, VA, USA.
né: Obediah Donmell Jessie.
Notable Events Occurring
On This Date Include:
Reginald A. Fessenden, the Canadian-born radio inventor became the first person to broadcast a music program over radio. Originating from a transmitter in Brant Rock, Massachusetts, USA, the show had a female singer with Fessenden himself playing "O Holy Night" on the violin. Fessenden was the discoverer of the superheterodyne principle -- the basis for all modern radio receivers.
1958.
Bob Womack, drums died in Indianapolis, IN, USA.
Age: 68.
Worked with both Tiny Bradshaw, and Lucky Millinder.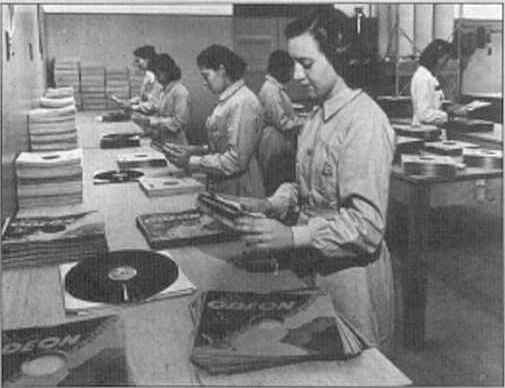 Songs Recorded/Released
On This Date Include:
1923
King Oliver's Jazz Band - "Mabel's Dream" - (1622-1), (Ike Smith)
Red Onion Jazz Babies - "Nobody Knows The Way I Feel This Morning" - (Tom Delany)
Paul Whiteman and his Orchestra
-
"Sweet and Low Down"
- (George Gershwin / Ira Gershwin)
Original Indiana Five - "Delilah" - (Rose / Fisher)
The Goofus Five -
"I Need Lovin'" - (James P. Johnson / Henry Creamer)
Harry Reser and his Orchestra
Pat Dollohan Orchestra
"Just For You And Me"

"My Supressed Desire"
Walter Barnes and his Royal Creolians
Ben Pollack and His Park Central Orchestra
"Futuristic Rhythm" - (Dorothy Fields / Jimmy McHugh
1936
Fats Waller and his Rhythm - "I'm Sorry I Made You Cry" - (N.J. Clesi)
~confetta
The Red Hot Jazz Archives,
The Big Band Database
,
Scott Yanow
,
And all those who have provided content, images and videos for this site.