HAPPY BIRTHDAY TED FIO RITO
BIRTHDAYS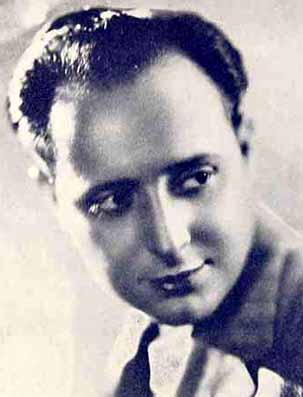 1900
Ted Fio Rito, Leader/piano
d. July 22, 1971, Scottsdale, AZ, USA.
Theodore Salvatore Fiorito (December 20, 1900, Newark, New Jersey - July 22, 1971, Scottsdale, Arizona) used Ted Fio Rito as his professional name. His name is sometimes given as Ted Fiorito or Ted FioRito. With a career spanning decades, he was a composer, orchestra leader and keyboardist (on both the piano and the Hammond organ). He had numerous hit recordings, notably his two number one hits, "My Little Grass Shack in Kealakekua, Hawaii" (1934) and "I'll String Along with You" (1934).
He composed more than 100 songs, collaborating with such lyricists as Ernie Erdman, Gus Kahn, Sam Lewis, Cecil Mack, Albert Von Tilzer and Joe Young. The orchestra's vocalists included Jimmy Baxter, Candy Candido, the Debutantes, Betty Grable, June Haver, the Mahoney Sisters, Muzzy Marcellino, Joy Lane (1947-1951), Billy Murray (the Denver Nightingale), Maureen O'Connor, Patti Palmer, Kay and Ward Swingle.
His career began in the Columbia recording studios as a pianist with Harry Yerkes bands, recording for Yerkes' Novelty Five, Yerkes' Jazarimba Orchestra and the Happy Six in 1919-20. He moved to Chicago in 1921 to join Dan Russo's band and the following year was the co-leader of Russo and Fio Rito's Oriole Orchestra. When Russo and Fio Rito opened at Detroit's Oriole Terrace, their band was renamed the Oriole Terrace Orchestra. Their first recordings (May 1922) included Fio Rito's "Soothing."
The band returned to Chicago for a booking at the Edgewater Beach Hotel, where they did their first radio remote broadcast on March 29, 1924. In August 1925, the Russo-Fio Rito orchestra opened Chicago's new Uptown Theatre. They opened the famous Aragon Ballroom in July 1926, doing radio remotes nationally from both the Aragon and the Trianon ballrooms. Dan Russo left the band in 1928, and Fio Rito took over as leader, touring the midwest with engagements in St. Louis, Kansas City and Cincinnati.
In August 1929, the band's first recording without Russo featured Ted Lewis on clarinet and vocal. Billed as Ted Fio Rito and His Edgewater Beach Hotel Orchestra, they headed for San Francisco to fill in for the Anson Weeks orchestra at the Mark Hopkins Hotel. *Radio Fio Rito reached a national audience through syndicated and network radio programs.
In Chicago, the band was heard on the Brunswick Brevities program, and they were the featured orchestra on NBC's Skelly Gasoline Show in New York. They broadcast on many 1930s radio programs, including The Old Gold Hour, Hollywood Hotel, The Al Jolson Show, Frigidaire Frolics and Clara, Lu and Em.
During the 1940s, the band's popularity diminished, but Fio Rito continued to perform in Chicago and Arizona. He played in Las Vegas during the 1960s.
Fio Rito is mentioned in The Honeymooners episode Young at Heart that first aired on February 11, 1956, written by Marvin Marx and Walter Stone, and directed by Frank Satenstein. Ralph Kramden (Jackie Gleason) and Ed Norton (Art Carney) are reminiscing about the bands from their youth, and also mention Isham Jones, Basil Fomeen, Little Jack Little and Johnny Messner and his toy piano.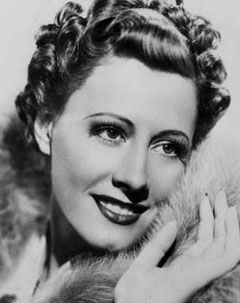 1898
Irene Dunne, Actress/vocalist
b. Louisville, KY, USA.
d. Sept. 4, 1990, Los Angeles, CA, USA.
née: Irene Marie Dunne.
Daughter of Joseph Dunne, a steamships inspector, and Adelaide Henry, a musician who prompted Irene in the arts. She was just 12 when her father died the remaining family moved to Madison, Indiana to live with her maternal grandparents. While in Madison, Irene studied voice and took piano lessons and earned some extra money singing in the Christ Episcopal Church choir on Sundays.
Save
Save