HAPPY
BIRTHDAY LILLIAN ROTH !!!
BIRTHDAY
S
1910
Early life
The follow
ing year she made her Broadway debut in The Inner Man. Her motion picture debut came in 1918 in Pershing's Crusaders.
Together with her sister Ann she toured as "Lillian Roth and Co." At times the two were billed as "The Roth Kids". One of the most exciting moments for her came when she met U.S. President Woodrow Wilson. The President took Lillian and her sister for a ride around the block in his chauffeur driven car, after attending a performance of their vaudeville act.
1916
Betty Bradley, Vocal
b. New York, NY, USA.
d. 1988.
1895
Sonny Greer, Drums
b. Long Branch, NJ, USA.
d. March 23, 1982, USA.
Drummer with Duke Ellington for over a quarter of a century.
~Biography
He was never the greatest timekeeper, but Sonny Greer was perfect for Duke Ellington's Orchestra during 1924-1951, adding color and class to the rhythm section. He met Ellington in 1919 when he was a member of the Howard Theatre's orchestra in Washington, D.C. Greer visited New York for the first time with Elmer Snowden and was an original member of Ellington's Washingtonians, which was a five-piece group at its start. Greer's playing grew with the band, and his large array of sounds (using a drum set that included a gong, chimes, timpani, and vibes) added to the Ellington band's "jungle sound."
He was with the orchestra until 1951 when, after a few arguments with Ellington over his drinking and increasing unreliability, Greer left to join Johnny Hodges' new group. He later worked with Red Allen, Tyree Glenn, and J.C. Higginbottham; in 1967 led his own band; and played with Brooks Kerr's trio in the 1970s.
~ Scott Yanow
Sonny Greer - Wikipedia
1914
George "Tiger" Haynes, guitar/bass
b. St. Croix, Virgin Islands.
No formal musical training. Father and brother taught him. First fame in 1945 when he joined The Three Flames playing at NY's Bon Soir for 3 years. Had his own NBC series for 39 weeks.
Tiger Haynes (December 13, 1914 - February 14, 1994) was an American actor and musical performer. (sometimes billed as Colonel Tiger Haynes).
He was born as George Haynes in Frederiksted, St. Croix, and moved to New York when he was a boy. An ex-boxer, Haynes played guitar with The Three Flames from 1945 to 1956, a group which had its own NBC radio show in the mid-1940s and a television show on NBC television in 1949. He made his mainstream Broadway debut in Leonard Sillman's musical revue New Faces of 1956. He is best known for his portrayal of the Tin Man in the original Broadway cast of the Wiz. He also made several television appearances on programs such as The Cosby Show (1989) and In the Heat of the Night (1989), as well as numerous minor film appearances in films such as All That Jazz (1979) and Ratboy (1986).
Tiger Haynes - Wikipedia
Marcelle - Music by Gustav Luders
1865
Gustav Luders
b. Bremen, Germany
d. January 1913, New York, NY, USA.
Luders, Gustav (1865–1913), composer. A thoroughly trained musician, he immigrated from his native Bremen in 1888, settling first in Milwaukee and then in Chicago. Luders was a theatre conductor there when he wrote his first score for Little Robinson Crusoe (1899). Thereafter he wrote most of his shows with either Frank Pixley or George Ade. His most notable musicals were
The Burgomaster
(1900),
King Dodo
(1902),
The Sho‐Gun
(1904),
Woodland
(1904),
The Grand Mogul
(1907),
The Fair Co‐ed
(1909), and
The Old Town
(1910), but his finest score was for
The Prince of Pilsen
(1903).
Although popular in their era, none of his songs is remembered today. Luders's range as a melodist was restricted, and he appeared not to grow artistically. Nevertheless, at his best his was a small, clear, and enchantingly sweet musical voice.
Gustav Luders - IBDB: The official source for Broadway Information
1864
Emil Seidel, composer/pianist/publisher
b. Ashland, PA, USA.
In 1920, he cust a piano roll of "Home Again Blues", by Irving Berlin and Harry Akst. In 1927, Seidel's orchestra was the first to record Hoagy Carmichael's song "Stardust", in a ragged, up-tempo instrumental rendition with Hoagy playing piano. Emil Seidel and his Orchestra also recorded "Beautiful" on Jan. 9, 1928. Seidel also published a good many "Rags".
Emil Seidel - Wikipedia
1917
Wesley Tuttle, C&W bandleader/Singer-Songwriter/Guitar
b. Lamar, Colorado, USA.
Wesley, a left-handed guitarist, played with a slight handicap, -he had only two fingers. However, he could keep us a good rhythm and did quite a bit of sessions work. At one time, Wesley led the house band at the Painted Post, a nightclub owned by old-time cowboy star Hoot Gibson. He also played with Merle Travis (then with the 'Drifting Pioneers'), and subsequently played with the 'Sons of the Pioneers'.
During the 1940's, he appeared in several "B" musical Westerns, and recorded many songs for the Capitol until leaving the label in 1957. That's when he left his music career, and entered the ministry. He and his wife Marilyn did turn out some duet albums on the Sacred label. (Marilyn had been a member of the the 'Sunshine Girls', a Western back-up group with, at various times, June Weidner, Vivian Earls and Colleen Summers (Mary Ford). The ladies had appeared in Shirley Temple movies as well as some Western films.)
Notable Events Occurring
On This Date Include:
1948.
After an 11-1/2-month strike, musicians belonging to the American Federation of Musicians went back to work.
1981.
"Pigmeat" Markham, comedy
died in New York (Bronx), NY, USA.
Age: 77.
b. 1904, Dewey, NC, USA, Basically, recalled as a fine comedian. His catch phrase, 'Here Comes The Judge', became a 'standard' and was used by many other comedians, including on the 'Rowan and Martin Laugh-In' shsow. Markham began his career in 1917, working in touring Minstrel Shows. Also worked the southern 'race' circuit with Blues singer Bessie Smith and subsequently appeared on Burlesque bills with future comedy stars Eddie Cantor, Milton Berle, and Red Buttons. In the 1960s, he was signed by the Chess label who issued several of his "in concert" albums. His comedic song, "Here Comes The Judge" was also covered by Shorty Long, but Pigmeat's version did enjoy a Top 20 place in both the USA and in England.)



Songs Recorded/Released
On This Date Include:
1923
Esther Bigeou -
(Esther Bigeou / Clarence Williams )
"You Ain't Treating Me Right
1924
Bessie Smith -
(Jack Gee) -
"Dying Gambler's Blues"
1926
Bennie Moten's Kansas City Orchestra -
"Yazoo Blues", (Bennie Moten )
1927
Coon Sanders Nighthawks Orchestra -
"Wabash Blues", Vocal refrain by C.A. Coon and J.L. Sanders, (Dave Ringle / Fred Meinken)
Louis Armstrong and his Hot Five -
"Hotter Than That"
, (Lil Hardin)
Louis Armstrong and his Hot Five -
"Savoy Blues"
, (Kid Ory)
"If I Can't Have You (I Want To Be Lonesome, I Want To Be Blue)"

, Vocal refrain by Tom Waring, (Walter Donaldson)
1928
Tom Gerunovitch and his Roof Garden Orchestra
-
"I Found You Out When I Found You In (Somebody Else's Arms)"
, (O'Flynn / Ponce)
"(You're Not Asking Me) I'm Telling You"

, (Rose / Lewis / Young)
Original Tuxedo Jazz Orchestra -
"Ta Ta Daddy"
, (Papa Celestin )
1929
Fred Hamm and his Orchestra
"Remarkable Girl"

, (Henry Creamer / Lou Handman) -

"We Love Us"

, (Sanders / Moore)
Louis Armstrong and his Orchestra -
"Rockin' Chair",
Hoagy Carmichael
Annette Hanshaw -
"When I'm Housekeeping For You"
, (Howard / Gorney)
1934
Paul Whiteman's Orchestra ON THE AIR
"Basin Street Blues"

(vocal by Jack Teagarden)

"Dance For Me" (vocal by Ken Darby)

"Once Upon A Time"

, (vocal and piano by Ramona Davies)

"No, No, A Thousand Times No!"

(vocal by the King's Men)
1940
Will Bradley Orch. -
Down The Road A Piece
Glenn Miller Orch.
A Nightingale Sang In Berkeley Square
1945
1946
LYRICS: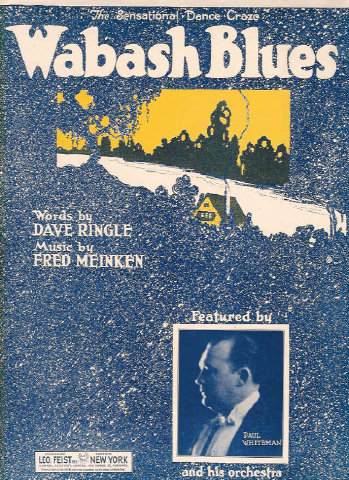 I feel that I could die.\
Candle light that gleams
Taunts me in my dreams.
I'll pack my walking shoes
To lose those Wabash Blues.
Down The Road A Piece
If you wanna hear some Boogie, then I know the place
It's just an old piano and a knocked out bass
The drummer man's a guy they call eight beat Mac
You remember Doc and old Beat Me Daddy Slack
Mammy's sellin' chicken fried in bacon grease
Well come along with me boys it's just down the road a piece.

Now there's a place you really get your kicks
It's open every night about twelve to six
If you wanna hear some boogie then you'll get your fill
Puts the eight beat to you like an old steam mill
Come along with me boys 'fore they lose their lease
It's just down the road, down the road a piece.
brought to you by...
~confetta