Happy Birthday Gus Haenschen
aka "Carl Fenton"
BIRTHDAYS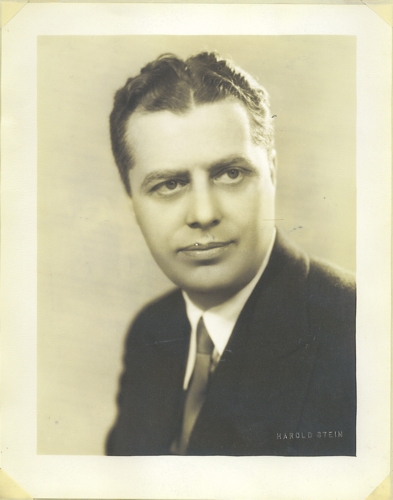 1889
Gus Haenschen
aka
Carl Fenton

leader/piano/composer/producer
d. 1980
Walter Gustave Haenschen (later called Gus) was born to a family of Swedish-German extraction in St. Louis. At age 13, Haenschen was helping support his family through playing ragtime piano in St. Louis nightclubs; ultimately, Haenschen befriended composer Scott Joplin. At Washington University, Haenschen led a popular dance band that played a mixture of ragtime and salon music, and through the influence of family friend, the brewer Augustus Stroh, helped Haenschen's band get a gig playing during the breaks at St. Louis Cardinals baseball games.

Carl Fenton's Orchestra, from the 1924 Brunswick catalog
.
Although this photo was widely published for several years, the orchestra members
were never named.
Haenschen (piano) is identifiable.
The bass player
apparently is a ringer; the instrument could not be recorded adequately by the
acoustic process. Tuba player John Helleberg was substituted, according to the
By 1916, Haenschen was leading a string band billed as W.G. Haenschen's Banjo Orchestra. That year, this group made Columbia Personal recordings for distribution at the band's gigs in St. Louis; among the titles was "Maple Leaf Rag" in one of just a few records made of the number during Scott Joplin's lifetime. Before Haenschen entered into the Army, he worked a day job managing the record department of a large department store in St. Louis. Haenschen's combined experience as a working musician, music merchandiser, and composer ("La Rosita," written under the pseudonym of Paul Dupont, was Haenschen's biggest hit) made him a natural choice for work in the early record industry. When Haenschen returned from the overseas conflict in 1919, he accepted an offer from the newly organized recording division of the Brunswick-Balke-Collender Company (maker of bowling balls, billiard supplies, and phonographs) to work as its musical director.

Haenschen was the chief musical director at Brunswick from the start of its U.S. operation in the fall of 1919 until his resignation on July 1, 1927. During this time, Gus Haenschen supervised and/or arranged literally hundreds of dance records by a variety of orchestras, including those of Ben Bernie, Gene Rodemich, Ray Miller, Isham Jones, and Benny Krueger. When Haenschen led the records himself, the credit on record bore a fictional name, "Carl Fenton," which Haenschen and Brunswick had devised at the end of World War I so as not to offend consumers who were still subject to the anti-German sentiment that ran so high in America at that time. When the "Fenton" orchestra made public appearances, it was led by violinist Ruby Greenberg.

During Haenschen's tenure at Brunswick, the label's records were selling like hot cakes, posing a serious threat to the dance divisions at Victor and Columbia. Haenschen's arrangements are distinctive, being marked by a gentle sense of swing and relaxation and set at tempos that were always good for dancing. When Al Jolson came to Brunswick from Columbia in late 1923, Haenschen devised the first truly sympathetic accompaniments to Jolson's voice on record. As a result, Jolson's Brunswicks are artistically the most satisfying of his recordings. Haenschen is also credited for suggesting that singers Billy Jones and Ernest Hare pool their talents, resulting in the the Happiness Boys, one of the most popular acts in early radio. Haenschen was still interested in good string players and helped foster the early careers of guitarist Nick Lucas and banjoist Harry Reser.

In 1927, there was a shake-up in the management at Brunswick and Haenschen decided to side with co-workers who had been forced out of the company. After briefly entertaining the idea of starting his own label, Haenschen decided to work in radio as a leader and music director. In 1929, Haenschen was named a music supervisor at Sound Studios in New York, whose primary product was the World Broadcast Transcription series of recordings used in radio. This would be Haenschen's main job into the 1950s, in addition to working as a musical director for various NBC radio programs and with the Voice of Firestone series of broadcasts originating from the Metropolitan Opera.

Haenschen would only seldom return to lead commercial records during the latter part of his career, and these few recordings were all related to his radio work, backing up trained singers such as Jessica Dragonette, Thomas L. Thomas, Marguerite Daum, and others. In an interview conducted in the last decade of his life, Haenschen expressed regret that he had gotten out of the record business so early and had "never put out a record with my name on it." One may argue with this point, as some Carl Fenton records are shown as being "arranged by Gus Haenschen." But Haenschen was essentially correct; he had always remained so far in the background in terms of billing that establishing any meaningful public recognition for his good work proved impossible in his own lifetime. Rather than grieve over this lost cause, in his last years Haenschen devoted his time and some of his considerable earnings in order to conduct a series of interviews with recording pioneers, sponsored under the auspices of The Gustave Haenschen Collection at Ithaca College, an institution Haenschen himself founded.
~ Uncle Dave Lewis
Solid! -- Gus
Hänschen
d: June 18, 1969, Las Vegas, NV, USA.
Milt Herth knew what he was going to do from the moment he saw the first Hammond organ displayed and demonstrated in the lobby of the Hammond Clock Company, circa the early '30s in Chicago. Organ history could practically be called "herth-tory" based on his subsequent pledge of dedication, which was to play the Hammond organ and document it in every way possible, from publishing organ solo sheet music to recording dozens of albums. An account of the 1938 Princeton College reunion provides a daily slice of life for this artist: "The feature of the event was Milt Herth, who with his electric organ produced an unprecedented marathon of music."
One of Herth's main musical vehicles was a trio he fronted featuring the combination of organ, a regular pianist, and a drummer. The word "regular" is used to differentiate the piano from the organ, not to describe Herth's choice of pianists, which included the amazing
Willie "The Lion" Smith
. Herth collaborators in these small groups also included pianist
Billy Kyle
, who also worked with
Louis Armstrong
regularly, drummer O'Neil Spencer, and guitarist
Teddy Bunn
. The organist's professional break came in 1935 when he was appropriately hired by Indiana radio station
WIND
as an organist.

Developing a repertoire that would include titles such as the tasty "Home Cookin' Man With a Fryin' Pan," the creepy if sanctified "Goblins in the Steeple," the thrifty if romantic "Honeymoonin' on a Dime," and the predictably wimpy "Sissy," Herth also fashioned a way of enunciating phrases as if tossing darts at a typewriter, so natural to the style of the Hammond that many other organists were not able to find a way around imitation. Herth's quartet began recording for
Decca
in the second half of the '30s. Reissue collections of early
Willie "The Lion" Smith
performances have also included material from his berth in the Herth combo.
~ Eugene Chadbourne
Milt Herth - Wikipedia
Milt Herth: Information from Answers.com
1919
Francis L. "Joe" Howard, trombone

b. Batesville, IN, USA.
Studied music as a child and later in L.A. City College. Played with such bands as Stan Kenton, Ben Pollack, Will Osborne, Woody Herman, Gene Krupa; Free-lanced Hollywood ('48- '55)'; In MBC Staff Orch '55
JOE HOWARD
1915
John "Cal" Maddox

C&W Vocals/Guitar/Harmonica
b. Boaz, AL, USA.
né: John Calvin Maddox.
Member: "Maddox Brothers & Rose"
During the Economic Depression days of 1933, Charlie and Lula Maddox, together with their five young children (Cal, Henry, Fred, Don and Rose, -ages ranging from 7 to 16), illegally boarded freight trains and headed for California. They eventually settled near Bakersfield and found work as migrant farm harvesters ("fruit tramps"). A very musical family, they were soon playing at local dances to enhance their income.
In 1937, they first appeared on Modesto radio station KTRB, but disbanded in 1941 owing to Cal, Fred, and Don being drafted to serve in the U.S. Army during WWII. By then, they had become a very popular act, due initially to appearances on Sacramento's powerful radio station KFBK. In 1946, they reformed as "The Maddox Brothers & Rose", and became popular over a wide area. The mid-1940's through the mid-1950' were their prime years, during which they billed themselves as "the most colorful hillbilly band in America". In the 1950s, Rose began a very successful solo career which lasted until ended by several heart attacks.
The Maddox Brothers & Rose
1907
Joe "Stride" Turner, Piano/Vocal

b. Baltimore, MD, USA.
d. July 21, 1990, Paris, France.
Worked with singer Adelaide Hall. Not related to blues singer "Big Joe" Turner.
Though endlessly confused with the singer Big Joe Turner, pianist Joe Turner came from a completely different direction, following the
James P. Johnson
/
Fats Waller
stride tradition, armed with a superb technique and a fine sense of swing. He started to learn the piano from his mother at age five and began to make a name for himself in Harlem as a teenager shortly after his move to New York in 1925.
He was an accompanist to
Adelaide Hall
in a duo with first Alex Hill and then Francis Carter, the latter with whom he and Hall toured Europe in 1931. He remained in Europe through 1939 when war broke out, upon which he returned to the U.S. to work as a singer. After playing with
Sy Oliver
's army band in 1944-1945 and
Rex Stewart
in 1946, Turner returned to the continent, residing in Hungary in 1948 and then Switzerland from 1949 to 1962. He settled in Paris in 1962 in a residency at La Calvados, continued to play engagements elsewhere in Europe and occasionally the U.S., and eventually survived to became the last major active stride pianist of his era. Among the few albums of his in print is a 1984 project with
Knocky Parker
and his Houserockers on
Southland
(beware: the
Schwann
catalog mistakenly includes some Big Joe Turner albums in the Joe Turner listing).
~ Richard S. Ginell
Joe Turner: Information from Answers.com
Notable Events Occurring
On This Date Include:
Songs Recorded/Released
On This Date Include:
1921
All Star Trio and their Orchestra
1924
Charles Creath's Jazz-O-Maniacs
"Grandpa's Spells"

, (Jelly Roll Morton )

"Market Street Stomp"

"Way Down Lovers Lane"
1925
Lee Morse and her Bluegrass Boys
"I Love My Baby (My Baby Loves Me)"
1926
Fletcher Henderson Orchestra -
"Henderson Stomp"
Fletcher Henderson Orchestra -
"The Chant"
Waring's Pennsylvanians
"Don't Sing Aloha When I Go"
1927
Ruth Etting - Blue River
1928
Lee Morse and her Bluegrass Boys -
"If You Want The Rainbow (You Must Have Rain)"
(Levant / Rose / Dixon)
1930
McKinney's Cotton Pickers
-
"Rocky Road"
"Talk To Me"

- Vocal refrian by Don Redman
1931
Louis Armstrong and his Orchestra
"Chinatown, My Chinatown"
1933
Paul Whiteman and his Orchestra
"Let's Begin"
(From "Roberta") Vocal refrain by Ramona (Otto Harbach / Jerome Kern)
"(When Your Heart's On Fire) Smoke Gets In Your Eyes"
, From the musical show "Roberta")
"Something Had to Happen"
, (From the musical show "Roberta") Vocal refrain by Ramona -
"Touch of Your Hand"
1934
Papa Charlie Jackson -
"If I Got What You Want"
Papa Charlie Jackson -
"Skoodle-Um-Skoo"
1941
Glenn Miller Orch. - "String of Pearls"
LYRICS:
Lazy River

~Hoagy Carmichael and Sidney Arodin
Up a lazy river by the old mill stream
That lazy, hazy river where we both can dream
Linger in the shade of an old oak tree
Throw away your troubles, dream a dream with me
Up a lazy river where the robin's song
Wakes up in the mornin', as we roll along
Blue skies up above ....everyone's in love
Up a lazy river, how happy we will be, now
Up a lazy river with me
(instrumental break)
Up a lazy river by the old mill run
That lazy, lazy river in the noon day sun
You can linger in the shade of that fine ole tree
Throw, away your troubles, baby, dream with me
Up a lazy river where the robin's song
Wakes a brand new mornin' as we roll along
There are blue skies up above...and as long as we're in love
Up a lazy river, how happy we could be
If you go up a lazy river with me
Ah said with me now.....goin'up that... lazy river..... with me
brought to you by...
~confetta