BIRTHDAYS
1908
Rowland Bernart "Bunny" Berigan, Trumpet
b. Hilbert, WI, USA.
d. June 2, 1942, New York, NY, USA.
Roland Bernard "Bunny" Berigan (November 2, 1908 – June 2, 1942) was an American jazz trumpeter who rose to fame during the swing era, but whose career and influence were shortened by a losing battle with alcoholism that ended with his early death at age 33 from cirrhosis. Although he composed some jazz instrumentals like "Chicken and Waffles" and "Blues, Berigan was best known for his virtuoso jazz trumpeting. His 1937 classic recording "I Can't Get Started" was inducted into the Grammy Hall of Fame in 1975.
Berigan was born in Hilbert, Wisconsin, the son of William Patrick Berigan and Mary Catherine (Mayme) Schlitzberg, and raised in Fox Lake, Wisconsin. A musical child prodigy, having learned the violin and trumpet at an early age, Berigan played in local orchestras by his mid-teens before joining the successful Hal Kemp orchestra in 1930. Berigan's first recorded trumpet solos came with the Kemp orchestra, and he was with the unit when they toured England and a few other European countries later in 1930.
Shortly after the Kemp unit returned to the U.S. in late 1930, Berigan, like fellow trumpeter Manny Klein, the Dorsey Brothers and Artie Shaw, became a sought-after studio musician in New York. Fred Rich, Freddy Martin and Ben Selvin were just some conductors who sought his services for record dates. He joined the staff of CBS radio network musicians in early 1931. Berigan recorded his first vocal, "At Your Command," with Rich that year. From late 1932 through late 1933, Berigan was a member of Paul Whiteman's orchestra, before playing with Abe Lyman's band briefly in 1934.
He returned to freelancing in the New York recording studios and working on staff at CBS radio in 1934. He recorded as a sideman on hundreds of commercial records, most notably with the Dorsey Brothers and on Glenn Miller's earliest recording date as a leader in 1935, playing on "Solo Hop". At the same time, however, Berigan made an association that began his ascent to fame in his own right: he joined Benny Goodman's jazz oriented dance band. Legendary jazz talent scout and producer John Hammond, who also became Goodman's brother-in-law in due course, later wrote that he helped persuade Gene Krupa to re-join Goodman, with whom he'd had an earlier falling-out, by mentioning that Berigan, whom Krupa admired, was already committed to the new ensemble. With Berigan and Krupa both on-board, the Goodman band made the legendary, often disheartening tour that ended with their unexpectedly headline-making stand at the Palomar Ballroom in Los Angeles, the stand often credited with the "formal" launch of the swing era. Berigan recorded a number of classic solos while with Goodman, including on "King Porter Stomp," "Sometimes I'm Happy," and "Blue Skies."
Berigan left Goodman to return again to freelancing as a recording and radio musician in Manhattan. During this time (late 1935 and throughout 1936), he began to record regularly under his own name, and continued to back singers such as Bing Crosby, Mildred Bailey, and Billie Holiday. He spend some time with Tommy Dorsey's orchestra in late 1936 and early 1937, working as a jazz soloist on Dorsey's radio program and on several records. His solo on the Dorsey hit recording "Marie" became considered one of his signature performances. In 1937, Berigan assembled a band to record and tour under his name, picking the then-little known Ira Gershwin/Vernon Duke composition, "I Can't Get Started" as his theme song. Berigan's bravura trumpet work and curiously attractive vocal made his recorded performance of it for Victor the biggest hit of his career. Berigan modeled his trumpet style in part on Louis Armstrong's style, and often acknowledged Armstrong as his own idol, but he was no Armstrong clone. He had a trumpet sound that was unique, and very individual jazz ideas. Armstrong, for his part, recognized Berigan's talents, and praised them both before and after Berigan's death.
Berigan got the itch to lead his own band full-time and did so from early 1937 until June of 1942, with one six-month hiatus in 1940, when he became a sideman in Tommy Dorsey's band. Some of the records he made with his own bands were equal in quality to the sides he cut with Goodman and Dorsey. But a series of misfortunes as well as Berigan's alcoholism worked against his financial success as a bandleader. Bunny also began a torrid affair with singer Lee Wiley in 1936, which lasted into 1940. The various stresses of bandleading drove Berigan to drink even more heavily. Nevertheless, musicians considered him an excellent bandleader. Among the notable players who worked in the Berigan band were: drummersBuddy Rich, Dave Tough, George Wettling, Johnny Blowers, and Jack Sperling; alto saxophonists/clarinetistsGus Bivona, Joe Dixon, and Andy Fitzgerald; vocalistsDanny Richards, Ruth Bradley and Kathleen Lane; pianistJoe Bushkin, trombonist/arrangerRay Conniff, trombonist Sonny Lee; bassists Hank Wayland, and Morty Stulmaker, trumpeters Carl"Bama" Warwick, Steve Lipkins, and Les Elgart; tenor saxophonists Georgie Auld,and Don Lodice; and pianist/arrangerJoe Lippman.
Berigan was regularly featured on CBS Radio's Saturday Night Swing Club broadcasts from 1936 into 1937. This network radio show helped further popularize jazz as the swing era reached its apogee. For the balance of the 1930s, he sometimes appeared on this program as a guest.
Berigan's business troubles drove him to declare bankruptcy in 1939, and shortly after to join Tommy Dorsey as a featured jazz soloist. By September of 1940, Berigan briefly led a new small group, but soon reorganized a touring big band. Berigan led moderately successful big bands from the fall of 1940 into early 1942, and was on the comeback trail when his health declined alarmingly. In April of 1942, Berigan was hospitalized with pneumonia in Pittsburgh, Pennsylvania. But his doctors discovered worse news: that cirrhosis had severely damaged his liver. He was advised to stop drinking and stop playing the trumpet for an undetermined length of time. Berigan couldn't do either. He returned to his band on tour, and played for a few weeks before he returned to New York City and suffered a massive hemorrhage on May 31, 1942. He died two days later in Polyclinic Hospital at age 33. He was survived by his wife, Donna, and his two young daughters, Patricia, 10, and Joyce, 6.
He was buried in St. Mary's Cemetery south of Fox Lake.
His 1937 recording of "I Can't Get Started" was used in the film Save the Tiger (1973), the Roman Polanski film Chinatown (1974), and a Martin Scorsese short film,The Big Shave (1967). Woody Allen has used Berigan's music occasionally in his films. In 2010, his Victor recording of "Heigh-Ho" was used on a Gap clothing TV commercial. Berigan's name was used frequently in the comic strip "Crankshaft." Fox Lake, Wisconsin has kept his memory and influence alive with an annual Bunny Berigan Jazz Jubilee since the early 1970s. Most of Berigan's recordings are currently available, and two full-length biographies of him have been published.
Compositions by Bunny Berigan
Bunny Berigan's compositions (really informally created jam tunes) include "Chicken and Waffles", released as Decca 18117 in 1935 as by Bunny's Blue Boys, and "Blues", released in 1935 as Decca 18116, also with the Blue Boys.
In 1975, Bunny Berigan's 1937 recording "I Can't Get Started" on Victor as VICTOR 25728-A was inducted into the Grammy Hall of Fame.
Links
Mr. Trumpet
Jazz History Biography - Bunny Berigan
Solid! -- Bunny Berigan
King circa 1927
1897
Dennis King, vocals/actor.
b. Coventry, Warwickshire, England, UK
d. May 21, 1971, Heart Problems.
né: Dennis Pratt.
Starred in original Broadway productions of Vagabond King, Show Boat and Rose Marie, and then went on to become a very popular Film musical star.
Dennis King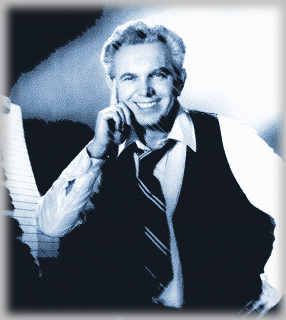 1913
Walter "Wally" Rose, Piano
One of three sons born to Janet Pecansu and Manuel Rodrigues, who had emigrated from Portugal. The family changed their name to Rose before Wally's birth. Born at home in Oakland, California, Wally always gave credit to his mother for encouraging him to learn the piano. He had become interested upon discovering some piano rolls in the attic of a friend's house. He first studied piano at Castlemont High School and after graduation played in dance bands aboard cruise ships in the early 1930s, including a sea-going unit of the Anson Weeks Orchestra.
In 1938, Rose joined the short-lived dance band of Harry Barris. (Harry was one of Paul Whiteman's original Rhythm Boys - Barris, Al Rinker and Bing Crosby - Rinker was songstress Mildred Bailey's brother - both were part Native Americans). Barris also composed "I Surrender Dear". Rose joined Lu Watters in 1940. Rose's recording of George Botsford's "Black And White Rag" (Jazz Man Record No. 1, recorded in San Francisco, March 22, 1942) initiated the worldwide 1940s-50s revival of ragtime. Rose remained with Watters throughout the 1940s, except for three years Navy service. After his discharge from the U. S. Navy he began teaching piano. Rose played with Bob Scobey during 1950-51, Turk Murphy 1952-54, and spent many years as soloist in San Francisco. For a decade, Wally was about the only pianist who kept ragtime alive. Pianist Max Morath has said it was Wally Rose "...who pioneered the rediscovery of ragtime"
WALLY ROSE & THE REBIRTH OF RAGTIME
1915
(Bluegrass/Western Swing)
fiddle/Guitar/Songwriter/Composer
b. Lake City, Fl, USA. né: Robert Russell Wise.
Chubby Wise - Wikipedia
Notable Events
Franc Williams, trumpet
died in Houston, PA, USA.
1989.
Joe ("Pleasant Joseph") Cousin
died in New Orleans, LA, USA.
Gene Autry,
Actor/Western Vocalist
died Studio City, CA, USA.
Club Royal Orchestra - "Dapper Dan"
Paul Whiteman and his Orchestra -
"Crinoline Days"
(Irving Berlin)
1923
"Goodbye Blues", (Sara Martin / Clarence Williams)
"Roamin' Blues", (Sara Martin / Clarence Williams)
Edwin J. McEnelly's Orchestra "What A Blue-Eyed Baby You Are". Vocal refrain by Billy Murray
Perry Bradford's Jazz Phools
"I Ain't Gonna Play No Second Fiddle"
1926
Warner's Seven Aces
Frankie Franko and his Louisianians - "Somebody Stole My Gal", Vocal Chorus by Kid Punch
1944
"Dance With A Dolly (With A Hole In Her Stocking"
LYRICS:
Pack Up Your Sins
Oh, I got a message from below.
'Twas from a man I used to know
About a year or so ago, before he departed.
He is just as happy as can be.
I'll tell you what he said to me.
He said, "If ever you get heavy hearted,
Pack up your sins and go to the devil in Hades.
You'll meet the finest of gentlemen and the finest of ladies.
They'd rather be down below than up above.
Hades is full of thousands of
Joneses and Browns, O'Hoolihans, Cohens and Bradys.
You'll hear a heavenly tune that went to the devil
They started pickin it, then put a trick in it,
They've got a couple of old reformers in heaven,
Making them go to bed at eleven.
Pack up your sins and go to the devil,
And you'll never have to go to bed at all.
If you care to dwell where the weather is hot,
H-E-double-L is a wonderful spot.
If you need a rest and you're all out of sorts,
Hades is the best of the winter resorts.
Paradise doesn't compare.
All the nice people are there.
They come there from everywhere
Just to revel with Mister Devil.
Nothing on his mind but a couple of horns.
Satan is waitin' with his jazz band, and his band
Came from Alabam', with a melody hot.
No one gives a damn if it's music or not.
Satan's melody makes you want to dance forever
And you never have to go to bed at all."
Goodnight sweetheart, 'til we meet tomorrow
Goodnight sweetheart, sleep will banish sorrow
Tears and parting may make us forlorn
But with the dawn a new day is born

So I'll say goodnight sweetheart, though I'm not beside you
Goodnight sweetheart, still my love will guide you
Dreams involve you and in each one I'll hold you
Goodnight sweetheart, goodnight

The day is over and it's cares and woes
In peaceful sweet repose, will fade and die
A dreamy dreamland beckons you and me
How happy life would be if we could dream forever

So I'll say goodnight sweetheart
Even though I'm not, I'm not always right beside you
I'll still say goodnight, goodnight sweetheart
I want you to know that my love, my love will always guide you

And dreams involve you, in each one I'll hold you
Goodnight sweetheart, goodnight...



brought to you by...
~confetta