BIRTHDAYS


1896
Frank Black, Bandleader

b. Philadelphia, PA, USA. d.

Joe Britton, trombone

b. Birmingham, AL, USA.
d. 1972.
(Worked with "Sister" Rosetta Tharp.)
Biography
A sweet home Alabama fellow, this trombonist was among the second generation of professional American jazz musicians and also straddled the worlds of blues and R&B, poking the long slide of his trombone into any combo that was lucky enough to have him. His credits are lengthy following his student days under the guidance of Fess Whatley. Classic blues singer Bessie Smith took him on the road from 1924 through 1926 as a member of her backing group, at first the Fred Longshaw Orchestra and then the Bill Woods Orchestra.
The next year, he jumped to an outfit called Frank Bunch & the Fuzzy Wuzzies, most likely the most obscure name in the list of the groups he played for. He settled in New York in the '30s and fastened a grip on that city's fast-moving and faster-growing jazz scene, working with Ellsworth Reynold's Bostonians, Teddy Hill, the band of classic jazz drummer Kaiser Marshall, Charlie Johnson, Edgar Hayes, and the Vernon Andrade Orchestra. Positions with bigger jazz names were his in the '40s: he worked with saxophonist and composer Benny Carter from 1940-1941 and modern trumpet maestro Dizzy Gillespie, while at the same time collaborating on older styles of jazz. It was his chance to finally work with Jelly Roll Morton, with whom he also gigged and recorded in that decade, and Kansas City jazz pioneer Jay McShann. He also worked with Lucky Millinder for three years beginning in 1942.
Blues shouter Wynonie Harris was also a frequent employer, and although this was not always a gig that provided a trombonist with a lot of solo space, Britton shows up on a half-dozen of Harris' raunchy R&B records, not to mention compact disc box set reissues. He also plays in a similar vein on recordings by Sister Rosetta Tharpe. Britton also performed and recorded with the great jazz pianist Earl Hines. The trombonist dabbled into orchestra arrangements and his work in this field is spotlighted on the album Breaks, Blues and Boogies by fellow bone-man Vic Dickenson. Britton retired from full-time professional playing in the '50s, but gigged off and on into the '60s, including a regular stint in a band led by saxophonist Wesley Fagan.
~ Eugene Chadbourne
Frank Brunch and his Fuzzy Wuzzies
Jelly Roll Morton's Six/Seven
Harry Carroll, composer

d. 1962, Mt. Carmel, PA, USA.
Harry Carroll, a famous American songwriter, pianist and composer, was born on November 28, 1892 in Atlantic City and died December 26, 1962 in Mt. Carmel, Pennsylvania. He taught himself how to play the piano and began playing in movie houses before he finished grade school.
After he graduated from high school, he moved to New York City where he worked as an arranger in Tin Pan Alley, and at night entertained at the Garden Café and accompanied various vaudeville shows.
In 1912, Carroll was hired by the Schubert brothers' Winter Garden productions as a contract writer. He worked with Arthur Fields to produce his first hit, On the Mississippi. He wrote several Broadway stage scores including some popular favorites: I'm Always Chasing Rainbows (based on a section of Fantaisie-Impromptu by Frédéric Chopin), By The Beautiful Sea and The Trail Of The Lonesome Pine.
Harry married Anna Wheaton and together they had one child. Later he moved west to LA., and became involved in early movies. He served as the director of the ASCPA from 1914-1917. And in 1970, eight years after his death, Carroll was inducted into the Songwriters Hall of Fame.
d. May 13, 1924, New York, NY, USA.
Hirsch was born Louis Achille Hirsch in New York City. In his senior year at the City College of New York, Hirsch traveled to Europe to study piano at Berlin's Stern Conservatory, with pianist Rafael Joseffy. He returned to the U.S. in 1906 and began working as a staff pianist in the Tin Pan Alley publishing houses of Gus Edwards, and Shapiro-Bernstein. He also began to write some of his own music.
Hirsch's first assignment was writing music for the Lew Dockstader's Minstrels. Soon, some of his melodies were interpolated into Broadway shows, including The Gay White Way, Miss Innocence (starring Anna Held), and The Girl and the Wizard. In 1910, He Came From Milwaukee was Hirsch's first full score. His Revue of Revues (1911) introduced French star Gaby Deslys to America. He subsequently wrote the music to many songs that Deslys made popular, including "Gaby Glide", "Come Dance With Me", and "When You Hear Love's Hello". One of his best jazz tunes is "It's Getting Very Dark on Old Broadway". His first major success was Vera Violetta (1911), which made Al Jolson a star. For the Schuberts in 1912 and 1913, he contributed music to The Whirl of Society and The Passing Show (both starring Jose Collins).
Hirsch was one of the nine founders of ASCAP in 1914 and an ASCAP director between 1917 and 1924. During World War I, he contributed songs to four editions of The Ziegfeld Follies, including "Sweet Kentucky Lady" and "Hello Frisco!".
He collaborated with Otto Harbach as lyricist on the musical Going Up (1917), Mary (1920), including "Love Nest", his most successful song, which later became the Burns and Allen radio show theme. He also wrote music for The Rainbow Girl, Oh, My Dear, and See Saw, among others. Hirsch also conceived many of the storylines and concepts in his musicals.
In 1921, he contributed to the Broadway show The O'Brien Girl and then the 1922 and 1923 editions of The Greenwich Village Follies.
Other popular Hirsch songs include include "Neath the Southern Moon" (also titled "'Neath the South Sea Moon"), "The Tickle Toe", "The Gaby Glide", "Always Together", "Garden of Your Dreams", "Hold Me in Your Loving Arms", "Going Up", "My Sumurum Girl", "Mary", "Love Is Like a Red Red Rose", "When I Found You", "Beautiful Island of Girls", "My Rambler Rose", "The Love Nest", "I Am Thinking of You", and "Annabel Lee".
On May 27, 1920, Hirsch sued the New York Yankees for $100'000 because of an incident at the Yankee game at the Polo Grounds on the 24th. To avoid sitting next to a cigar smoker' Hirsch switched seats with his brother. An usher informed him it was against the rules to shift seats and ordered the two brothers to switch back. Hirsch refused and was forcibly ejected from the stands. The composer died in New York City of pneumonia at the age of 36.
Songwriters Hall of Fame - Notable Writers - Louis Hirsch
Ray Leveen, songwriter

b. Newark, NJ, USA.
Worked with Louis Jordan Orch.
Roy Lopez, cornet

b. New Orleans, LA, USA.
d. April 27, 1970, Los Angeles, CA, USA.
Richard Thomas "Dick" Vance, Trumpet

b. Mayfield, KY, USA.
d. 1985
Biography

Dick Vance was a fine trumpeter who unfortunately did not solo on record all that often. He grew up in Cleveland and, after a short period playing violin, Vance switched to trumpet. He worked in J.Frank Terry's band in Cleveland and then was with Lil Armstrong's little-known orchestra (1934-35). After moving to New York, Vance played with Willie Bryant, Kaiser Marshall and then more importantly Fletcher Henderson's Orchestra (1936-38) where he was the lead trumpeter and an occasional vocalist. Vance joined Chick Webb's Big Band in 1939, staying with the organization for a couple years after Ella Fitzgerald took over (after Webb's passing), arranging many of the charts.
Vance then had stints with Charlie Barnet, Don Redman, Eddie Heywood's Sextet (1944-45), Ben Webster and others. He attended Juilliard Institute during 1944-47, played in pit orchestras for decades and Vance contributed arrangements to many orchestras including those of Duke Ellington, Harry James, Cab Calloway and Earl Hines. He was also part of Fletcher Henderson's last Sextet (1950), was with Duke Ellington during 1951-52 (arranging most of the music for the album Ellington '55), toured with Don Redman (1953) and played frequently in the Savoy Ballroom in the 1950's. Later in his life he toured Europe with Eddie Barefield in 1969. Dick Vance led two obscure albums in his career, one apiece for Sue (1962) and Strand (from the mid-60's).
~ Scott Yanow
George Godfrey Wettling, Drums
d. June 6, 1968, New York, NY, USA.
Played with Bunny Berigan, Eddie Condon,
Benny Goodman; Jack Hylton; Red Norvo;
Artie Shaw; Paul Whiteman.
Biography

One of the great Dixieland drummers, George Wettling's ability to alertly change patterns behind each soloist usually inspired the other musicians to play their best. He was part of the Chicago jazz scene of the 1920s (where he moved with his family in 1921), and Baby Dodds was his main idol.
Wettling, who recorded with Paul Mares in the mid-'30s, was still mostly an unknown when he came to New York in 1935, playing briefly with Jack Hylton Orchestra. He did a fine job with Artie Shaw's 1936 big band, as well as the orchestras of Bunny Berigan (1937), Red Norvo, Paul Whiteman (1938-1940), and Muggsy Spanier. However, his most rewarding work was done with small groups, notably his sessions in 1938 with a trio also including Bud Freeman and Jess Stacy; he also recorded with Jimmy McPartland, Wingy Manone, and Eddie Condon.
The Condon connection was most significant, for after stints with Joe Marsala and Ben Pollack, Wettling became a regular with Condon on his Town Hall broadcasts and at his club. Wettling's "day job" was as a staff musician at ABC (1943-1952). He worked off and on with Condon to the end of his life and also gained some notoriety for his abilities as an artist (some of his work appeared on album jackets) and as an occasional jazz critic for Downbeat and Playboy. He played with virtually everyone in the Chicago jazz field, as well as Benny Goodman, Billie Holiday, Sidney Bechet, and even Chico Marx. Although he did not lead bands on a regular basis for long (due to excessive alcohol consumption), George Wettling led excellent Dixieland dates for Decca (1940), Black & White (1944), Keynote, Stycon, Columbia (1951), JSP, Kapp, and Stereocraft (1958).
Notable Events Occurring
On This Date Include:
1925.
Broadcasting live from Nashville, Tennessee, a radio program later called "the Grand Ole Opry", but originally named the 'Barn Dance' (after a Chicago radio program called the 'National Barn Dance' that had begun broadcasting the previous year) was heard for the first time. The show would become one of the longest-lived and most popular showcases for western music.
Songs Recorded/Released
On This Date Include: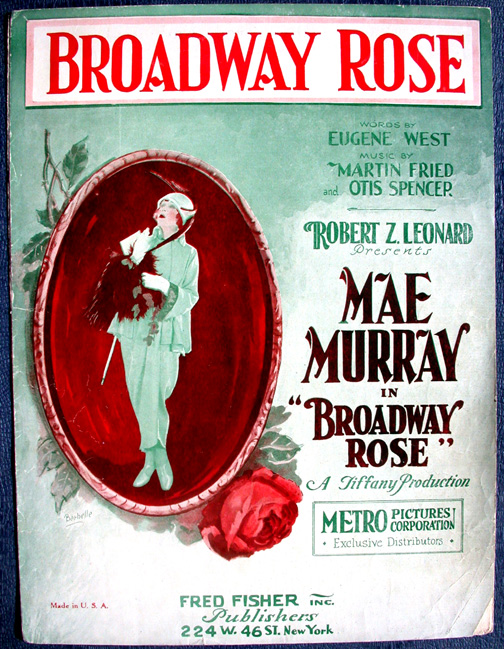 1920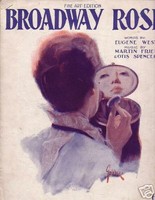 Lee Morse -
Golden Dream Girl
- (Lee Morse)
Sippie Wallace -
Baby I Can't Use You No More
Sippie Wallace -
Trouble Everywhere I Roam
Six Black Diamonds -
Charleston Baby
Roger Wolfe Kahn and his Orchestra -
A Room With A View
Roger Wolfe Kahn and his Orchestra -
Dance, Little Lady
Johnny Hamp's Kentucky Serenader
s -
Avalon Town
Johnny Hamp's Kentucky Serenader
s -
Please Let Me Dream In Your Arms
Mia Bella Rosa
Three Little Words
Three little words,
oh what I'd give for
that wonderful phrase,
To hear those
three little words,
that's all I'd live for
the rest of my days.

And what I feel in my heart,
they tell sincerely.
No other words
can tell it half so clearly.

Three little words,
eight little letters
which simply mean
I love you.
brought to you by...
~confetta