HAPPY BIRTHDAY HOAGY CARMICHAEL!
BIRTHDAYS
Hoagy Carmichael,
songwriter.
Born Nov. 22, 1899, Bloomington, Ind., U.S.
Died Dec. 27, 1981, Rancho Mirage, Calif.) U.S.
One of the great composers of the American popular song, Hoagy Carmichael differed from most of the others (with the obvious exception of Duke Ellington) in that he was also a fine performer. Such Carmichael songs as "Stardust," "Georgia on My Mind," "Up the Lazy River," "Rockin' Chair," "The Nearness of You," "Heart and Soul," "In the Cool, Cool, Cool of the Evening," "Skylark," and "New Orleans" have long been standards, each flexible enough to receive definitive treatment numerous times.
Carmichael, who was briefly a lawyer, loved jazz almost from the start, and particularly the cornet playing of Bix Beiderbecke. His first composition, "Riverboat Shuffle," was recorded by Bix and the Wolverines in 1924, and became a Dixieland standard. Carmichael, as a pianist, vocalist, and occasional trumpeter, eventually abandoned law to concentrate on jazz, particularly after recording "Washboard Blues" with Paul Whiteman in 1927. He led a few jazz sessions of his own in the late '20s (including one that interpreted "Stardust" as an up-tempo stomp), but became more popular as a skilled songwriter.
By 1935, he was working in Hollywood and became an occasional character actor, appearing in 14 films including To Have and Have Not and The Best Years of Our Lives, generally playing a philosophical and world weary pianist/vocalist. In the 1940s, Carmichael recorded some trio versions of his hits, and in 1956, he cut a full set of vocals while backed by a modern jazz group that included Art Pepper.
After that, he drifted into semi-retirement, dissatisfied with how the music business had changed.
His two autobiographies (1946's The Stardust Road and 1965's Sometimes I Wonder) are worth picking up.
1901
Paul "Polo" Barnes, Clarinet
b. New Orleans, LA, USA. d. April 13, 1981
Paul D. "Polo" Barnes (November 22, 1901, New Orleans, Louisiana - April 3, 1981, New Orleans) was an American jazz clarinetist and saxophonist. He was the brother of Emile Barnes and was a mainstay of the New Orleans jazz scene of the 1920s and 1930s. Barnes attended St. Paul Lutheran College, and began playing alto saxophone in 1919. He and Lawrence Marrero formed the Original Diamond Band, later known as the Young Tuxedo Band. He was with Kid Rena in 1922, the Maple Leaf Orchestra in 1923, and Papa Celestin's Original Tuxedo Band later that year; Celestin's group recorded his tune "My Josephine", which became quite popular. He played with Chick Webb in 1927, and with King Oliver three times (1927, 1931, 1934-35). He toured with Jelly Roll Morton in 1928-29. In 1932-33 he led his own band; in that decade he played with Chester Zardis (1935), and Kid Howard (1937-39, 1941). He played in Algiers, Louisiana in a Navy band from 1942-45, then returned to work with Celestin from 1946 to 1951. From 1952 to 1957 he left music and moved to California. Upon his return to New Orleans in 1959, he played with Paul Barbarin (1960), but from 1962-65 joined the Young Men from New Orleans band that played on a riverboat at Disneyland. He returned again to New Orleans in 1964 and played at Preservation Hall and Dixieland Hall. He toured Europe in 1973-74, but poor health ended his career in 1977.
1911
Ernesto "Ernie" Caceres, Clarinet

b. Rockport, TX, USA. d. Jan. 10, 1971.
Ernie is the great-Uncle of David Caceres
Biography
The brother of norteño violinist Emilio and trumpet and piano player Pinero, Ernie Caceres found his musical voice through jazz. In addition to long stints as a member of bands led by Bobby Hackett, Jack Teagarden, Glenn Miller, Tommy Dorsey, Woody Herman, and Eddie Condon, he recorded with Louis Armstrong, Sidney Bechet, Ruth Brown, Roy Eldridge, Ella Fitzgerald, Dizzy Gillespie, Hot Lips Page, Frank Sinatra, and Muggsy Spanier. A native of Rockport, TX, Caceres began his career in 1928 with a series of Texas bands. Together with his brother Emilio, he relocated to Detroit and then to New York, where they worked as session musicians. Joining Bobby Hackett's band during the summer of 1938, Caceres went on to be one of New York's in-demand sidemen. He played tenor saxophone in Jack Teagarden's band in 1939 and then accepted an invitation to join Glenn Miller's orchestra.
During the two years that he remained with the group, he recorded prolifically and appeared in the film Sun Valley Serenade. Except for a brief period in 1945 when he served in the United States Army, Caceres continued to record with a lengthy list of jazz musicians. Forming his own quartet in 1949, he performed regularly at the Hickory Log in New York and made many television appearances with the Gary Moore Orchestra. After performing with the Billy Butterfield Band during the early '60s, Caceres returned to Texas in 1964. Four years later, he re-formed his group with Emilio and began performing every weekend at San Antonio nightspot the Landing. He continued to perform until succumbing to throat cancer in the early '70s.
~ Craig Harris
MORE
Horace Henderson, Piano/Leader

b. Cuthbert, GA, USA, d. August 29, 1988.
Fletcher's Brother. Studied at Atlanta Univ,
and then at Wilberforce Univ.
Biography
In some ways, it is ironic that Horace Henderson spent his life in his older brother Fletcher's shadow. Horace was a much better pianist and became a skillful arranger early on, but he actually accomplished a lot less during his life than Fletcher and was largely forgotten after the swing era ended.

He began studying piano when he was 14 and attended Atlanta University and Wilberforce College, leading his own student band at the latter (the Collegians), which in time became the Horace Henderson Orchestra and, in 1928, the Dixie Stompers. After a period working with Sammy Stewart, Henderson put together a new big band that played regularly in New York in 1929-1931 before it was taken over by Don Redman. Henderson worked with Redman until joining his brother's orchestra as a pianist and arranger (1933-1934). He briefly led another band, worked with Vernon Andrade, was back with Henderson in 1936, and then had yet another orchestra in 1937-1940 that was based in Chicago.
Horace Henderson was in the Army for parts of 1942-1943, rejoined Fletcher for a period, and then worked as an accompanist for Lena Horne. He led groups in Los Angeles from 1945-1950 and spent later periods playing in Minneapolis, Las Vegas, and (from the late '60s on) Denver. However, Horace Henderson, who led recording sessions with his brother's sidemen in 1933 and his own big band in 1940 (plus obscure small-group dates in 1945 and 1951, and a 1954 broadcast with his orchestra released by IAJRC decades later), was more valuable as a contributor of arrangements to other bands. Among those orchestras that benefited from his charts were Benny Goodman, the Casa Loma Orchestra, Charlie Barnet, Tommy Dorsey, Jimmie Lunceford, Earl Hines and, most notably, Fletcher Henderson, who had 30 of his arrangements in the book, including "Hot and Anxious" (which used a riff that later became "In the Mood") and Fletcher's 1936 hit "Christopher Columbus."
~ Scott Yanow
Horace Henderson - Wikipedia
Guy Kelly, Trumpet/Vocal

b. Scotlandville, LA, USA. d. 1940
A fine journeyman player, Guy Kelly was a fixture in Chicago during the 1930's. Early on he played with Toots Johnson in Baton Rouge and was with Oscar Celestin (1927-28) in New Orleans. After touring with Kid Howard and Boyd Atkins' Firecrackers, Kelly moved to Chicago. Among the many musicians who he worked with in the 30's were Cassino Simpson, Erskine Tate, Dave Peyton, Tiny Parham, Carroll Dickerson, Jimmie Noone, Half Pint Jaxon and Albert Ammons (1935-36 and 1939), recording with (among others) Celestin, Noone, Jaxon and Ammons although never as a leader.
1899
"Whistlin" Alex Moore, piano

b. Dallas, TX, USA. d. 1989.
One of the last of the old-time Texas barrelhouse pianists, Alex was an institution in Dallas, Texas, his lifelong home. His first recording session occurred in 1929, and his last session was in 1988, thus giving him the honor of having one of the longest recording careers in Blues history. However, there were very large gaps between sessions. One year before his death in 1989, he recorded a final session for Rounder Records, which was released as the "Wiggle Tail" album.
Biography

One of the last of the old-time Texas barrelhouse pianists, Alex Moore was an institution in Dallas, his lifelong home. A colorful entertainer with a poetic gift for rambling improvisations, Moore had one of the longest recording careers in blues history (his first sides for Columbia were made in 1929; his final session was in 1988). Yet it was hardly one of the most prolific, as there were usually lengthy gaps between sessions. The spontaneous, autobiographical nature of his latter-day recordings imbue his albums with a special charm.

Moore began performing in the early '20s, playing clubs and parties around his hometown of Dallas; he usually performed under the name Whistlin' Alex. In 1929, he recorded his first sessions, which were for Columbia Records. The sides didn't gain much attention and Moore didn't record again until 1937, when he made a few records for Decca. Between his first and second sessions, he continued to play clubs in Dallas. The time span between his second session in 1937 and his third was even longer than the time between his first and second -- Moore didn't record again until 1951, when RPM/Kent had him cut several songs. Throughout the '40s and '50s, Moore performed in clubs throughout Dallas, occasionally venturing to other parts of Texas.
Alex Moore's national break coincided with the blues revival of the early '60s. Arhoolie Records signed the pianist in 1960, and those records helped make him a national name. For the rest of the '60s, he played clubs and festivals in America, as well as a handful of festival dates in Europe. Although he didn't make many records in the '70s and '80s, Moore continued to perform until his death in 1989. The year before his death, he recorded a final session for Rounder Records, which was released as the Wiggle Tail album.
~ Jim O'Neal & Stephen Thomas Erlewine
Clarinet/Tenor Sax
b. Springfield, OH, USA. d. 1964.
His older brother, Lloyd who played drums, was born August 21, 1902.
~by Thomas Hennessey

Reedman Cecil Scott and his older brother Lloyd (born 8-21-1902), who played drums, came out of the relatively small community of Springfield, Ohio which proved to be a rich cradle for jazz musicians, producing the core of McKinney's Cotton Pickers and the Scott band which became Cecil Scott and his Bright Boys. The triangle of Springfield, Wilberforce and Xenia had a particularly strong black community because it housed one of the two pre-Civil War private black colleges, Wilberforce.
The Scotts began their band in Springfield in the early 1920s to compete with Milt Senior's Synco Jazz Band which became McKinney's Cotton Pickers.
In the early 1920s, Scott's Symphonic Syncopators, as their bass drum called them, included Gus McClung, trumpet; Earl Horne, trombone; Cecil Scott, reeds; Buddy Burton, violin; Don Frye, piano; Dave Wilborn, banjo and Lloyd Scott, drums. They played as far away as Pittsburg. In the mid Twenties they had a three months' summer gig at Hermit's End or Herman's Inn, 2493 Seventh Avenue, in Harlem.
Their band was still a little small and young for the big city and they returned to Ohio. They added two excellent men: Dicky Wells, trombone from Louisville, Kentucky and Frankie Newton, trumpet from Huntington, West Virginia. As a ten piece group called Lloyd Scott's Symphonic Syncopators, they returned to Harlem and were quite successful, based for almost two years at the Capitol Palace, 575 Lenox Avenue. This was an after-hours club that stayed open well into the morning hours.
Since their own job started so late, the Scott outfit often served as relief band for bigger units such as Duke Ellington, Fletcher Henderson etc. They first recorded in 1927 under the name of Lloyd Scott and his Orchestra featuring arrangements by pianist Don Frye and trumpeter Kenneth Roane with solos by Dickie Wells in his first recording. Along with Roane, Hubert Mann played banjo and Cecil Scott was on baritone sax and clarinet. Lloyd Scott stopped playing to concentrate on managing the band now billed as Cecil Scott's Bright Boys. The band prospered, playing at the Savoy and Roseland ballrooms and touring to St. Louis and elsewhere. They featured showmanship, smooth danceable tunes and really advanced hot arrangements.
The band featured two contrasting trumpeters in Bill Coleman and Frankie Newton and the excellent trombone of Wells, way before his Count Basie days. Scott on clarinet, tenor and baritone sax and Frye also took lots of solo space. This group recorded in 1929.
Although the Depression caught up with them and they never recorded again, Swing Era musicians such as Roy Eldridge, Johnny Hodges and trumpeter Joe Thomas all reportedly passed through the band. After disbanding his group in the early 1930s, Cecil Scott continued as a sideman in swing bands. He was active in the late 40s small band jazz revival in New York as well and is featured in photographs on the Library of Congress American Memory website. Cecil Scott died in January of 1964.
RHJ Bio
Cecil Scott's Bright Boys
Notable Events Occurring
On This Date Include:
1938.
Bunny Berigan and his orchestra
recorded "Jelly Roll Blues" on the
Victor label.

1951.
William "Ragtime Millionaire" Moore, guitar
died in Warrenton, VA, USA.
Age: 58.

William "Bill" Moore
1959.
Leslie "Jives" Hutchinson, trumpet
died in Weeting, England, UK
Age: 53.

1968.
Johnnie Temple, guitar
died in Jackson, MS, USA.
Age: 62.




Stanley Morgan, guitar
died in Honolulu, HI, USA.
Age: 76.
Member: 'The Ink Spots'
Songs Recorded/Released
On This Date Include:
1920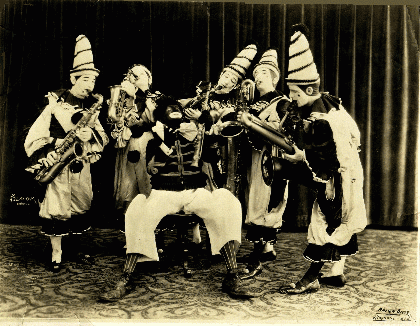 "If A Wish Could Make It So"

"Tip Top - Medley "Wonderful Girl, Wonderful Boy"
"Chicago"

"Toot-Toot-Tootsie (Goo' Bye)"
Paul Whiteman and his Orchestra -
"Linger Awhile"
(Vincent Rose)
1924
Ted Lewis and his Band - "When My Baby Smiles At Me"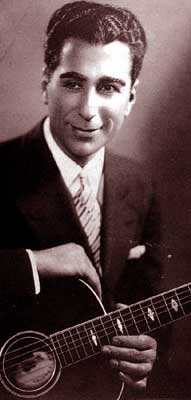 Duke Ellington and his Cotton Club Orchestra - "Misty Mornin'"
Annette Hanshaw - "Is There Anything Wrong With That?"

Annette Hanshaw -
"I Wanna Be Loved By You"
1940
Dorsey, Tommy - "We Three"
"It Might As Well Be Spring"
Hoagy
Carmichael -
"Ole Buttermilk Sky"
Nat King Cole - "(I Love You) For Sentimental Reasons"


LYRICS:
Linger Awhile
~(Vincent Rose/Harry Owens)
The time is coming soon to say goodbye
A time of sadness it will be
But honey listen to my parting sigh
And linger on awhile with me

The stars above you,yet linger awhile
They whisper I love you,oh linger awhile
And when you have gone away
Every hour seems like a day
I've something to tell you
Oh linger awhile

The stars above you,yet linger awhile
They whisper I love you,oh linger awhile
And when you have gone away
Every hour seems
Ole Buttermilk Sky

Written by: Jack Brooks & Hoagy Carmichael
(do do-do-do, do do-do do)
(do do-do-do, do)

Ole buttermilk sky (ole buttermilk sky)
I'm keepin' my eye peeled on you

What's the good word tonight?
Are you gonna be mellow tonight?

Ole buttermilk sky (ole buttermilk sky)
Can't you see my little doggie and me

We're as happy as a christmas tree
Headin' for the one I love (the one I love)

I'm gonna pop her the question, that question
Do you Darlin', do ya do?

It'll be easy, so easy
If I can only bank on you

Ole buttermilk sky (ole buttermilk sky)
I'm tellin' you why, now you know
Keep it in mind tonight
Keep brushin' those clouds from sight

Ole buttermilk sky (ole buttermilk sky)
Don't fail me when I'm needin' you most

Hang a moon above her hitching post
Hitch me to the one I love

gonna pop her the question, the question
Darlin', do you do?
It'll be easy, so easy
If I can only bank on you

Ole buttermilk sky (ole buttermilk sky
I'm tellin' you why, now you know
Keep it in mind tonight
Keep brushin' those clouds from sight

Ole buttermilk sky (ole buttermilk sky)
Don't fail me when I'm needin' you most
Hang a moon above her hitching post
Hitch me to the one I love

You can if you try
Don't tell me no lie
will you be mellow and bright tonight?
Oh, butermilk sky"
brought to you by...
~confetta
Save
Save