Julian Fuhs und Lily Löwenthal, December 1930
BIRTHDAYS
Julian Fuhs

Piano/Leader
b. Berlin, Germany
d. Feb. 4, 1975, Miami Beach, FL, USA
Currently little information on this nearly forgotten Jazz pianist of the 1920s. Here's a photo of Julian Fuhs, who grew up in Berlin and studied at the Stern Conservatory. In 1916, he emigrated to the USA and in 1919 became an American citizen. In 1924, he returned to Berlin and formed a Jazz orchestra - 'Julian Fuhs Follies Band', which played Berlin cafe restaurants (Mercedes Palace, Eden Hotel, Palace at the Zoo, Femina, etc.), and also worked in various cabarets and musical revues.
While in Berlin, during 1925 to 1930, his band recorded numerous times.
~from:
Julian Fuhs
- Big Bands Database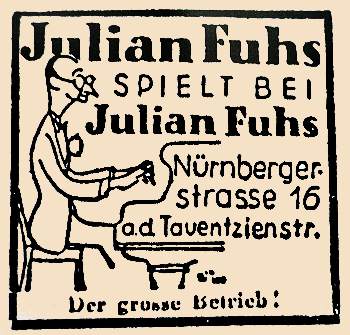 After visiting the Stern Conservatory Fuhs emigrated in 1910 to the United States and
in 1916
became an American citizen. In 1924 he returned to Berlin, where he exhibited his "Follies Band", whose American-style jazz and popular music was extremely successful. Fuh's played a significant contributions to the popularization of jazz in Germany in the 1920's.
Julian Fuh's Orchestra was the first German band to have a three-voice saxophone section and he was considered to be a German counterpart to Paul Whiteman. He made the first European recording of George Gershwin's "Rhapsody in Blue".
In 1931 he was forced as a result of the global depression to dissolve his orchestra. In 1933 he was a victim
of several violent attacks
due to his Jewish roots. He emigrated first to Austria, then to Czechoslovakia and France and 1937 he returned to the USA. Fuh's died in 1975 in poverty.
~Biography German Wikipedia
Julian Fuhs Orchestra-01-17
1916
Judy Canova

C&W vocals/comedienne
b. Jacksonville, FL, USA.
d. August 5, 1983
Judy Canova was an American comedienne,
actress, singer and radio personality.
Born Juliette Canova in Waldo, Florida, her show business career began with a family vaudeville routine. She joined her sister Annie and brother Zeke, and their performances as the Three Georgia Crackers took them from theaters in Florida to a club in a New York City. Judy Canova sang, yodeled and played guitar. The standout in the family, she developed her persona as a wide-eyed likeable country bumpkin, often wearing her hair in braids and sometimes topped with a straw hat. When bandleader Rudy Vallee offered her a guest spot on his radio show, it opened the door to a career that spanned more than five decades.

The popularity of the Canova family led to numerous performances on radio in the 1930s, and they made their Broadway debut in the revue, Calling All Stars. An offer from Warner Bros. led to several bit parts before she signed with Republic Pictures. During her career she appeared in more than two dozen Hollywood films and made numerous records on the RCA Victor label.
In 1943, she began her own radio program, The Judy Canova Show, that ran for a dozen years, first on CBS and then on NBC. During World War II, she closed her show with the song "Goodnight, Soldier" ("wherever you may be... my heart's lonely... without you") and used her free time to sell U.S. War Bonds.
In the post-War years, she ended
each show by singing a nursery song:

When her radio program ended in 1955,
Canova gave comedy performances on
Broadway, television and in Las Vegas
nightclubs through the early 1970s.
In 1971, she toured with No, No Nanette.
Her daughter, Diana Canova,
is an actress
best known for her role on the ABC television

In 1983, Judy Canova died from cancer at age 69 and was buried in Forest Lawn Memorial Park Cemetery in Glendale, California. She has a star on the Hollywood Walk of Fame for her contribution to the film industry (6821 Hollywood Boulevard) and a second star for her radio career (6777 Hollywood Boulevard).
Judy at the encyclopedia of pop culture
1881
Arthur Owen Marshall, Ragtime Composer
b.
November 20, 1881,
Saline County, Missouri
d.
August 18, 1968 (aged 86)
Arthur Owen Marshall (November 20, 1881 – August 18, 1968) was an African-American composer and performer of ragtime music.
Biography
Marshall was born on a farm in Saline County, Missouri, the son of Emily Marshall, a washerwoman, and Edward Marshall, who had no discernible career, on November 20, 1881. A few years later his family moved to Sedalia, Missouri because black children were allowed to attend school nine months a year there as opposed to the three months allowed blacks elsewhere, and the Sedalia townspeople were reportedly more acceptable of African Americans. The Marshalls lived at 135 West Henry Street. Marshall attended elementary school in Sedalia. He was only fifteen years old when Scott Joplin first arrived in Sedalia. Joplin took up residence with the Marshall family, and before long both Marshall and Scott Hayden, a Lincoln High School classmate of Marshall, became Joplin's protégés. Marshall had already taken some private lessons in classical music years before, and was versed with piano technique and a gift for syncopation. Joplin also helped get Marshall a job at the Maple Leaf Club during its single year of existence in 1899. In the club on October 1, 1899, Marshall got into a fight with a young man named Ernst Edwards over Edwards's girlfriend. They took their fight outside, Marshall pummeled Edwards with his cane, Edwards drew a gun, and Marshall ran away.
At Joplin's suggestion, Marshall then continued to study music at George R. Smith College, learning music theory. Marshall graduated from the Teacher's Institute with a teaching license, however, it seems that he chose to pursue a career as a performer. He earned a reputation as an outstanding local musician. While still in college, he traveled with McCabe's Minstrels for nearly two years, playing during intermissions. Marshall also helped cover his school expenses by playing ragtime in public venues and for dances and special occasions. He also played where work was available; in the brothels, where substantial tips regularly exceeded his standard wage by a great deal.
During 1901 and 1902, Marshall lived in the Joplin home in St. Louis, along with Scott Hayden, Hayden's wife Nora, Joplin's wife Belle, and Joplin's brother Will. During this time, Nora and Will died.
Marshall continued to play in various tours and contests, both in St. Louis and at places such as Chicago. In 1903, despite flagrant racial discrimination, Marshall worked at the Louisiana Purchase Exposition (St. Louis World's Fair), playing piano at the Spanish Cafe where he earned $12 per week plus tips until he was replaced by a band. At some point after mid-1905, he moved with his wife to Chicago. They lived in an apartment at 2900 South State Street above Beau Baum's Saloon, across the street from the Pekin Theater. Marshall played at several local spots; the Wintergarden at 3047 South State Street, Lewis's Saloon and the Eureka Saloon.
Marshall collaborated with Scott Joplin on two ragtime compositions, "Swipesy Cake Walk" (copyrighted July 21, 1900) and "The Lily Queen" (copyrighted November 7, 1907), and produced several solo efforts, including "Kinklets", "Ham and !", and "The Peach". It appears that for these three solo compositions Marshall received $50 and 3-cent royalties from his publisher John Stillwell Stark, a deal which Marshall felt was fair. However, he struggled to come to terms with Stark in 1906, possibly for his rag "The Pippin", and finally settled on a non-royalty offer of $10 and 200 copies of the music.
Marshall retired from the music business in 1917, but later in life he participated in ragtime revivals. Arthur Marshall died in Kansas City, Missouri.
Personal
Marshall apparently married four times during his life.
Latisha (or Letitia) Howell, in St. Louis circa 1904
Maude McMannes, in St. Louis
Julia Jackson, in Chicago, with whom he had three children, two girls (one being Mildred Steward) and one boy. Julia died in childbirth in 1916.
Odell Dillard (Childs), in Kansas City on November 25, 1919
1897
Eck Robertson, C&W fiddler

b. Madison County, AR, USA.
Eck Robertson can only be called the source of a hidden history of country music. Probably the first fiddler to record on record (and also probably the first country record commercially available), Robertson seems to be the pinnacle and the origin of the Fiddle Contest tradition, and at the very least, his records and contest appearances in Texas were an inspiration for a generation of fiddlers. Fiddlers were country music's first virtuosos, and that can largely be attributed to Robertson's deep and soulful playing. He swings before swing became institutionalized on record (his first record came a short two years after Mamie Smith's "Crazy Blues"), and his records became the standard by which fiddle players were (and are!) tested. His playing is ingenious and intuitive, the kind of work one would expect from the originator of style, rather than a follower of some folk tradition. His version of "Sallie Gooden" drones and saws its way to a powerful conclusion. Its power sounds timeless, and it feels as if it could last for 20 minutes, and one wishes that it would. Robertson's early recordings evoke a kind of forgotten age and some timeless futurity and, as such, is an essential part of any history of country music.
Robertson was born in Delaney, AR, in 1887. His family shortly moved to Texas, and he became forever linked with a "Texas Sound" of fiddling: intense, showstopping, vaudevillian skill. He only recorded around 16 commercial recordings in the years 1922 and 1929. His recordings effectively tell the history of old-time music in the 1920s: His recordings alerted record companies to the market for old-time music throughout the South, and his return to recording in 1929 signaled the end of the classic old-time string band sound that had dominated country music during its first decade. He recorded mostly solo or with his family: his wife, Nettie, his daughter Daphne, and his son Dueron. He also recorded with Nat Shilkret, one of the earliest popular music stars.
Robertson went on to record one of the great tragedies of country music's history. In the 1940s he recorded over 100 songs for radio which have never been found. Despite his relative obscurity, Robertson reaped a few benefits from the 1960s folk revival and recorded some documentary material. He died on February 17, 1975. County Records released an excellent retrospective of his early work in 1998.
~ Matt Laferty, Rovi
Notable Events Occurring
On This Date Include:
1929.

Just three weeks after the stock market crash that plunged America and
the rest of the world into the 'Great Depression', Leo Reisman and his orchestra
recorded "Happy Days are Here Again" (RCA Victor).
Songs Recorded/Released
On This Date Include:
Grieving For You (Introducing: "Rose Of My Heart")
Ray Miller's Black And White Melody Boys
Ted Weems and his Orchestra
The Tennessee Tooters - Back Home In Illinois
Duke Ellington and his Cotton Club Orchestra
Coon Sanders Nighthawks Orchestra -
My Suppressed Desire
Coon Sanders Nighthawks Orchestra -
What a Girl! What a Night!
Eddie Peabody -
If I Had A Talking Picture Of You
Eddie Peabody
-
St. Louis Blues
Hoagy Carmichael and his O
rchestra -
Lazy River
Papa's Gone Bye-Bye Blues (Jewish Boy Blues)

Lloyd Smith's Gut-Bucketeers - That's My Stuff
Paul Whiteman's Original Rhythm Boys
Bessie Smith -
Need A Little Sugar In My Bowl
Bessie Smith
-
Safety Mama
Frankie Trumbauer and his Orchestra - Blue Moon
"Dardanella" is a song that began life as a ballad with words by Fred Fisher, and put to the music written by Felix Bernard and Johnny S. Black in 1919. Band conductor Ben Selvin (1898-1980) led into the 1920's with his hit version of Darcianella. The song held the No. 1 spot on the U.S. charts for 13 weeks, and sold a seemingly incredible five million copies.
Its chorus is:
Oh sweet Dardanella,

I love your harem eyes,

I'm a lucky fellow to capture such a prize,

Oh Allah knows, my love for you

And he tells you to be true, Dardanella,

Oh hear my sigh, my Oriental,

Oh sweet Dardanela, prepare the wedding wine,

There'll be one girl in my harem, when you're mine.

We'll build a tent

Just like the children of the Orient.
Dardanella - Wikipedia
I Need A Little Sugar In My Bowl


Tired of bein' lonely, tired of bein' blue,

I wished I had some good man, to tell my troubles to

Seem like the whole world's wrong, since my man's been gone

I need a little sugar in my bowl,

I need a little hot dog, on my roll

I can stand a bit of lovin', oh so bad,

I feel so funny, I feel so sad

I need a little steam-heat, on my floor,

Maybe I can fix things up, so they'll go

What's the matter, hard papa, come on and save you mama's soul

'Cause I need a little sugar, in my bowl, doggone it,

I need a little sugar in my bowl

I need a little sugar, in my bowl,

I need a little hot dog, between my rolls

You gettin' different, I've been told,

move your finger, drop something in my bowl

I need a little steam-heat on my floor,

Maybe I can fix things up, so they'll go

(spoken: Get off your knees, I can't see what you're drivin' at!

It's dark down there!

Looks like a snake! C'mon here and drop somethin' here in my bowl,

stop your foolin', and drop somethin', in my bowl)
brought to you by...
~confetta