HAPPY BIRTHDAY DICK POWELL!!
Dick Powell

actor/vocalist
d. Jan. 2, 1963.
né: Richard E. Powell
~Biography
Matinee idol Dick Powell enjoyed a long and far-ranging career which brought him great success in music, film and television. Born in Mountain View, Arkansas on November 14, 1903, Powell regularly sang in both school and church choirs as a child, his soprano voice eventually becoming a tenor; at the same time, he also learned to play a number of instruments, including the saxophone, cornet and banjo. In his late teens, he joined Kentucky's Royal Peacock Orchestra, and during the late '20s sang and played with Charlie Davis, with whom Powell made a number of early recordings. By the early '30s, he had relocated to Indianapolis to serve as Master of Ceremonies at the Circle Theater, later assuming the same duties at Pittsburgh's Stanley Theater; there Powell was discovered by a Warner Brothers talent scout, and quickly signed to a movie contract.
Powell made his film debut in 1932's Blessed Event, but he shot to stardom a year later alongside another Hollywood newcomer, Ruby Keeler, in the classic Lloyd Bacon/Busby Berkeley backstage musical 42nd Street, which included such classic Harry Warren and Al Dubin compositions as "Shuffle Off to Buffalo," "You're Getting to Be a Habit with Me" and the title song. The picture established Powell as a leading musical star, and in the years to follow, he starred in such smashes as Gold Diggers of 1933, Footlight Parade and On the Avenue, often appearing in the company of Keeler and wife Joan Blondell; among the songs his movies popularized were "We're in the Money," "I Only Have Eyes for You," "Lullaby of Broadway," "I've Got My Love to Keep Me Warm" and "Jeepers Creepers."
At the same time, Powell was very active in radio, regularly appearing on programs including Hollywood Hotel, Old Gold (with the Ted Fio Rito Band) and Hollywood Party; from 1942 to 1943, he also hosted his own broadcast, Dick Powell Serenade.
During the early '40s, he turned more towards comedy and dramas, and in 1944 switched gears entirely to successfully portray world-weary gumshoe Philip Marlowe in the Raymond Chandler adaptation Murder, My Sweet. From that point on, Powell was firmly established as a tough guy, and he was as popular in these roles as he had been in musicals; by the early '50s, he was also directing and producing pictures. Powell also served as founder and president of Four Star Television, a pioneering TV production company, and from 1959 to 1961, he presented the popular series Dick Powell Theater. He continued working regularly until his death from cancer on January 3, 1963.
1905
John Henry Barbee
blues guitar/vocals
b. Henning, TN, USA
d, Nov. 3, 1964.
Biography
A strong storyteller and good guitarist, John Henry Barbee learned music playing in various homes throughout Henning, Tennessee as a youth. He worked for a short time with John Lee Williamson (Sonny Boy Williamson I) in 1934, then began playing with Sunnyland Slim. They made appearances across the Mississippi Delta. Barbee later moved to Chicago, where he recorded for Vocalion in 1938. He played with Moody Jones' group on Maxwell Street in the '40s, but then left the music business for several years. Barbee recorded for Spivey and Storyville in the mid-'60s, and toured Europe as part of the American Folk Blues Festival. A portion of the tour's concert in Hamburg, Germany was issued by Fontana. Barbee was involved in an auto accident in 1964, and suffered a heart attack while in jail waiting for the case to come to court. ~ Ron Wynn
d. June 17, 2005, Age: 89.
Played with: Benny Goodman; Woody Herman; Lee Konitz; Metronome All-Stars 1947-1953; Jack Teagarden; Lennie Tristano; Jerry Wald
Ted 'Mutton Leg' Donnelly, Trombone

b. Oklahoma City, OK, USA, d. May 8, 1958.
Worked with many, but perhaps best recalled for his work with the Count Basie orch.
Lovers of music and food sometimes play a game in which players whose names have edible associations are combined in order to create a musical banquet of the mind. Adding Ted "Muttonleg" Donnelly to any such list might be the difference between a full meal and a snack . The man's involvement with classic big band music is fully of the former variety. For many nights he ate at the smorgasbord of Andy Kirk's creative
ensembles, and an equally long stretch of noshing at the Count Basie buffet followed. As a result of both bandleaders' efforts, the trombonist's discography stacks high, many classic pancakes.
Those within earshot of Donnelly when he began playing violin at the age of eight might not have predicted that such manna would be his simply from playing an instrument. He spent four years bowing and plucking before switching to the trombone, getting his first professional job in the George E. Lee ensemble. By 1934 the trombonist was working with Tommy Douglas. The Kirk period begins in 1936 and stretches some seven years, coincidentally about the same length of time he would stay with Basie starting in late 1943.
A theory of a seven year itch with this trombonist might thus emerge and is only slightly tarnished by the fact that he spent only six years with Erskine Hawkins beginning in 1951--pretty much his last collaboration before his death. Other Donnelly accomplishments include a U.S.O. tour with bandleader Al Sears during the second World War and a stint with tenor saxophonist Illinois Jacquet that lasted far, far less than seven years.
"The Silver Throated Irish Tenor"
(Son of the Town's Fire Chief and Eliz. Cox)
He married dancer Barbara Bennett, (Jan 28, 1929, to June 1941 ended in Divorce) and their son Morton Downey Jr, also became an actor. Downey's greatest success was in the 1920s and 1930s.
~Biography
Born in Connecticut in 1901, Morton Downey was a popular entertainer during the pre-World War II era. A light tenor nicknamed "The Irish Nightingale," Downey starred in films and on the cabaret circuit and radio, earning the honor Radio Singer of the Year in 1932. The father of notorious TV talk-show host Morton Downey, Jr., Downey Sr. died in 1985. ~ Jason Ankeny
1916
Don Ewell, Piano
b. Baltimore, MD, USA
d. Aug. 9, 1983, Pompano Beach, FL, USA.
Played with: Sidney Bechet; George Brunies; Doc Evans; Don Goldie; Bunk Johnson; George Lewis; Kid Ory; Muggsy Spanier; Jack Teagarden
Biography
A major if underrated stride pianist, Don Ewell was inspired by Jelly Roll Morton and Earl Hines, but could stride like Fats Waller, too. He started leading his own trios in Baltimore in the mid-'30s; played during the New Orleans jazz revival (starting in the mid-'40s) with Bunk Johnson, Muggsy Spanier, Sidney Bechet, and Kid Ory (1953); and was with Jack Teagarden during 1957-1964. Ewell sometimes played duets with the weakening Willie "the Lion" Smith in the late '60s before moving to New Orleans, where he worked regularly during his last years. He recorded for Good Time Jazz (three 1956-1957 dates are available on CD), GHB/Audiophile/Jazzology, Delmark, Fat Cat's Jazz, and Chiaroscuro; previously unreleased sets were issued posthumously by Stomp Off and Pumpkin. ~ Scott Yanow
Don Ewell - Wikipedia
1908
Clancy Hayes

Banjo/vocals
b. Carney, KS, USA.
d. March 3, 1972, San Francisco, CA, USA.
The 7th son of a 7th son in a musical family.
In 1922, led own 'Harmony Aces'; key man
in 1938 Lu Watters 'Yerba Buena Jazz Band'.
Biography
Clancy Hayes was one of the finest vocalists of the Dixieland revival movement, much better than the typical musician who feels compelled to sing. He was a steady fixture in San Francisco from 1927 on, appearing regularly on the radio and in clubs. He hooked up with Lu Watters in 1938, performing with Watters' big band for two years, and then ten with the Yerba Buena Jazz Band, mostly as a rhythm banjoist and occasionally on drums. He gained his greatest fame while singing with Bob Scobey's group (1950-1959). In the 1960s, Hayes worked with the Firehouse Five Plus Two, Turk Murphy, an early version of what would be the World's Greatest Jazz Band, and with his own groups. Clancy Hayes recorded as a leader for Verve (1950), Audio Fidelity (1960), Good Time Jazz (1963), Delmark, ABC-Paramount, and Fat Cat Jazz (1969), and helped make songs such as "Oh by Jingo," "Ace in the Hole," and his own "Huggin' and A-Chalkin'" popular in the trad jazz world. ~ Scott Yanow
Arthur W. "Art" Hodes, Piano

Nikoliev, Ukraine, d. March 4, 1993
Age: 88.
Played with:
Barney Bigard; Eddie Condon; Joe
Marsala;
Wingy Manone, and many others.
Throughout his long career, Art Hodes was a fighter for traditional jazz, whether through his distinctive piano playing, his writings (which included many articles and liner notes), or his work on radio and educational television. Renowned for the feeling he put into blues, Hodes was particularly effective on up-tempo tunes, where his on-the-beat chordings from his left hand could be quite exciting. Born in Russia, he came to America with his family when he was six months old and grew up in Chicago. Hodes had the opportunity to witness Chicago jazz during its prime years in the 1920s, and he learned from other pianists. In 1928, he made his recording debut with Wingy Manone, but spent most of the 1930s in obscurity in Chicago until he moved to New York in 1938.
He played with Joe Marsala and Mezz Mezzrow before forming his own band in 1941. Hodes recorded for Solo Art, his Jazz Record label, Signature, Decca, and Black & White during 1939-1942, but he made more of an impression with his heated Dixieland recordings for Blue Note during 1944-1945 (all of which have been reissued on a Mosaic box set). During 1943-1947, Hodes edited the important magazine the Jazz Record, had a radio show, and became involved in the moldy fig versus bebop wars with Leonard Feather and Barry Ulanov; jazz on a whole lost to the latter. In 1950, he returned to Chicago, where he remained active locally and made occasional records. Hodes hosted a television series, Jazz Alley, for a time in the 1960s, wrote for Downbeat, and was a jazz educator. Art Hodes recorded frequently during the 1970s and '80s, and was widely recognized as one of the last survivors of Chicago jazz. His later recordings were for such labels as Audiophile, Jazzology, Delmark, Storyville, Euphonic, Muse, Parkwood, Candid, and Music & Arts.
~ Scott Yanow
Art Hodes: I Remember Bessie
"Liltin'" Martha Tilton
b. Corpus Christi, TX, USA.
Best recalled for her work with Jimmy Dorsey in 1936, and The Benny Goodman Orchestra in 1937 Martha Tilton, also known as ''Liltin' Martha Tilton,'' joined the venerable Jimmy Dorsey and his band in 1935, replacing Vicki Joyce. Martha spent about 2 years with Dorsey, but her big recording opportunity happened when she joined the famous Benny Goodman in 1937, where she replaced Betty Van. Goodman, intending to give her a good build-up during her debut, would introduce her as a singer ''that's really going places.'' During one of her first appearances, she forgot her cue, and when she didn't appear, Goodman turned to the audience and joked, ''Boy, she isn't going places, she's already gone!''
She remained with Goodman until 1939, when she was ''asked'' to leave for the duration of the shake-up of Goodman's company following the exodus of Harry James. She worked briefly with Artie Shaw before being employed in 1941 as a vocalist with the Billy Mills Orchestra on the Fibber McGee and Molly radio program.
1944.
Tommy Dorsey orchestra recorded
"Opus No. 1", (Victor 20-1608).
On the date were saxmen Al Klink and
Buddy DeFranco, Nelson Riddle
on trombone, and drummer Buddy Rich.
1965.
"Buster" Harding
piano/arranger
died in New York, NY, USA.
Age: 48
1968.
Hilton Jefferson, alto sax
died in New York, NY, USA.
Age: 65
1961.

"Little Son Joe"
(né: Ernest Lawler)
guitar, died in Memphis, TN, USA.
Age: 61.
Worked with "Memphis Minnie".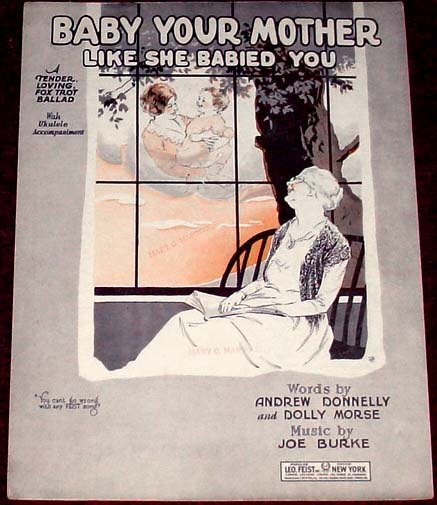 Songs Recorded/Released
On This Date Include:
1923
Clarence Williams' Blue Five
Clarence Williams' Blue Five -
"Mean Blues"
1924
Ted Lewis and his Band - "Rose-Marie"
Fletcher Henderson Orchestra -
"Naughty Man"
1925
Merritt Brunies and his Friars Inn Orchestra -

"Want A Little Lovin'"

-

Vocal Chorus by Lew King
Don Bestor and his Orchestra
"Baby Your Mother (Like She Babied You)"

-

Vocal Refrain by Franklyn Baur
1928
King Oliver's Dixie Syncopators -
"Slow And Steady"
Monarch Jazz Quartet - "I Ain't Got Nobody (And Nobody Cares For Me)"
Red Mckenzie and his Mound City Blue Blowers
LYRICS: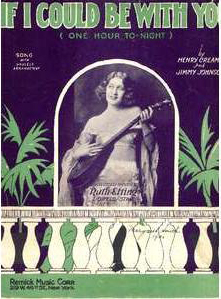 If I Could Be With You (One Hour Tonight)
Written by: Henry Creamer & Jimmy Johnson
I'm so blue, I don't know what to do,
All day through, I'm pining just for you
I did wrong when I let you go away,
For now I grieve about you night and day.
I'm unhappy and dissatisfied,
But I'd be happy if I had you by my side.
If I could be with you, I'd love you strong,
If I could be with you, I'd love you long,
I want you to know I wouldn't go,
Until I told you, honey, why I love you so.
If I could be with you one hour tonight,
If I was free to do the things I might,
I'm telling you true, I'd be anything but blue,
All dressed up but still nowhere to go,
How I wish that I could see a show,
But here I wait with no one to call me dear,
The one I love is many miles from here.
Central, give me one-two-three-four-J,
Oh won't you listen, little sweetie, while I say.
If I could be with you, I'd love you strong,
If I could be with you, I'd love you long,
I want you to know I wouldn't go,
Until I told you, honey, why I love you so.
If I could be with you one hour tonight,
If I was free to do the things I might,
I'm telling you true, I'd be anything but blue,
If I could be with you.