HAPPY BIRTHDAY ERSKINE HAWKINS!
BIRTHDAYS
1914
Erskine Hawkins, Trumpet/Leader
b. Birmingham, AL, USA. d. Nov. 12, 1993.
né: Erskine Ramsey Hawkins.
Called the '20th Century Gabriel'.
He was also the co-composer of "Tuxedo Junction"
(along with Julian Dash and Bill Johnson).
Biography
~by Scott Yanow
A talented high-note trumpeter and a popular bandleader, Erskine Hawkins was nicknamed "the 20th Century Gabriel." He learned drums and trombone before switching to trumpet when he was 13. While attending the Alabama State Teachers College, he became the leader of the college band, the 'Bama Street Collegians. They went to New York in 1934, became the Erskine Hawkins Orchestra, started making records in 1936, and by 1938 were quite successful.
With Hawkins and Dud Bascomb sharing the trumpet solos, Paul Bascomb or Julian Dash heard on tenors, Haywood Henry on baritone, and pianist Avery Parrish, this was a solidly swinging band that delighted dancers and jazz fans alike.
Hawkins had three major hits ("Tuxedo Junction," "After Hours," and "Tippin' In") and was able to keep the big band together all the way until 1953; some of their later sessions were more R&B-oriented yet never without jazz interest. Hawkins led a smaller unit during his last few decades (the survivors of the big band had a recorded reunion in 1971) and the trumpeter kept on working into the 1980s.
Erskine Hawkins
1902
Gus Aiken, Trumpet
b. Charleston, SC, USA. d. 1973.
Biography
~by Eugene Chadbourne
Although the big trophies in the jazz tournament always seem to be won by the great soloists and bandleaders, there are a number of players who don't lead bands and didn't seem to take many solos, either. Yet musicians such as Gus Aiken, an early jazz trumpeter from South Carolina, maintained long and distinguished careers simply by being good section players, combined with the ace timing that is needed to get in on the ground floor of major musical constructions. The trumpeter, whose younger brother Bud Aikin played trombone alongside him in some of the same outfits, began appearing on recordings of black music almost as soon as they were being cut in the early '20s.
He was born Augustus Aiken, is sometimes identified as Rice Aiken, and suffers the frequent misspelling of his name as "Aitkin" in a variety of scholarly jazz documents, including one of the biographies of his longtime boss, Louis Armstrong. There are discographies that list Gus Aiken and Gus Aitkin side by side, as if one ran in the door of the recording studio while the other was outside having a smoke. He was one of a group of musicians who as young men came out of the band of the New York City Jenkins Orphanage, not all of whom were actually orphans. He was professionally cutting records and playing live dates by the time he was 17 years old.
One of his first important connections was the songwriter and pianist Perry Bradford, who wisely predicted a market for African American music as far back as 1919, although for a long time he had very little luck convincing any record companies to back him. Finally, the good folks at OKeh became interested in Bradford's idea. Aiken was in on some of the very first test sessions, backing classic blues singer Mamie Smith, a star of the musical revue Maid of Harlem. After a few tries, Bradford and the label came up with a smash hit that wound up selling more than two million copies, prompting most other record companies to follow suit and resulting in mucho recording dates for the players such as Aiken who had been in on the idea from the start. With Smith, the trumpeter recorded such numbers as the overheated "Got to Cool My Doggies Now" and the profound "It's Right Here for You (If You Don't Get It Ain't No Fault o' Mine)." Of course, there were many blues numbers, most of which were identified with "blues" in the title, such as "Wish That I Could But I Can't Forgive You Blues" and "You Can Have Him, I Don't Want Him, Didn't Love Him Anyhow Blues."
One song even had blues in the title twice, setting some kind of record for misery: "Sighin' Around With the Blues Blues."
Through the mid-'20s, Aiken blew his horn on blues records by singers such as Mary Jackson, the festive Eliza Christmas Lee, the flowery Daisy Martin , Lavinia Turner, Louise Vant, Essie Whitman, Lena Wilson, the deep Ethel Waters, and of course more singers named Smith, such as Clara Smith and Cindy Smith. By the mid-'20s, songwriter and producer Bradford was cutting his own sides, tapping Aiken as one of the trumpeters at most of the sessions. The phrankly phony phenomenon of phonetically philling in phrases with "ph" was not phirst phiddled with by Phish: Aiken played in Perry Bradford's Jazz Phools way back in 1925, with Satchmo on the session. It was an early meeting for Aiken and the great New Orleans trumpeter and Armstrong turned out to be an important connection.
By 1935, Satchmo had to break up his own band thanks to the nasty folks at the New York City Musicians' Union up to their usual trick of playing "keepsies" with all-important union cards. As a result, Armstrong made the decision to join forces with Luis Russell, who had his own big band assembled and ready to go. The Russell group was already a well-respected New York big band and interestingly enough, several equally praised groups that were in action at the time featured Aiken in the horn section, usually in the first trumpet chair. One collaboration with Armstrong was an engagement at Connie's Inn, for which the group was held over for one and a half years. Armstrong also charged into his new Decca recording contract with this lineup, cutting about two dozen sides that have turned out to be at least the rib cage of his discographical skeleton.
The Russell orchestra had started out in Chicago and then moved to New York, where it became noted as an innovative band, meaning nobody involved was making any money. When Aiken joined up in the late '20s, the outfit featured some of the best hot musicians from New Orleans, such as Barney Bigard Omer Simeon, and Pops Foster. The group first backed up Armstrong in 1929 on a recording and by the mid-'30s, the loveable Satchmo had taken over the Russell orchestra completely. Through 1941, it solely functioned as backup band for Armstrong, with the former leader acting in the capacity of musical director. Thus, Aiken won a place in the lineup on some great Armstrong recordings, as well as sides by Sidney Bechet, who also worked with this orchestra's backing. But there was a dark side to the teaming up of Armstrong and Russell, at least in the minds of the latter artist's die-hard fans. They lament the fact that their hero "sold out," supporting the entertaining, commercial Armstrong rather than pursuing his own musical dream. Perhaps Russell deserves a break, however, for making this decision at the height of the Depression, when so many great musicians were struggling, some of them completely giving up music.
This was not the only jazz outfit of interest that Aiken worked with, although the relationship with Armstrong certainly got him the most notoriety. He also played in the bands of Charlie Johnson, who held forth regularly at the famous Harlem venue Small's Paradise from the mid-'20s to mid-'30s, fronting various outfits including Charlie Johnson's Paradise Band, the Paradise 10, and the Original Paradise Band. Elmer Snowden and the Washingtonians was a smaller band that Aiken worked with from 1931 through 1933, alongside jazz giants such as drummer Big Sid Catlett, trumpeter Roy "Little Jazz" Eldridge, and trombonist Dicky Wells. The group's piano player wasn't bad either: a fellow by the name of Duke Ellington. Although Aiken lived in New York City until the early '70s, his music jobs became much more "general business"-orientated following the collapse of the jazz big band scene, and the public's growing interest in rock & roll. Society bands and for-hire musician's union groups were his main support and he rarely worked with high-profile recording artists again.
1895
Gracie Allen,
American comedienne
b. July 26, 1895,
San Francisco, California
d. August 27th, 1964,
Los Angeles, California
Grace Ethel Cecile Rosalie "Gracie" Allen (July 26, 1895 – August 27, 1964), was an American comedienne who became internationally famous as the zany partner and comic foil of husband George Burns.
For contributions to the television industry, Gracie Allen was honored with a star on the Hollywood Walk of Fame at 6672 Hollywood Boulevard. She and George Burns are also both members of the Television Hall of Fame, having earned joint induction in 1988.
Gracie Allen - Wikipedia
Gracie Allen (1902 - 1964) - Find A Grave Memorial
1914
Ralph Blane, composer
d. Nov. 13, 1995.
né: Ralph Hunsecker Blane.
Biography ~by Jason Ankeny
The songwriting team of composer Hugh Martin and lyricist Ralph Blane earned their greatest renown for Meet Me in St. Louis, the classic 1944 Vincente Minnelli film musical which launched the perennials "Have Yourself a Merry Little Christmas" and "The Trolley Song." Born Ralph Uriah Hunsecker in Broken Arrow, OK, on July 26, 1914, Blane made his Broadway stage debut in New Faces of 1936, followed a year later by Hooray for What? He then teamed with castmate Martin to form the vocal quartet the Four Martins, additionally arranging vocals for a number of stage productions including One for the Money, Too Many Girls, DuBarry Was a Lady, Cabin in the Sky, and Louisiana Purchase. In 1941, Martin and Blane wrote their own Broadway smash, Best Foot Forward, which yielded the songs "Buckle Down, Winsocki" and "Ev'ry Time"; they soon traveled to Hollywood to adapt the project for MGM.
The duo remained in Tinseltown, authoring "The Joint Is Really Jumpin' (In Carnegie Hall)" for 1943's Thousands Cheer before turning to Meet Me in St. Louis, which also included their "The Boy Next Door." Contributions to 1944's Ziegfeld Follies ("Love") and 1947's Good News ("Pass That Peace Pipe") followed, and apart from Martin, Blane also collaborated with composers including Harry Warren, Harold Arlen, and Kay Thompson. Martin and Blane reunited to score the 1954 film Anthea, followed a year later by The Girl Rush; in 1960, the duo also composed several new songs for a stage adaptation of Meet Me in St. Louis, adding yet more new material for a 1989 revival. Blane died on November 13, 1995, at the age of 81.
Buddy Clark, Singer
Dorchester, MA, USA.
Biography ~by Bruce Eder
Buddy Clark was one of the most popular male vocalists of the 1930s and 1940s, a success on radio, in movies, and on record -- had he lived longer, in the estimation of pop music scholar John P. Cooper, Clark might easily have been a rival to Perry Como or Dean Martin in postwar America. A fixture on the airwaves for his first decade and a half as a singer, Clark didn't hit his commercial stride until the end of the 1940s, with more than a dozen hits in scarcely two years -- when his life was tragically cut short by a plane crash.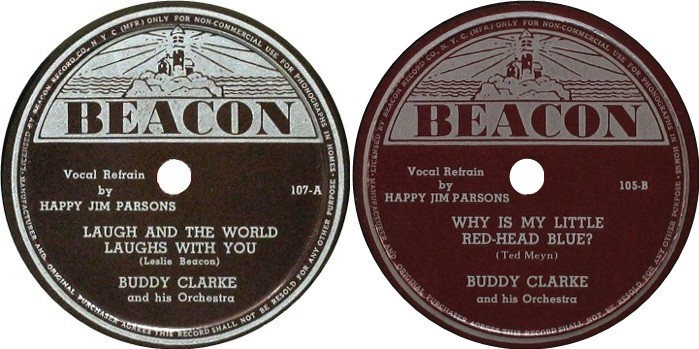 He was born Samuel Goldberg in Dorchester, MA in 1912. He initially chose law as a career, but before he was halfway done with law school, he'd started working as a singer. By 1934, under the stage name Buddy Clark, he was being featured on Benny Goodman's Let's Dance radio show, and he became a regular for two years on radio's Your Hit Parade from 1936 until 1938. Although he was never a jazz singer, and was most comfortable with pop songs, Clark was appreciated by band leaders like Goodman, as well as the public, for his crisp intonation and delicate phrasing. He also got to make the occasional record with jazz greats like Johnny Hodges. By the mid-1930s, Clark was signed to Vocalion Records, and he had his first Top 20 hit with "Spring Is Here." It was his last hit for almost 20 years, but he remained busy recording, dubbing voices for actors in various movies (most notably Jack Haley in Wake Up and Live) as well as making an appearance of his own in Seven Days' Leave. In the early 1940s, he also led his own septet, and sang with Goodman and Eddie Duchin.
In the spring of 1947, Clark, now signed to Columbia Records, topped the charts for two weeks with the single "Linda" -- that record heralded a two year period of unbroken success for the singer. "Linda" was followed up with "How Are Things in Glocca Mora" from Finian's Rainbow, which made the Top Ten. "Peg O' My Heart" was another chart-topper, and it was followed by "An Apple Blossom Wedding," "Don't You Love Me Anymore" and "I'll Dance at Your Wedding." He charted ten more singles in 1948, led by "Love Somebody," a million-selling number one hit. The following year, he had another series of very good selling singles that were solo or teamed with the likes of Doris Day and Dinah Shore.
On October 1, 1949, Clark took a flight in a private plane with some friends with whom he'd attended a football game. The plane never reached its destination, crashing in Los Angeles. Ironically, a month after his death, Clark had a final chart hit with "A Dreamer's Holiday."
Donald Voorhees, conductor
b. Allentown PA, USA.
d. Jan. 10, 1989, Cape May Court House, New Jersey, USA. (pneumonia) (Perhaps best recalled for conducting the "Bell Telephone Hour" radio program from its radio start in 1942, to its final television broadcast in 1968.)
Donald Voorhees - Wikipedia
Charlie Mccoy, mandolin/guit
ar
died in Chicago, IL, USA,
Played with the 'Harlem Hamfats'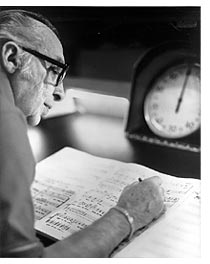 2002.
Composer Buddy Baker
, a musical director for nearly 200 Disney movies and TV shows including "The Mickey Mouse Club," died at age 84.
Songs Recorded/Released
left to right:
-
unknown (drums)
, Rudy Wiedoeft (clarinet), Marco Woolf (violin),
Buster Johnson (trombone), Arnold Johnson (piano),
unknown (banjo).
Blythe's Washboard Ragamuffins - Adams Apple
Abe Lyman's California Ambassador Hotel Orchestr
a
I Can't Get Over A Girl Like You (Loving A Boy Like Me)


Freddie Keppard and his Jazz Cardinals - Salty Dog


Ted Lewis and his Band - Bring Back Those Minstrel Days
Rhythmakers - I Would Do Anything For You
1933
Paul Ash and his Pabst Blue Ribbon Casino Orchestra -
Blue Roses
-
Vocal Refrain by Louis Rapp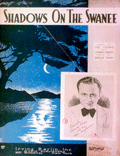 Paul Ash and his Pabst Blue Ribbon Casino Orchestra -
Shadows On The Swanee
Andy Kirk and his Twelve Clouds Of Joy
Better Luck Next Time

In My Wildest Dreams

-

Vocal Chorus by Pha Terrell

With Love In My Heart
LYRICS:



CHIRPIN' THE BLUES
~Written by: L Austin; Alberta Hunter
I woke up this mornin', heard somebody calling me
I woke up this mornin', heard somebody calling me
My man had packed his grip, said he was leaving for Tennessee
Bad luck and trouble, looks like they're on me to stay
Bad luck and trouble, looks like they're on me to stay
But good luck is old fortune, and it's bound to fall my way
Lord I'm worried now, but I won't be worried long
I said I'm worried now, but I won't be worried long
It takes a worried woman to trust this worried song
If the blues where whiskey, I'd stay drunk all the time
If the blues where whiskey, I'd stay drunk all the time
Till the man I love would ease my troubled mind
Mean Old Bedbug Blues
Mean old bedbug sho` is evil, he don`t mean me no good
Mean old bedbug sho` is evil, he don`t mean me no good
He thinks I`m a woodpecker and he takes me for a chunk o` wood
When I lay down at night I wonder how can a poor man sleep
When I lay down at night I wonder how can a poor man sleep
With one hole in your head while the other one in your feet
Bedbug`s big as a jackass, he will bite you, stand and grin
Bedbug`s big as a jackass, will bite you and stand and grin
Drink a bowl of bedbug poison, come back and bite you again
Saw one morn` in a corner, Lord I tried so hard to see
Saw one morn` in a corner, Lord I tried so hard to see
It was a mother bedbug Lord, prayin` for some oat to eat
I had to sit up all night long, my feet can`t touch the floor
I had to sit up all night long, my feet can`t touch the floor
Cause the mean old bedbug told me I can`t live there no more
and all those who have provided content,
images and sound files for this site.