HAPPY BIRTHDAY
MARGARET WHITING !
Daughter of famed composer Richard Whiting
Margaret Whiting was a dominant pop singer in the '40s and '50s, with a clear, striking voice and the kind of quasi-innocent sensibility that worked on such songs as "It Might as Well Be Spring" and "Moonlight in Vermont." The daughter of composer Richard Whiting (her aunt, Margaret Young, was a Brunswick Records recording artist of the '30s), Whiting began singing as a small child and by the age of seven she was working with Johnny Mercer, the popular songwriter and founder of Capitol Records, for whom her father worked. When Mercer and two partners launched Capitol, Margaret Whiting was one of their first signings.
Whiting started recording for the label in 1942, her first major hit being the Mercer/Harold Arlen composition "That Old Black Magic," as featured singer with Freddie Slack & His Orchestra. That was followed in 1943 by "Moonlight in Vermont," with Whiting singing as a member of Billy Butterfield's Orchestra, and "It Might as Well Be Spring," with Paul Weston & His Orchestra, from the film musical State Fair. Whiting first recorded under her own name in late 1945, singing the Jerome Kern/Oscar Hammerstein II composition "All Through the Day," which became a best-seller in the spring of 1946, and "In Love in Vain," both of which were featured in the film Centennial Summer.
Whiting also had hits with songs from the Broadway musicals St. Louis Woman and Call Me Mister in 1946. Those first recordings under her name were recorded in New York. In late 1946 Whiting returned to California and began recording there, with Jerry Gray & His Orchestra; "Guilty" and "Oh, But I Do" were the best-selling fruits of that session. Whiting's hit streak continued in 1948-1949. Owing to a musician's strike in the USA, orchestral tracks were recorded outside of the country and vocals added in US studios. Whiting supplied vocals to tracks cut by Frank De Vol & His Orchestra, including "A Tree in the Meadow," a number one hit in the summer of 1948, recorded in London. Her next number one occurred in 1949 with "Slipping Around," one of a series of duet recordings made with country film star Jimmy Wakely. Also during that year, Whiting recorded a duet with Mercer, "Baby, It's Cold Outside."
In 1950, she had a hit with "Blind Date," a novelty record she made with Bob Hope and the Billy May Orchestra. Whiting continued recording for Capitol into the mid-'50s, until her run of hits dried up. She left the company in 1958 for Dot Records but achieved only one hit on that label. She switched to Verve Records in 1960 and recorded a number of albums, including one with jazz vocalist Mel Tormé. A brief return to Capitol was followed by a hiatus, after which Whiting signed to London Records in 1966, for whom she recorded her last two charting pop singles. Her recordings continued to appear on the easy listening charts into the '70s. Whiting was still recording in the early '90s, and performing in cabaret and concerts. She died at the Actors' Fund Home in Englewood, New Jersey on 10 January 2011 at the age of 86.
1913
b. Mantua, Italy.
Gorni Kramer (22 July 1913 - 26 October 1995) was one of the most famous Italian songwriters, musicians and band leaders of the 20th Century. He wrote over a thousand songs.
~Biography
Kramer Gorni was born at Rivarolo Mantovano (Lombardy). Despite the exotic sound of Gorni Kramer in Italian language, which lead part of his audience to believe he was a foreigner or had adopted a fancy pseudonym, it was his real name. Gorni was in fact his family name, and Kramer his first name, after the US cyclist Frank Kramer who became road race world champion in 1912, who Gorni's father was a fan of.
Kramer learnt music at a very young age, thanks to his father, a musician. The first instrument he learned how to play was the accordion, with which he performed as a child in his father's band. He then studied double bass at the Conservatory in Parma and obtained his diploma in 1930. He started working as a musician for dance bands, then in 1933, aged 20, he formed his own jazz group. This new American musical genre was forbidden by the Italian fascist regime, but Gorni Kramer could get to know it thanks to some fellow musicians who worked on board the liners connecting Europe and North America.
In the middle of 1930s
he became a successful songwriter. He composed the music for Crapa pelada - lyrics by Tata Giacobetti - a 1936 hit performed by Alberto Rabagliati. In 1939 he wrote "Pippo non lo sa", one of Trio Lescano's most famous songs. In spite of his songs' popularity, Gorni Kramer and his orchestra were still ignored by the Italian state radio EIAR, who boycotted them because they played jazz.
During World War II, he worked with Natalino Otto, a singer also banned by EIAR because of swing. Kramer wrote "Ho un sassolino nella scarpa", one of Otto's greatest hits. In the period he also began a long-lasting cooperation with Quartetto Cetra - for them he wrote memorable songs such as "Nella vecchia fattoria", "In un palco della Scala", "Donna", "Concertino". In 1949 Gorni Kramer started working for Garinei and Giovannini, a very famous duo of impresarios who produced musical comedies. Writing music for their shows was his main activity for the following ten years. Their most successful productions were Gran Baldoria, Attanasio cavallo vanesio, Alvaro piuttosto corsaro, Tobia candida spia, Un paio d'ali. They featured very popular songs such as "Un bacio a mezzanotte", "Non so dir ti voglio bene", "Le gocce cadono", "Chèrie", "Simpatica". Gorni Kramer debuted on television in 1957 with Il Musichiere music show hosted by Mario Riva. He composed the show's theme song "Domenica è sempre domenica". Other shows ensued: Buone vacanze, Giardino d'inverno, L'amico del giaguaro, Leggerissimo. In mid 1960s Gorni Kramer gradually reduced his public performances, but he continued to work as a music publisher and a TV author. He died in Milan in 1995.
d. 1971.
Biography
~by Scott Yanow
A very talented trombone soloist influenced by Jack Teagarden but possessing his own brassier sound, Lou McGarity was a strong asset to many bands and jam sessions. He started out playing violin when he was seven, not switching to trombone until he was 17.
Stuyvesant Casino, N.Y. Ray McKinley, Lou McGarity, Lee Castle, Pee Wee Russell
McGarity studied at the University of Georgia from 1934-36, gigged locally in the South (including with Kirk DeVore and Nye Mayhew), and toured with Ben Bernie from 1938-40 before hitting the big time with Benny Goodman from 1940-42. McGarity not only played with Benny Goodman's big band but with his smaller groups -- the first trombonist to do so. McGarity, who through the years often teamed up with his friend and fellow trombonist Cutty Cutshall (including with Goodman), worked with Raymond Scott's Orchestra at CBS from 1942-44, spent time in the military and then rejoined Benny Goodman for a time in 1946.
Starting in 1947, he worked as a busy studio musician in New York, often appearing nightly with Dixieland-oriented musicians, including the Lawson/Haggart band, and with the many groups of Eddie Condon. He worked with Bob Crosby in the mid-'60s and was a key member of the World's Greatest Jazz Band from 1968-70 before bad health shortened his life. McGarity recorded as a leader for MGM (four selections in 1955), Jubilee in 1959, Argo in 1959 and Fat Cat's Jazz in 1970.
1915
Biography ~By Richard Jessen
Marion Joseph "Taps" Miller who was born July 22, 1915 in Indianapolis, Miller was a triple threat performer, predominantly active as a dancer although he also played trumpet. He gained fame in the late 1930's and Forties as a dance in stage productions as well as a sideman in several big bands including two stays with Count Basie's organization (1942 and 1947 - 1949) as a singer and trumpet player.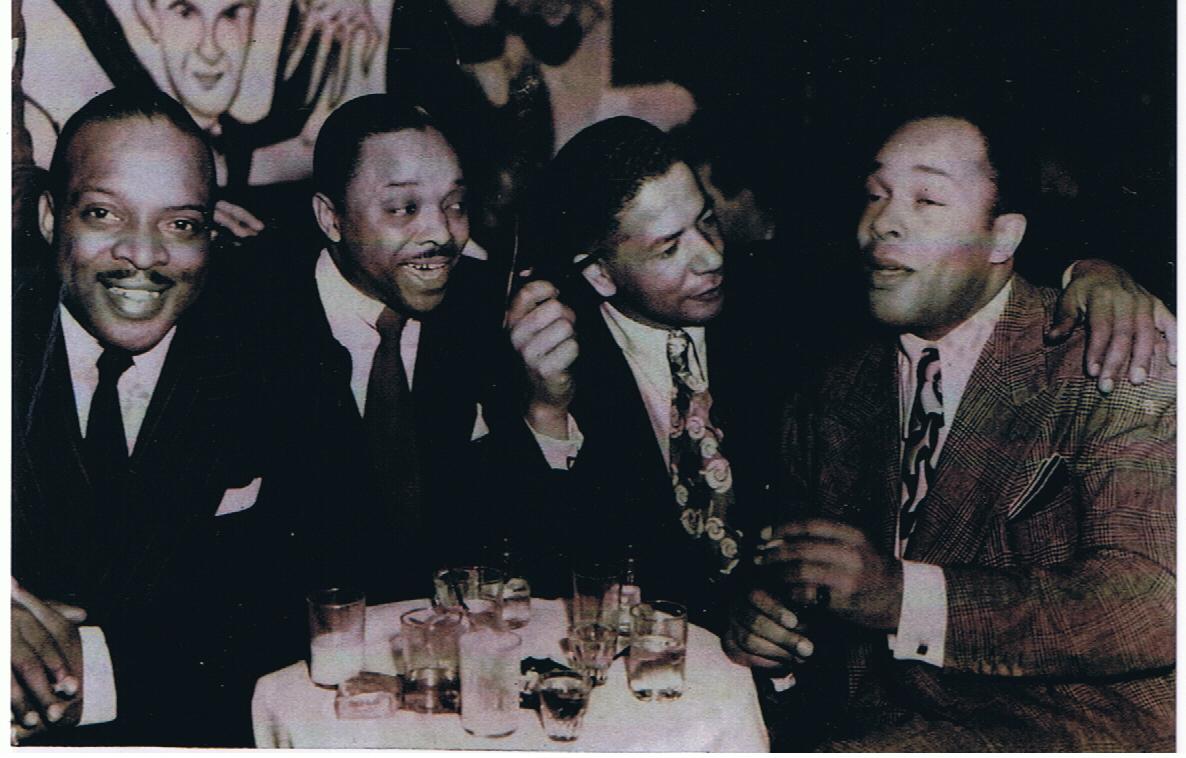 L-R: Count Basie, Taps Miller, unknown friend and Clark Monroe.
In tribute to his best friend Taps, Buck Clayton wrote "Taps Miller" for the Basie band who recorded it for the first time on December 6, 1944. One of "Taps" Miller's showstoppers at his personal appearances was singing "Wham! (Re-bop,Boom-Bam)" while playing his trumpet and dancing.
1874
C&W vocals/banjo/guitar - but all-string instruments
d. 1954. Founder of the "Pickard Family". He was one of the first "Grand Old Opry" performers. Patriarch of one of the first country singing groups to appear on national network radio. While still a young boy, Obed became proficient on nearly all stringed instruments. In 1926, at age 52, he gained his first fame when he became a soloist in the Grand Ole Opry and began to record for Columbia.
In 1928, he brought his family into the act starring
on NBC's The Cabin Door, a sort of minstrel show on radio. After that, he returned to the Grand Ole Opry showm and followed that with radio station work in New York, New Orleans, Philadelphia and other cities. 1940 found him in Hollywood where he would eventually make three films: Frontier Vengeance (1940), Riders Of The Dawn (1945), and Sea Of Grass (1947). He later had his own TV show in L.A. During the earliest years of TV, he has his own series "Sunday at Home" (1949).
d. 1952.
Biography
~by arwulf arwulf
This interesting character played a vital role in Chicago's hot music scene during the mid-1920s. The entire drama of his exciting professional life, his subsequent mental derangement, incarceration, and death took place in, or not far from, Chicago. Firstly, he is said to have studied piano with Augustus Zinky Cohn. His earliest appearance on phonograph records occurred in 1923, when he sat in with trumpet man Bernie Young. During the year 1925, Simpson could be heard performing with the Moulin Rouge Orchestra. He then joined up with an orchestra fronted by violinist and alto saxophonist Arthur Sims. Simpson can be heard on "Soapstick Blues," and a couple of other sides waxed by Arthur Sims Creole Roof Orchestra on June 21, 1926.
After Sims passed away that same year, the band continued to operate under the leadership of Bernie Young. Simpson stuck with Bernie through 1930. But it was the year 1929 that gave us much of this pianist's best ensemble work on records, as he became a member of Jabbo Smith's Rhythm Aces. Interacting with such notable individuals as Omer Simeon, Banjo Ikey Robinson, and the fiery Jabbo himself, Simpson was now helping to create some of the hottest and toughest records to come out of Chicago during the late 1920s.
Among the handful of sides by the Rhythm Aces issued on the Brunswick label, Simpson's spicy handling of the ivories is most evident on those famously frantic numbers "Jazz Battle" and "Ace of Rhythms," the steaming "Sau-Sha Stomp," "Take Your Time," and the very solid "Little Willie Blues." His wonderful laid-back support was an essential element in sustaining the mood of low-down masterpieces like "Let's Get Together" and "Take Me to the River." Simpson worked with, but does not appear on, the few extant recordings made by the legendary Erskine Tate.
During the years 1931-1933, Simpson engaged in what has been described as "freelance recording," and led various ensembles under his own name, utilizing the talents of Jabbo Smith and a young Milt Hinton. (According to Hinton, Simpson liked to name musical compositions after types of food, for example "Ham Hocks and Beans.")
The fateful turning point in Simpson's life occurred when he began accompanying vocalist, comedian, dancer, and sometime-female impersonator Frankie "Half Pint" Jaxon. They seem to have made only one recording session together, on June 23, 1933. The titles were "Mama Don't Allow It," "Spank It," and "The Mortgage Blues." What was it about Half Pint that made Simpson want to kill him? Some dangerous volatile component in the chemistry of their combined personalities? Something unforgivable that Jaxon said or did, triggering a homicidal reaction in the over-wrought pianist? Or maybe Simpson was simply going crazy. That's apparently what the authorities believed, as he was institutionalized in March 1935 at the Illinois State Hospital for Mental Diseases in Elgin, Illinois. Even this, it seems, could not prevent him from making music.
He played piano and vibraphone in the hospital's 26-piece dance orchestra, and beat the bass drum in their marching band. He even made a series of solo piano recordings during the mid-1940s, right there on the grounds of the mental hospital, where he lived out the rest of his days.
On This Date Include:
Famed showman Florenz Ziegfeld died.
In poor health, and with no shows on Broadway,
his wife, actress Billie Burke, was working in
Hollywood to support the family.
Marion Harris -
"
After You've Gone"
Good-Bye Alexander (Good-Bye Honey Boy)
Wilbur Sweatman's Jazz Orchestra
I Love You, Sweet Angeline
Bessie Smith - Lou'siana Low Down Blues
The California Ramblers - Somebody Loves Me
Cookie's Gingersnaps - Here Comes The Hot Tamale Man
Cookie's Gingersnaps - High Fever
Love Found You For Me

Messin' Around

- Vocal Chorus by Jimmie Noone
Abe Lyman's California Ambassador Hotel Orchestra
Martha Copeland - Police Blues
Tiny Parham and his Musicians
Echo Blues

Jungle Crawl

Lucky "3-6-9"
Tiny Parham and his Musicians -
Washboard Wiggles
Frankie "Half Pint" Jaxon - Corrine Blues
Louis Armstrong and his Orchestra
Sweet Savannah Sue

That Rhythm Man
Louis Armstrong and his Orchestra -
(What Did I Do To Be So)Black And Blue?
-
(From Musical Show "Connie's Hot Chocolates")
(Andy Razaf / Fats Waller)
Harry Reser and his Orchestra
He's A Big Man From The South (With A Big Cigar In His Mouth)
Frankie Trumbauer and his Orchestra
Frankie Trumbauer and his Orchestra -
Hittin' The Bottle
Bessie Smith -
Black Mountain Blues
Bessie Smith -
Hustlin' Dan
AFTER YOU'VE GONE
~(Henry Creamer / Turner Layton) (1918)
Now won't you listen honey, while I say,
How could you tell me that you're goin' away?
Don't say that we must part,
Don't break your baby's heart
You know I've loved you for these many years,
Loved you night and day...
Oh! honey baby, can't you see my tears?
After you've gone and left me cryin'
After you've gone there's no denyin'
You'll feel blue, you'll feel sad
You'll miss the dearest pal you've ever had
There'll come a time, now don't forget it
There'll come a time when you'll regret it
Someday, when you grow lonely
Your heart will break like mine and you'll want me only
After you've gone, after you've gone away
After you've gone and left me cryin'
After you've gone there's no denyin'
You're gonna feel blue, and you're gonna feel sad
And you'll miss, and you'll miss,
And you'll miss the bestest pal you ever had
There'll come a time, now don't forget it
There'll come a time when you'll regret it
But baby, think what you're doin'
I'm gonna haunt you so, I'm gonna taunt you so
It's gonna drive you to ruin
After you've gone, after you've gone away.
and all those who have provided content,
images and sound files for this site.
Save
Save