HAPPY BIRTHDAY JAN WIKTOR KIEPURA!
BIRTHDAYS
1902
Jan Wiktor Kiepura
Jan Wiktor Kiepura
(May 16, 1902 – August 15, 1966) was an acclaimed Polish singer (tenor) and actor.
Life and career
Jan Kiepura was born in Sosnowiec, Poland, the son of Miriam (née Neuman), a former professional singer, and Franciszek Kiepura, a baker and grocery owner. His mother was Jewish. He had a brother, Władysław. During 1916-1920, he attended the Junior School in Sosnowiec where he graduated from high school. In 1921 he studied law at the University of Warsaw. He learned singing from Wacław Brzeziński and Tadeusz Leliwa. In 1923 he performed his first concert in the Sphinx cinema in Sosnowiec. In 1924, Jan Kiepura was admitted by Emil Młynarski to the local choir. He played the role of Góral in Moniuszko's opera Halka. He also took part in a production of Gounod's Faust Faust in the Polish city of Lwow (now in the Ukraine).
In 1926, Jan Kiepura left Poland for an international career in Germany, Hungary, France, and England. When he returned to Poland, with the money he had earned from his performances, he built the well-known hotel Patria in the Polish border town of Krynica-Zdrój, which cost him about US$3 million. Some Polish movies were made there. Kiepura played in twelve Polish musicals, including O czym się nie myśli (1926), Die Singende Stadt (Neapol, śpiewające miasto) (1930), Tout Pour L'amour (Zdobyć cię muszę) (1933), and Mon coeur t'appelle (1934).
Return to Warsaw
Kiepura's return to Warsaw in 1934 caused a sensation in the Polish capital, and his musical shows were received with huge enthusiasm. Apart from his performances in concert halls, he also sang to a crowd gathered under the balcony of the Warsaw hotel "Bristol". He also sang while standing on his car's roof, or from a carriage's window, and also spoke to the audience. However, he was not a frequent guest in Poland. He signed contracts with Convert Garden in London, Opéra Comique in Paris and National Opera in Berlin. Kiepura also started a film career, working with Berlin's UFA and then with the Motion Picture Industry in Hollywood. He played in many films, of which the most famous are: The Singing City, The Song of Night, Ich liebe alle Frauen, The Charm of La Boheme, Das Land des Lächelns.
Marriage
On October 31, 1936, Kiepura married the Hungarian-born lyric soprano Marta Eggerth (1912–2013). The two often sang together in operettas, in concerts, on records, and in films until his death. In 1937 Kiepura and Eggerth were forced to flee Europe due to the rise of German Nazism and the onset of World War II. They emigrated to the United States.
Death
He died at the age of 64 in New York and was buried in Powązki Cemetery, Warsaw.
Jan Kiepura
Jan Kiepura
Dud Bascomb
occupies an unusual place in jazz history. Because he was one of the two trumpet soloists with the
Erskine Hawkins Orchestra
, and the other was the leader, Bascomb's solos (some of which were quite famous) were often thought at the time as being by Hawkins! The youngest of ten children, the younger brother of tenor-saxophonist
Paul Bascomb
and the future father of bassist
Dud Bascomb, Jr
., Dud started off on piano but soon switched to trumpet. He went to Alabama State Teacher's School where in 1932 he met
Erskine Hawkins
who was leading the Bama State Collegians.
When the band went to New York in 1934, both Bascombs went along and Dud would remain with Hawkins until 1944. While Hawkins took the high note and more exhibitionistic solos, Bascomb was responsible for most of the stronger jazz improvisations including on "Tuxedo Junction" and "Gin Mill Special." Dud Bascomb left Hawkins in order to help out with his brother's struggling septet in 1944; the group eventually expanded to become a big band. In 1947 he spent a few months with
Duke Ellington's Orchestra
but unfortunately was rarely featured. In the 1950's Bascomb freelanced including leading his own quintet at Tyle's Chicken Shack in New Jersey for over three years; one of his sidemen was
Lou Donaldson
.
Although somewhat obscure, Dud Bascomb worked steadily throughout the 1960's including touring Japan three times with
Sam Taylor
, Europe with
Buddy Tate
and heading his own band on various occasions. Dud Bascomb led a few isolated sessions through the years: four songs apiece for the Deluxe, Alert, Sonora and True-Blue labels in the mid-1940's. In addition, he headed a single album for Savoy that was recorded during 1959-60 but mostly not released (despite its quality) until 1986.
clarinet/Leader/alto sax/vocals
d. Oct. 29, 1987, Los Angeles, CA, USA (congestive heart failure).
né: Woodrow Charles Herman.
Without a doubt Woody Herman was one of the most talented bandleaders of the twentieth century. With numerous hits and an ear for staying contemporary he remained active and vital long after most of his contemporaries had hung up their batons. Today he is best remembered for such songs as ''Woodchopper's Ball,'' ''Blue Flame,'' and ''Blues in the Night.'' Other hits included ''Caldonia'' and ''Northwest Passage.''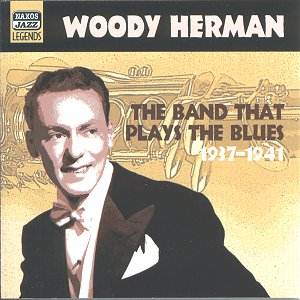 Herman began in show business at an early age, singing and dancing in vaudeville at age six. He later studied the saxophone and clarinet and worked with Myron Stewart and Joe Lichter before joining Tom Gerun's band in 1929 as both an instrumentalist and a singer. He remained with Gerun until 1934 then briefly worked with Harry Sosnik and Gus Arnheim before being hired by Isham Jones. When Jones retired in 1936 due to illness many of his musicians opted to stay together. They formed a cooperative unit and elected Herman as president and leader.
The early Woody Herman Orchestra focused mainly on blues arrangements, giving itself the moniker ''The Band That Plays the Blues.'' The group struggled at first to gain acceptance. Recognition finally came in 1939 with their first big hit, ''Woodchopper's Ball,'' on Decca Records. In 1943 the orchestra was renamed Woody Herman and his Herd. Its style by that time had shifted away from the blues.
Heavily influenced by Duke Ellington, the orchestra's music combined bop themes and swing arrangements, much to the critics' delight. The band even attracted the attention of classical composer Igor Stravinsky, who became a big fan. Stravinsky wrote a special number, ''Ebony Concerto,'' for the group to perform at Carnegie Hall.
Vocalists over the years included Sharri Kaye, Dillagene, Carolyn Grey, Mary Ann McCall, Carol Kaye, Muriel Lane, Kathleen Lane, Jean Bowes, Sue Mitchell, Lynne Stevens, Anita O'Day, and Francis Wayne, as well as Herman himself. Musicians included trumpet players Neal Hefti, Pete Candoli, and Sonny Berman, drummer Davey Tough, bassist Chubby Jackson, pianist Ralph Burns, tenor saxophonist Flip Phillips, and vibraphonist Red Norvo. Herman also broke conventions and hired two female musicians, trumpet player/vocalist Billie Rogers and vibraphonist Marjorie Hyams.
By the end of the war years Herman's orchestra was the most popular in the nation, winning both the Metronome and Down Beat polls in 1945. With the band's success, though, came increasing pressure on Herman, and in December of 1946 he made the suprise announcement that he was disbanding the group in order to devote more time to his family. Herman, however, found it difficult to stay away from the music business. After a stint as a disc jockey and a few sessions with pick-up bands he finally formed a new group, the Second Herd, in 1947. The new band featured a ''cooler'' sound, with such musicians as Stan Getz, Zoot Sims, Clark Terry, and Oscar Pettiford. The orchestra remained together only two years and had its biggest hit with the tune ''Four Brothers.''
During the 1950s Herman formed a Third Herd, which scored a hit with ''Early Autumn,'' and later he organized the New Thundering Herd.
Sadly, Herman's life ended on a sour note. After financial problems in the 1960s, caused by an inept band manager, Herman ended up owing back taxes. He was forced to continue performing during the 1980s in an effort to pay off his debt. Illness finally prevented him from touring and the IRS seized his assets, including his house. He died soon after, in 1987, from complications of pneumonia.
1891
Richard Tauber
Richard Tauber (16 May 1891 – 8 January 1948) was an Austrian tenor.
Early life
Richard Tauber was born in Linz, Austria, to Elisabeth Seifferth, a widow and an actress who played soubrette roles at the local theatre, and Richard Anton Tauber, an actor; his parents were not married and his father was reportedly unaware of the birth as he was touring North America at the time. The child was given the name Richard Denemy (Denemy was his mother's maiden name); he was sometimes known as [Carl] Richard Tauber, and also used his mother's married name, Seiffert; but the claim by the Encyclopaedia Britannica that he was ever known as Ernst Seiffert has no support from any of the 12 published books and monographs about him listed in Daniel O'Hara's comprehensive Richard Tauber Chronology, January 2016 edition (http://www.richard-tauber.de/wp-content/pdf/TAUBER-CHRONOLOGY.pdf) After he was adopted by his father in 1913, his legal name became Richard Denemy-Tauber (op. cit).
Richard accompanied his mother on tour to theatres, but she found it increasingly difficult to cope, and left him with foster-parents in Urfahr, now a suburb of Linz. In 1897–98 he was sent to school in Linz, and then his father took over his upbringing, moving him to Graz, Prague, Berlin, Salzburg and finally Wiesbaden (see the Korb biography, listed in note 7). His father, who was born Jewish but had converted to Roman Catholicism, hoped that young Richard would become a priest. The boy missed the excitement of the theatre and instead joined his father in Prague and, subsequently, in 1903 at the theatre in Wiesbaden. Richard hoped to become a singer but failed to impress any of the teachers he auditioned for, probably because he chose to sing Wagner, for which his voice was not suited. His father entered him at the Hoch Conservatory in Frankfurt to study piano, composition and conducting. He made rapid progress but he still hoped to become a singer.
Early career
After an intensive period of vocal training under Carl Beines, he made his public debut at a concert at Freiburg on 17 May 1912. That year his father was appointed Intendant of the Municipal Theatre in Chemnitz and was therefore in a position to arrange for Richard to appear as Tamino in The Magic Flute on 2 March 1913. Some weeks later, on 16 April, he played Max in Der Freischütz, a performance which was attended by Nikolaus Count von Seebach (de) of the Dresden Opera who had already offered Tauber a five-year contract, commencing on 1 August. The Baron encouraged Tauber to take small roles with other companies to broaden his experience. During his years in Dresden, Tauber acquired his reputation as a remarkably quick student: he learned Gounod's Faust in 48 hours, Bacchus in Richard Strauss's Ariadne auf Naxos overnight, to the amazement of the composer, who conducted the pe
rformance (in Berlin). People started to call him "the SOS Tenor".
Following some guest appearances at the Wiener Volksoper in 1920, he made his Vienna State Opera debut on 16 June in La bohème, substituting for an indisposed Alfred Piccaver. In 1922, Tauber signed a five-year contract with the Vienna State Opera and appearances with the Berlin State Opera followed; for many years he appeared with both companies – four months with each, leaving four months for concerts and guest appearances with other companies and touring abroad. He sang the tenor role in many operas, including Don Giovanni, The Bartered Bride, Tosca, Mignon, Faust, Carmen and Die Fledermaus, as well as newer works such as Erich Korngold's Die tote Stadt and Wilhelm Kienzl's Der Evangelimann. It was in June 1919 that he made the first of over seven hundred gramophone records. All his vocal recordings were made for the Odeon Records label, and after 1933 for the associated Parlophone label. Tauber had a lyrical, flexible tenor voice, and he sang with a warm, elegant legato. His excellent breath control gave him a wonderful head voice and messa di voce with a superb pianissimo. He was elegant in appearance too – although he had a slight squint in his right eye; he disguised it by wearing a monocle which, when accompanied by a top hat, added to the elegant effect.[citation needed]
Tauber first performed in an operetta by Franz Lehár at the Volksbuhne in Berlin in 1920. This was Zigeunerliebe, in which he also appeared in Linz and Salzburg in 1921. In 1922 he was offered the role of Armand in Lehár's Frasquita at the Theater an der Wien, and the experience was a resounding success.[8] This excursion into operetta was looked down on by some, but did Tauber no harm.It gave him a new audience. It revived Lehár's flagging career as a composer of operetta. In the future, Lehár composed a number of operettas with roles written specifically for Richard Tauber, including Paganini (1925, although he was unavailable for the Vienna premiere, and first sang it in Berlin in 1926), Der Zarewitsch (1927), Friederike (1928), The Land of Smiles (1929) with the famous aria "Dein ist mein ganzes Herz", Schön ist die Welt (1930), and Giuditta (1934).[8] The hit songs usually occurred in the second act and were informally known as Tauberlieder. Tauber appeared in a number of films, both in Germany and later in England. He provided a 'voice-over', singing the title song in the otherwise silent film I Kiss Your Hand, Madame (1929).
Richard Tauber and Carlotta Vanconti, c. 1928
When in Vienna, Tauber also conducted at the Theater an der Wien, and it was here in 1924 that he met the soprano Carlotta Vanconti who soon divorced her Italian husband and married Tauber on 18 March 1926. They separated in 1928 and divorced later the same year in Berlin. But the divorce was recognised only in Germany. In 1929 he met Mary Losseff at Rudolf Nelson's review in Berlin. They lived together for about five years. Losseff became his muse; it was for her that he wrote Der singende Traum. Losseff's career ended when she became an alcoholic, but Tauber remained her lifelong friend and supported her until his death. In 1931, Tauber made his London debut in operetta, and London appearances became a regular event; he also toured the USA in this year. In 1933, Tauber was assaulted in the street by a group of Nazi Brownshirts because of his Jewish ancestry, and he decided to leave Germany for his native Austria, where he continued to sing at the Vienna State Opera right up to the Anschluss in March 1938. In the mid-1930s, he made several musical films in England, and at the premiere of her film Mimi in April 1935, he met the English actress Diana Napier (1905–1982); they were married on 20 June 1936, only after protracted legal proceedings to secure an Austrian divorce from Vanconti. Napier appeared in three of his British films: Heart's Desire (1935), Land Without Music and Pagliacci (both 1936).
Later career
In 1938, he made his London operatic debut in Die Zauberflöte under Sir Thomas Beecham. Earlier that year, the Nazi government of Germany annexed Austria and Tauber left for good. In response, the Nazis withdrew the Taubers' passports and right of abode; because this left the couple technically stateless, Tauber applied for British citizenship. He was touring South Africa when World War II broke out, and returned to Switzerland until receiving the papers allowing him to enter the UK in March 1940.
Despite receiving lucrative offers from the USA, he remained in the UK for the entire war. There was little opera staged in wartime Britain so he made a living by singing, conducting and making gramophone records and radio broadcasts. He even composed English operettas, together with the lyric writer Fred S. Tysh, from one of which, Old Chelsea, the song "My Heart and I" became one of his most popular English recordings. It was only these English records that brought him any royalties; for his earlier recordings he had been paid for each performance and he had been compelled to leave his savings behind in Austria. By now he was so crippled by arthritis that he could no longer move into and away from the microphone for softer and louder notes. A small trolley was built on rubber wheels so the engineers could silently roll him back and forth while recording.
In 1946, Tauber appeared in a Broadway adaptation of The Land of Smiles (Yours is my Heart) which flopped, leaving him with huge personal losses and in debt to the backers. He was thus forced to tour the USA, Canada, Central and South America for six months to recoup losses, with Arpad Sandor and George Schick serving as his accompanists, and Neil Chotem as assisting artist. In April 1947, Tauber returned to London and sought medical attention for a persistent cough. He was eventually diagnosed with lung cancer: one lung was already useless and the other nearly so.
Gravestone, Brompton Cemetery, London
The Vienna State Opera was in London for a short season at the Royal Opera House – their first visit since the war – and they invited Tauber to sing one performance with his old company. On 27 September 1947 he sang the role of Don Ottavio in Don Giovanni, not a large part but with two difficult arias that demand good breath control to bring off well. Those in the audience say that he sang wonderfully and to loud applause. Live excerpts of these two arias from this performance survive, and they reveal a tone of undiminished focus and steadiness, a good line, and somewhat shortened phrasing.
Death
A week later, Tauber entered Guy's Hospital to have his left lung removed to treat the cancer but it was too late. He died on 8 January 1948 in the London Clinic, Devonshire Place. His Requiem Mass was at St. James' Church, Spanish Place. He was interred in Brompton Cemetery (London).
On This Date Include:
1953.
Famed Gypsy guitarist Django Reinhardt
died in Samois, France. -Stroke, Age: 43.
(né: Jean Baptiste Reinhardt, b. Jan. 23, 1910, Liberchies, Belgium).
1922
Viola McCoy - Chirpin' The Blues
1924
The Georgians. (Paul Specht Orch.) - Doodle Doo Doo
Isham Jones and his Orchestra
Henry Halstead and His Orchestra -
Ain't That Too Bad
The Six Hottentots -
Hurricane
The Six Hottentots
-
Melancholy Charlie
*(
The Six Hottentots was a pseudonym for Red Nichols and his Five Pennies.)
Jean Goldkette and his Orchestra -
In My Merry Oldsmobile
- (Waltz)
Jimmie Noone's Apex Club Orchestra
-
Every Evening (I Miss You)
University Six - C-O-N-S-T-A-N-T-I-N-O-P-L-E
Paul Whiteman and his Orchestra -
The Man I Love (Vaughn De Leath voc.)
Harry Reser and his Orchestra
C-O-N-S-T-A-N-T-I-N-O-P-L-E - (Tom Stacks vocal)
Etiquette Blues - (Tom Stacks, Harry Reser and Larry Abbott vocal, no vocal on German issue)
Ray Ventura et ses Collegiens - Button Up Your Overcoat
I Want To Be Bad
Louise
Lover Come Back To Me
Fletcher Henderson Orchestra - Blazin'


Fess Williams and his Royal Flush Orchestra
- 1929
Left to Right:
David "Jelly" James, Ken Roane, George Temple, Oliver
Blackwell, Emmanuel Casamore, Lockwood Lewis, Ralph Bedell,
Andy Pendelton, Felix Gregory, Perry Smith, Hank Duncan
Paul Whiteman and his Orchestra
1928
left to right:
Roy Bargy
, Lennie Hayton.
standing:
Paul Whiteman
.
seated:
Irving Friedman,
Michael Pingitore,
George Marsh.
standing left:
Charles Gaylord, Eddie Pinder,
Austin Young,
Min Leibrook, Rube Crozier, Charles Strickfaden. standing
right:
Kurt Dieterle, Mischa Russell, Marty Malneck, Charles Margulis, Wilber Hall,
Mike Trafficante, Roy Mayer, Chester Hazlett.
standing
back row:
Frankie Trumbauer
,
Bill Rank, Jack Fulton,
Bix Beiderbecke
, Boyce Cullen,
Bubber Miley and his Mileage Makers - I Lost My Gal From Memphis

Bubber Miley and his Mileage Makers - Without You Emaline



Jimmie Noone's Apex Club Orchestra
Isham Jones Orch. - Star Dust
Salty Dog Four - Ballin' The Jack
Isham Jones Orch. -
I Can't Believe It's True
Paul Whiteman and his Orchestra
Easter Parade
Lazy - (Swing Wing)
Russian Lullaby
Say It Isn't So
'Neath the blossoms waiting
The moments pass into hours
The hours pass into years
And as she smiles through her tears
Know that he'll be faithful
But if he don't come back
Then I'll never sigh or cry
(Repeat, then modulate and repeat again)