Member: "Allen Brothers"
The Allen Brothers (Austin Allen born February 7, 1901 - died January 5, 1959 and Lee Allen born June 1, 1906 - died February 24, 1981) were an American country music duo popular in the 1920s and 1930s. They were nicknamed "The Chattanooga Boys" since many of their songs mentioned Chattanooga.
Biography The brothers were born and raised in Sewanee, Tennessee and they both learned to sing and play musical instruments, Austin played the banjo while Lee concentrated on the guitar and kazoo. As they grew up they were influenced by local jazz and blues artists such as the guitarist and Mississippi river boat performer May Bell and the street singers the Two Poor Boys. By the early 1920s, they were performing in small coal-mining communities in the South doing medicine shows and Vaudeville onstage. They received a recording contract on Columbia Records and recorded for the first time on April 7, 1927. At this first session they recorded "Salty Dog Blues" which became their first hit selling around 18 000 copies. Columbia, by mistake, placed one of their recordings in the "race" series (reserved for black artists) instead of its "hillbilly" series. The brothers threatened to bring a lawsuit against Columbia but in the end they decided to move to Victor Records instead. Working with the A&R man Ralph Peer - who had been instrumental in bringing both Jimmie Rodgers and the Carter Family to fame - the Allen Brothers recorded their biggest hit "A New Salty Dog" in 1930. Due to the Great Depression, the brothers had to abandon their musical career in 1934. Although they were successful and sold more than other hillbilly groups - more than 250 000 copies altogether - they could not make a living from their music. Austin moved to New York and both brothers went to work in the construction business. In the 1960s, when the Allen Brothers were rediscovered by folk revivalists, Austin had already died in South Carolina in 1959 but Lee appeared onstage a few times in Tennessee.
Allen Brothers 1927-1930
1915
singer/songwriter/actor/author/guitar
b. Enville, OK, USA, d. June 12, 1978.
né: Cyrus Whitfield Bond worked with 'The Jimmy Wakely Trio'


1915
Bart Howard
b. Burlington, Iowa, USA.
d. Feb. 21, 2004, Carmel, NY, USA.
-complications from a stroke;
Some sources claim b. 1916.
né: Howard Joseph Gustafson.
Bart Howard (born Howard Joseph Gustafson; June 1, 1915 — February 21, 2004) was the composer and writer of the famous jazz standard "Fly Me To The Moon", which has been performed by singers (among others) Frank Sinatra, Ella Fitzgerald, Nancy Wilson, Della Reese, Diana Krall, June Christy and Astrud Gilberto. It is also played frequently by jazz and popular musicians around the world.
Howard was born in Burlington, Iowa. He began his career as an accompanist at the age of 16 and played for Mabel Mercer, Johnny Mathis and Eartha Kitt, among others. "Fly Me To the Moon" was first sung in 1954 by Felicia Sanders at the "Blue Angel" club in Manhattan where the composer became M.C. and accompanist in 1951. The song received wide exposure when Peggy Lee sang it on The Ed Sullivan Show several years later. Bart Howard "lived off" this song for the rest of his life, although he had 49 other songs to his credit. He died, aged 88, in Carmel, New York. He was survived by a sister Dorothy Lind of Burlington, Iowa and by his companion of 58 years, Thomas Fowler.
Raymond Hubbell
, Composer
d. Dec. 13, 1954, Homestead, FL, USA.
John Raymond Hubbell (June 1, 1879 - December 13, 1954), also known as Raymond Hubbell, was an American writer, composer and lyricist. Today he is most remembered for the popular song Poor Butterfly. Hubbell was born in Urbana, Illinois. He attended schools in Urbana and studied music in Chicago, where he formed a dance band. He worked for Charles K. Harris Publishers as a staff arranger and pianist. His first composition for stage musicals was in 1902 for a show called Chow Chow, which opened later in New York as The Runaways. He began composing music for the Ziegfeld Follies in 1911 and eventually scored seven editions.
In 1915 he was hired as musical director for the Hippodrome after the previous music director, Manuel Klein,left abruptly after a disagreement with Lee Shubert and Jacob J. Shubert. He continued composing for the theater until 1923. The song he is most remembered for, Poor Butterfly, was written for one of the first shows he wrote for the Hippodrome, The Big Show. According to his obituary, he thought his best song was The Ladder of Rose, written for the 1915 Hippodrome hit Hip-Hip-Hooray.
His last Broadway work was the score for the 1928 musical Three Cheers, starring Will Rogers. In reviewing the show, Brooks Atkinson wrote "Most of the music is unpretentiously melodious." Soon after he retired to Miami, Florida. He was one of the founding members of ASCAP in 1914. For 23 years he was head of the membership committee, and for 7 years was its treasurer. Hubbell suffered a mild stroke on March 7, 1947. He suffered a serious stroke on November 28, 1954, and died on December 13. He was survived by his wife Estelle whom he married in about 1914.
(worked with Rosetta Tharpe)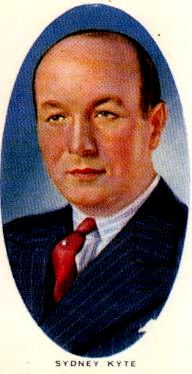 b. Stamford Hill, London, UK.
d. August 8, 1990, Chicago, IL, USA.
Elsie McWilliams
, songwriter
d. Dec. 30, 1985, Meridian, MS, USA.
Age: 89.
No one would deny the sincerity and authenticity of the folk and country music legend Jimmie Rodgers, whose recordings were about as far from commercially concocted drivel as one could possibly get. In an examination of his important collaborations, inevitably, the subject of this little old lady from Mississippi comes up. She wrote, co-wrote, or provided the raw material for many of his most famous songs and it proves true the old adage about not being able to go wrong with good ingredients. And unlike any number of phony baloney songwriters cynically hawking their creations around the gang of Nashville publishers, she wrote songs just to help out her brother in law, who wasn't feeling so well at the time, was under a lot of pressure, and just might not come up with enough new songs on his own for his next recording sessions.
Elsie McWilliams was the daughter of a reverend and grew up on a farm, learning music from a very early age. She graduated from high school in Meridian in 1917 and then began teaching school herself until she got married. Just as music had been a regular part of her home as a child, she and her husband provided the same kind of environment for the family they began raising, including phonograph records and involvement in church music activities. Her sister Carrie met Jimmie Rodgers in 1920 when he was working for the railroads and they were married even before Elsie had a chance to meet him. Elsie dabbled a bit in piano by playing in some of the ensembles her new brother-in-law got together around the area, but tended to limit her involvement because of her religious upbringing.
Even though Rodgers was not in the best of health, he was still doing a great deal for work related to both his music and the railroad job, his family traveling along with him. It didn't take too long until he cut the sides for Victor which would become the first of his many smash hits. His voice became a familiar sound on the radio. Just as this excitement was building, Elsie McWilliams received a letter from Jimmie Rodgers in which he pleaded with her to come up with some original ballads, which he spelled "ballards" for future record dates. Furthermore, "I am too tired and too busy trying to make ends meet to do much about it myself..." he wrote her. What songwriter wouldn't have responded to such an urgent request? She got into her notebook and pulled out one she had been working on about a friend's dismal experience in the navy. The song would be called "The Sailor's Plea" and is a great combination of the heavily sentimental, moralistic country & western song-story and churchy gospel chord changes.
She sent this ditty off to Rodgers and received word not to send anything else, she was instead to head north where she could teach songs to him directly while she shuttled back and forth between radio broadcasts in Washington and new Victor sessions in New York City and Camden, NJ. She gathered up all the old ballads she could find from stacks of her mother's decaying sheet music and packed them up along with her own verses, most of which she had already set to music herself. What happened when they finally started getting together was described later as being like a song factory of some sort.
The results of their work were snatched up by a public that couldn't seem to get enough of Jimmie Rodgers, despite the fact that even his record label thought he would be a one-hit wonder. Part of the appeal was that a listener never knew what the next record he did would be like. On one record he might be preaching to the audience from some experienced pulpit of wisdom, but on the next the audience would find him locked up in the jailhouse. The next song might be a train song.
Rodgers found a great partner in his sister-in-law for such song maneuvering because her tastes were eclectic and musical interests and capabilities broad. The practice sessions were difficult, as the singer often had to take breaks for serious coughing spells. During this intense atmosphere, McWilliams began to tell the publishers that she wanted no credit or royalties for the songs, she was doing her work only for Rodgers, her sister, and their daughter. The publishers insisted she take credit, a wise move, as her contribution to what Rodgers created was enormous based on the evidence of these songs. There were benefits to her in the end, including some payments that she donated to charity, a quite valuable guitar given to her gratis by the Gibson company, now on display in Meridian's Jimmie Rodgers Museum, and most important in her opinion, the opportunity to travel to some interesting places.
Other famous Rodgers songs that she was involved in writing include "My Old Pal," "Mississippi Moon," "Daddy and Home," "Waiting for a Train," "Yodeling Cowboy," and the mighty "Hobo's Last Ride," many listeners' favorite Rodgers song. McWilliams became part of the touring party that accompanied Rodgers as he went around from concert to concert, now making as much as 1000 dollars a week, big money for a country artist in the late '20s and still more than most punk rock sidemen made on tour in early 2001. Being on tour was a bit of an eye-opener for the staunchly Methodist woman, and her experiences including being dragged into a burlesque show by Rodgers and his rowdy friends in New Orleans.
The last songs of theirs on which she is credited as a co-writer were cut in 1931, and according to interviews with McWilliams, the actual partnership came to an end in 1929. Now Rodgers himself had more time to write material and was receiving more submissions from other writers than he could process, since everyone wanted Jimmie Rodgers to cut their song. It was time for Elsie McWilliams to fade back into her home and family, a development she couldn't have minded much having never had any great desire for commercial success.
Nonetheless, a list of her songwriting credits could easily whale the tar out of many songwriting teams. Material she created completely aside from the relationship with Rodgers was recorded by country great Ernest Tubb and Bill Bruner. Tubb, who had a close relationship with Rodger's widow, also recorded several songs she wrote about the death of Jimmie Rodgers, including the "Last Thoughts of Jimmie Rodgers," which an individual with a weak stomach might find verges on the morbid. Of course, the Rodgers songs she helped write remained her gold mine, whether she wanted it that way or not. In that capacity, she can make a claim that any songwriter would love to, mainly that her works have been sung by the likes of Doc Watson, the Carter Family, the Blasters, Lefty Frizzell, Merle Haggard, and Bob Wills, to name a few.
Gertrude Michael
, Singer/Actress
b. Talladega, Alabama, USA.
d. Dec. 31, 1964, Beverly Hills, Los Angeles, California, USA.
née: Lillian Gertrude Michael.
Another of those "How fleeting is fame" personalities. Michael appeared in well over 75 Film, TV and Radio shows, yet is little recalled today. Part of a musical family, her two older brothers, Arnold and Alan, played piano and violin. At age 14, she graduated from high school and first appeared on radio, as a musician and "Home Arts" advisor. Subsequently, she attended the University of Alabama, and Converse College in Cincinnati, Ohio. In 1929, while in Cincinnati, she made her stage debut in a stock company headed by Stuart Walker. In 1931, she appeared on Broadway in Rachel Crothers' "Caught Wet".
In 1932, she appeared in her first movie, playing Richard Arlen's finaceé in "Wayward". In 1934, she had, perhaps, her best remembered role as the jealous Rita Ross of "Murder at the Vanities". 60 or 70 more shows followed. Gertrude had a rather tempestuous love-affair with Paul Cain, a hard-boiled short-story writer who wrote for the screen under the pseudonym Peter Ruric. Both Gertrude and Cain were heavy boozers, and after they divorced, Cain wrote about her in the only novel of his published during his lifetime, "Fast One" (she was the inspiration for the dipsomaniac lover, Granquist).
Harry Alexander "Father" White
Trombone, cornet, sax, arranger, piano, composer
d. August. 14, 1962, New York, NY, USA.
~by Chris Kelsey
White was an accomplished trombonist who played with Elmer Snowden, Claude Hopkins, Duke Ellington, and Cab Calloway, among others, yet his most significant contribution to pop culture may have been the invention of the word "jitterbug." Calloway trumpeter Edwin Swayzee allegedly heard White use the word; Swayzee later wrote a tune entitled "The Jitterbug." Calloway recorded it in 1934 and the word entered common usage. White played drums in his teens. He moved to Washington D.C. around 1919 and adopted the trombone as his primary instrument.
White worked in Washington with Ellington, Snowden, and Hopkins during the early '20s, before starting a family band, the White Brothers Orchestra, in 1925. The band played a regular gig in Philadelphia; White also traveled and performed regularly in New York. He played with Luis Russell and led another group in the late '20s. In 1931 he worked with Mills Blue Rhythm Band (named after its manager, the impresario Irving Mills. White joined Calloway in 1932 and worked as an arranger, composer, and trombonist. In 1935 he returned to the Russell band, which was then backing Louis Armstrong.
White stopped playing for a time in the mid '30s, before joining the band of drummer Manzie Johnson (with whom he would occasionally play alto saxophone). He would also go on to perform with trumpeter Oran "Hot Lips" Page, pianist Edgar Hayes, and saxophonist Bud Freeman.
Notable Events
Occurring
On
This Date Include:
1948.
Sonny Boy Williamson, Harmonica
died in Chicago, IL, USA.
(b. March 30, 1914, Jackson, Tennessee, USA)
Sonny Boy Williamson I
died in New York, NY, USA.
died in Chicago, IL, USA.
The Reliance Brass Band in 1910.
left to right:
Manuel Mello,
Yellow Nuñez
, Leonce Mello,
Seated:
Jack Papa Laine
, Baby Laine, Clink Martin, Tim Harris.
"Papa" Jack Laine, drums
'founding fathers' of Jazz
died in New Orleans, LA, USA.
(b. Sept. 21, 1873, New Orleans, LA, USA. )
Stan Brenders, piano, leader
died one day after his 65th Birthday.
(born May 31, 1904 in Bruxelles, Belgium)
On This Date Include:
1917
Earl Fuller's Rector Novelty Orchestra
Isham Jones and His Rainbo Orchestra - Alice Blue Gown
Dance-O-Mania

Happy

Idle Dreams

Jean

Kismet

La Veeda

Sahara Rose

Scandal Walk Introducing "On My Mind The Whole Night Long"

So Long, Oo-Long (How Long You Gonna Be Gone?)

Waiting For The Sun To Come Out
Warner's Seven Aces
Lonesome Lovesick Got-To-Have-My-Daddy Blues

Mean Eyes (Too Late Blues)
Art Landry and his Call Of The North Orchestra
Paul Whiteman and his Orchestra

-
Chansonette
Sara Martin accompanied by

Clarence Williams' Harmonizers

-
He's Never Gonna Throw Me Down
1925
Virginia Liston

-
I Ain't Gonna Play No Second Fiddle
The Pump Song

--

(Tom Stacks vocal)
Ted Lewis and his Band

-
Where'd You Get Those Eyes
Red Nichols' Five Pennies
LYRICS:
Twelfth Street Rag
~Composed by Euday L. Bowman
~Lyrics by James S. Sumner
In a certain city, where the girls are cute and pretty,
They have a raggy, jazzy jazz-time tune.
When you hear that syncopated jazz created melody
You could dance all morning night and noon,
When the slide trombone and moaning saxophone begin to play,
It will make you sad, 'twill make you glad.
Burn my clothes for I'm in Heaven,
wish I had a million women.
Solomon in all his glory, could have told another story,
Were he but living here today,
With his thousand wives or more, a jazz band on some Egypt shore,
He could dance the night and day away.
I will tell you how they dance
That tantalizing 12th Street Rag.
First you slide, and then you glide, then shimmie for a while;
To the left, then to the right, "Lame Duck," "Get over Sal"
Watch your step then Pirouette, Fox Trot, then squeeze your pal
O-ver you comes stealing such a funny feeling, 'till you feel your senses reeling.
Tantalizing, hypnotizing, mesmerizing strain,
I can't get enough of it, please play it o'er again;
I could dance forever to this refrain,
To that 12th Street, oh you 12th Street Rag.
Jazz-time music is the rage, this is a syncopated age,
ev'ry body loves a jazz-time tune.
For the music captivating, sets your heart a palpitating
You just can't make your feet behave.
Ancients youths of sixty-four, do steps they never did before,
Father time is mad, no one grows old.
Put your loving arms around me,
say babe, ain't you glad you found me.
Cleopatra on the Nile, could vamp right in the latest style,
If she'd only known this ragtime tune;
Old King Cole a merry soul, called for his pipe and then his bowl,
And the first jazz band his fiddlers three.
Play, oh play me while I dance
That tantalizing 12th Street Rag.
First you slide, and then you glide,
then shimmie for a while;
To the left, then to the right,
"Lame Duck," "Get over Sal"
Watch your step then Pirouette,
Fox Trot, then squeeze your pal
Over you comes stealing such a funny feeling,
'till you feel your senses reeling.
Tantalizing, hypnotizing, mesmerizing strain,
I can't get enough of it, please play it o'er again;
I could dance for ever to this refrain,
To that 12th Street, oh you 12th Street Rag.