HAPPY BIRTHDAY YIP HARBURG!
BIRTHDAYS
Edgar Yipsel Harburg (April 8, 1896 – March 4, 1981), known as E.Y. Harburg or Yip Harburg, was an American popular song lyricist who worked with many well-known composers.
He wrote the lyrics to the standards, "Brother, Can You Spare a Dime?", "April in Paris", and "It's Only a Paper Moon", as well as all of the songs in The Wizard of Oz, including "Over the Rainbow".

Life and career
Harburg, the youngest of four surviving children (out of ten), was born Isidore Hochberg on the Lower East Side of New York City on April 8, 1896. His parents, Lewis Hochberg and Mary Ricing, were faithful, Yiddish-speaking Orthodox Jews who had emigrated from Russia. Harburg's nickname "Yipsel" (often shortened to "Yip") came about as "Yipsel" is how people pronounced "YPSL" -- the acronym for the Young People's Socialist League of which he was a member. Some have incorrectly believed that "Yipsel" is a Yiddish word meaning "squirrel."
Later, he adopted the name Edgar Harburg. He was best known as Edgar "Yip" Harburg. He attended Townsend Harris High School, where he and Ira Gershwin, who met over a shared fondness for Gilbert and Sullivan, worked on the school paper and became life-long friends. They went on to attend City College (later part of the City University of New York) together.
After graduating from university, Harburg spent three years in Uruguay to avoid involvement in World War I, which he opposed as a committed socialist. There he worked as a factory supervisor. After the war he returned to New York, married and had two children and started writing light verse for local newspapers. He became co-owner of Consolidated Electrical Appliance Company. The company went bankrupt following the crash of 1929, leaving Harburg "anywhere from $50,000 - $70,000 in debt," which he insisted on paying back over the course of the next few decades. At this point, Ira Gershwin and Yip Harburg agreed that Yip should start writing song lyrics.
Gershwin introduced Harburg to Jay Gorney, who collaborated with him on songs for an Earl Carroll Broadway review (Earl Carroll's Sketchbook): the show was successful and Harburg was engaged as lyricist for a series of successful revues, including Americana in 1932, for which he wrote the lyrics of Brother, Can You Spare a Dime? to the tune of a lullaby Gorney had learned as a child in Russia. This song swept the nation, becoming an anthem of the Great Depression.
Harburg and Gorney were offered a contract with Paramount: in Hollywood, Harburg worked with composers Harold Arlen, Vernon Duke, Jerome Kern, Jule Styne, and Burton Lane, and wrote the lyrics for The Wizard of Oz for which he won the Academy Award for Best Music, Original Song for Over the Rainbow.
Working in Hollywood did not stop Harburg's career on Broadway. In the 1940s, he wrote a series of book musicals with social messages, including the very successful Bloomer Girl (1944) (about temperance and women's rights activist Amelia Bloomer) and his most famous Broadway show, Finian's Rainbow (1947) (perhaps the first Broadway musical with a racially integrated chorus line, featuring Harburg's "When the Idle Poor Become the Idle Rich"). It has had four major revivals (1955, 1960 and 1967, 2009), and was also made into a film starring Fred Astaire and Petula Clark, directed by Francis Ford Coppola, in 1968. In 2004, the Irish Repertory Theatre staged a well-received Off-Broadway production starring Melissa Errico and Johnathan Freeman . New York's City Center Encores! series performed a critically acclaimed concert version of the piece in March 2009. Directed and choreographed by Warren Carlyle, it starred Tony Award-winner Jim Norton and Kate Baldwin as Finian and Sharon, with Cheyenne Jackson as Woody and Jeremy Bobb as Og, the leprechaun. A Broadway revival began on October 29 at the St. James Theatre with most of the Encores! cast. Newly added to the Broadway cast are Christopher Fitzgerald as Og and Chuck Cooper as Billboard; Jim Norton, Kate Baldwin and Cheyenne Jackson all reprise their roles. It closed on January 17, 2010.
Later years
True to his strongly leftist views, Harburg supported the 1948 presidential campaign of Henry Wallace, and wrote the lyrics of the campaign song "Everyone Likes Wallace, Friendly Henry Wallace." From about 1951 to 1962, Yip Harburg was a victim of the Hollywood blacklist when movie studio bosses blacklisted industry people for actual or suspected involvement or sympathy with the American Communist Party. No longer able to work in Hollywood, he nevertheless continued to write musicals for Broadway, among which was Jamaica, which featured Lena Horne.
Death
Yip Harburg died on March 5, 1981 in an automobile accident on Sunset Boulevard in Hollywood.
1909
George Dixon
Trumpet/sax/arranger
d. Aug. 1, 1994
George Dixon (April 8, 1909, New Orleans—August 1, 1994, Chicago) was an American jazz trumpeter and multi-instrumentalist.
Although he was born in New Orleans, Dixon moved often as a child with his father, a minister who toured the American South. He began playing violin at age 13 while living in Natchez, Mississippi, and studied the instrument at Arkansas State College, where he also picked up alto saxophone.
Dixon moved to Chicago in 1926, where he played with Sammy Stewart from 1928, including on a tour of New York City in 1930. Dixon then worked with Earl Hines throughout the decade of the 1930s. He led a Navy band in Memphis, Tennessee during World War II, then played in Chicago with Floyd Campbell, Ted Eggleston, and others. He led his own band at the Circle Inn in the 1940s and early 1950s.
From about the mid-1950s Dixon stopped playing full-time, though he continued to play occasionally up until his death in 1994.
George Dixon
Lily Elsie (8 April 1886 – 16 December 1962) was a popular English actress and singer during the Edwardian era. Beginning as a child star in the 1890s, Elsie built her reputation in several successful Edwardian musical comedies before her great success in 1907 in The Merry Widow. Admired for her beauty and charm on stage, Elsie became one of the most photographed women of the Edwardian period.
d. Dec. 25, 1999, San Antonio, TX, USA. (pneumonia).
né: Federico Arturo Guzar Tolentino.
As a child, Tito studied singing, even though his family disapproved. In 1929, he relocated to New York City where he was featured on his own radio show 'Tito Guzar y sus Guitar', while continuing to study opera. He also recorded the songs of Agustin Lara. In 1932 he married another Mexican singer, Carmen Noriega. In 1935, he had a concert at New York's famed Carnegie Hall, sanging both operatic and Mexican cowboy songs.
Later in the same year, Tito returned to Mexico where his 1936 movie "All en el Rancho Grande" served as the prototype for 'singing cowboy' films in Mexican film studios. That experience brought him to the Hollywood studios where he went on to play with such diverse stars as Roy Rogers, Dorothy Lamour, and Mae West.
He also produced (and wrote) one film 'Pecado de ser mujer, El (1955)', and contributed his own compositions to other films, including 'Big Broadcast of 1938'. Tito continued to be active, playing in Mexican television well into the 1990s. Tito died at age 91.
"Fat Man" Humphries, trumpet
b. Gracey, KY, USA.
Worked with the Louis Jordan Orch.
1908
Member: 'Snooky & Moody'
Moody Jones was an American blues guitarist, bass player, and singer who is significant for his role in the development of the post-war Chicago blues sound in the late 1940s.
b. Mahanoy City, Pennsylvania, USA
d. Oct. 26, 1941, Hollywood, CA, USA.
Victor L. Schertzinger (April 8, 1888 - October 26, 1941) was an American composer, film director, film producer, and screenwriter. His films include Paramount on Parade (co-director, 1930), Something to Sing About (1937) with James Cagney, and the first two "Road" pictures Road to Singapore (1940) and Road to Zanzibar (1941). His two best-known songs are "I Remember You" and "Tangerine", both with lyrics by Johnny Mercer and both featured in Schertzinger's final film The Fleet's In (1942).
composer, songwriter, and screenwriter
b. New York (Brooklyn), NY, USA
d. Dec. 3, 1983, Los Angeles (Westlake Village), CA, USA.
né: Irving Goldberg (legally changed to Taylor in 1936).
Irving Taylor (8 April 1914 in Brooklyn, NY - 3 December 1983 in Westlake Village, Los Angeles, CA), was an American composer, lyricist, and screenwriter. He enlisted in the US Navy the day after Pearl Harbor. While in uniform, he and Vic Mizzy wrote entertainments for personnel stationed at the Staten Island Navy Yard, and he later served as a quartermaster on an LST involved in African and European invasions during World War II. He married Katharine Snell, an American dancer, model and actress, on 20 September 1942 and they had two children. He had changed his name by 1936 from Irving Goldberg to Irving Taylor. His wife Katharine died 21 August 2001. Irving's son and grandchildren live in Wilmington, NC, where Kiss Music Co. continues to operate. Irving is buried at Mt. Sinai Memorial Park, in Los Angeles, CA.
Notable Events
Occurring
On This Date Include: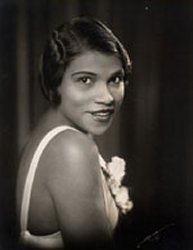 (gospel and Classical) vocals
died in Portland, OR, USA.
1938.
Joe "King" Oliver
died in Savannah, GA, USA.
Age: 52. (b. 1885?? Abend, LA, USA.)
One of the great New Orleans legends, his band was the last significant group to emphasize collective improvisation over solos. Interestingly, his second cornetist (Louis Armstrong) would permanently change Jazz. Without a doubt, King Oliver's Creole Jazz Band was one of the best and most important bands in early jazz. Oliver was also the inventor of the Harmon mute and was famous for using mutes, derby hats, bottles and cups to alter his sound. The band's 1923 jam sessions are considered milestones in jazz history, introducing Armstrong's first recorded solo on Oliver's "Dippermouth Blues" and "West End Blues." (some sources claim he died April 10).
King Oliver
Songs Recorded/Released
On This Date Include:
Bessie Smith
-
Frankie Blues
Paul Whiteman and his Orchestra
-
It Had To Be You
The Tennessee Tooters -
Jimtown Blues
McKinney's Cotton Pickers
-
It's A Percious Thing Called Love
McKinney's Cotton Pickers
-
I've Found A New Baby
Death Cell Blues

Friendless Gal Blues

Three Months Ago Blue

s
Fats Waller and his Rhythm
-
Christopher Columbus
LYRICS:
Brother, Can You Spare a Dime
~lyrics by Yip Harburg
, music by Jay Gorney (1931)
They used to tell me I was building a dream, and so I followed the mob,
When there was earth to plow, or guns to bear, I was always there right on the job.
They used to tell me I was building a dream, with peace and glory ahead,
Why should I be standing in line, just waiting for bread?
Once I built a railroad, I made it run, made it race against time.
Once I built a railroad; now it's done. Brother, can you spare a dime?
Once I built a tower, up to the sun, brick, and rivet, and lime;
Once I built a tower, now it's done. Brother, can you spare a dime?
Once in khaki suits, gee we looked swell,
Full of that Yankee Doodly Dum,
Half a million boots went slogging through Hell,
And I was the kid with the drum!
Say, don't you remember, they called me Al; it was Al all the time.
Why don't you remember, I'm your pal? Buddy, can you spare a dime?
Once in khaki suits, gee we looked swell,
Full of that Yankee Doodly Dum,
Half a million boots went slogging through Hell,
And I was the kid with the drum!
Say, don't you remember, they called me Al; it was Al all the time.
Say, don't you remember, I'm your pal? Buddy, can you spare a dime?
brought to you by...
~confetta