HAPPY BIRTHDAY VERNON DALHART!


b. (Near) Jefferson, TX, USA.
d. Sept. 15, 1948, Bridgeport, CT, USA.
né: Marion Try Slaughter.
C&W's 1st million-seller artist.
Vernon Dalhart came to country music from outside the tradition, becoming a national star in the years just before more indigenous kinds of country music found their place in the machinery of the music industry.
A 1924 recording by Dalhart became country music's first million-selling record; pairing a train song ("Wreck of the Old 97") with a sentimental ballad ("The Prisoner's Song"), the release set patterns for two key genres of early country music on record. Dalhart was born Marion Try Slaughter in Jefferson, TX; the stage name Vernon Dalhart, like Conway Twitty, was a combination of the names of two Texas towns. Dalhart's grandfather was a rancher, a former Confederate soldier who became a member of the Ku Klux Klan; he was killed in a knife fight while Dalhart was a boy.
Though Dalhart's classical-music background is often emphasized in accounts of his life, he did actually work for a time as a cowboy while in his teens. Dalhart sang at community gatherings, where he also played the harmonica and the jew's harp. He studied music at the Dallas Conservatory, married, and moved to New York in 1910. Dreaming of an operatic career, he worked in a music store and earned extra cash singing for funerals. He appeared in his first opera two years later and in 1913 appeared in Puccini's Madame Butterfly and Gilbert & Sullivan's H.M.S. Pinafore. Light opera and operetta remained his specialties.
Dalhart was a keen observer of the early power of the phonograph industry and jumped at the chance to record. His first releases, made around 1916, fell into various pop styles; one of them, "Can't You Heah Me Callin', Caroline," was a blackface minstrel song, a genre that never disappeared completely from his repertoire. Dalhart was an eclectic urban singer who recorded whatever might sell: comic songs (sometimes featuring the sprightly tenor banjo of John Cali), Hawaiian pieces, sentimental numbers, and much more. When he turned to country music it may have been simply a way of capitalizing on a song type that his competitors had neglected, but he immediately showed a flair for story songs. He tightened his operatic voice slightly, producing a distinctive, reedy vibrato that signaled his rural roots but appealed to mainstream record buyers. After "The Wreck of the Old 97" became a smash hit, Dalhart was a national star of sorts -- he was never a really recognizable figure, but he could sell records in the millions.
During the '20s and '30s, he used over 100 pseudonyms to record over 5,000 78 rpm singles for a variety of labels; among the names he adopted were Frank Evans, Vernon Dale, Tobe Little, Bob White, Hugh Lattimer, Sid Turner, and Al Craver. Dalhart scored successes with a series of topical songs based on current events such as the death of a Kentucky spelunker and the notorious Scopes trial, selling enough copies to firmly establish the Columbia label's 15,000-numbered country series as a force in the industry. He was often teamed with guitarist and songwriter Carson Robison, who composed some of his material and went on to a long career of his own. Dalhart continued on with recording through the late '30s, at which time his rather formal interpretation of down-home music fell out of favor as record buyers became more familiar with "authentic" country singers such as the Carter Family and turned to hip new genres such as Western swing.
Dalhart, despite persistent efforts to interest record labels in his work, was largely forgotten later in life. In the 1940s he eked out a living giving voice lessons and working as a night watchman in Bridgeport, CT, realizing no royalties from his earlier million-sellers. He died of heart failure in 1948. One of the achievements of the first stirrings of country music scholarship in the 1960s and 1970s was a new appreciation of his importance, and in 1981 Dalhart's contribution was finally given its due recognition when he was inducted into the Country Music. Hall of Fame.
~ James Manheim
(Country) singer-songwriter
Former New York City radio cowboy Denver Darling is best remembered for his patriotic World War II songs. Darling -- his real name -- was born in Whopock, Illinois, and raised in Jewett. When he was twelve, a neighbor introduced him to the guitar. Seven years later, he began working at a radio station in Terre Haute, Indiana. Over the next six years, Darling sang at several Midwestern radio stations, and at the end of 1937 came to New York City, where he would spend most of his career. When not appearing on the radio two or three times daily, he would perform at the well-known country nightclub the Village Barn, from which performances were occasionally broadcast nationally.
In November 1941, Darling made his recording debut; in the midst of his second session, World War II erupted. His subsequent patriotic songs, such as "Cowards Over Pearl Harbor," "The Devil and Mr. Hitler," and "When Mussolini Laid His Pistol Down," were designed to inspire troops and provide comfort for their families back home. Over the next five years, he released 36 singles, not all of them were patriotic; Darling also recorded under the name of Tex Grande and his Range Riders. His final sessions were in 1947 when he cut 12 singles for MGM, after which he began having throat problems and grew uncomfortable with big city life. He and his family moved back to Jewett, where Darling lived as a farmer for the next 30 years. Although his war songs were very popular at the time, they have largely faded into obscurity.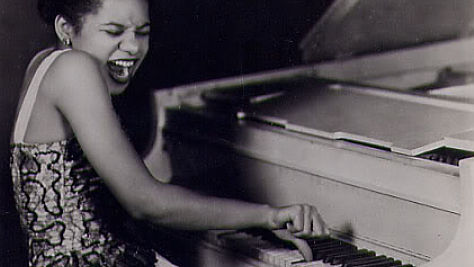 Dorothy Donegan
was a classically trained jazz pianist primarily known for performing in the stride piano and boogie-woogie style. She also played bop, swing jazz, and classical music.
Donegan was born and grew up in Chicago, Illinois and began studying piano at the age of eight. She took her first lessons from Alfred N. Simms, a West Indian pianist who also taught Cleo Brown. She graduated from Chicago's DuSable High School, where she studied with Walter Dyett, a gifted teacher who also worked with, among others, Dinah Washington, Johnny Griffin, Gene Ammons, and Von Freeman. She also studied at the Chicago Musical College and, later, the University of Southern California. In 1942 she made her recording debut. She appeared in Sensations of 1945 with Cab Calloway, Gene Rodgers and W. C. Fields and was known for her work in Chicago nightclubs. She was a protégée of Art Tatum, who once called her "the only woman who can make me practice." (She said about Tatum that "He was supposed to be blind...I know he could see women.") In 1943, Donegan became the first Black to perform at Chicago's Orchestra Hall.
In May 1983, Donegan, along with Billy Taylor, Milt Hinton, Art Blakey, Maxine Sullivan, Jackie Byard, and Eddie Locke, performed at a memorial service for Earl Hines, held at St. Peter's Evangelical Lutheran Church in New York City. Her first six albums would prove to be obscure when compared to her successes in performance. It was not until the 1980s that her work gained notice in the recorded jazz world. In particular, a recorded appearance at the 1987 Montreux Jazz Festival and her live albums from 1991 were met with acclaim. Even so, she remained best known for her live performances. She drew crowds with her eclectic mixture of styles and her flamboyant personality. Ben Ratliff argued in the New York Times that:
her flamboyance helped her find work in a field that was largely hostile to women. To a certain extent, it was also her downfall; her concerts were often criticized for having an excess of personality.
Donegan was outspoken about her view that sexism, along with her insistence on being paid the same rates as male musicians, had limited her career. In 1992, Donegan received an "American Jazz Master" fellowship from the National Endowment for the Arts, and in 1994, an honorary doctorate from Roosevelt University.
Donegan died of cancer in 1998 in Los Angeles, California.
Dorothy Donegan - Wikipedia
Isham Jones and his Orchestra - Blue Prelude
Paul Whiteman and his Orchestra
Heat Wave

Home Again Blues
OH ! BY JINGO
~(Lew Brown / Al Von Tilzer)
In the land of San Domingo
Lived a girl called Oh By Jingo
From the fields and from the marshes
Came the young and oh by goshes
They all spoke with a different lingo
But they all loved Oh By Jingo
and every night, they sang in the pale moonlight
Oh by gee by gosh by gum by jove
Oh By Jingo won't you hear our love
We will build for you a hut
You will be our favourite nut
We will have a lot of little Oh By Gollies
And we'll put them in the follies
By Jingo said "By gosh by gee
By jiminy please don't bother me"
So they all went away singing
Oh by gee by gosh by gum by jove By Jingo
By gee, you're the only girl for me.
(Musical Interlude)
Oh by gee by gosh by gum by jove
Oh By Jingo won't you hear our love
We will build for you a hut
You will be our favourite nut
We will have a lot of little Oh By Gollies
And we'll put them in the follies
By Jingo said "By gosh by gee
By jiminy please don't bother me"
So they all went away singing
Oh by gee by gosh by gum by jove By Jingo
By gee, you're the only girl for me.
brought to you by...
~confetta