HAPPY BIRTHDAY DUKE ELLINGTON!
d. May 24, 1974. New York, NY, USA.
né: Edward Kennedy Ellington.
Duke Ellington
brought a level of style and sophistication to Jazz that it hadn't seen before. Although he was a gifted piano player, his orchestra was his principal instrument. Like
Jelly Roll Morton
before him, he considered himself to be a composer and arranger, rather than just a musician.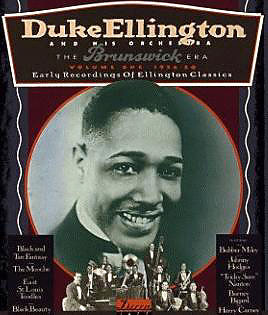 Duke began playing music professionally in Washington, D.C. in 1917. His piano technique was influenced by stride piano players like James P. Johnson
and
Willie "The Lion" Smith
. He first visited New York in 1922 playing with Wilber Sweatman
, but the trip was unsuccessful. He returned to New York again in 1923, but this time with a group of friends from Washington D.C. They worked for a while with banjoist
Elmer Snowden
until there was a disagreement over missing money. Ellington then became the leader.
This group was called
The Washingtonians
. This band worked at The Hollywood Club in Manhattan (which was later dubbed the Kentucky Club).
During this time
Sidney Bechet
played briefly with the band (unfortunately he never recorded with them), but more significantly the trumpet player
Bubber Miley
joined the band, bringing with him his unique plunger mute style of playing.
This sound came to be called the "Jungle Sound", and it was largely responsible for Ellington's early success.
The song
"East St. Louis Toodle-Oo"
is a good example of this style of playing. The group recorded their first record in 1924 ("
Choo Choo (Gotta Hurry Home)
" and "
Rainy Nights (Rainy Days)
", but the band didn't hit the big time until after
Irving Mills
became their manager and publisher in 1926.
In 1927 the band re-recorded versions of "East St.Louis Toodle-Oo," debuted
"Black and Tan Fantasy"
and "Creole Love Call", songs that would be associated with him the for rest of his career, but what really put
Ellington's Orchestra
over the top was becoming the house band at the Cotton Club after
King Oliver
unwisely turned down the job.
Radio broadcasts from the club made Ellington famous across America and also gave him the financial security to assemble a top notch band that he could write music specifically for. Musicians tended to stay with the band for long periods of time.
For example, saxophone player Harry Carney would remain with Duke nonstop from 1927 to Ellington's death in 1974.
In 1928 clarinetist
Barney Bigard
left
King Oliver
and joined the band. Ellington and
Bigard
would later co-write one of the orchestra's signature pieces
"Mood Indigo"
in 1930. In 1929
Bubber Miley
, was fired from the band because of his alcoholism and replaced with Cootie Williams.
Ellington also appeared in his first film "Black and Tan" later that year.
The
Duke Ellington Orchestra
left the Cotton Club in 1931 (although he would return on an occasional basis throughout the rest of the Thirties) and toured the U.S. and Europe.
Only
Louis Armstrong
managed to sustain such a career, but
Armstrong
failed to be in the artistic vanguard after the 1930s . Throughout the Forties and Fifties Ellington's fame and influence continued to grow. The band continued to produce Jazz standards like "Take the 'A' Train", "Perdido", "The 'C' Jam Blues" and "Satin Doll". In the 1960s Duke wrote several religious pieces, and composed "The Far East Suite".
He also collaborated with a very diverse group of musicians whose styles spanned the history of Jazz. He played in a trio with Charles Mingus and Max Roach, sat in with both the
Louis Armstrong
All-Stars and the John Coltrane Quartet, and he had a double big-band date with Count Basie.
In the 1970s many of Ellington's long time band members had died, but the band continued to attract outstanding musicians even after Ellington's death from cancer in 1974, when his son Mercer took over the reins of the band.
~From:
The Red Hot Jazz Archive
*
Not very well known is that fact that Duke composed the score for Otto Preminger's film Anatomy of a Murder'. He composed over 1000 works, including such standards as "Don't Get Around Much Anymore", "Solitude", "Mood Indigo", "Take the 'A' Train", "Sophisticated Lady", and "Prelude To A Kiss". The Ellington band traveled all over the world, and appeared in motion pictures made by several studios.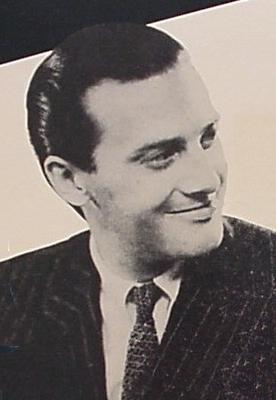 1908
The first major French jazz trumpeter, Philippe Brun was one of the finest trumpeters in any country in the late 1930's. Although he originally studied violin, Brun was largely self-taught on the trumpet. He began to record and get some notice in 1929 and during the next decade he worked with Gregor, Danny Polo, Ray Ventura's Collegians, Jack Hylton (in London), Bert Ambrose, Django Reinhardt and Alix Combelle among others. During 1941-44, Brun was fortunate enough to escape to neutral Switzerland where he played music with Andre Ekyan, Teddy Stauffer and Eddie Brunner.
In the post war years, Brun generally led his own bands but strangely enough, other than three songs cut under a different name in 1954, all of his recordings as a leader (which were made for Pathe, Swing and Elite Special labels) were from the 1937-44 period. Philippe Brun never played in the United States.
Jacques Butler, Trumpet
Died 2003
1915
né: Donald Friedlich
Mills
part of 'The Mills Brothers'.
Birth name Constantino Rossi
Origin Ajaccio, Corsica, France
Tino Rossi (April 29, 1907 — September 26, 1983) was a singer and film actor.
Born Constantino Rossi in Ajaccio, Corsica, France, he became a tenor of French cabaret and one of the great romantic idols of his time. Gifted with an operatic voice, a "Latin Lover" persona made him a movie star as well. Over his career, Rossi made hundreds of records and appeared in more than 25 films, the most notable of which was the 1953 production, Si Versailles m'était conté directed by Sacha Guitry. His romantic ballads had women swooning and his art-songs by Jules Massenet (1842-1912), Reynaldo Hahn (1875-1947), and other composers helped draw sold out audiences wherever he performed.

As a young man, he played guitar and sang at a variety of small venues in his hometown of Ajaccio before going on to perform in Marseilles and at resort clubs along the French Riviera. In the early 1930s he went to Paris and within a few years achieved enormous success, joining a Columbia Records roster that included the biggest stars of the day such as Lucienne Boyer, Damia, Pills et Tabet, Mireille, and Jean Sablon.

Rossi's success was greatly aided by songwriter Vincent Scotto (1876-1952), who wrote his first hits and collaborated with him for many years, composing and arranging many Rossi songs. Prior to World War II. Rossi was a major box office attraction in the French speaking world but expanded his audience to America with a 1938 visit followed up by wartime tours across the USA and Canada. In 1946, his song "Petit Papa Noël" sold more than thirty million copies worldwide. A Christmas classic for the family, the song still sells by the thousands each Yuletide season. The recipient of many musical awards, including the prestigious Grand Prix du Disque, Tino Rossi is the most popular personality to ever come from Corsica other than Napoleon Bonaparte.
In 1947 he married Lilia Vetti, a young dancer he met while making a film. They would have a son together in a marriage that lasted for a lifetime. A star of film and the operetta scene, Tino Rossi's career also evolved into the television era, appearing in a number of popular variety shows. Age, and the advent of rock and roll in the 1960s saw him take backstage with the new generation of music lovers but he remained enormously popular with a following built up over fifty years of performing.

In 1982, for his contribution to France and its culture, President François Mitterrand named Tino Rossi a Commander of the Legion of Honor. That same year Rossi gave his last public performance at the Casino de Paris, a show that popular demand turned into a three month stint.
Tino Rossi died of pancreatic cancer in 1983 in Neuilly-sur-Seine, Hauts-de-Seine, France. His body returned to his native Ajaccio for burial in the family plot at the local cemetery. His hometown named a street and the sailing harbor in his honor and at Nogent-sur-Marne, on the River Marne in Paris, there is a square named Tino Rossi Square.
Tino Rossi
Notable Events
Occurring
On This Date Include:
Leroy Carr, piano
died in Indianapolis, IN, USA.
Jules C. Stein
died in Los Angeles, CA, USA.
Ethel Waters accompanied by her
Ebony Four Blue Ribbon Syncopators
Blue Ribbon Syncopators - Scratch
Blue Ribbon Blues

Memphis Sprawler

Whale Dip
Art Hickman and his Orchestra
Down The Lane With You Again

I Still Believe In You

The Winding Trail
Fletcher Henderson Orchestra
Annette Hanshaw -
Just Like A Butterfly
Paul Whiteman and his Orchestra
Paul Howard's Quality Serenaders
Stuff - Stomp -

Vocal refrain by Lionel Hampton -

(Harvey O. Brooks)
Andy Kirk and his
Twelve Clouds Of Joy
Louis Armstrong and his Orchestra -
Them There Eyes
Louis Armstrong and his Orchestra -
If We Never Meet Again
Barney Bigard and his Jazzopators
Joe Sullivan and his Cafe Society Orchestra
Transcribed from

Andy Kirk and his Twelve Clouds of Joy

, vocal by Billy Massey; recorded April 29, 1930.
From

Andy Kirk and his Twelve Clouds of Joy 1929-1931

; The Chronogical Classics 655.
I lost my gal from Memphis,
I know just who she went with,
I ought to hop a choo-choo,
I'd love to find my baby,
But my funds are awful low.
My gal, why did she leave me?
Sweet gal, I'm missing her so!
Oh, there ain't no gal in Memphis
I've lost my gal from Memphis,
That's why I feel lowdown.
brought to you by...
~confetta