Songwriters
Jimmy McHugh &
Dorothy Fields
Halfway House Orchestra
Left to right: Charlie Cordella, Mickey Marcour, Leon Roppolo , Abbie Brunies, Bill Eastwood, Joe Loyacano,
Leo Adde
.
~Biography
Like many great early jazz drummers, Leo Adde started out with a cigar box, and not because his father was hosting a celebration over the lad's birth. The traditional light wooden cigar box makes a grand percussion instrument, one that renders an actual drum set obsolete if the principals of adaptability of sound production versus ease of toting are factored in. The cigar box was one of a family of instruments, including the washtub or thump tub, the broomstick and jingle stick, the human knee, and often any arrangement of bones no longer connected to an actual skeleton: all standards of a so-called "spasm band." Adde and partner Raymond Burke had a "spasm duo" that performed around New Orleans circa 1914.
Adde added his presence to the Halfway House Orchestra under the direction of Abby Brunies, just one member of a major New Orleans jazz family dynasty. The Brunies -- whose performing ensemble was like a moving classroom and whose venue was quite often the family veranda -- were like blacksmiths forging rhythmic horseshoes from a mixture of African, Latin American, and South American alloys. Adde was one of the percussionists who helped realize the dream of recordings such as the valuable "Golden Leaf Strut," done for Okeh in 1925. The drummer's career continued at a brisk pace, the '20s finished out in the company of pianist Johnny Millinder and his
New Orleans Frolickers

.
There are recordings from the '20s of Adde in this group as well as with cornetist Johnny Bayersdorffer and taking over the drum chair in a 1925 version of the New Orleans Rhythm Kings, adding another piece of evidence to the charge that this drummer will only play in a group if the name of his hometown is attached to it.
Johnny Bayersdorffer's Jazzola Novelty Orchestra, New Orleans, 1922. Left to right:Chink Martin Abraham, brass bass; Tom Brown, trombone; Johnny Bayersdorffer, cornet & leader; Leo Adde, drums; Steve Loyacano, banjo; Nunzio Scaglione, clarinet.
Perhaps he dedicated the '30s to the challenge of proving such criticisms wrong, devoting his superb drumming chops to the service of the Melody Masters, a combo at first co-led by a pair of trumpeters, Sharkey Bonano and Leon Prima, brother of famous bandleader Louis Prima. The drummer followed this group to New York City in the early '30s, where the management position was shuffled around within the group, and the name sometimes lengthened to the -- aha! -- New Orleans Melody Masters. Adde also had a hoot recording with the New Orleans Owls, relocating back to his locale of choice before the '30s were over. He gets a songwriting credit on the piece "Barataria," co-written with Bill Eastwood during the very first Halfway House Orchestra recording session.
It could be considered disappointing that someone with a name as exciting as Johnny Blowers would be a drummer, and not play an instrument that requires clouds of air be blown into it. Real jazz hipsters, on the other hand, consider all swinging players as "blowing," even if they are actually striking an object with a stick, perhaps even holding their breath at the time. Blowers is one of the most prolific drummers in the genre's history, blowing on many dates behind leaders from Louis Armstrong, with whom he appears on several dozen different records, to pianist Teddy Wilson. The drummer has been a presence in jazz and popular music through almost the entire 20th century. Blowers learned drums right alongside his father, who was also a percussionist. The lad's first jobs were substituting for the old man in local theater orchestras in the late '20s. From here he began gigging with local bands before finishing high school in Fort Myers, FL.
Blowers went on to Atlanta College, again holding down the drum chair in local combos, and finally headed up to New York City with his friend, trombonist Lou McGarity. By the late '30s the drummer was already associated with trumpeter Bobby Hackett as well as the orchestra of Bunny Berigan.
In the early '40s he began what would turn out to be an extremely busy studio career. He was on call for CBS, NBC, and ABC and also cut records with artists such as vocalist Billie Holiday, trumpeter Yank Lawson, and many others. For 11 years, Blowers was Frank Sinatra's regular drummer at sessions and many concerts. His studio career continued on through the '60s, a period when many similar players felt snowed under by rock & roll. Blowers stayed true to his swing roots, gigged regularly at Eddie Condon's Club, and worked in the ensemble of reedman Johnny Mince in the late '60s.
Jazz listeners in the decades to follow began to seriously marvel at the longevity of this artist. His recording enterprises at first wound down in the early '80s, but involvement with a repertory group entitled the Harlem Blues and Jazz Legends provided a new spark that has kept the drummer much more active than most individuals his age. At the age of 91, Blowers was still playing drums alongside many pals from the past, such as guitarist Al Casey, a veteran of the Fats Waller band from 1934-1942, and bassist Carline Ray, whose background includes the all-female International Sweethearts of Rhythm, a group that was active during World War II. Blowers also started his own outfit, Johnny Blowers & the Giants of Jazz, and in the style of much younger musicians put out his own recording. In 1997, Warren Vaché's Back Beats and Rim Shots: The Johnny Blowers Story was published, and is considered to be not only a fine biography but one of the best volumes ever published about the swing era.
('Little Italy' Neighborhood).
d. Feb. 23, 2004, Aventura. FL, USA.
(Advanced Diabetes and Emphysema).
né: Louigi Francisco Varlaro.
Don Cornell (April 21, 1919 – February 23, 2004) was an American singer prominent mainly in the 1940s and 1950s noted for his smooth but robust baritone voice.
Born Luigi Varlaro in The Bronx, New York, Cornell got his start with trumpeter Red Nichols and bandleader Sammy Kaye before going solo. He sold over 50 million records.[citation needed] Among his hits were "It Isn't Fair," "I'm Yours," "I'll Walk Alone," and "Hold My Hand." His version of "Hold My Hand" sold over one million copies, and topped the UK Singles Chart in 1954. In 1993, he was inducted into the Big Band Hall of Fame. He was also a member of Tau Kappa Epsilon International Fraternity.
He was among the top headliners, appearing on the nightclub circuit during the 1950s, when there were numerous such venues across the nation. Unlike many stars, he was very affable, and far from reclusive, aloof or distant when in public. When headlining at the Beverly Hills Supper Club, Southgate, Kentucky – in metropolitan Cincinnati – he appeared many times on the highy-popular Ruth Lyons noon television program. He was so popular and engaging, and such a favorite of its star and viewers, that he actually hosted the show during some of Ms. Lyons' periodic absences.
In 1979 Cornell moved to Florida. He died in Aventura, Florida from emphysema and diabetes at the age of 84.
Don Cornell: Information from Answers.com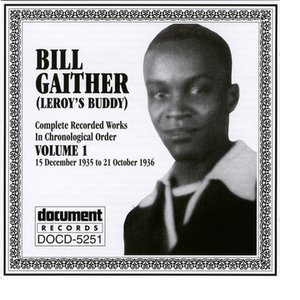 Bill Gaither (April 21, 1910 or 1905 or 1908, Belmont, Kentucky — 1956 or more likely 1970) sometimes known as "Little Bill" Gaither or Leroy's Buddy, was an American blues guitarist and singer.
Gaither recorded hundred of songs for labels such as Decca, Arhoolie and Okeh. He was often partnered with the pianist George "Honey" Hill, and the duo patterned themselves after Leroy Carr and his guitarist, Scrapper Blackwell. One of Gaither's most famous blues songs was "Champ Joe Louis", recorded on June 23, 1938, the day after Louis won his rematch against Max Schmeling. Ethnomusicologists have cited Gaither among a group of important but understudied 20th century musicians. His blues lyrics have been appreciated as poetry. Gaither is buried in New Crown Cemetery in Indianapolis, Indiana, where jazz musician Wes Montgomery is also interred.
b. New York, NY, USA.
American actress/singer Beatrice Kay had a long, fruitful career in the entertainment industry that began at age six when she played "Little Lord Fauntleroy" with a local stock theater. Later, billed as "Honey Kuper" or "Honey Day," she played other theatrical roles. In film she started out at the Fort Lee film studios in New Jersey as a double for Madge Evans. Around that time she also began her Broadway career appearing in plays and musicals. For about four years during the early '40s, Kay hosted her own radio show and began appearing in such prestigious night clubs as the Moulin Rouge, Paris, Ciro's in LA and San Francisco's Fairmont Hotel.
Kay was also a popular recording artist whose best known songs include "Mention My Name in Sheboygan" and "The Strawberry Bond." Kay made her film debut in 1945 in Billy Rose's Diamond Horseshoe (earlier Kay had appeared at the real Diamond Horseshoe and gained much publicity there for singing "Ta Ra Ra Boom De Ay" 1,100 times). She made only a couple films after that. Later Kay ran a dude ranch and then went into semi-retirement. After a terrible fire destroyed her home, she began working on television.
~ Sandra Brennan, R
Producer/label founder (Blue Note)
Alfred Lion was the founder of Blue Note Records, and under his and Francis Wolff's leadership, Blue Note was for many years the top independent jazz label. Lion first discovered jazz when he saw Sam Wooding's Orchestra in Berlin in the '20s. He emigrated to the United States in 1938 and inaugurated Blue Note with an Albert Ammons-Meade "Lux" Lewis session on January 6, 1939. Wolff joined the label that October and would share artistic control of Blue Note with Lion until his death in 1971. At first, Blue Note concentrated on small-group swing, Dixieland, and boogie-woogie. However, in 1946, Lion and Wolff took time off to change the focus of the label. Inspired by Ike Quebec, who pointed out some of the greats of modern jazz, Lion soon signed up Thelonious Monk and Bud Powell.
Although Blue Note had always been impressive, the company really came into its own in the mid-'50s when it started recording hard bop extensively, including Art Blakey's Jazz Messengers, Horace Silver, and the up-and-coming organist Jimmy Smith. Lion believed that each record should be special, so rehearsal often took place before sessions, an unheard-of practice for a small jazz label. The 1955-1967 period is often thought of as Blue Note's prime, when they had such major artists as Lee Morgan, Donald Byrd, Kenny Dorham, Curtis Fuller, Wayne Shorter, Hank Mobley, Jackie McLean, and many others recording gems on a regular basis. In addition to hard bop and soul-jazz, Lion was open to the sound of the avant-garde, and Cecil Taylor and Ornette Coleman recorded major sets for the label. In 1966, Lion and Wolff sold Blue Note to Liberty, and decline soon set in. Lion retired altogether in 1967, but fortunately, he lived long enough to see Blue Note revived in the mid-'80s.
b. Buncombe, NC, USA.
Wade Mainer (born April 21, 1907) is an American singer and banjoist. With his band, the Sons of the Mountaineers, he is credited with bridging the gap between old-time mountain music and Bluegrass and is sometimes called the "Grandfather of Bluegrass." In addition, he innovated a two-finger banjo fingerpicking style, which was a precursor to modern three-finger bluegrass styles.
Wade Mainer's Mountaineers
Originally from North Carolina, Mainer's main influences came from the mountain music of his family. In a career that began in 1934 and spanned almost six decades, Mainer transitioned from being a member of his brother's band into the founder of his own ensemble, the Sons of the Mountaineers, with whom he performed until 1953, when he became more deeply involved with his Christianity and left the music industry. After working at a General Motors factory and attending gospel revivals, Mainer was convinced that he should restart his career as a Christian gospel musician and began to tour with his wife in this capacity. He continued to release albums until 1993 and turned 102 in 2009.
Wade Mainer - Wikipedia
Tenor Sax/Clarinet/oboe/arranger/teacher
d. Dec. 24, 1933, New York, NY, USA. (just age 39.)
Lorenzo Tio Jr. (1893-1933) was a master clarinetist from New Orleans, as were his father Lorenzo Tio Sr. (1867-1908) and uncle Louis "Papa" Tio(1862-1922). Their method of playing the instrument (which involved the Albert system, a double-lip embouchure and soft reeds) was seminal in the development of the jazz solo.The three Tios helped bring classical music theory to the ragtime, blues and jazz musicians of New Orleans; Lorenzo Jr. eventually played jazz himself.
Piron's New Orleans Orchestra, circa 1923
Lorenzo Sr. taught "Big Eye" Louis Nelson Delisle. Many reed players significant in early jazz studied with Lorenzo Tio Jr., including Sidney Bechet,Barney Bigard, Johnny Dodds, Omer Simeon, Jimmie Noone and Albert Nicholas.Lorenzo Tio Jr. also played oboe. He joined Manuel Perez's band in Chicago in 1916 and Armand J. Piron's from 1918 to 1928, and recorded with Piron, Bechet, Jelly Roll Morton and Clarence Williams.
Lorenzo Tio jr