HAPPY BIRTHDAY LIONEL HAMPTON!
BIRTHDAYS
LIONEL HAMPTON, Drums, Vibes
d. Aug. 31, 2002, New York, NU, USA.
This Jazz giant pioneered the use of the vibraphone ("vibes") in Jazz recording. Although he first recorded playing the vibes on a 1930 recording session of "Memories of You" with a Louis Armstrong jazz group, he didn't achieve fame until he toured with Benny Goodman's band, where he was one of the mainstays of the Goodman small groups. (Especially the Benny Goodman quartet with Teddy Wilson on piano, Goodman on clarinet, Hampton on Vibes and Gene Krupa on drums.) He later formed his own orchestra, which in time had such jazzmen as Illinois Jacquet (saxophone), Charles Mingus (bass), Gene Krupa (drums), Dinah Washington (vocals) and Quincy Jones (arranger). He has also recorded both as a vocalist and pianist.
Lionel Hampton was the first jazz vibraphonist and was one of the jazz giants beginning in the mid-'30s. He has achieved the difficult feat of being musically open-minded (even recording "Giant Steps") without changing his basic swing style. Hamp started out as a drummer, playing with the Chicago Defender Newsboys' Band as a youth. His original idol was Jimmy Bertrand, a '20s drummer who occasionally played xylophone.
Hampton played on the West Coast with such groups as Curtis Mosby's Blue Blowers, Reb Spikes, and Paul Howard's Quality Serenaders (with whom he made his recording debut in 1929) before joining Les Hite's band, which for a period accompanied Louis Armstrong. At a recording session in 1930, a vibraphone happened to be in the studio, and Armstrong asked Hampton (who had practiced on one previously) if he could play a little bit behind him and on "Memories of You" and "Shine"; Hamp became the first jazz improviser to record on vibes.
It would be another six years before he found fame. Lionel Hampton, after leaving Hite, had his own band in Los Angeles' Paradise Cafe, until one night in 1936 when Benny Goodman came into the club and discovered him. Soon, Hampton recorded with B.G., Teddy Wilson, and Gene Krupa as the Benny Goodman Quartet, and six weeks later he officially joined Goodman. An exciting soloist whose enthusiasm even caused B.G. to smile, Hampton became one of the stars of his organization, appearing in films with Goodman, at the famous 1938 Carnegie Hall concert, and nightly on the radio. In 1937, he started recording regularly as a leader for Victor with specially assembled all-star groups that formed a who's who of swing; all of these timeless performances (1937-1941) were reissued by Bluebird on a six-LP set, although in piecemeal fashion on CD.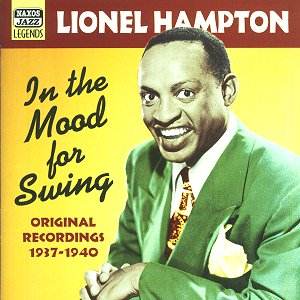 Hampton stayed with Goodman until 1940, sometimes substituting on drums and taking vocals. In 1940, Lionel Hampton formed his first big band, and in 1942 had a huge hit with "Flying Home," featuring a classic Illinois Jacquet tenor spot (one of the first R&B solos).
During the remainder of the decade, Hampton's extroverted orchestra was a big favorite, leaning toward R&B, showing the influence of bebop after 1944, and sometimes getting pretty exhibitionistic. Among his sidemen, in addition to Jacquet, were Arnett Cobb, Dinah Washington (who Hampton helped discover), Cat Anderson, Marshall Royal, Dexter Gordon, Milt Buckner, Earl Bostic, Snooky Young, Johnny Griffin, Joe Wilder, Benny Bailey, Charles Mingus, Fats Navarro, Al Gray, and even Wes Montgomery and Betty Carter.
Hampton's popularity allowed him to continue leading big bands off and on into the mid-'90s, and the 1953 edition that visited Paris (with Clifford Brown, Art Farmer, Quincy Jones, Jimmy Cleveland, Gigi Gryce, George Wallington, and Annie Ross) would be difficult to top, although fights over money and the right of the sideman to record led to its breakup.
Hampton appeared and recorded with many all-star groups in the 1950s including reunions with Benny Goodman, meetings with the Oscar Peterson Trio, Stan Getz, Buddy DeFranco, and as part of a trio with Art Tatum and Buddy Rich. He also was featured in The Benny Goodman Story (1956).
Since the 1950s, Lionel Hampton has mostly repeated past triumphs, always playing "Hamp's Boogie Woogie" (which features his very rapid two-finger piano playing), "Hey Ba-Ba-Re-Bop," and "Flying Home." However, his enthusiasm still causes excitement and he remains a household name. Hampton has recorded through the years for nearly every label, including two of his own (Glad Hamp and Who's Who). Despite strokes and the ravages of age, Lionel Hampton remained a vital force into the 1990s. In January 2001, a vibraphone he had played for 15 years was put into the National Museum of American History. On August 31, 2002, at age 94, Lionel Hampton suffered major heart failure and pased away.
1910
Van Buren "Red" Anglin
Emile Christian
Cornet/Trombone/String Bass
By 1910, this hot trombonist was already well regarded in New Orleans. He was a member of the 1919 Original Dixieland Jazz Band that brought Jazz to England. During the last part of his career, be played the String bass, - perhaps because of dental problems. He usually preferred the German spelling of his name, as Emil. His brother Frank Joseph Christian was also a wonderful hot cornetist.
A member of the famous New Orleans musical family, Emile Christian was among the most widely traveled, celebrated early jazz players. He played with his brothers Charles and Frank in groups led by Papa Jack and Alfred Laine, and in Fischer's Brass Band, then again with Frank Christian.
He then worked with Merritt Brunies in 1916 in both New Orleans and Chicago, then played with Bert Kelly in 1917 before rejoining Brunies. This group was now called the Original New Orleans Jazz Band. Christian stayed with them until 1918, then replaced Eddie Edwards in the Original Dixieland Jazz Band, playing with them in London in 1919 and 1920.
After a return to New York and brief period with the Original Memphis Five in 1921, Christian went back to London and joined the Broadway Sextet. He played bass and trombone in Germany, France and Switzerland from 1924 into the '30s.

Christian played in Bombay with Leon Abbey in 1936, then played in France and Denmark before making his way back to New York in 1939. He'd finally returned to New Orleans by 1941 and played there until the late '60s.
Jerzy Petersburski
Jerzy Petersburski (1895–1979) was a Polish pianist and composer of popular music, renowned mostly for his Tangos, some of which (such as To ostatnia niedziela, Już nigdy and Tango Milonga) were milestones in popularization of the musical genre in Poland and are still widely known today, more than half a century after their creation.
Early life
Jerzy Petersburski was born April 20, 1895, into the well-known Warsaw family of Jewish musicians, Melodysta. He graduated from the Warsaw Conservatory, where his professor was Antoni Sygietyński. Afterwards he moved to Vienna, where he continued his studies of conducting and at the faculty of piano of the local Music Academy. A talented pianist, he was persuaded by his friend Imré Kálmán to devote himself to popular rather than classical music. In Vienna he also debuted as a composer for Alexander Vertinsky, a renowned Russian poet and songwriter, famous for his romances.
Gold & Petersburski Orchestra
Return to Poland
Upon his return to Poland, with his cousin Artur Gold, he co-founded the Petersburski & Gold Orchestra, which performed at the fashionable nightspot Adria.[3] He became well known for music for cabaret and theaters in Warsaw. Among them was Julian Tuwim's and Marian Hemar's Qui Pro Quo, one of the most famous Polish cabarets of the interbellum. In late 1920s and 1930s, Petersburski became one of the most popular Polish composers as several of his songs became hits on Polish Radio and in music theatres throughout the country. Apart from Marian Hemar, the list of lyricists for his songs included some of the most renowned of their times: Andrzej Włast, Emanuel Szlechter, Ludwik Szmaragd and Artur Tur. Also the performers of Petersburski's songs added to his popularity: Wera Bobrowska (Już nigdy), Hanka Ordonówna (Sam mi mówiłeś), Tola Mankiewiczówna (Ty, miłość i wiosna), Ludwik Sempoliński (Cała przyjemność), Chór Dana and Mieczysław Fogg (Bez śladu) and Adolf Dymsza (Ja i żonka ma).
Despite being the writer of numerous waltzes and foxtrots, as well as two operettas (Kochanka z ekranu and Robert i Bertram), Petersburski is best known for his tangos. In 1928 he composed a song for Stanisława Nowicka titled Tango Milonga in Polish. The song became a major hit and was almost instantly translated to several languages, gaining much popularity abroad, both in Europe and in America (the English and German title being Oh, Donna Clara. The song was sung by many foreign artists, including Al Jolson, Henry Varny and Édith Piaf.
"Another of his tango compositions that attained international recognition was To Ostatnia Niedziela (The Last Sunday) (1933) with lyric by Zenon Friedwald describing the final meeting of former lovers who are parting. In Poland, To ostatnia niedziela is commonly and erroneously called the Suicide Tango - although the true Suicide Tango was the Hungarian art song Smutna niedziela (Gloomy Sunday). During the 1930s [Peterburski's tango] became an enormous evergreen in the Soviet Union, where it was played on virtually every street corner. It was so popular, that it was considered their own Russian tune."[3]
Petersburski also wrote music for four Polish films in the 1930s, including Eugeniusz Bodo's successful Królowa przedmieścia of 1938.
Death
Jerzy Petersburski died October 7, 1979 in Warsaw and is buried in Powązki Cemetery.
Jerzy Petersburski
JERZY PETERSBURSKI
1914
"Blind" James Phillips, guitar


b. Birmingham, AL, USA.
Notable Events
Occurring
On This Date Include:
Age: 77.
Perry Bradford (14 February 1893, Montgomery, Alabama – 20 April 1970, New York City) was an African American composer, songwriter, and vaudeville performer.
Perry Bradford grew up in Atlanta where his family moved when he was six, and in 1906 started working with minstrel shows. He played in Chicago as a solo pianist as early as 1909 and visited New York City the following year.
Through extensive experience with traveling minstrel shows and theatre companies, Bradford obtained huge exposure and experience to African American folksongs. A huge feat of Bradford's was severing the walls of racial prejudice that kept African American singers from recording. He is, too often, unrecognized for this accomplishment. Prior to Bradford's influence, African American artists recorded in a style that was closely similar to those of white dance orchestras. There was little to no trace of African American musical characteristics present in their recordings. Bradford persevered in getting the recording industry to value recordings of African American artists recording in the style of their own subculture.
As a pianist, singer, dancer and composer, Bradford worked in theatre circuits throughout the South and into the North for the next decade (1908–1919) in a song and dance act billed as "Bradford and Jeanette".,While in New York City, Bradford convinced Fred Hager, of OKeh Records, to record Mamie Smith and became her musical director. Smith starred in Bradford's show Made in Harlem (1918). Bradford was also responsible for Smith being the first African American blues singer to appear on record (singing his "Crazy Blues") in 1920. Bradford claimed that his revue, "Made in Harlem," was the first stage production that offered blues matter to the large, northern audience in Harlem. Bradford was able to organize the first recording session, "That Thing Called Love," that highlighted an African American artist, accompanied by a white studio band, performing material specific to the African American culture.
He had offices in the Gaiety Theatre office building in Times Square. Bradford toured and recorded with Smith, worked with Alberta Hunter and also headed seven recording sessions of his own during 1923–1927. Among Bradford's sidemen were Johnny Dunn, Bubber Miley, Garvin Bushell, Louis Armstrong (on two numbers in 1925), Buster Bailey, and James P. Johnson.
Bradford continued to promote blues and jazz recordings by publishing and managing. Bradford's influence in the recording industry was negatively affected by the crash of the stock market, as well as by changes in the character of jazz and African American songs. He was an irregular participant after the 1940s. With the rise of the Great Depression, Bradford slipped away into obscurity. In later years, he appeared to exaggerate his role in early blues, possibly a reaction to his being nearly forgotten. In 1957, Little Richard had a hit with Bradford's "Keep A-Knockin'". In 1965, Bradford's autobiography Born With the Blues was published (New York: Oak Publications) with a foreword by Noble Sissle. His best-known songs were "Crazy Blues", "That Thing Called Love", and "You Can't Keep a Good Man Down".
Perry Bradford at Red Hot Jazz
Songs Recorded/Released
On This Date Include:
Original Dixieland Jass Band
The Cotton Pickers - Down By The River


Ted Lewis and his Band - Louisville Lou (The Vamping Lady)

Jelly Roll Morton - Fat Meat And Greens
The Clicquot Club Eskimos -
Lonesome And Sorry
Lee Morse and her Bluegrass Boys -
Could I? I Certainly Could
Paul Whiteman's Original Rhythm Boys -
Louise -
(
Theme Song from Motion Picture "Innocents Of
Paris")
1931



Louis Armstrong and his Orchestra -
I Surrender, Dear
Louis Armstrong and his Orchestra -
Walkin' My Baby Back Home
Louis Armstrong and his Orchestra - When It's Sleepy Time Down South


~Conrad, Con; Davis, Benny
I'm writing this letter to you
I'd be so grateful to you
(She don't have to have money)
She don't have to have money
(She don't have to be a queen)
She don't have to be a queen
(As long as she loves me)
(That's the important thing)
That's the important thing
'Cause I'm gonna love her
(I'm gonna close for now)
I'd be so grateful to you
I beg to announce to you,
With men I'm completely through,
Finished with them all, big or small, short or tall!
The door to my heart is shut,
No more will I lose my nut
Over movie stars, sheiks in Packard cars,
Could I care for that big boy there,
With the dimples and wavy hair?
Oh, could I? I certainly could!
Could I sit on that papa's knee?
Could I let him "sweet mama" me?
Could I? I certainly could!
What lovin' wouldn't he get, wouldn't he get?
Hot oven, couldn't we pet, couldn't we pet?
Could I take him on moonlight trips,
Fry sweet kisses on those hot lips?
Could I? I certainly could!
Could I? I certainly could!
Could I? I certainly could!
Could I? I certainly could!
Could I care for those big brown eyes?
Could I buy him his shirts and ties?
Oh, could I? I certainly could!
Could I care for those great big arms?
Could I care for his lovin' charms?
Could I? I certainly could!
What lovin' wouldn't he get, wouldn't he get?
Hot oven, couldn't we pet, couldn't we pet?
Could I give him a thrill or two?
Are you asking? Well, I'm telling you!
Could I? I certainly could!