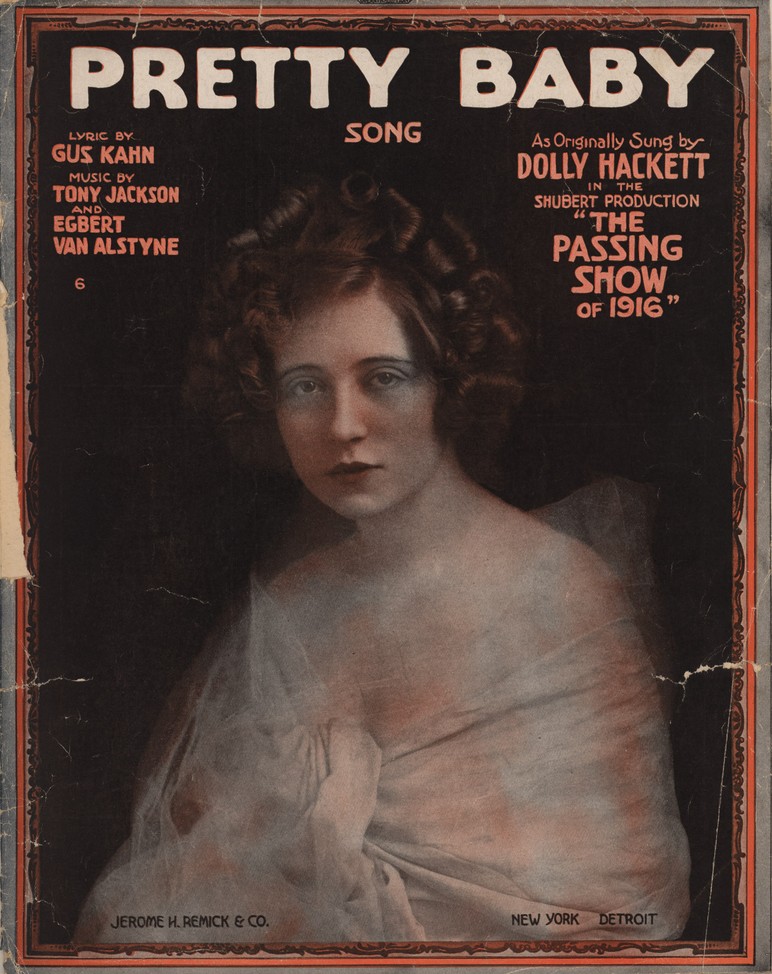 BIRTHDAYS
b. La Rosita, Mexico
Jimmy (James) Namaro. Vibraphonist, marimbist, percussionist, composer, painter, b La Rosita, Mexico or Columbus, Michigan, 14 Apr 1913, naturalized Canadian ca 1945, d Richmond, BC, 25 Apr 1998. His family moved in 1921 to Hamilton, Ont, where he studied piano with Sid Walling and Eric Lewis. He made his radio debut as a marimba player on CHML, Hamilton, and was heard in his teens on CFRB, Toronto, and on the CBC. In 1933, he was assistant conductor of a marimba band at the Chicago World's Fair.
Namaro subsequently pursued dual careers as the leader of pop or light jazz trios and quartets in nightclubs in Toronto (eg, the Polo Lounge of the Westbury Hotel) and New York and as a popular CBC radio performer. He was a member 1943-59 of the Happy Gang and bandleader or soloist on several other CBC radio and television programs before moving in the 1970s to the USA. He was music director for Frankie Laine 1978-1993, with whom he toured in the USA, Canada, and the UK. Namaro moved to Richmond, BC, in 1987, where he continued to compose and to work with Laine.
His discography includes LPs 1958-72 for Sparton (With Mallets A Four Thought, SP-209), RCA Victor or Camden (The Latin Touch of Jimmy Namaro, CAS-2357, and others originally produced by the CTL), and Quality. Namaro wrote many jingles and composed music for CBC dramas (eg, the TV series Seaway), for the Broadway production Andorra, and for ballet. His paintings, in the primitive style, have had several exhibitions.
~Author Betty Nygaard King

Namaro, Jimmy - The Canadian Encyclopedia
d. April 8, 1947, Hollywood, California, USA.
Donna was born into a musical family. Her father was Robert E. Wood, a radio singer in the 1920's with his wife Gertrude Anderson-Wood. Donna is perhaps best recalled for her group 'Donna and Her Don Juans', and the 'Don Juans' are perhaps best recalled for their work with the Horace Heidt orchestra. (Incidentally, Donna's sister, Gloria Wood was also a fine singer, and both ladies later were members -at the same time- with the Kay Kyser Orchestra. Gloria Wood also sang with Wingy Manone & His Orchestra, Jimmy Wakely, and others.)
The exact makeup of 'Donna and the Don Juans' is unclear. In private correspondence, Leslie Siegel (author of the novel "Where The Woods Were") reported she found this early 1940s newspaper clipping that credited the "Don Juans" as comprised of George Jackson, Eddie James and Jimmy O'Brien. Unfortunately, the men were not further identified. During the time that Donna Wood was with the Horace Heidt orchestra, two other singers were also present. Art Carney (who was on the road for 6 years with Horace Heidt singing mostly Novelty numbers), and who may (at certain times) have sung with Donna. Gordon McCrae was with the Heidt band at the same time, and may also have sung with Donna (and with Art).
Apparently, the 'Don Juans' were a fairly fluid group, - comprised of whomever was around - the norm for those days!. Heidt's release of "Mary", credits the vocal to Larry Cotton, with Donna and her Don Juans,--who are listed as (Gordon, Charlie, and George --presumably, Gordon McCrae, Charlie Jackson and George Jackson). Another Horace Heidt orchestra release "I Don't Want To Set The World On Fire', had a vocal chorus by Larry Cotton, together with 'Donna and her Don Juans', -- again listed as (Gordon, Charlie and George). (Of course, record labels are notorious for wrong information.) While the earlier vocal group had George Jackson, Eddie James and Jimmy O'Brien, as mentioned above.
It is interesting to note that during one period, both Donna, and her singing sister Gloria Wood (please see see our Sept 8, Calendar page) were both present in the Heidt orchestra. Later, Gloria and Donna were both members (again at the same time) of the 'Kay Kyser and His Kollege of Musical Knowledge' orchestra. Gloria later sang with 'Wingy Manone and His Orchestra', Jimmy Wakely, and others. She also sang the Rice-A-Roni TV commercial jingle on American radio. Sadly, the 'Donna and Her Don Juans' group ended when Donna died just 6 days short of her 30th birthday.
Donna Wood (1917 - 1947) - Find A Grave Memorial
1945.
Trevor Bacon, vocals/guitar
Age: 38.
1974.
died in Los Angeles, CA, USA.
Age: 65.
Albert Morgan (August 19, 1908, New Orleans - April 14, 1974, Los Angeles) was an American jazz double-bassist.
Morgan came from a musical family; Sam Morgan and Isaiah Morgan were both bandleaders and trumpeters, and Andrew Morgan was a jazz reedist. Morgan started on clarinet, then learned baritone sax, tuba, and bass. He took lessons with Simon Marrero around 1919, then played with brother Isaiah. He relocated briefly to Pensacola, Florida and played with Mack Thomas and Lee Collins before returning to New Orleans to play on riverboats with Fate Marable and Sidney Desvigne. He then played with Davey Jones and Cecil Scott and recorded with the Jones & Collins Astoria Hot Eight.
In the 1930s he played with Otto Hardwick and then spent four years with Cab Calloway (1932-36). After leaving Calloway he settled in California, playing live, on record, and on film. His film appearances include a feature on "Reefer Man" with the Calloway band in International House, The Gene Krupa Story and with Louis Armstrong in Going Places. That decade he led his own band and played as a sideman with Fats Waller, Les Hite, Zutty Singleton, Louis Jordan, and Sabby Lewis. From the 1950s to the 1970s, Morgan played extensively with Buddy Banks in a duo.
Morgan also appears on record with Chu Berry, Coleman Hawkins, Don Byas, Jack Teagarden, Jay McShann, Red Allen, and T-Bone Walker.
Al Morgan: Information from Answers.com
died in New York (Manhattan), NY, USA.
He had played with such men as Sidney Bechet, Lester Young and King Curtis.
Sammy Price (October 6, 1908 – April 14, 1992) was an American jazz, boogie-woogie and jump blues pianist and bandleader. He was born Samuel Blythe Price, in Honey Grove, Texas, United States. Price was most noteworthy for his work on Decca Records with his own band, known as the Texas Bluesicians, that included fellow musicians Don Stovall and Emmett Berry. The artist was equally notable for his decade-long partnership with Henry "Red" Allen.
During his early career, Price was a singer and dancer in local venues in the Dallas area. Price lived and played jazz in Kansas City, Chicago and Detroit. In 1938 he was hired by Decca Records as a session sideman on piano, assisting singers such as Trixie Smith and Sister Rosetta Tharpe.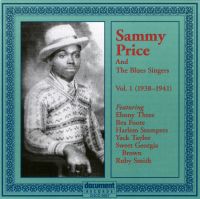 Later in his life, he partnered with the Roosevelt Hotel in New York, and was the headline entertainment at the Crawdaddy Restaurant, a New Orleans themed restaurant in New York in the mid 1970s. Both Benny Goodman and Buddy Rich played with Price at this venue. in the 1980s he switched to playing in the bar of Boston's Copley Plaza.
He died in April 1992, in New York, at the age of 83.
Sammy Price - Wikipedia
Louisiana Five - B-Hap-E
Ladd's Black Aces -
Black-Eyed Blues
The Dixie Stompers -
Dynamite
- Vocal Chorus by Don Redman
1927
Sam Morgan's Jazz Band -
Mobile Stomp
Clarence Williams' Blue Five
Sometimes I'm Happy

-

vocal refrain by Franklyn Baur
The Goofus Five -
Arkansas Blues
Muddy Water

The Wang Wang Blues
The Goofus Five - The Whisper Song


Annette Hanshaw -
Nothin'
Fred Hall and his Sugar Babies -
She's The Sweetheart Of Six Other Guys
Waitin' For Katy

(Gus Kahn / Ted Shapiro)
Paul Whiteman and his Orchestra
Daybreak -

Vocal refrain by Red McKenzie

Lawd, You Made the Night Too Long
The Voice in the Old Village Choir

- Featuring Jack Fulton, Tenor
Jack Teagarden and his Orchestra
LYRICS: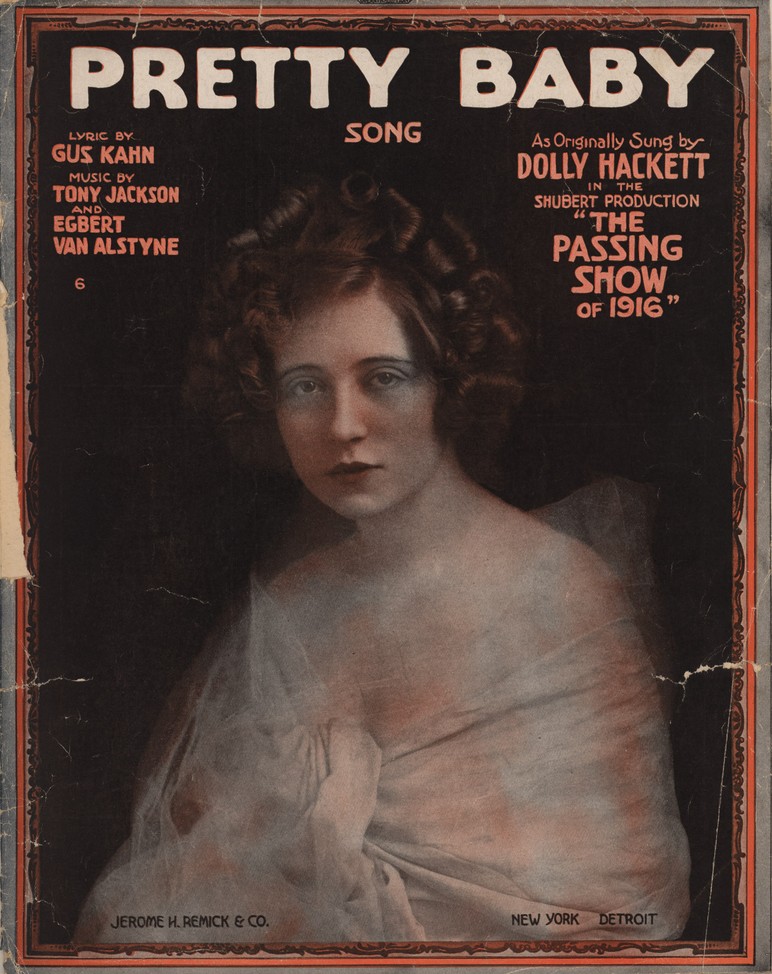 ~Music by Phil Baker and Ben Bernie
Everybody loves a baby that's why I'm in love with you
And I'd like to be your sister, brother, dad and mother too
Won't you come and let me rock you in my cradle of love
And we'll cuddle all the time
Oh I want a lovin' baby and it might as well be you
Everybody loves a baby that's why I'm in love with you
And I'd like to be your sister, brother, dad and mother too
Won't you come and let me rock you in my cradle of love
And we'll cuddle all the time
Oh I want a lovin' baby and it might as well be you
Pretty baby of Pretty baby of Pretty baby of mine

brought to you by...
~confetta