HAPPY BIRTHDAY LONNIE JOHNSON!
BIRTHDAYS
d. June 16, 1970, Toronto, Ontario, Canada.
NOTE:
The exact year of his birth is not known, but 1894 is what appears on his passport. Some researchers think that 1889 may be correct.
Biography
~by Bill Dahl
Blues guitar simply would not have developed in the manner that it did if not for the prolific brilliance of Lonnie Johnson. He was there to help define the instrument's future within the genre and the genre's future itself at the very beginning, his melodic conception so far advanced from most of his pre-war peers as to inhabit a plane all his own.
For more than 40 years, Johnson played blues, jazz, and ballads his way; he was a true blues originator whose influence hung heavy on a host of subsequent blues immortals.
Johnson's extreme versatility doubtless stemmed in great part from growing up in the musically diverse Crescent City. Violin caught his ear initially, but he eventually made the guitar his passion, developing a style so fluid and inexorably melodic that instrumental backing seemed superfluous. He signed up with OKeh Records in 1925 and commenced to recording at an astonishing pace -- between 1925 and 1932, he cut an estimated 130 waxings.
The red-hot duets he recorded with White jazz guitarist Eddie Lang (masquerading as Blind Willie Dunn) in 1928-29 were utterly groundbreaking in their ceaseless invention. Johnson also recorded pioneering jazz efforts in 1927 with no less than Louis Armstrong's Hot Five and Duke Ellington's orchestra.
After enduring the Depression and moving to Chicago, Johnson came back to recording life with Bluebird for a five-year stint beginning in 1939. Under the ubiquitous Lester Melrose's supervision, Johnson picked up right where he left off, selling quite a few copies of "He's a Jelly Roll Baker" for old Nipper. Johnson went with Cincinnati-based King Records in 1947 and promptly enjoyed one of the biggest hits of his uncommonly long career with the mellow ballad "Tomorrow Night," which topped the R&B charts for seven weeks in 1948. More hits followed posthaste: "Pleasing You (As Long as I Live)," "So Tired," and "Confused."

Time seemed to have passed Johnson by during the late '50s. He was toiling as a hotel janitor in Philadelphia when banjo player Elmer Snowden alerted Chris Albertson to his whereabouts. That rekindled a major comeback, Johnson cutting a series of albums for Prestige's Bluesville subsidary during the early '60s and venturing to Europe under the auspices of Horst Lippmann and Fritz Rau's American Folk Blues Festival banner in 1963. Finally, in 1969, Johnson was hit by a car in Toronto and died a year later from the effects of the accident.
Johnson's influence was massive, touching everyone from Robert Johnson, whose seminal approach bore strong resemblance to that of his older namesake, to Elvis Presley and Jerry Lee Lewis, who each paid heartfelt tribute with versions of "Tomorrow Night" while at Sun.
www.redhotjazz.com/ljohnson.htm
www.redhotjazz.com/dunnjohnson.htm
1908
b. Ft. Gibson, OK, USA.
Bob Dunn is an icon of Western swing music. Dunn joined Milton Brown and His Musical Brownies in 1934. He electrified his guitar with a homemade pickup in 1935 and electrified Southwestern audiences forthwith. He had a brassy sound and used his guitar as a lead, not a chorus instrument. When Milton Brown's band broke up after his death, Dunn served time with Roy Newman and His Boys, Cliff Bruner and His Texas Wanderers and the Hi-Flyers. He formed Bob Dunn's Vagabonds with Leo Raley on electric mandolin, Mancel Tierney on piano, former Blue Ridge Playboy Russell "Hezzie" Bryant on bass and Fritz Kehm on drums. He kept himself busy with session work until the '50s.
Perhaps best recalled as the handsome crooner who competed with Gene Kelly for the hand of Leslie Caron in the film 'An American in Paris'. His Broadway credits include 'Arms and The Girl' and 'Portofino'.
Georges Guétary - Wiki
b. Georgia Sea Islands, GA, USA.
Although closely associated with the unique music of the Georgia Sea Islands, singer Bessie Jones was not actually born on the islands, but in a small mainland Georgia town. As a young woman she moved to the islands and became an intrinsic part of the cultural life there. Located directly off the Georgia coast, these islands represent a small but fascinating chapter in American history, a bit of which bears repetition to fully understand Jones' background.
Once the site of large plantations, the islands were seized by the Union in 1861, early in the Civil War. It was a strategic location from which the Union could easily blockade shipments that were headed to the rebellious Southern states. The original landowners had fled, leaving something in the neighborhood of 10,000 former slaves behind. These people became part of what was known as the Port Royal Experiment, a chance to see what fate would bring to the newly freed slaves. Since the Northern army had consistently rejected the enlistment of black soldiers, the governing and security of the Georgia Sea Islands was handed over to locally enlisted citizens, meaning that for the first time in American history, African-Americans were allowed to protect themselves.
From the end of the Civil War until the '30s, these islands enjoyed a period of isolation from mainland life. During these years, a further cultural blend took place between the descendents of two sets of former slaves: the Afro-Americans and a huge group of former slaves from the Bahamas who traveled there following the abolishment of slavery in the British empire.
The Sea Islanders, having suffered captivity, enjoyed the release of their bonds and created a music of endurance and freedom utilizing the unique dialect of the islands. There was a strong influence of the Bahamas in this music. And although all American folk music has been influenced by various types of African music, the African content of the Georgia Sea Islands is of a much purer variety; the result is a style of music unlike any other in America or the world.
Jones became a shining representative of this musical heritage, singing in a Bahamian accent accompanied by wild, outrageous African handclap rhythms. In the '60s, she helped form the Georgia Sea Island Singers, recording both with them and as a soloist. The material in both cases includes both songs and a selection of musical games for children that she recalled from her past.
These performances brought audiences face to face with a distinct culture from another century. Jones published a book entitled Step It Down, which is a collection of such children's games as well as various stories from her life. Her performances, recordings, and educational programs earned many awards, including a National Heritage Fellowship from the National Endowment for the Arts. Like all great folk artists, her voice has continued ringing on since her death. She perhaps may not have had much in common with the rap and techno music of the '90s, but the techno recording artist Moby chose to sample her voice on his recordings.
~ Eugene Chadbourne
Bessie Jones - Wikipedia
Irving Kaufman (far right in both photos) was not a member of the original Kaufman Brothers
act, working instead with the better-known Avon Comedy Four.
1890
Irving Kaufman
Singer
b. February 8, 1890
d. January 3, 1976
Irving Kaufman born Isidore Kaufman Syracuse, New York (February 8, 1890 – January 3, 1976) was a prolific early twentieth century singer, recording artist and Vaudeville performer. The son of Russian Jewish immigrants, he was a member of The Kaufman Brothers, along with his brothers Phillip and Jack.
Kaufman began recording in 1914, and recorded for Victor, Columbia, Vocalion, Gennett, Edison, Harmony, as well as all of the dime labels (Banner, Perfect, etc.).
Early in his career, when recording for Edison and RCA Victor, he recorded under his own name, but he also used a number of (non-Jewish-sounding) aliases. Sometimes, as in the case of several of his 1927 "Broadway Bell-Hops" vocals, he was merely credited as "Vocal Chorus". He was often credited as "vocal refrain by George Beaver" on the dime store labels.
Kaufman was a singer in the vaudeville style; certainly not considered a jazz singer, he nonetheless sang on recordings accompanied by some of the foremost jazz figures of the 1920s, including Leon "Bix" Beiderbecke, Frank Trumbauer, The Dorsey Brothers, Red Nichols, Miff Mole, and Eddie Lang. (His voice recorded well - both acoustically and electrically - and was one of the most prolific singers during the 1920s.)
Kaufman retired after a heart attack in 1949, and made no further commercial recordings until 1974, when a 2-LP set titled Reminisce With Irving Kaufman was released. It consisted mostly of transcriptions of his old recordings, but included several new cuts of Kaufman singing, accompanied by his second wife, Belle Brooks (1904–93). He died 3 January 1976 in Indio, California.
MORE:
American Recording Pioneers
Popular American Recording Pioneers, 1895-1925
1903
Greta Keller
Greta Keller-Bacon (February 8, 1903 – November 11, 1977) was a cabaret singer and
~Biography
Born Margaretha Keller in Vienna, Austria, she studied dance from the age of eight, followed by acting. Her début was in Pavillon, in Vienna. She also appeared on stage with Marlene Dietrich in Broadway, in which she sang and danced. A recording contract with Ultraphon in 1929 took her from Vienna to Prague and Berlin, where she enjoyed great success with Peter Igelhoff and Peter Kreuder. For over 45 years her voice was familiar worldwide, in radio shows, films, revues, concerts and musicals, but above all in recordings. First called The Great Lady Of Chanson in her native Vienna, the nickname followed her to London and America.
~Marriage
In Hollywood she met and married Gaspar Griswold Bacon, Jr. son of Gaspar G. Bacon from a prominent "Boston Brahmin" family. The elder Bacon was a member of the board of Harvard University, and had been a close associate of J.P. Morgan, and later served as Secretary of State under Theodore Roosevelt and ambassador to France under William Howard Taft.
Her husband, known in film and theater as David Bacon, was murdered in 1943, two weeks after finishing a major role in the Republic serial The Masked Marvel. Speculation involved affairs with Howard Hughes and another actor, but the murder was never solved. Not long after that, their child was stillborn.
It took some time for her to recover from these events, but she restarted her career in Switzerland, then on to Vienna, Berlin and back to New York City.
~Career
Her lieder voice carried the charm of the Parisian women but never lost the heart of the girl from Vienna. Greta's singing in what some call "a style reminiscent of Marlene Dietrich" comes from the fact she was the model for how Marlene Dietrich developed her own voice. Greta Keller made recordings throughout the world and from the earliest days of "schellack" to the dawn of CDs. She spent many years in the United States, notably in hotel club rooms at the Waldorf and (later) the Stanhope in New York, where her show always included "My Way", with lyrics composed by Paul Anka, and a number of Noël Coward numbers.
A "singer's singer," Keller often drew other performers to the room, including the Nordstrom Sisters, Beverly Sills and Hildegarde. Other regulars would book the same tables most nights that she was performing, including photographer Edgar de Evia. Favorites of the Stanhope crowd were the songs of Cole Porter and Noël Coward, for their sexual innuendo and double entendres. These included "Miss Otis Regrets" and "I'm the Other Woman in His Life" by her close friend Elisse Boyd. She regularly returned to Vienna. The poet and singer Rod McKuen was introduced by her to an audience in Vienna. McKuen, in turn, hosted a concert presenting her at Lincoln Center in the 1970s, and wrote the English lyric "If You Go Away" to Jacques Brel's "Ne Me Quitte Pas," which she always sang.
Greta's greatest strength was in her adaptability. She sang each song in a unique way. Her repertoire included songs from the 1930s through the war years as well as popular songs of the day. A few years before her death, her voice was heard in the Academy Award-winning movie, Cabaret (1972), for which she sang the song, "Heirat" (Married). The last years of her life, from 1973 until her death in November 1977 Greta lived, worked, and traveled with her last partner, Wolfgang Nebmaier, who now lives in Southern Oregon.
"Mad About The Boy" - Greta Keller !
Greta Keller - Wikipedia
Greta Keller at the Internet Movie Database
Keller Discography on Folkways
1916
d. April 23, 1998, age 82.
Was a Coleman Hawkins man and adopted the Hawk's full-bodied tone. One of his early stamping grounds was the West London Rhythm Club, often playing there alongside Ronnie Scott. In recent years he had been a regular at the Fairway Suite, where he celebrated his 80th birthday playing alongside son Alan, a notable contemporary British saxophonist. Very few Jazzmen's progeny follow in their father's footsteps but, happily, it has been the case with Jimmy and Alan.
Jimmy Skidmore: 1916-1998
Jimmy Skidmore - Wikipedia
1904
Renato "
Ray" Starita
Born in Chelsea, Massachusetts
February 8, 1904
Ray Starita was an American-Italian saxophonist, clarinetist and bandleader, along with his brother Rudy on drums, vibes and xylophone, the band performed at The Ambassador Club, Conduit Street, London from 1928 to 1932.
There were three Starita brothers: the eldest Rudy Starita, born in Naples, then in America Renato "Ray" Starita and Al Starita. Ray lead his band in London and returned to America in 1932 and became an amusement park owner.
Notable Events
Occurring
On This Date Include:
Raymond Scott
died in North Hills, CA, USA.
Mercer Ellington, trumpet/leader
died in Copenhagen, Denmark,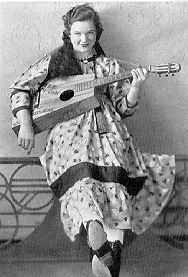 1999.
C&W star 'Lulu Belle'
member "Lulu Belle & Scotty"
died. (Alzheimer's disease).
The Happy Six - Siam Soo
Josie Miles - A Pipe Dream Blues


Naylor's Seven Aces - So I Took The Fifty Thousand Dollars
Five Harmaniacs - It Takes A Good Woman (To Keep A Good Man At Home)
The Goofus Five -
Farewell Blues
I Wish I Could Shimmy Like My Sister Kate
Eddie's Hot Shots -
I'm Gonna Stomp, Mr. Henry Lee &
That's A Serious Thing
Blue Steele and his Orchestra - Be My Baby
Roger Wolfe Kahn and his Orchestra - Let A Smile Be Your Umbrella (On A Rainy Day)
Paul Whiteman and his Orchestra - There Ain't No Sweet Man That's Worth the Salt of My Tears
Alex Hill and his Orchestra - Southbound
Dyin' With The Blues

St. James Infirmary
Richard M. Jones' Jazz Wizards
Novelty Blues

Tickle Britches Blues
Andy Kirk and his Twelve Clouds Of Joy
I'll Get By

I Surrender Dear

-

Vocal Chorus by Pha Terrell

It Must Be True
~written by
Harry Barris,
Gordon Clifford
and Bing Crosby
We've played the game of stay away,
But it costs more than I can pay.
Without you I can't make my way
I may seem proud; I may act gay,
It's just a pose; I'm not that way,
'Cause deep down in my heart iI say,
Little mean things we were doing
Must have been part of the game,
Lending a spice to the wooing,
But I don't care who's to blame.
When stars appear and shadows fall,
Why then you'll hear my poor heart call,
To you my love, my life ,my all,
brought to you by...
~confetta