The Peerless Quartet, circa 1923. Left to right: John H. Meyer, Henry Burr, Frank Croxton, Albert Campbell.
HAPPY BIRTHDAY HENRY BURR !
BIRTHDAYS
1885
Henry Burr, vocals (tenor)
b. St. Stephen, New Brunswick.Canada.
d. 1941, New York, NY, USA.
In the '20s, Henry Burr was what would eventually come to be known as a pop phenomenon, although back in his era people might have thought that was some kind of new soft drink. Henry Burr was a stage name, and not the only one used by Harry McClaskey. He was also known as: Alfred Alexander on Pathe records; Alfred Knapp on Diva, Harmony, and Velvetone; Harry Barr on Harmony; Harry Haley on Apex and Cameo; Henry Gillette on Aurora; Irving Gillette on Edison and several other labels; Robert Bruce on Empire, Operaphone, Pathe, Perfect, and Emerson; Shamus McClaskey on Pathe and Emerson; and Lou Forbes on Crown. With the exception of Edison, he also used the Henry Burr monicker with all of these labels.
The resulting discography would make even the most prolific denizen of New York's Lower East Side avant-garde scene weep with shame. Under all these names, the vocalist was credited with making some 5,000 phonograph recordings. He also performed throughout North America, and was one of the first and few Canadian artists to crack the market in the United States. Despite all this, he remains one of most the forgotten recording artists of all time.
He began his singing career as a young tenor performing in local churches in the colorful port town of St. John, New Brunswick. His first important concert appearance was in 1901 at the St. John Opera House with the Scottish soprano Jessie Maclachlan. The same year, Metropolitan Opera baritone Giuseppe Campanari came to perform at the same venue and was asked to listen to McClaskey sing. His reaction was to insist that the young man head to New York for more advanced musical training. Following the older performer's advice, he headed for New York City and found singing work as a church soloist. More importantly, he was one of the first artists to record for Victor, at that a point a brand new company, as well as what was then called Columbia Graphophone and the daddy of them all, Edison. He studied with noted teacher John Dennis Meehan and Ellen Burr, swiping the latter's name in tribute when he began making records.
His first hit came with "In the Shade of the Old Apple Tree." He joined a vocal group called the Columbia Quartet, which later evolved into the Peerless Quartet. He began managing this ensemble in 1912 and over the next 15 years it, and a later offshoot called the Sterling Trio, was one of the most popular recording groups in America, churning out hundreds of popular songs on 78s.
Between 1916 and 1928, in addition to recording, Burr managed and toured North America to smashing success with the Peerless Quartet, Billy Murray, and others in an ensemble accurately called the Eight Famous Popular Victor Artists. But the group could have eventually changed its name to Eight Artists Who Are Out of Style.
Radio, movies, and new developments in jazz resulted in Burr's sentimental style becoming no longer in demand. He disbanded his group in the late '20s and made several solo recordings on smaller labels, then started freelancing and working for the CBS network. He was a regular performer on Chicago-area radio programs, but apparently lost a great deal of the fortune he had accumulated in the stock market crash. At 59, he died of throat cancer and heart failure, and was buried in an unmarked grave in Kenisco, NY. The largely forgotten legend began to be revived near the end of the 20th century, when several enthusiastic record collectors began a Burr research project.
d. Oct. 16, 1973, Yonkers, NY, USA.
The first drummer to be a superstar, Gene Krupa may not have been the most advanced drummer of the 1930s but he was in some ways the most significant. Prior to Krupa, drum solos were a real rarity and the drums were thought of as a merely supportive instrument.
Krupa, who with his good lucks and colorful playing became a matinee idol, changed the image of drummers forever. Gene Krupa made history with his first record. For a session in 1927 with the McKenzie-Condon Chicagoans, he became the first musician to use a full drum set on records.
He was part of the Chicago jazz scene of the 1920s before moving to New York and worked in the studios during the early years of the Depression.
In December 1934 he joined Benny Goodman's new orchestra and for the next three years he was an important part of BG 's pacesetting big band. Krupa, whose use of the bass drum was never too subtle, starred with Goodman's Trio and Quartet and his lengthy drum feature "Sing, Sing, Sing" in 1937 was historic.
After he nearly stole the show at BG 's 1938 Carnegie Hall Concert, Krupa and Goodman had a personality conflict and Gene soon departed to form his own orchestra. It took the drummer a while to realize with his band that drum solos were not required on every song!
Such fine players as Vido Musso, Milt Raskin, Floyd O'Brien, Sam Donahue, Shorty Sherock and the excellent singer Irene Daye were assets to Krupa's Orchestra and "Drum Boogie" was a popular number but it was not until 1941 when he had Anita O'Day and Roy Eldridge that Krupa's big band really took off.
Among his hits from 1941-42 were "Let Me Off Uptown," "After You've Gone," "Rockin' Chair" and "Thanks for the Boogie Ride." Krupa made several film appearances during this period, including a very prominent featured spot in the opening half hour of the Howard Hawks comedy Ball of Fire, performing an extended version of "Drum Boogie" (with Roy Eldridge also featured), and William Dieterle's faux jazz history, Syncopation . Unfortunately Krupa was arrested on a trumped-up drug charge in 1943, resulting in bad publicity, a short jail sentence and the breakup of his orchestra.
In September 1943 he had an emotional reunion with Benny Goodman (who happily welcomed him back to the music world). Krupa also worked briefly with Tommy Dorsey before putting together another big band in mid-1944, one that had a string section. The strings only lasted a short time but Krupa was able to keep his band working into 1951.
Tenor-saxophonist Charlie Ventura and pianist Teddy Napoleon had a trio hit in "Dark Eyes" (1945), Anita O'Day returned for a time in 1945 (scoring with "Opus No. 1") and, although his own style was unchanged (being a Dixieland drummer at heart), Krupa was one of the first swing big bandleaders to welcome the influence of bebop into his group's arrangements, some of which were written by Gerry Mulligan (most notably "Disc Jockey Jump").
Among the soloists in the second Krupa Orchestra were Don Fagerquist, Red Rodney, Ventura, altoist Charlie Kennedy, tenorman Buddy Wise and in 1949 Roy Eldridge .
After breaking up his band in 1951, Krupa generally worked with trios or quartets (including such sidemen as Ventura, Napoleon, Eddie Shu, Bobby Scott, Dave McKenna, Eddie Wasserman, Ronnie Ball, Dave Frishberg and John Bunch), toured with Jazz at the Philharmonic, ran a drum school with Cozy Cole and had occasional reunions with Benny Goodman.
In 1959, Columbia Pictures released The Gene Krupa Story, a biographical drama based on Krupa's life starring Sal Mineo in the title role and Red Nichols in a supporting part.
Gradually worsening health in the 1960s resulted in him becoming semi-retired but Krupa remained a major name up until his death. Ironically his final recording was led by the same person who headed his first appearance on records, Eddie Condon.
Gene Krupa's pre-war big-band records are gradually being released by the Classics label.
b. Red Lodge, MT, USA. d. 1970
Biography
~by Scott Yanow
Dick Lammi was a fine rhythm player in Dixieland settings, pushing the soloists with his tuba and bass playing. He actually started out on violin and then banjo, freelancing in the Pacific Northwest on the latter instrument during the latter half of the 1920's.
Lammi mostly played bass during a fiveyear stretch in Portland, Oregon and then, after moving to San Francisco in 1936, he began doubling on tuba. Lammi is best-known for his work with Lu Watters' influential Yerba Buena Jazz Band during 1941-50, appearing on nearly all of the band's recordings. He also spent periods playing fairly regularly with the 1950's groups of Bob Scobey and Turk Murphy and recorded with Wally Rose and Clancy Hayes . Not much was heard of Dick Lammi after the early 1960's and his exact death date and location is not known.
Leroy "Happy Fats" LeBlanc
(Cajun) singer-songwriter,
b. Rayne, LA, USA.
The professional career that spanned half a century began in 1932 when at the age of 17, Leroy LeBlanc got on-stage to play guitar with the band of Cajun music legend Joe Falcon. He also worked with Amedee Breaux during his green period, forming his own band, the Rayne-Bo Ramblers, in 1935. The original lineup of this ensemble also included Eric Arcemeaux on fiddle.
In the next few years, LeBlanc worked with Creole accordion king Ambrose Thibodeaux, as well as in the band of Doc Guidry. Also in this period, he worked with Luderin Darbone, Pee Wee Broussard, Papa Cairo Lamperez, Rex Champagne, and Crawford J. Vincent. LeBlanc was a regular visitor to many stations that broadcast Cajun music, and was known for his interesting and supportive impromptu comments about the importance of preserving the traditions of the interrelated genres of this region. Out of his recording career came a number of songs that have become Cajun standards, including "Colinda," "La Viex de Accordion," "Mon Bon Vieux Mari," and the best-selling "Dear Mr. President."
He received a variety of honors in his home state, each of which made him even more "Happy" than he was before. November 9 is officially "Happy Fats LeBlanc Day" in Louisiana, as decreed by Governor Edwin Edwards in 1980. That this politician was indicted later on should not take away from the Happy glory; rather, these kind of legal problems are as traditional for politicians in this region as zydeco, Cajun, Creole, and la la music. Another honor well worth croaking about was his appointment as grand marshall of the Rayne Frog Festival. He recorded for RCA and Decca, major label forays into swampland as well as prolifically for regional outfits such as Fais-Do-Do, Bella, and Cajun Classics. Diabetes brought down this Cajun warrior, who was remembered not only for his musical contributions but for generous donations of his time and energy to a variety of charitable causes.
d. Mar., 6, 1951, London, U.K.,
Son of the choral conductor, Clara Novello Davies.
Wrote the World War 1 song, "Keep the Home Fires Burning", which earned him a considerable sum. Made a reputation in many fields as actor-manager, composer, playwright, and screenwriter. Best known for his sentimental musicals in the interwar years.
Novello was born at Llwyn-yr-Eos (Grove of the Nightingale), Cowbridge Road East, Cardiff, Wales, to Clara Novello Davies, a well-known singer and the teacher who founded the Welsh Ladies Choir, and David Davies, a tax collector. His adopted sister was Marie Novello. A blue plaque commemorating his birth can be seen on the side of the house. As a boy, Novello was a successful singer in Welsh Eisteddfod. He was educated at Magdalen College School in Oxford, where he sang in the choir. He legally changed his name to Ivor Novello in January 1927, although he was known by that name on stage from at least 1918.
In 1916 Novello received a commission as a Sub-Lieutenant and trained as a pilot in the Royal Naval Air Service. He completed dual flying instruction but crash landed on his first solo. His second solo flight ended in a more serious crash, in which he injured his ankle. The Royal Navy grounded him, and he was posted to clerical duties for the duration of the war. After World War I, Novello pursued a film career until the 1930s. He starred in two silent films directed by Alfred Hitchcock, The Lodger and Downhill, both in 1927.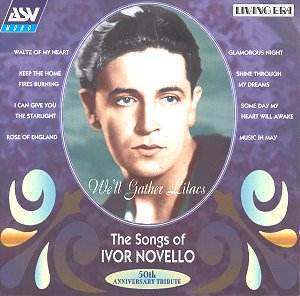 Novello first became known as a result of the song "Keep the Home Fires Burning", which he composed during World War I. His 1917 show, Theodore & Co was a wartime hit, composed while Novello was in the Navy. Novello wrote his musicals in the style of operetta and was one of the last major composers in this form. While he generally wrote his own librettos (being an experienced playwright), Christopher Hassall wrote the lyrics for most of his shows.
On stage, he occasionally played dramatic roles, such as the title character in the first London production of Ferenc Molnar's Liliom (1926). He also appeared in West End musicals of his own devising. His musicals in the 1930s were expensive, spectacular productions, with several scene changes and a large cast including many extras and dancers. The best known of these were Glamorous Night (1935) and The Dancing Years (1939). Novello later went to Hollywood and appeared in numerous successful films, but the stage remained his first love and the medium for his major successes.
In 1933, Novello coaxed the actress Zena Dare out of semi-retirement, and thereafter until his death, he often performed with her and wrote parts for her in his works. At the end of his career, he produced some of his most successful musicals, including Perchance to Dream (1945), King's Rhapsody (1949) and Gay's the Word (1951).
~Personal life
Novello was homosexual, well known for some of his more glamorous gay affairs. For 35 years, he was the lover of the British actor Bobbie Andrews, and he had an affair with the British poet and writer Siegfried Sassoon. For many years, he lived at Littlewick Green in East Berkshire.
During World War II, in May 1944, Novello was sentenced to eight weeks in prison (he served four) for misuse of petrol coupons, a serious offence in wartime Britain. An admiring female fan had purloined the fuel from her employer. Serving a sentence together with Novello was Frankie Fraser. For the UK tax year 1943-44, Novello had paid £19,948 income tax from his £35,400 earnings. After his release, he continued to appear successfully on stage and to write shows until the day before his death.
Novello died suddenly from a coronary thrombosis at age 58. He was cremated at the Golders Green Crematorium, and his ashes are buried beneath a lilac bush and marked with a plaque which reads "Ivor Novello 6th March 1951 'Till you are home once more'".
Ivor Novello
d. Dec. 13, 1973, 29 Palms, CA, USA.
Worked for Paramount and Disney Films.
Biography
~by Joslyn Layne

Pop and movie songwriter Allie Wrubel was most active during the late '30s and 1940s, and composed such hits as "Fare Thee Well, Annabelle" and "Zip-a-Dee-Doo-Dah." Born in 1905 in Connecticut, Wrubel was educated at Wesleyan and Columbia. His early work in the music industry included playing saxophone in dance bands and Wrubel got to perform with popular bandleader Paul Whiteman during this time. He then led his own band on a tour of Europe, followed by working as a theater manager.
Wrubel got his first hit in 1931 with the song "Now You're in My Arms" and had many more during the early '30s, including "Farewell to Arms," "The Lady in Red," and "As You Desire Me." He began his movie songwriting career when he began working for Warner Bros. in 1934. Some of his hits during this time include "Happiness Ahead" (1934), "Gone With the Wind" (1937), "Music, Maestro, Please" (1938), "The Masquerade Is Over," and "How Long Has This Been Going On?" (1939). During the 1940s, Wrubel worked for Disney Studios, scoring such animated features as Make Mine Music (1946) and Melody Time (1948), and co-writing the hit "Zip-a-Dee-Doo-Dah" (1946). His final successful song for a film was 1960's "What Does a Woman Do?" Some of Wrubel's main collaborators were lyricists Herb Magidson, Mort Dixon, and Ray Gilbert. Wrubel is also a member of the Songwriters Hall of Fame.
Songwriters Hall of Fame - Allie Wrubel Exhibit Home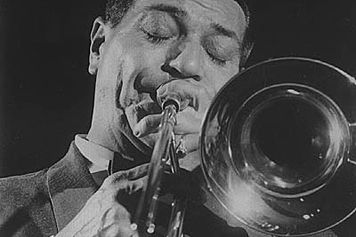 REST IN PEACE JACK TEAGARDEN
died in New Orleans, LA, USA.
died in Surfside, FL, USA.
Famed orchestra leader
Les Baxter
died in Newport Beach, California, USA, of a heart attack brought on by kidney failure. He was 73. Often hailed as "the godfather of exotica", Baxter composed and recorded the original version of "Quiet Village," which became a top-10 hit for Martin Denny in 1959. Also in the 1950s, Baxter recorded some instrumentals for Capitol, two of which, "Unchained Melody" and "The Poor People of Paris," reached No. 1 on the charts.
Songs Recorded/Released
Ray Miller's Black And White Melody Boys
Bailey's Lucky Seven
Behind The Clouds

The Rose Brought Me To You
Louise Vant accompanied by
Perry Bradford's Mean Four
I've Learnt To Do Without You

Just A Little Bit Bad

Want A Little Loving
Jack Hylton And His Orchestra -
Why Don't You Say So?
In The Swim At Miami

Along The Old Lake Trail
Georgia Melodians -
Charleston Ball
The Savoy Orpheans
Wait'll It's Moonlight

The Blue Kitten - Selection Parts 1 and 2
Paul Specht And His Orchestra
(
under the name of
The Consolidated Club Orchestra
)
Static Strut
1927
Laura Smith accompanied by Her Wild Cats
I'm Goin' To Have Seven Years Bad Luck

When A 'Gator Holler(Folks Say Sign O' Rain)
Original Indiana Five -
Memphis Blues
Fred Elizalde and his Anglo American Ban
d
Fred Elizalde and his Anglo American Ban
d -
Dixie
Fred Elizalde and his Anglo American Ban
d -
Tiger Rag
Emmett Miller accompanied by his Georgia Crackers
Brother Bill

Thousand Frogs On A Log
Clarence "Pine Top" Smith
Big Boy They Can't Do That

Jump Steady Blues
Clarence "Pine Top" Smith - Nobody Knows When Your Down And Out
It's Tight Like That

Now I Ain't Got Nothin' At All

Luis Russell and his Burning Eight

The Call Of The Freaks
Luis Russell and his Orchestra
Annette Hanshaw -
Don't Be Like That
Annette Hanshaw -
I Faw Down And Go 'Boom!
King Oliver's Orchestra -
Frankie And Johnny
The Clicquot Club Eskimos
Hallelujah!

I Want To Be Happy

Under A Texas Moon
Ben Pollack and his Orchestra
Across The Breakfast Table Looking At You
Ambrose And His Orchestra
A Little Love Song

My Sunshine Came On A Rainy Day

I'm Doing That Thing
LYRICS:
DON'T BE LIKE THAT
~Archie Gottler / Maceo Pinkard / Charles Tobias
Oh, at last I've got you near,
So I can tell you, dear,
That your funny disposition almost drives me wild!
I know that you could be
So nice and sweet to me,
But you treat me just as though I'm a child!
I ask you for a kiss;
You give me just one kiss
When I wan' another kiss,
Oh, don't be like that!
And when I wanna pet
And I think we're all set,
You play so hard to get
Don't be like that!
I wish I knew
If you really love me;
The things you do
Make me think that you don't think much of me!
You know, we'd make a lovely pair
If you could only care,
But you're a frigidaire,
Oh, don't be like that!
I call you on the phone
And I get you on the phone;
But you say you're not at home!
Oh, don't be like that!
You know, when you call on Sunday night,
And everything is just so nice,
But you let the light burn bright,
Don't be like that!
You think that I
Spend my evenings gaily,
When all you try
Is a tune on your ukelele!
You know, another thing I've found;
When Christmas time comes 'round,
You're always out o' town,
Oh, don't be like that!
Oh, don't be like that!
Oh honey dear,
You are so appealing!
And when you love,
Oh, you love with such feeling!
I love that Boop-boop-a-doop!
You love that Boop-boop-a-doop!
We love that Boop-a-doop-oo!
A-don't be like that!
brought to you by...
~confetta